SkinCeuticals C E Ferulic Serum - 30ml 30ml
Is this for you?
Super-antioxidant serum combining 15% Vit C and 1% Vit E with Ferulic Acid, to optimize protection against damaging UVA/UVB rays, help prevent premature signs of ageing, and stimulate collagen production.
Cosmeceuticals
Artificial Fragrance Free
Sulphate Free
Skin Concern:
Dull, dry or dehydrated skin

First signs of ageing

Pigmentation, uneven skin tone

Wrinkles and loss of firmness
Skin Type:
Dry

Normal to dry

Normal to oily

Oily
Frequently bought with
Please wait while we find a match
Questions & Answers
(9 Questions)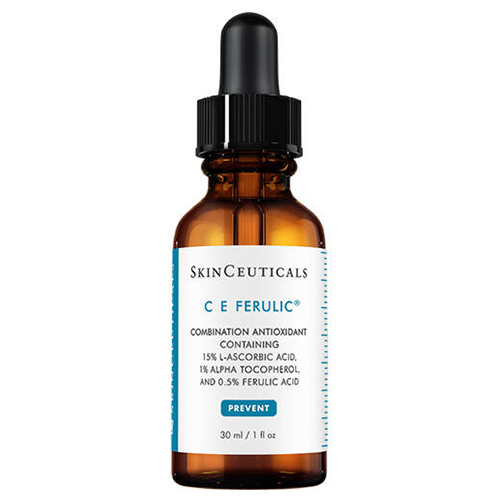 SkinCeuticals C E Ferulic Serum - 30ml
Get an expert to answer your question about this product!
89% recommend this product
Most Helpful Positive
Would recommend
Very happy with the results. Little exy but would recommend (and repurchase!)
Most Helpful Criticism
I am not really sure what it does?
I used the whole bottle and my skin seems to look the same while not using it?? A crazy price really for not much results, wish I had saved my money
Not sure

I received a sample of this product and found that it absorbed better than the vitamin C serum I had been using. However, it made my skin feel a bit sticky and has a bit of a funky smell that reminds me of food somehow. Also didn't notice enough of a difference from using this to justify the spend.

Would recommend

Very happy with the results. Little exy but would recommend (and repurchase!)

No noticeable changes

I didn't noticed any changes while using this and it smells absolutely gross

As good as everyone says

Wow ! What an amazing product. I have used other Vit C serums but this is in a class of its own. I am 55 years old and have always looked after my skin so it's quite good but after 30 days of continued use my skin looks even better. Even my 22 year old daughter commented. Will be buying this from now on

Must buy day serum

I used this every morning. it brighten my face gradually. can not live without this product

What I need

I have been wanting to have C E F serum for a long time but have all other anti-oxidant and whitening serum with me. Vitamin C and E are definitely what I need for my skin since I have combination type and dry in winter and also have some sunspots on my cheek which has been a pain for ages. I just tried this one and 4-5 drops is enough for the entire face. It is so hydrating with a bit sticky feel...

Read More

Not sure what the hype is about?

Got a sample of this from AB, and I haven't noticed any WOW difference to my skin that would make me drop $210 on a 30ml serum (I would cry). But I am only 23... so I guess maybe my skin doesn't have anything for this serum to "correct"?

Awesome!

I received this as a sample and I'm still using it everyday. I love the glow this gives me! It absorbs into the skin good and sits well under makeup. I really see a difference in glow when I wear this. I just wish this wasn't so expensive because I totally love it.

Clear Skin

I received a sample size of this and have been using it every morning.
I have definitely noticed a positive change in my skin, it looks brighter, clearer and fine lines aren't as noticeable.
Also, I have sensitive skin and haven't had any issue's.
The only negative is the scent, which isn't pleasant, but all the good points outweigh that, so it isn't major thing.

Very brightening

I definitely noticed results within about 3 days of using this, my skin is brighter without looking shiny. The serum does have an awful smell, but that seems to go away as soon as it is absorbed into the skin, which only takes a few minutes. You also don't need much product as it spreads quite well, I imagine that the bottle will last quite a while, even though it is only 30mL.

absorbs immediately

absorbs immediately, is lovely and light and sits well under makeup. It's expensive but I think you get what you pay for. Have noticed immediate results

Smokey Smell.. Glow Skin

Put off trying this for years, thought it was too $ and not sure why I needed a C. Turned 30 and figured what do I have to lose, and have been enjoying it for months. It's one of those where I noticed more glowly skin and am getting more soft compliments, but no direct or instant result. I think it I stopped using it now though, I would notice a huge difference. I find the smell a bit smokey but n...

Read More

Smokey Smell.. Glow Skin

Put off trying this for years, thought it was too $ and not sure why I needed a C. Turned 30 and figured what do I have to lose, and have been enjoying it for months. It's one of those where I noticed more glowly skin and am getting more soft compliments, but no direct or instant result. I think it I stopped using it now though, I would notice a huge difference. I find the smell a bit smokey but n...

Read More

Fabulous product and definitely would recommend it.

This is a fabulous product and you can really see results. Fading of age/sun spots and in the general condition of your skin. Plus it is cheaper to buy online with Adore than the cosmetic clinic!
I have mature skin.

Holy grail product

I can see why this serum pops up on beauty editor favourite lists. The thin consistency sinks in immediately and leaves a flawless glow that lasts all day. On my dull, blemish-prone skin this is game-changing. High price point but gives results. Looking forward to seeing how my skin improves with long-term use.

COULDN'T DEAL WITH THE SMELL

THIS PRODUCT DOES MAKE YOUR SKIN SUPER GLOWY WHICH I LOVE!!!!

I HAVE ONLY USED FOR THE LAST FEW MONTHS SO CAN'T ADVISE IF ITS GREAT FOR FADING PIGMENTATION AS ITS TOO EARLY.

THE PRICE & SMELL OF THIS PRODUCT IS IT'S DOWNFALL.
THE SMELLS. A BIT TOO MUCH FOR ME TO TAKE (ALMOST FISHY) AND LINGERS & FOR THAT I THINK I WILL CONTINUE LOOKING FOR MY HOLY GRAIL VITAMIN C

Brightens the skin

Received a luxury sample of this serum. It brightens my skin, but a little heavy for oily skin, I think it's more suitable for dry skin. I'll try PCF again.

Good serum but..

I really like this serum initially, i saw brightening effects within a week and my skin felt clearer. I like that its light and didnt break me out. However after 2 months of using it, i felt it wasnt doing anything for my skin anymore. I stopped using it for a bit and then started using it again but didnt see any difference. I think i expected a lot from this brand, not sure if i am gonna repurcha...

Read More

Best Vitamin C serum ever

Have been using this for about 15 months now.
Honestly this is the best Vitamin C serum that is on the market. Between my sister (35) and I, we have tried pretty much all of them and have always come back to Skinceuticals and now use nothing else. Nothing else seems to brighten as effectively straight away, or lighten pigment as well. I get so many compliments on my skin when bare faced af...

Read More

The price is worth it! Holy grail material!

I have oily and acne prone skin and struggled with acne marks my entire life. I've consistently used this product for years and it always deliver in fading my acne marks and brightening my skin as I have also uneven skin tone. I'm no longer scared of acne marks because it heals it completely while making my skin brighter!!! I use it during the day and at night is Skinceuticals retinol for restorin...

Read More

Fabulous product

I received a sample of this and have been using it for a couple of weeks now. I've received so many compliments on my 'youthful' appearance. It's nice to find a serum that actually works with fast results.

Best vitamin C on the market

I have combination skin that can lean either oily or dry in certain parts so finding a suitable vitamin C serum that suits both can be really difficult. Search no more! This serum hydrates my skin without leaving me looking oily or greasy and imparts such a beautiful glow. I can honestly say that some dark spots and pigmentation I had on my forehead and cheekbones are reduced. In fact, they haven'...

Read More

absorb quickly

I bought this serum few times to give it enough time to work after all the reviews about it's efficiency and the articles about the importance of vitamin C for the skin. See a difference for my fine wrinkles and dark spots due to hormonal breakouts. It worked.

Worth the price?

I really wanted to love this, as I have been wanting to purchase this for a while after hearing all the hype, and received a sample, so have been trying it for the past few weeks.
I am slightly disappointed - I haven't noticed a massive difference, and not sure if I would purchase the full size product with the $200 price tag - I am wondering if a cheaper alternative would give the same res...

Read More

Very expensive

First time I tried this I though oh crap I've just wasted my money because it smells soooo bad like betadene. The smell lingers for a few hours before it completely faded, and it made me feel sick. Even with sunscreen and foundation on top the smell was still there. However I have noticed some changes to my skin it looks glowy and my scaring has slightly improved. Not sure if I will repurchase due...

Read More

100% worth it

Delivers results like no other Vit C product. There's a reason it has a cult following. I have normal skin but some pigmentation from skin damage - the CE Ferulic does a great job of reducing the pigment and bringing out the glow. Just buy!!

Great Vit C Serum

Great Vit C serum that makes my skin appear smoother and not causing any breakout..yeayy!! Although the smell is not that great, but it's worth it!

Good but expensive

My complexion looks brighter and my skin looks good because of this serum. I use it sparingly though since it is very very expensive

Great product but pricey

My second bottles now, but will not consider buying again as pricey and I think will have other alternatives.

Excellent Reviews

This Vitamin C serum always pops up in skin care articles with exceptionally good reviews. Always on the top of the list under the serum category. Thus I had to buy it. I am onto my second bottle, and have definitely noticed a difference in my skins appearance. Not to the point I was expecting with all the hype, but still worth the investment. Also contains sodium hyluranate.

Worth the price tag

I always pick this up when my skin is looking less healthy, dull, and in need of some help. Firstly, a little bit goes a long way so even a small bottle of it lasts about 4-5months. What I notice with this is my skin looks so much brighter and clearer and plumper!

This is my only essential skin care product

Ive used this serum for many years and occasionally get persuaded to try various different serums but I always come back to this one because nothing else makes my skin look as good as this product. It is absolutely worth the money.

amazing product

I've been recommended by friends about this brand. I purchased gift set which include this serum in December. I've been using it every morning since then and can clearly see improvement on my skin. It looks brighter and nice natural skin glow. This is a product I'd like to keep using for a while.
The smell is a bit funny, but can easily get used to it.

best serum

I have been using this product for 2 months and after one month of using it i have noticed the difference and immediately stocked another bottle when it was on sale. this serum contains high concentration of Vitamin C to help reduce pigmentation concerns and will also provide antioxidant protection. I use it in the morning and followed with SPF sunscreen.

Great Product

I have been using this product for over 3 months now. I have been impressed by the results. The serum appears to have tightened and brightened my skin. I will be re purchasing this product.

What is this magic?

So impressed! I have been using for a week, alternate mornings to ease into it. I have sensitive skin but have not been irritated by it. I can already see an improvement - reduced pigmentation and redness in my skin!

Amazing

This makes my skin look absolutely glowing and has helped clear it over time. Love this and just wish it was less expensive

Amazing!

This is the lushest / nicest feeling serum to use on the face ever.... I've not used a vitamin C / antioxidant serum that was so hydrating before. I'm not too sure what it's doing specifically to my skin, but since using this product with the Skinceuticals Hyaluronic Acid Intensifier, I've been getting so many compliments on my skin. I'll be keeping these two as part of my skin routine for a while...

Read More

Love this

Only need a pea size drop to cover your entire face which is great. The serum is LOVELY. It's light and hydrating, which is so nice. it just melts into the skin and my skin looks SO good. Has really helped smooth my skin and reduce redness and pores.

Very good

C E Ferulic leaves my skin firmer, brighter, smooth and softer to the touch. I use it every morning, followed by a moisturizer and sunscreen.


Good ingredients with fair price

Luckily, purchased it before price increase, will definitely purchase more from this brand.

Excellent product

I LOVE this stuff. I've just finished using my first bottle and I have seen major improvements in my skin. It's smoother, brighter, and more fresh looking. It's very expensive but I think it's worth every single penny. This tiny bottle lasted me awhile too so a little goes a long way.

The best vit C

I used to buy this pre-baby when I didn't have to think too much about how much I spent on skincare. After several years of tryIng cheaper vit c options I've finally given in and returned to this beloved serum. Very happy I have. It really is the best!

Amazing

This has made my skin pigment lighter and it looks great in the morning underneath sunscreen

Worth the hype!

I was really worried about buying this with such a steep price tag, but is definitely worth it! My skin has never looked better and I know I am doing my future self a huge favour!

This is the S***

This product was my first vitamin C purchase. Yep started at the top baby! Not going to lie, this is amazing. Skin looks brighter and clearer! The only mistake I've made is not buying it with my last purchases from Adore. I have 1 drop left in the pipette and I can't get it out. I will keep it as a keepsake of when I could afford it, and as motivation to work hard and buy it again! :-)

Good product

Have tried a lot of product, this is good but not the best out there. Though this does prevent premature signs of ageing, so it says.

It works

I received a few deluxe samples of this so was able to trial it for a few weeks. I totally understand the hype now. I love vitamin C serums and this one definitely left my skin extra glowy. Not sure I'm ready to spend this much on a serum just yet, but I'm sure it will end up in my skincare routine in the future.

Where have tou been? Brilliant!

I have used alit of vitamin c serums and this is by far the best. My skin has never lioked so good, product abit pricey, but worth every cent. Definitely will purchase again, absolutely love it!

caused breakouts

I stopped using this product as it caused breakouts on my slightly sensitive skin.

Good but pricey

Have been using this for a few years now, in the morning before applying sunscreen. It has a brightening and moisturising effect on my skin. Sits well with my skin type (combination, sensitive) without causing any issues. Just this then sunscreen is sufficient during the day. Just wish the product wasn't so expensive!

Unsure

It definitely was very effective at targeting pigmentation and keeping my skin healthy (more so than other Vitamin C serums I've tried). But at over triple the price of any other, I'm not sure that the price is justified when most are also good.

Glow

Ok wow. That's it. I'm going to say it. Best serum I have ever tried. My initial thoughts were "too expensive, how good could it really be?" but after biting the bullet and purchasing this product on Black Friday my skin has loved me ever since. Unreal glow. It's like a have a different face. Still mine... But better.

HELP

I wish I didn't love this product as much as I do. Although the price tag is quite scary, this product is SO. WORTH. IT. It makes my skin absolutely glow and look so fresh and clean. Take the leap, you won't regret it.

This serum brings the glow

I have been reading reviews about this serum for a while now but hesitant to buy due to the cost. However, after reading an article stating that this is the serum most recommended by dermatologists, I thought I should definitely give it a go. I am happy to say I have now repurchased a few times as this serum is magic. It has a slightly odd smell, kind of like the smell of the water after you've co...

Read More

Not bad

I have extremely pale, dry, sensitive and redness prone skin. I went in with high hopes of evening out my skin tone, but honestly I haven't noticed a difference. My skin is the same with or without using this. It smells like hot dog water and even a small amount leaves a subtle muddy orange tint to my face. I'll keep using it, but I wouldn't re-purchase.

Super glowy

After reviewing this product for months, I knew I had to try it. I am glad I did..this product just absorbs into the skin so nicely and doesn't have a sticky residue like most vitamin C serums. It also sits very well under makeup and makes your skin glow.
This product also has a slight smell but then goes away.

It is a bit too soon to tell if I have got results yet but it defini...

Read More

LOVE IT

I wasn't expecting to love this product as much as I do. Ive been using it for about 3 weeks now and my skin is tight, clear and glowing. Cannot imagine life without it! Ive been using it with the SkinCeuticals hydrating B5 for extra moisture.

Wow!

After reading so many positive reviews, I decided to try this serum and the result is amazing! It really does make my skin glow and my skin just feels so much healthier! It is pricey but the results are amazing! Will keep buying!!

I'm interested

Oil is thin and runny but applies well because of this. Fragrance not so nice and leaves a typical vitamin c stickiness after application. Lots of hype surrounding this product. I am keen to see the results.

Good product

This is great! See some pretty great results when I use this. Lovely.

My go to

I have been using this for years and while i try to find cheaper alternatives, nothing compares!
The glow is real and i love the added protection from UVA/UVB, infrared radiation, and ozone pollution.



Surpising

I received a sample of this serum, but really wasn't sure about it at first. The initial smell can be a but off putting, but have come to learn most Vitamin C serums have the weird smell. After finishing off my sample, I definitely noticed a change in the appearance of my skin. There was pigmentation that had definitely faded, that I could clearly notice. The serum soaked into my skin, and didn't ...

Read More

The product is okay, the price isn't

I got the sample of this with my purchase and use it nearly every single day before bed.
Here's what I liked;
• the bottle & dispenser are very clever & they make your life easier when dispensing the product
• the texture of the oil is beautiful & absorbs quickly
• the plumpness it gives you in the morning - definitely desirable

What I don't like;
• ...

Read More

I'm not sure...

I expected big things from this serum, and I'm genuinely not sure if anything has happened for me. I haven't really noticed any difference unfortunately. What I wasn't prepared for is the smell... it puts me off, however perhaps it's a sign that it hasn't got anything artificial in it. The serum does absorb quickly, and that impresses me, like my skin sucks it in. I'll keep using it but I'm unsure...

Read More

Great product

I bought it for pigmentation on my face already on my second bottle now. Makes my face look clear and radiant. Took away one star for the price.

You'll know it when you use it

I used to rotate my morning skincare routine everyday, then I noticed on particular days, I was having glowing and more radiance complexion than other days, turned out I was using this product on those "good-skin" days! Ever since, I used it every morning. Gotta stock up for summer to protect my skin from the sun.

The reviews are amazing but I am not 100% sure

The reviews on this product are amazing, and maybe the outcomes are incredible, but I am having trouble getting past the fragrance to use it with enough regularity to judge! It kind of smells like yeast baking? I am not sure if this is a winner for me

Hmm..

So it's been an interesting journey so far with this. 3 weeks in and already breaking up pigmentation and brightening my complexion BUT I'm breaking out like crazy :( I have dry skin and don't usually breakout with any product, but I am with this. Not sure if I should still be purging 3 weeks in but I am seriously considering stopping or reducing how often I use it (every morning currently).

Pricey but ok

I splashed out on this during a sale (it was still way above what I would normally spend on 1 product) and I'm left a bit disappointed. There has been so much hype about this product, but maybe it is more of a long term win than short term. It is hard for me to justify such an expensive product. After using the product for 2 weeks, I haven't seen much of an improvement. I think I will just try a l...

Read More

The greatest serum that has ever happened to me

Yes I know it's expensive but if you invest in one thing in your skin care routine you must choose this! I saw results in less than 2 weeks. I've been using now for over 2 months and my skin is so much clearer and "glowier" than it used to be. There's a reason this is a cult fave!

It so works

Its done wonders for my skin. No exaggeration I get so many compliments on how healthy, glowy and tight my skin looks (and its only after two weeks of using the serum). Before purchasing I've been researching my next go to serum as Clarins double serum didn't do much for me ( i used it for almost 1.5 years ). This one is not the best smelling serum out there but its doing a wonderful job and i wil...

Read More

easy spread, good product

i like this product it help with the dark spot

Effective

This product is really good for day time can help to boost ur skin and look more radiant

Transformed

I've been using this now for a week and my skin is already a whole lot different! the texture is smoother, tighter, brighter and my fine lines have seriously diminished. I saw my friend last night for the first time in a month and he said my skin looked amazing. Shame about the price tag but this has now become a necessity in my routine. would recommend

Botox in a bottle

I gifted this to my mum to add to her morning routine. It has only been a few weeks and her skin is looking brighter/tighter.

good feeling

it is good to use in the morning, before apply the foundation.

Holy grail serum

I first heard about CE Ferulic from dermatologists and was not disappointed! It is sold as a preventative skincare serum, but I find my skin actually looks much healthier with this product.

I've tried expensive essences and serums from La Mer and SK-II. While these brands have great products that feel luxurious on the skin, CE Ferulic actually delivers far better results (soft, even-...

Read More

Effective

Have been using this product for years, I always notice a difference when I stop using it. This product brightens up my complexion and doesn't irritate my sensitive dry combination skin. Excellent under sunscreen and make up.

Lives up to the hype

I read a lot of reviews about this product before making the purchase as it's not cheap but I have since repurchased and I'll tell you why. I have had acne prone skin since being a teenager and I'm 31 now. My skin usually looks kind of dull and a bit textured but this product really does brighten and smooth your skin. If you can afford it then you need to buy it. It is life changing.

HG Vitamin C

Fantastic vitamin C - i can see the brightening effects instantly. Over time it promotes a luminous appearance. It's the best Vitamin C I've used (including Ultraceuticals, the Ordinary) and they just don't compare. This is my third bottle and I love it!

amazing

I always take this with me when I'm travelling! I love using this during winter as it stops my skin from appearing flaky!


I am not really sure what it does?

I used the whole bottle and my skin seems to look the same while not using it?? A crazy price really for not much results, wish I had saved my money

Amazing

The most expensive serum in my regime, but I can't go without this now! I use it everyday before my sunscreen, and it plumps and brightens my skin like nothing else I've tried. It smells a little like ham, but honestly you get used to it and the results will outweight the weird smell (which goes away after you apply!) I also notice it is brightening some darker acne scars on my cheeks and chin.

Seeing results .......

While it has not been long since my purchase, I already seeing signs of skin tightening. Strange as it feels, I have believe that this serum works based on the numerous positive reviews. My only dislike is the smell. It's very pungent. But the benefits out weigh the smell. I just need to get used to it.

Lovely after-feel

I've previously been a devotee of the Estee Lauder serums and this blows them away! While the smell takes some getting used to, the texture and feeling afterwards is delightful. No oily/excess residue and doesn't block pores. Just keep it in the bathroom cabinet to avoid it turning brown!

Amazing

This product has been so good for my skin. I use CE Ferulic then hydrating B5 gel. I have sensitive skin but the product have gave me amazing results.. just bought my second bottle.

Good

This is way overpriced and I have gotten similar results with a much cheaper product.

Love this

This is a great product, I saw results immediately! It does smell kind of odd, but you get used to it. Now just wish I could afford the big bottle!

good antioxidise serum

Have purchased 3 bottles durning the past 6month.Use it as a anti-aging serum. Love it.

Excellent for pigmentation

This is hands down the best Vitamin C serum I have used. I use it mainly for pigmentation and combined with a Glycolic Acid treatment, I have seen a big difference. It is one of the more expensive serums but it lasts for a long time and the results are worth it!

So far, true to it's A+ reputation

I have only recently started using this, about 2 weeks ago. I use it in the AM before SPF and was liking it but not noticing anything crazy. Then I saw my mum over the weekend and she asked if I had recently had botox! And all I was doing differently was adding this serum into the mix. Will be continuing to use!!

Worth Every Penny

I was skeptical, and also a little scared as I have super sensitive skin and I was worried about a reaction. But fear not, this stuff is the absolute bomb, it's worth every cent of it's rather hefty price tag. It's super gentle, but within one day of starting to use this I could already see that my skin was more even-toned and calm. It also plays nicely with my retinoid, so much so that I think it...

Read More

My holy grail skin care product

Can't recommend this enough. My skin is the clearest, brightest and most luminescent it's ever been. I use two drops of this magic serum every morning. My ultimate holy grail skincare product - definitely a must in any woman's skincare routine - whatever your age is. Loved it so much I bought it for my mum and partner as well!

Good serum

This is my first time to try this band, definitely very good serum for me, I love it.

Enjoying so far!

I was skeptical at first about using this in the morning before my makeup but it has been fine. I haven't had any reactions or breakouts. It has a very distinct smell but I'm used to it now.

Overrated

I know this is HG product for so many people, but I did not see any benefit at all from this serum. I had no short-term glow, and obviously the long-term antioxidant effect is not something I can measure. There are heaps of cheaper serums out there that (IMO, on my skin) do exactly the same job (and IMO, an even better job). Please don't feel like you are missing out on anything if you can't drop ...

Read More

Works well

Amazing product but I hate the scent. I think mom will like this .

My no.1 product

I first purchased this in April and within a few weeks I could notice a massive difference, barely any breakouts and glowing skin. I have tried many high end skin products over the last few years and this is the first where I consistently get comments on how good my skin looks. 10/10 would recommend. A bottle would last me about 4 months too so worth the spend!

great serum

Definitely good serum for me but too expensive. I love this brand.