SkinCeuticals Blemish + Age Defense Serum 30ml
4 instalments of $29.75
Or 4 instalments of $29.75 with
LEARN MORE
4 instalments of $29.75
Or 4 instalments of $29.75 with
LEARN MORE
Official Stockist
Is this for you?
A treatment serum to care for adults who are concerned about ageing as well as acne.
Artificial Fragrance Free
Sulphate Free
Cosmeceuticals
Skin Concern:
Acne, breakouts and blackheads

First signs of ageing
Skin Type:
Normal to dry

Normal to oily

Oily
Frequently bought with
Please wait while we find a match
Questions & Answers
(4 Questions)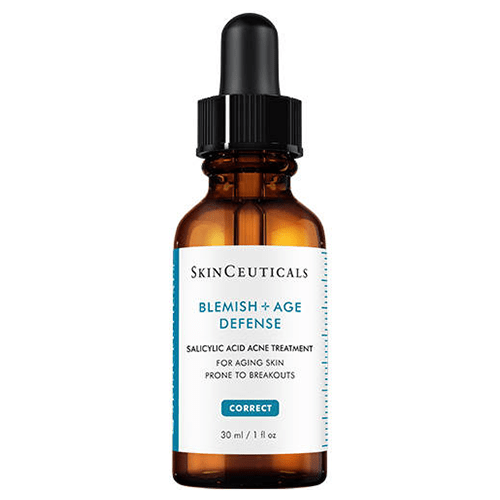 SkinCeuticals Blemish + Age Defense Serum
Get an expert to answer your question about this product!
SkinCeuticals Blemish + Age Defense Serum Reviews
90% recommend this product
Most Helpful Positive
Great
I find that this reduces my acne and my skin likes it
Most Helpful Criticism
Wanted it to work
I think for the first two weeks it worked well.. then after that nothing. My skin was still breaking out. I think the phyto serum worked better as it calmed and soothed the breakouts so they weren't as 'angry'.
Great so far

I have started using this product recently and it has a very strong smell and is watery in texture. This product is also a little too strong for my skin so I use it o alternate days. I have however seen a reduction in the frequency of breakouts and my skin has been looking smoother.

Great

I find that this reduces my acne and my skin likes it

Love product of SkinCeuticals

It is safe to use for removing black nose, second cleaning, once every three days. BTW, I am a Loyal fans of SkinCeuticals.

GOOD for Acne

This is very useful when you have pimples on your face

Amazing

This is the best spot treatment I have ever used (I have tried many!). I don't use it on my whole face just on the occasional spot. If I use this at night on a spot it will be gone the next morning. Absolutely the best!

Wanted it to work

I think for the first two weeks it worked well.. then after that nothing. My skin was still breaking out. I think the phyto serum worked better as it calmed and soothed the breakouts so they weren't as 'angry'.

Potent skin clearing serum

This is a really potent serum that has cleared my small amount of acne in 2 days. Only advice is to not leave it concentrated (not rubbed in) in one area because it left a red mark for a while.

good product and works for my skin~

I have bought this product as my friend recommonded this brand to me. It worked for my oily skin and looks brighter next morning~ It will make the skin turn red if you put too much so I only use three drops everytime. Good product~

Good Serum

I bought it with the Christmas gift pack. Actually, I did not read the gift pack carefully, I thought it should be CF serum. This is the first time I bought it. The first time when I opened it, I can smell a strong smell but it did not affect to use. Used once daily. Good until now.

noticeable difference

This product is great I have seen a noticeable difference in my skin after use.

Use sparingly

I have sensitive skin and only use this weekly. Over the past few months I have noticed slight improvements in skin blemishes.

Amazing

I used it for two weeks and the pimple disappeared.

Liquid Gold

I took a break from my beloved Rationale to try Skinscueticals and I must say its been well worth iy. I absolutely LOVE this product. Helps with my areas of congestion and keeps my skin smooth. I alternate every second night, allow to dry then follow with my night cream
Will repurchase again and again

Effective in treating my hormonal breakouts

I experience hormonal breakouts from time to time. This is by far the most effective serum I have ever used to treat my unpleasant pimples! A few drops go a long way and it not only reduces my breakouts but makes a substantial improvement to my overall skin tone and condition.

not a fan

I am an avid user of skinceuticals and swear by many of their serums but this one did nothing for me. I tried it at varying times in my skin's cycle, pre-breakout, during and post, along with regularly on uneven areas and noticed no changes. Not worth the price when there are similar products for a quarter of the cost.

Reduced my redness

This product has reduced my redness in my blemishes and I have noticed a much smoother skin tone over all!

super serum

My skin is not prone to blemish except the chin area but bought this to tackle early signs of aging. The texture is usual serum texture but it sinks into the skin very quickly. I noticed my skin is so pumped next morning and glowing. I haven't developed any blemish or breakout since I started using this.

Perfect for oily and acne prone skin

I used to have acne prone skin but this product saves me! I use it every night and I finally don't have those little bumps on my forehead anymore. Will keep buying this product

irritating

i found this a little too strong and irritating on my skin

Awesome!

Love this product. I have oily, acne prone skin and had a recent breakout. I was a little hesitant because it is really expensive, but it is so worth it! I put it on after my night time cleanse and it dissolves spots over night. Make sure you moisturize after as it is quite strong on the skin.

Amazing

I have been suffering from breakouts on my chin from both coming off the contraceptive pill & wearing masks all day. I starting using this serum and it literally started working over night! Absolutely amazing stuff, calmed all my inflamed acne and reduced the redness. Will now be a holy grail product :)

A Little Too Strong

This product is a tad too strong for my skin. It contains alcohol so it kind of stings my skin everytime I apply this all over my face, so I have now learnt to apply only on spots that needs it.

I am obsessed with skin ceuticals product

I know it has alcohol smells but this product saved my face. I have small pimples next to my nose. It smooths those small pimples. I am planing to buy my second bottle now.

love it and works well

I use this serum together with SkinCeuticals Phyto Corrective Gel or Hyaluronic Acid B5. This combination works very well on my oily acne skin. I don't use it every day, only use when acne is about to surface. I usually use it on my tzone area most of the time. I would repurchase this, for a lot of acid type of serums out there, this one is gental enough and effective enough for me.

Finally

This is my go to. It softens pores, draws and dries breakouts, refined my texture and helps control my shine throughout the day. I use it morning or night or both. Sometimes all over and sometimes just on the spots/areas required. It's a thin consistency so you only need a tiny bit.

Nice

I wasn't enjoying this product for the first week as I think I was overdoing it, I was putting a few drops on my hands then rubbing it all over my face and my skin was getting very dry despite usually having very oily skin. I think as this product has such a high alcohol content it wouldn't be good for sensitive or dry skin, and it is better to use only in problem areas. Now that I'm using less an...

Read More

Worth every cent

This product is absolutely fantastic. After putting it in and out of my cart for weeks I am so glad I bit the bullet and bought it. I've only been using it a week and already my hormonal acne and my blackheads are greatly reduced- something I haven't managed to do for years. The one set back (apart from the price) is that if used everyday it's quite drying but I'll just do every other day till my ...

Read More

Good

Second purchase of this product! Help reduce acne marks and acne breakouts although it stings a little once you apply it. Definitely recommend to people with frequent breakouts and acne-prone skin

A good serum for smoothing skin

I use this serum together with SkinCeuticals Phyto Corrective Gel or Hyaluronic Acid Intensifier. The combination works so nice on my face. I apply this serum on my forehead and chin only at night and followed by one of the hydration serums. I don't use it every day, only use when needed. One bottle can last nearly one year.

Must Have

I started using this product 10 years ago on the advice of a specialist. I didn't know the brand. I had a skin with some pimples and sunspots. At that time, I used it morning and evening (with Advanced Pigment Corrector the night). In 3 months, no more buttons and sunspots began to disappear. Since then, I still use it. It's an essential part of my evening routine with Advanced Pigment Correcto...

Read More

good product

very mild and changed my pores, I only use this at night.

It's Alright

This serum has a very strong alcohol smell but if you can tolerate the smell of alcohol then you might like this product as it works to fight acnes and blemishes!

Absolutely brilliant for congestion and scarring

I have some surface acne scarring from previous skin issues, this has cleared up small congestion and bumps that I never realised was making my scarring look worse. It has improved the texture and cleared up my existing spots. I have not had a single spot since starting this. You see results within a week. I am so impressed and won't be without this one.

Use a strong AHA exfoliator instead for better value

I got this as a sample and didn't notice any difference. It's not that the ingredients don't work. They do, but this formulation contains quite low concentrations of acids. It's just a lot of money to pay for a small bottle of dilute acids which, due to being dilute, produce less dramatic effects. Plus acids will be diluted further when you start layering on other products.

I've been ...

Read More

Amazing

This gem is amazing!!! It works wonder on my acne. I had this one big pimple and after applying this serum day and night for 4 days the pimple flattened and slowly disappeared.

MUST GIVE IT A " GO "

Yes I know, it's expensive as. But that't what makes it " Skinceuticals " isn't it? All my friends in Vietnam are obsessed with it. Honestly, if is extremely good for acne skin. It dries in like 20 second and isn't sticky at all. I repeat : NO STICKY AT ALL. I would say the texture is pretty much like alcohol as it dries up so fast. Guarantee you will see the immediate result next morning! First i...

Read More

Brilliant for acne

As a 53 year old peri-menopausal woman, this is my go to product for acne spots. Due to hormones and stress my skin often has breakouts and I just clean my face then dab a drop of this on to each spot at night at it pretty much cures the blemish overnight. Excellent product. Onto my fourth bottle since finding it 2 years ago.

MAGIC

WOW this stuff really works, my iso skin was out of control for a while with deep stress/diet induced breakouts but this serum has cleared it all up! Expensive yes, but used as a spot treatment it will last AGES and I for one am happy to pay for what works

Great Exfolient

I started doing salon peels around age 40 because I noticed the skin cell turn over on my face was very sluggish, pimples would linger and my skin looked dull. A salon peel was expensive and after using skinceuticals retinol my salon peel caused lesions and masses of peeling. I purchased this product with a view to using it 2-3 times a week to stimulate cell turnover, and remove dead skin cells. ...

Read More

Good serum

I have active acne and this serum controls it. I don't have sensitive skin and I find that this one is quite strong and drying. I use as spot treatment and sometimes works, however I think it's too expensive.

Can't live without it!

I have no idea of how many times I have bought this serum. Don't get me wrong. It goes a long way but I just can't live without it. My skin is quite good, I usually don't have pimples but I have very small and annoying blackheads on my nose and this is the best product to get rid of them. I couldn't recommend this product more! the only downside is that in Australia this product is quite expensiv...

Read More

Did the job

I got a 5mL sample of this and although I won't purchase the full size (as I'm already using the Skinceuticals C E Ferulic) I think it did do a good job of lessening my pimples redness. High quality

Great serum

I wanted something for my cystic acne on my chin & neck as well as something that would help for first signs of ageing in my late 20'S. I think it delivered particularly for the acne which is slowly improving after starting this serum.

Disappointed

I did lots of researches before I bought this one. It works for lots of people. But unfortunately , It doesn't help my pimples at all. I won't buy it again. I still like Skinceutical other products eg: gel, CF, night BE etc.

Harsh

This was quite potent for my skin, it stung for a few minutes after application. I think this formula is a little too strong for sensitive skin

BLACKHEAD BUSTER!!! Incredible product and worth every cent.

I have been using this for a couple of weeks and it has cleaned up blackheads and congestion that I haven't been able to get rid of for more than a decade - even with regular professional treatments.


This product is not cheap, and I did extensive research before buying it, but I can honestly say it is the best money I have ever spent on skincare (and as anyone with problematic ...

Read More

Best thing for pimples

Have been using this for many years now. It truly works like nothing else. I am 47yrs and get monthly one or two and I just apply at the spot and it starts drying. I use it on my 14yrs child and still it works the same. The best. I have oily skin but now it's combination .... due to age.... still works great.

worth it

I used to have clogged pores and this has helped clean my pores and improve my skin

Skin-refining and smoothing

I love Skinceuticals products so I was excited to try this and it didn't disappoint. It has helped to refine my complexion and reduce breakouts. Initially it made my oily skin a bit dry around the mouth but that subsided after about a week. I use it twice per day before my other serums. Will be repurchasing!

Wow!

I absolutely love this product! I suffer from frequent breakouts, mostly on my cheeks and jawline, and have been using this as a spot treatment on those trouble areas when a breakout occurs (as I feel it's too strong to use on my entire face). If I use it during the day, I find that by night time the breakouts have been significantly reduced and my skin is left glowing and smooth and if I use it a...

Read More

Not quite what I hoped

I was eyeing out this product for some time and made a well researched and considered decision for the money. It was fine, I have combination skin, so I applied in the evenings along with my skincare routine. The first couple of uses were magic, I was super happy with it in the first week. After that, it was as though my skin built up a resistance and went into outright rebellion; and simply refu...

Read More

Pimples be gone!

I am slowly migrating my skincare products over to SkinCeuticals and trying different products on my face. As an oily skinned guy, I do rely on active ingredients such as Salicylic Acid to help purge my pores of bacterial debris and keep me fresh faced. This serum does just that! I use this serum daily and apply a little extra to problem areas which may be showing the first signs of a breakout. By...

Read More

Has helped my skin a lot.

I have oily skin but am turning 30 this year so want to tackle both fine lines and spots. This is the perfect answer - I use it of an evening every two days and along with my other Adore purchases, this has seen my skin improve a lot. A little also goes a long way so I think it's worth the price tag.

Good

This is a wonderful serum that has helped with my pigmentation after continued use. Definitely recommend

Awesome product

Expensive but worth it. Use it as part of my regular daily rountine and find it really helps with keeping my hormonal acne under control.

The best

I have combination, sensitive skin and this has worked wonders. Stronger serums have given me breakouts and I seemed to be in a never-ending circle of trying to clear my skin. This has been a game-changer, particularly during hormonal breakouts.

A must for skincare

I have used this product for one year. it is the best product I ever used for blemish which is perfect for my sensitive skin and give my skin gloss for everyday use.

Great for cystic acne!

This is an amazing serum I use when I break out in hormonal acne around my jawline. It really penetrates the skin and I wake up the next morning with my cystic acne visibly diminished. Highly recommend!

Great

This is pretty expensive but an effective product. It has sped up how long my hyperpigmentation lasts after a pimple.

Amazing!

My wife has been using it for years and I started using it with her. It is really good. It doesn't leaves my face oily and doesn't dry out either.

Good

This over time has helped my oily and acne prone skin. Just a bit expensive

Only skinceuticals product worth the money

This is probably the only skinceuticals product that I would recommend to someone and MAYBE use again. But at the same time I feel like my prescription tretinoin does a better job at addressing acne AND aging at a cheaper price point with clinically backed studies.

Pretty good!

I purchased this serum to use as a spot treatment on blemishes on my cheeks. Works a treat, it's pretty strong and will REALLY dry everything out so definitely don't over do it. I'm not sure I'd be confident to put this all over my face, I feel like I'd shed a whole layer. So happy to just use it as a spot treatment.

very good for use

My pores became smaller when I used it

Love this product

i am on to my second bottle of this product and absolutely love it! it has worked miracles on clearing up my skin and is now a vital part of my skincare routine!
it is obviously a little pricey but a bottle will last about 8 weeks and it is in my opinion worth it!
it has dried out my skin at all and spreads beautifully on the skin!
I love all the skinceuticals products but this o...

Read More

Effective breakout controller

Very effective at reducing hormonal breakouts. I used it 3 times in one day and my chin peeled off so learn from my mistakes and don't overdo it lol! It's quite strong on my sensitive skin so I just use it as a spot treatment on areas that are affected by acne and its very effective at clearing up my breakouts.

Love it

I have used a couple of similar product based on salicylic acid but this one does magic on my skin. I have been using it over a month and I can already see that I'm getting much fewer pimples than usual. My skin is brighter and it just looks healthy. It is a bit expensive but I can handle the price for these results.

Amazing

This is absolutely amazing and helps with my blemishes and pimples. It is good at controlling oil too

Impressive!

I wasn't expecting much from the purchase, but it totally changed my mind when I started using it. I have acne-prone skin, usually have some acne scars and small pimples on my face. Since I've started using this product, my skin become almost clear within a week and a bit. I used it with the phytocorrect serum also from Skinceuticals, the two work well together. Love it! The delivery is also quite...

Read More

Clears clogged pores

I am living a busy lifestyle, only sleep 5-6 hours a day. From last year, I got lots of whiteheads around my chin and neck ares, which turns into acne's. A friend recommended this serum to me. After one month, my skin is clear. Only some dark marks left. I still repurchase this serum and use every other nights to avoid acne.

Also give it as gifts to my friends who have skin problems....

Read More

Prevents acne

I have been using this for a couple of months and have noticed i am not getting as many breakouts as i used to. I feel like it sort of clears my skin. It can make the skin a bit dry so i use it every alternate night or when i feel like a breakout is coming. Took away one star as it is expensive!

Pretty good

Yes it does work but it takes time and continuous use.
It kind of dries out the area it is treating.
Not sure if I would purchase again

Game changer! Obsessed

This is my new cannot live without product. I have tried many serums and treatments for my hormonal angry skin but this has been the most effective. It does not dry the skin but drys very fast so it layers really well with other products. I was at first unsure of this product due to the price point. but a little does go a long way. Wish I found this one years ago.

Hormonal breakouts worst enemy!

I found this so effective at treating and preventing hormonal breakouts! At 32 I don't want to burn my pimples off like I did as a teen and this addresses all my issues in the one serum without irritating my skin. Also layers well with hydrating serums. Will repurchase!

Magic!!!

I am in love with this product. Since I bought the first one, I stopped looking for other products. It not only helps reduce the active breakouts, but also corrects redness and makes my skin softer. I use it every night after the toner and the SkinCeuticals B5 serum. Absolutely my favourite serum! Highly recommend it if your skin is blemish-prone.


Good product

A serum contains salicylic acid, good to control oil.

In love

I'm so impressed with this little serum. I'm able to combat age and breakouts in one hit. It's very light and non greasy and a little goes a long way. Can dry out your skin if used everyday so moisturise well or use every 1-2 days. Pricey but worth it.

LOVEEEE

I LOVE this. As soon as I have a break out or uneven skin, I pop a little bit of this on and my skin is clearer the next day. Works wonders. My face has been soooo much better since I started using this. I will keep buying this for my acne.

Very Good

I was really struggling with breakouts, This product really helped reduce the active breakouts. Adhere to the use, the skin is more smooth.

Blemish's Banished

This product is a lifesaver for hormonal breakouts and spot treating. Being someone with super dry skin but occasional hormonal acne, I find it hard to find treatments or serums that control breakouts without drying out my skin. But this product did the complete opposite, I used it as a spot treatment on a few breakouts that I had on my chin and like magic they were completely gone the next day. I...

Read More

Effective on my acne while be gentel with my skin

I have been reluctant to use acidy product as they might destroy the natural protection function of my skin. I have been using this one from time to time (whenever I had a new pimple) for almost 6 months now. It works well for me.

Miracle Work!

I was really struggling with a burst of hormonal breakouts when I was recommended this serum. The size of my pimples reduced DRAMATICALLY after the first use! Even my pores are smaller! My skin felt slightly stiff the morning after, but it was fine as soon as I cleansed. I would recommend this serum to anyone suffering from breakouts!

Helped my hormonal breakouts

I was really struggling with hormonal breakouts, so big cystic pimples and red marks from old breakouts. This product really helped clear the active breakouts and in conjunction with a mild retinol, has also helped with the post inflammatory pigmentation. Will be repurchasing!

Magnificent

This product helped my skin a lot. Acnes decreased and oiliness also. The texture of the skin was wonderful. I used combined with other brand products. But it is very complete and can be used night and day

Quite good for sensitive skin

It has the ability to treat very strong acne but is quite benign and less irritating to the skin including sensitive skin. My skin felt smooth and reduce acnes. Will buy it again.

Apply on the affected areas

The effect is amazing. It really reduces my spots on the face. Love it and keep using.

Use on acne prone areas

I use on acne prone areas or areas where acne has formed. It has drastically improved my acne and acne scars!

THE PRODUCT you need if you have breakouts

This product changed my life! I have normal skin, a bit sensitive with acne prone type. I tried everything to try to stop having spots and that's the only products that work for me. I use it morning and night while making sure my skin is well hydrated and since then, no more breakouts ! It's important to keep the skin well hydrated as it can be a bit irritating for the skin if not. Amazing product...

Read More

Worth the Money

I had heard a lot of good things about this product from a lot of people. But as I have learnt in the past, just because it works for someone else doesn't mean it would work for me. I honestly saw results within a week and I was blown away, I have oily to combination skin and it worked a treat. I went from having a new pimple everyday to hardly any new pimples popping up. Definitely would recommen...

Read More

Goodbye Blemishes

Took a chance on this product and it paid off! I had a cluster of blemishes that wouldn't go away - After a month of using this product, daily, I am starting to see positive results in the form of clearer skin. Only downfall was the area got a little worse and aggravated before it started to get better but I'm glad I stuck it out, persistence was key.

it is worth a try

My skin is combination to oily with acne for many years. i have used it for two weeks. Obviously, you can see redness fading and you face becomes smooth. I will keep using. Love this brand.

Not bad

Not bad bad it doesn't magically make your acne disappear. Although it does seem to help a bit them getting bigger.

Great product

I have oily prone skin and I've been using this product for the last month. I had a few pimples and acne when I started using this serum and it helped to get rid of them efficiently. It stings a little at those spots during the first few uses, but the pain goes away as my skin becomes more tolerant with the serum. It has been doing a great job for keeping my skin smooth and acne free since and als...

Read More

Good

I've used this product for 6-8 months. Initial few months when I bought this, I was struggling with a mixture of cystic acne + blackheads + white head acne that randomly appears and takes ages to clear regardless of hormonal cycle influences/lifestyle/diet. After 3 months of eating well and using this serum with CEFerulic serum (I alternated every night) religiously at night (I also kept mine in t...

Read More

This is It!

Have been searching for some products that can calm this breakouts and make my blemishes lighter.Finally im satisfied , although this product make me feel a bit dry its fine cos i have combination normal to oily skin and the skinceuticals moisturiser helps too. I have bits of bumps on the first few days but it subside and my blemish is fading. There is still breakouts but is not that active as it ...

Read More

Best bang for your buck

I agree this product is expensive but it's totally worth the price. I've tried some other drug store and brand name AHA/BHA products but none of them works as effectively as this SkinCeuticals serum. I literally can see the difference on my acne overnight - the bumps became flattened and redness was visibly reduced. Daily use helps control my breakout. A bottle would last me at least 3 months with...

Read More

What a difference

Unfortunately, I belong to the demographic of gals who still have the occasional pimples but also starting to have wrinkles!

There are not many products out there to combat both, so it was a no-brainer for me to order this.

I have been using it for 3 months now and can definitely see a difference in my complexion. I have barely any break outs and my skin just looks finer...

Read More

Spots

This is really good st making spots appear less obvious.

Life Saver

I'm 25, Ive got combo skin and I had been struggling with acne for as long as I can remember. Its wasnt crazy cystic acne (since cutting out gluten) but my nose, chin and forhead was basically covered with large pores and small little black heads as well as the outer portion of my cheeks. I also struggled with some textural issues on my cheeks, many tiny little bumps I would always pick and prod a...

Read More

Excellent product that I use as a spot treatment!

This product lasts for ages, as I only use a tiny bit when a pimple pops up. I'm 34, but first started using this product when I was about 30 and experienced some adult acne issues and congestion. On occasion I will use the serum over my entire face, but usually if I feel any spots or congestion occurring (usually along my jawline), I will put a small amount of this serum on overnight and it makes...

Read More