SkinCeuticals A.G.E. Interrupter 48ml
Is this for you?
A.G.E. Interrupter is a unique treatment formulated to help prevent and correct severe signs of intrinsic (genetic) aging in mature skin.
Alcohol Free
Cosmeceuticals
Artificial Fragrance Free
Sulphate Free
Eye Concern:
Age Prevention

Deep Lines
Skin Concern:
Dull, dry or dehydrated skin

First signs of ageing

Wrinkles and loss of firmness
Frequently bought with
Please wait while we find a match
Questions & Answers
(2 Questions)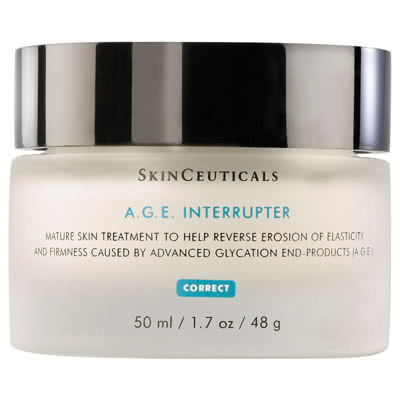 SkinCeuticals A.G.E. Interrupter
Get an expert to answer your question about this product!
95% recommend this product
Most Helpful Positive
Excellent cream
I love this product, I have been used couple days, my skin becomes tight and smooth.
Meh

This is a lovely moisturiser but that's it. The claims that it can help with glycation are absolutely laughable. There is no way to reverse glycation, the best advice is too not eat sugar in the first place. Otherwise it's a lovely moisturiser but not superior to any drugstore moisturiser and the price point is unjustifiable. The only person I would recommend this to is a friend with too much mone...

Read More

Just what I was looking for!

This Age cream is exactly what I have been looking for! It goes perfect with all my other Skinceutical products, and feels great when I use it at night as a moisturising cream. It makes your skin glow! Although it is a little pricey, but it's worth it.

Great product for mature skin

These cream is so easy to absorb and my skin feels so pump after using it.

Great anti-aging cream

I've been using this moisturiser for couple of weeks now.
It makes my skin plumber and tighter.
A small amount is enough for the whole face.

Excellent cream

I love this product, I have been used couple days, my skin becomes tight and smooth.

this is the best antiaging cream

30% Proxylane, the main ingredent in this AGE cream. i have to say after you used one, you must seem younger than before. your skin become tight and smooth.

bought, yet to use

I heard this product is contains 30% Pro-Xylane and it can works on anti-aging, and I bought one while yet to use.

Trusted brand that always delivers on performance - the barrier moisturizer I needed!

I asked the Skincare buyer for a recommendation as my skin was being a bit reactive from overuse of some actives after a hormonal flare up.
Skinceuticals is known for its high quality products that takes years of research to develop so I trusted her recommendation.
This product helps restore your skin barrier and over a month my skin has improved and looks plumper and has more bounce. ...

Read More

Good product

This moisture leaves your skin glowing after use. Skin also looks plumped and feels soft the next day morning.

GREAT PRODUCTS

Never disappointed with Skinceuticals products. They always live up to expectations and this is no exception.

Exceptional

This product is simply the best and definitely worth the price. I was a little worried when I first saw the texture as it seems thick and rich, which might be a little too much my oily skin. However, it somehow manage to leave a matte finish a few minutes after application. My skin feels very supple and soft the next morning and it looks bright and radiant too.

worth the price

it really works for me making my skin pump and shine. Very soft and not cause breakout. the best anti-aging face cream. I've finished one and will repurchase it

Sooooo amazing

This is such a thick intensely moisturising cream that really nourishes your skin leaving it plump soft and supple! Absolutely love this product

Forth time purchase, that's how much I love it

It makes my skin bright and smooth, definitely recommend to all 30 years old. The texture can be a bit thick so better suits winter or use light hand for summer. The eye cream is also a legend.

A++

As a dermal therapist I am very particular about ingredients and the delivery system in a skincare product, it's so important if you want to see noticeable results. Skinceuticals is a brand I trust. I purchased this product to help prevent the A.G.E process - the product makes your skin feel silky on application. Lets just say this - I have already recommended it to my mum - so she too can be fore...

Read More

Minimizing your pores

The texture is creamy buttery, it makes your skin glow and plumper. After a couple of day applying, I think my face does look firmer and minimise pores a little bit.

Fav day cream

Of course, 30% Proxylane is the best part of this product. The cost performance is pretty high. It suits all skin types, including oily skin. If you are dry skin, maybe plus a better Hydrating serum or something like that.
Fav day cream in the summertime! Highly recommended to all!

My skin looks plumper, juicier!

I have been using this cream at night only because l like the texture and the fact that my morning moisturiser has spf In it. However, after only a week or so l am definitely noticing a difference in my skin - l have a nice glow, lined are less defined, skin is firmer and looks plumper and juicier.

30% Proxylane!!!

Used for few days now under my eyes, it firms my eye area pretty well, and very hydrating, the only thing I don't really like is the texture, I know its not a sun cream, but feels like it, a little bit hard to absorb. Reminds me of The Ordinary 30% Vitamin C Suspension 23% + HA Spheres 2%

However, another brand Helena Rubinstein from the same parent company Loreal Paris, is selling 30...

Read More

LOVE LOVE LOVE

An amazing product. My late 40s skin glows with confidence. This smooth and lightly textured product is deceptively comfortable.

My skin looks and feels smoother, plumper and brighter. I have noticed that expression lines look less obvious, and my skin is more "dense" and rejuvenated.

CANNOT be without this marvel. I am now looking at investing in the A.G.E. Eye treat...

Read More