The sun doesn't have to be scary, and neither does your daily skincare routine. If you fear the effects of sun damage and aging on your skin, chemical sunscreen can provide you with the optimal protection needed to protect yourself against those scary UV rays.
Generally lightweight in texture, chemical sunscreen doesn't have the chalky appearance that you will find with most physical sunscreens.


Unlike a physical sunscreen that sits on the surface of one's skin, chemical sunscreens are designed to penetrate the skin and soak up the UVA and UVB rays like a sponge, before they have a chance to cause any damage.


How to tell if sunscreen is physical or chemical
Physical sunscreens will generally contain ingredients such as Zinc Oxide or Titanium Dioxide, which are mineral ingredients that you might find listed in the ingredients section on the back of your mineral makeup products.
In Chemical sunscreens, the ingredients can be a little more complicated - with tongue-twisting names such as oxybenzone, avobenzone, octisalate, octocrylene, homosalate and octinoxate. Though these names are long and a little scary, scientists continue to develop chemical sunscreen formulas that are thinner and less irritating every day.
Making sunscreen a part of your daily skincare routine has never been easier. Chemical sunscreens are generally lightweight in texture, making them perfect for application under your makeup, or as a moisturiser.


What are the best chemical sunscreen brands?
You can now find lightweight products that also double as a serum, such as the Ultra Violette Queen Screen SPF 50+ Luminising Sun Serum.

If you're looking for a facial sunscreen that's not going to leave a greasy residue, try the La Roche-Posay Sunscreen for the face.

Or if you're looking for a high SPF primer to apply before your foundation, the Alpha-H Daily Essential Moisturiser SPF50+ doubles as a moisturiser and a sunscreen.


Why wear sunscreen every day?
Sunscreen is quite literally the shield defending your skin from the sun. The damaging effects that UV rays from the sun can cause on your skin are all the more frightening. The sun can cause damage to your skin in a number of ways, including:
Sunburn - which can cause hyperpigmentation and in extreme cases blistering and scarring on the skin (as well as heaps of pain and bulk aloe vera use).
Aging - the sun accelerates the speed at which our skin ages by breaking down the collagen faster, therefore causing more wrinkles and leathery skin texture.
Melanoma - a type of skin cancer that usually occurs on parts of the body that have been overexposed to the sun, such as moles.
You wouldn't bring a knife to a gunfight, so don't go out in the sun without sunscreen.
Showing 20 products of 47.
---
Recent reviews on Chemical Sunscreen products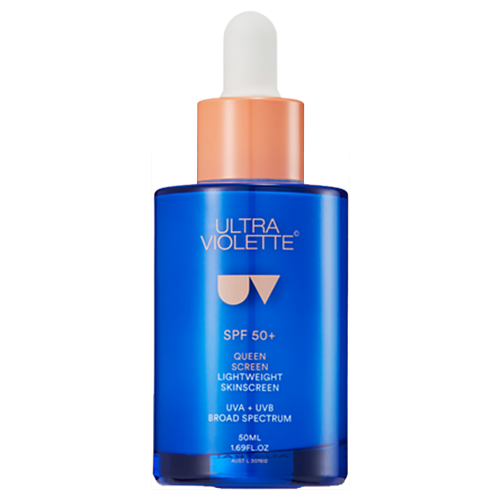 Ultra Violette
Ultra Violette Queen Screen SPF 50+ Luminising Sun Serum
$47.00
Glow
I purchased this item after being recommended by a friend. Firstly I love the packaging it comes in. I place 5-6 drops on my face and it's enough for face and décolletage. It gives you a beautiful glow, is a light consistency and I can easily put make up over it without it peeling. I wish it came in a tinted version! Will purchase again and again.