SK-II Facial Treatment Clear Lotion 160ml 160ml
Skin Concern:
Dull, dry or dehydrated skin
First signs of ageing
Pigmentation, uneven skin tone
Skin Type:
Normal to dry
Normal to oily
Oily
Frequently bought with
Please wait while we find a match
Questions & Answers
(1 Question)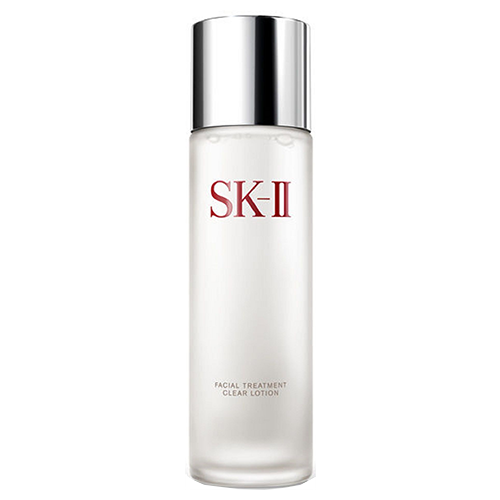 SK-II Facial Treatment Clear Lotion 160ml
Get an expert to answer your question about this product!
Ask a Product Question
78% recommend this product
Most Helpful Positive
Great toner
This is a great toner and worth its money in my opinion
Most Helpful Criticism
Do not buy if you are dry skin
Do not buy if you are dry skin
Do not buy if you are dry skin

Do not buy if you are dry skin

Great toner

This is a great toner and worth its money in my opinion

Nice gel but ineffective for me

I did not find this effective in moisturising my skin. Nice texture and is easily absorbed but my skin needs heavier moisturiser. I used this when I had breakouts but found Alpha H gel moisturiser far more effective, and much cheaper

Light on skin

Lovely toner. Light on the skin. Worth the price.


LOVE!

I apply the SK-II Facial Treatment Clear Lotion after cleaning using a makeup pad. I only apply it to my t-zone area. I find that this has calmed my skin down considerably. I was using harsh toners in the past and have noticed this one doesn't strip my face of natural oils, I have less breakouts and the overall texture of my face is smoother and brighter.

Perfect!

It does exactly as it claims. I'm always shocked at how much is left in my pores after cleansing

love

It is definitely slightly more expensive, but worth it for the great quality! Another important factor is the amazing smell, I look so forward to using it everyday!

Not for me

I went through two bottles of this and did not see a difference. My skin is quite sensitive though so perhaps the alcohol didn't work well with it.

Toner

An amazing toner that didn't have negative effects on me since I have sensitive skin. On the expensive side but very worth it! You can physically see the makeup and dirt on your cotton pad after using this.

good but not worhtwhile

good toner, but too expensive, over budget.

Toner

A great gentle yet super effective toner, I've never had a negative experience with this!

My favourite toner

I have used this toner on and off since SKII first became established in Australia
~2004. I tried other brands from time to time (usually cheaper alternatives), but eventually always came back to this. This became the only toner I used daily in 2011. It's so gentle that you may be fooled into thinking it's not doing anything, but it definitely helps me maintain a clear complexion (i.e reduced congestion and break outs). I use it morning and night after cleansing. I apply a small amount to a cotton pad. Even after double cleansing, this still removes a hidden layer of dirt/make-up that my cleanser didn't catch and preps my skin for my serums and treatments etc. It is pricey but for me, it's a must.

Very good toner

I was surprised how much dirt come out even after my double cleasing. Doesn't dry the skin out. However, very pricey toner tho T.T

Effective toner

This toner help me to clean up so much the remaining dirt on my skin evem after my double cleansing steps.
Do not dry out skin after use.

Love the toner

I was surprised how much dirt this toner take out of my skin after make up removal. Also very good to held your skin prepare for tthe next skin care steps.

Best toner

Smoother, softer and brighter. Best toner ever! Been using this for a year now and I love how gentle it is on my skin. No drying and tightness after use!

Fantastic product - gentle exfoliation

This product is wonderful. It's a gentle exfoliator without harsh scrubbing which can damage the skin. My skin feels and looks much better after using this.

Pricey but good

This is an astonishingly expensive product but after consistently using it for over a month i can attest for the fact that it definitely works. I have noticed a clear difference in the youthfulness and suppleness of my skin and the lack of dryness. My skin is balanced and i have been getting fewer breakout. Highly recommend trying the travel set to determine whether this is the right product for you but it worked wonders for me

It's ok

Ok clear lotion, a bit pricey.

Pricey.. but the best toner

Best toner I have ever used. It is definitely expensive but results are great.

I use it after washing my face and it adds moisture, soothes, and removes any residue makeup i may have. Everytime I use this toner it would also calm any breakouts i have. Would use this all the time if it wasnt for the price. Highly recommend. Treat yourself!

Highly recommend

Great toner, I really enjoyed using this toner after cleansing. I would use it and it would remove all traces of dirt and makeup.

Feels amazing!

Yes this lotion acts just like a toner but don't be fooled it is so much better and best of all it is effective. Most times when you think of toner you automatically think drying, striping, or harsh feeling but this quite different. It is gentle, refreshing, and leaves your face super clean and balanced with no drying feel.

Worth the price

I will definitely re-purchase. Skin seemed to be brighter and cleaner. It's a great product.

Worth the money

It's a great product. Skin feels so clean. I have used already 2 bottles and definitely can see difference on my skin. Will buy again

Wow!

I LOVE THIS TONER. The only downside is the price and I'm waiting for a special occasion to justify the purchase of this AHA toner. I love it. It's so refreshing and the perfect base prior to the essence which I am also a fan of. I love the way it absorbs right into my skin and I don't have to wait at all to apply essence. This is my HG.

Worth the Money

This is my second purchase from the SK-II line and I love it. I have been using this product every other day in my skincare routine and it has been working great. I have combination skin and my main concern is blackheads and uneven skin tone.

After using this product in the first week, I noticed an improvement with my overall skin texture and appearance of my pores. My skin instantly feels smooth in the morning when I wear it overnight and my complexion is brightened. When I don't use it, I notice that my skin doesn't look as good.

To see results, I would recommend using this product every other day and a little goes a long way. Rather than buying countless cheaper products, I see the SK-II a better investment and it will last a long time if used the correct way.

Good

I bought this clear lotion by accident when intending to buy the essence instead but it has worked as an effective toner and i feel it has also helped brighten my complexion significantly, however the price is way too steep for a repurchase

Best toner

This when combined with the SKII facial treatment essence really makes a difference. I use this the same as any toner after cleansing and then pat on some of the essence. I notice a real brighten and clarity to my skin when using this product. It's expensive but worth the investment!

Great Product - Miracle Worker

I have pretty good skin but get a few little breakouts when stressed that are never full blown pimples - just little red spots around my chin area. I hate them and never have been able to fully get rid of them. My skin is normal/dry and any normal breakout creams just dry the area out rather than clearing it up. This product is genius! Within 2 days most of the redness had vanished and I just use now two or three times a week to keep breakouts at bay. I barely have any problems and just get so many compliments on my 'glowing' skin. Although expensive a little goes a long way, and it really works! I am now converted to the rest of the SK II range and would recommend using with the cleanser and using the SK II Facial Treatment Essence during the day.

My only product that I use.

This is my 4th bottles of sk-ii facial treatment lotion. Yes although is expensive but is all worth it. I like how it can improve my skin. I feel so 'clean' after using this

Love how your skin feels after using it. Ensures skin is clean, exfoliated and can breathe! Love it - but is pricey!

Love all SK-11 products! They are pricey but quality. My favourites ate the cleansing lotion and essential lotion. The cleansing lotion makes skin feel fantastic!! So clean, dead cells exfoliated and allows skins to breathe and renew. The Essential lotion helps skin to look its best and feels fantastic!!! Love all SK-11 products and while I find it hard to justify the cost on myself - save for them, because they make skin look its best! Great quality products!!

this is a excellent product

the product is really good for my 12 years old daughter. it clears your proes and keeps your skin looking smooth.

Great product for everyone

Great product that clears your pores, keeps them clean and your skin looking fresh and smooth. Definitely very gentle so great for everyone. I like it because it just takes off any bit of grime or left over makeup even cleansing. I've noticed my skin looking brighter, smoother and clearer. Price is quite expensive but considering how long it lasts (i used a small 30ml bottle for 4months) then it's very worth it. i think when it comes to skincare it's worth investing and this product is really great so you won't be dissapointed with the splurge.

Excellent toner

This toner is just excellent. It really helps to keep your skin lookng clear and radiant. I had congested oily skin, but the SK-II range has really improved it. I like to experiment with different brands, but I find I always come back to this brand. I'm currently experimenting with substituting one or two of the pricier products with other brands to see if I still get great results.

This is an excellent toner

I use this toner after cleansing and it provides a further cleansing action to my skin. I have been using SK II products for 6 weeks now and have noticed the improvement to my skin tone and texture. I would say about 20% improvement, which is really good, considering I have oily, acne scarred skin.

Best toner

This is the best toner I've used. It's alcohol free so it definitely won't strip your skin and it contains exfoliating ingredients to keep skin looking clear and fresh. It's expensive but I think it's worth it; I am loving the whole SK-II range more than I thought possible, and don't think I can go back from here!