A facial peel is one of the best ways to reveal smoother, more radiant skin. However, peels can be expensive and usually require a trip to the salon or dermatologist. Luckily, philosophy aims to bring high-quality skincare treatments and professional results to your home. philosophy has created The Microdelivery Collection so you too can enjoy the effects of a peel without the hassle or cost.
The Microdelivery In Home Vitamin C / Peptide Peel Kit is the ideal way to achieve salon results in the comfort of your own home. The first step in this two-step kit is the Vitamin C / Peptide Resurfacing Crystals, which gently exfoliate the skin. Follow this with the second step, the Lactic/Salicylic Acid Activating Gel, which infuses the vitamin C and peptides into your skin.
This combination rejuvenates sun-damaged, hyperpigmented, and ageing skin as it rapidly exfoliates unwanted dead skin cells. The resurfacing peel also minimises the look of fine lines, brightens skin, evens skin tone, and smooths texture.
Microdelivery Exfoliating Facial Wash is a mild everyday exfoliator that's been formulated to effectively cleanse and replenish the skin whilst providing resurfacing benefits. This exfoliator is rich in antioxidants to protect skin from free radical damage.
If your skin needs a new lease on life, look no further than the philosophy The Microdelivery collection.
Recent reviews on the microdelivery products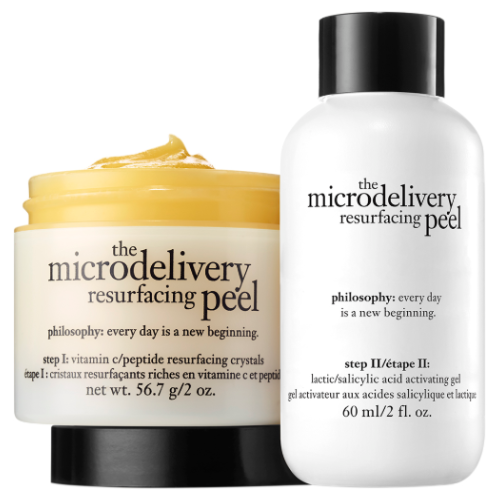 philosophy
philosophy microdelivery resurfacing peel kit
$99.00
A staple in every skin care regime
I have a oily t-zone and acne prone skin. This is an awesome product to remove the dead skin cells and bring out a bright, baby soft new face. I use this once a week to avoid over exfoliating my acne but often enough to encourage skin renewal. It's been 3 days since use and my skin remains baby soft. My acne has calmed ever since!
What people are looking for the most