philosophy vanilla birthday cake shampoo, shower gel & bubble bath 480ml
Questions & Answers
(2 Questions)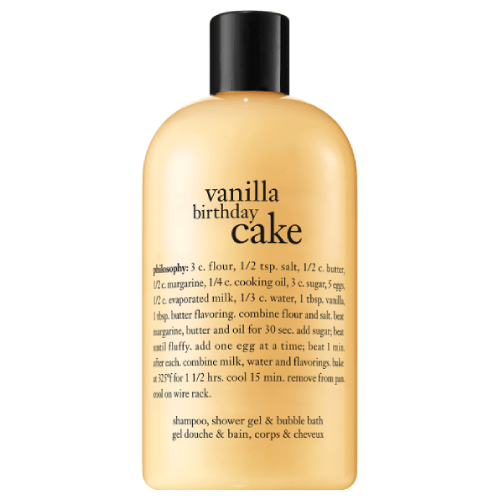 philosophy vanilla birthday cake shampoo, shower gel & bubble bath
Get an expert to answer your question about this product!
Ask a Question
94% recommend this product
Most Helpful Positive
Smells yummy!!!
This smells so good, my kids are obsessed with it!!!
Most Helpful Criticism
Smells great!
This smells soooo delicious and is a good size. It's not the cheapest shower gel out there, but it's not too badly priced.
Smells yummy!!!

This smells so good, my kids are obsessed with it!!!

wow!

smells like vanilla pudding and sweet cupcakes. I wish it had a matching body butter

I finally bought this and it was worth it

I've seen this product for years in magazines/in Myer and I've never been able to justify the price/forget about purchasing it. I decided to buy it as other body washes I purchase are about the same price, so why not? It was so worth it, it smells amazing and a little bit goes a long way. I still moisturise afterwards but even after the shower, it doesn't leave my skin feeling dry or irritated and I have quite sensitive skin. Love it!! Next time I'll buy the same product but in a different scent to try out all the deliciousness

Great

I am addicted to Philosophy and just love their 3 in 1's anyway. I had never tried this one and it is really fun!! It's very foamy and moisturizing, as all Philosophy gels are and smells just like cake!! I love it!!

Smells so good

I wish they made this in a body lotion ! It smells incredible

smells like a vanilla desert

it has such a nice smell like a vanilla desert. it is very soft on the skin and little goes long way. i really love this

Smells great!

This smells soooo delicious and is a good size. It's not the cheapest shower gel out there, but it's not too badly priced.

Who doesn't want to smell like a birthday cake?

I love Philosophy shower gels!
I received the Candy Cane gel for Christmas and decided I had to try another scent, it was so good!. I have used this one as bubble bath and shower gel and it smells so tasty and is very gentle on your skin... it is going to be constant purchase for me. Next stop, Cinnamon Bun!

Lovely

Has to be my favourite bathroom scent! Beautiful caramel/vanilla cake scent. Lovely!

Beautiful!

Smells AMAZING!! I love vanilla and this didn't disappoint. It lathers really nicely and feels nice and soft on my skin. Would definitely recommend!

Yum

As someone with a sweet tooth this smells delicious and cleans skin so well! Makes the perfect gift.

Birthday treat

Smells lovely and leave you squeaky clean

Not sure about it

Maybe it's just me but I'm not really getting a vanilla cake smell from this. I have fair, overly soft skin and prefer really moisturising lotions and for me this was too stripping - but it would be great if you prefer that squeaky clean feeling!

So hydrating

A very hydrating and moisturising shower gel. It cleans my skin well and I prefer it during winter because my skin feels good when I use this.

LOVE this

I have sensitive skin and try and purchase body wash that doesn't dry my skin out, so this is perfect for me! I absolutely love the smell-it's just like my tahaa candle from glasshouse. What i love about this body wash is that the smell is noticeable on your skin even when you get out of the shower. It's really high quality and I would definitely recommend it,

smells like actual cake batter :):)

this smells like you are washing yourself with cake batter! I love this, smells so good!

YUM !

This smells soooo good omg. I wish they made this into a body cream, lotion, perfume, anything ! It smells like buttery vanilla cupcakes loaded with sugar cream and vanilla bean soooo yummy

the only thing I dislike is unfortunately after I use this is the shower and wash it off I can no longer smell it ):
still 5 stars for the amazing scent !

YUMMM!!!

The problem with this shower gel is that I want to eat it! It smells sooo goood! It is heavenly to use. I've bought this for friends and family as gifts because I love it so much, and they've loved it just as much as me. Extra bonus is the recipe on the bottle :)

Smells so good it'll make you hungry!

Smells like cupcakes, do you really need to know anything else? Seriously though, if you like that sweet, vanilla cake smell then you will love this! I only use it as a body wash so don't know how good of a shampoo it would be, but it lathers well, a little goes a long way and the bottle is a good size for the price. I'm not sure if I notice the smell lingering on my skin, but I don't have a very good nose and the in-shower smell is enough to convert me. I can't wait to try some of the other fruity scents too!

yummy treat

This smells so good that after my sister was housesitting for me she went on here and bought her own bottle.

Smells & feels amazing!

This bubble bath is absolutely beautiful. It feels and smells luxurious. The scent is not overpowering, but strong enough to linger gently on the skin after the bath.

It smells exactly as you would imagine! Highly recommend - you won't regret it! For an even more luxurious scent, I recommend mixing this with the Cinnamon Buns wash - heaven!