PCA Skin Clearskin 48.2g 48.2g
Is this for you?
Lightweight doesn't have to mean minimal benefits. PCA Skin Clearskin is a concentrated formulation that packs a punch. With a nourishing blend of expert-chosen ingredients, PCA Skin Clearskin is the perfect moisturiser to treat and heal breakout prone skin. This fast-acting moisturiser sinks quickly into the skin with a comfortable yet barely there feel.
Cosmeceuticals
Cruelty Free
Artificial Fragrance Free
Skin Concern:
Acne, breakouts and blackheads

Oiliness and shine
Frequently bought with
Please wait while we find a match
Questions & Answers
(5 Questions)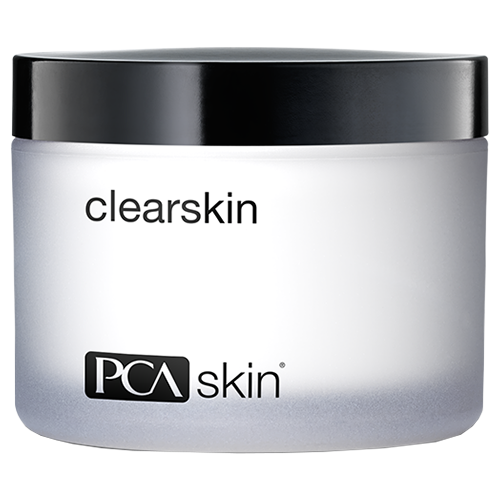 PCA Skin Clearskin 48.2g
Get an expert to answer your question about this product!
88% recommend this product
Most Helpful Positive
Wonderful!
Great to use in the summer! So lovely and refreshing for my skin.
Most Helpful Criticism
Pretty good
I love the way this moisturiser feels on my skin. It's not sticky or thick or oily. The product is super expensive, however, and so far (about a month in) I haven't noticed any real changes. At this point, I wouldn't buy this again, but I am hopeful that with a few more months the results will change my mind.
Great in summer

I have very oily skin and this cream is amazing on my skin. Its lightweight and my skin isn't oily by late afternoon anymore.

The best!

Another great product from the line. I found an improvement in my skin's texture after regular use.

Wonderful!

Great to use in the summer! So lovely and refreshing for my skin.

Quite good

Within the first couple of uses I noticed that my skin was noticeably clearer. However, several weeks down the track, there hasn't been much more of a marked improvement. My skin is still slightly better, but not completely clear. However, I do love the lightweight formula; it is easy to apply and absorbs very well. It is also very hydrating, but without leaving your skin oily and shiny.

New favourite product!!

Oh my goodness- I purchased this after hearing about it through TEGANMAC.SKIN and haven't looked back! It is amazing, I look forward to applying it each day. It's the perfect consistency, and doesn't leave an oily or sticky feeling but is perfectly hydrating and reduces breakouts at the same time. Miracle cream!

Best product

Love using this moisturiser! It's so light but provides incredible hydration, brightness and clears break outs. I get hormonal acne and my break outs have almost completely cleared since using this product!


PERFECT for hydrating breakout prone skin

After hearing Tegan Mac recommend this moisturiser on the podcast I immediately made an order and I'm so glad I did! I have struggled for YEARS trying to find a moisturiser that doesn't make me oily or breakout but provides enough hydration to combat my dry spots, but this moisturiser does it all and has a beautiful finish

Finally found something that works for me

First time in 3 years of battling with acne and congestion and I have clear skin!! The feel of the moisturiser is creamy and light and feels so nice to apply. I'm so used to ready these comments where people find the product that really helped their acne and this is it for me. Finally!! So so happy

No fuss daily moisturiser

I was recommended this product after I had a skin analysis done and I already know I will be repurchasing. With slightly sensitive skin prone to breakouts, this is the perfect no fuss moisturiser for everyday use. It's no irritation, extremely hydrating whilst remaining light and never heavy. I've found it so hard to find a daily moisturiser like this that hydrates my skin with a great balance of ...

Read More

Pretty good

I love the way this moisturiser feels on my skin. It's not sticky or thick or oily. The product is super expensive, however, and so far (about a month in) I haven't noticed any real changes. At this point, I wouldn't buy this again, but I am hopeful that with a few more months the results will change my mind.

the best

I found an improvement in my skin's texture after regular use. I love to use this before bed.

The best

Had been struggling with breakouts, started using this every night with The Ordinary niacinimide and my skin is SO clear and smooth. The best it has looked in years.

Beautiful moisturiser

Love using this moisturiser! It's so light but provides incredible hydration, brightness and clears break outs. I get hormonal acne and my break outs have almost completely cleared since using this product!

Very happy

This is a great moisturiser. It sits well under makeup and feels nice on the skin. I have sensitive, acne prone skin and this moisturiser doesn't irritate it at all, it's actually soothing. Very happy!

Beautiful light gel texture

My skin recently suffered from acne, I have opted for this moisturizer as it is light and has a gel texture. It is comfortable to apply over existing pimples without clogging it.

Great

This lotion combined with the creamy cleanser, however, is AMAZING!! You absolutely must try it if you are still looking for a solution to your breakouts!


This is amazing!

You need this is works wonders for my acne prone skin and sits well under makeup!

Amazing

This is absolutely amazing for my skin! My skin seems to just drink this up!

good for moisturising acne prone skin

good if you're looking for a non-oily moisturiser. It's moisturising without triggering breakouts. It sorta goes on like a thick clear gel, doesn't have much scent. I guess it doesn't feel very natural though- sorta reminds me of petroleum jelly?

My skin loves this

This really is the best moisturizer I've used. I have quite oily and acne prone skin and this balances my skin perfectly. I never feel oily though the day using it. Im not sure it has helped heal my acne breakouts any faster than usual but Im only about to start my second jar. It lasts me about 4 weeks but I could definitely use it more sparingly but I got abit excited and carried away because it ...

Read More

Game-changer for hormonal acne

This product is fantastic! I am prone to hormonal, cystic acne and have had WAY less breakouts and redness. You only need a small amount and it leaves my skin feeling hydrated and fresh, as well as less congested and oily. I don't wake up with a slick layer of oil on my face and find it is easy to apply makeup over during the day. Definitely one of the best moisturisers I have ever used.

Noticed difference in 4 days

I have been using this face cream for only days both morning and night and I have already noticed an improvement in my skin. My skin is not so oily anymore and I don't wake up with a a sheen of oil across my forehead. My skin feels nice and soft. The cream itself is lightweight and spreads across my skin easily and absorbs really well. You only need to use literally a pea sized amount. I have acne...

Read More

Not for me

I have combination skin with hormonal breakouts around the jaw line/chin, after reading a blog post on this I thought I'd give it a shot to see if it helped control the breakouts without drying out my skin. I liked the texture and how easy the moisturiser went on - but it stops there. Unfortunately my skin didn't like this one bit, it left my face red, irritated and peeling. I don't have sensitive...

Read More

This is amazing get it!!!

I use this moisturiser and love it - it goes on easy and light, looks good under makeup and sunscreen and helps my acne prone skin! Warning you do go through it quickly though :)

Effective moisturiser

I purchased this for my sister in law as she has acne prone, oily skin and is constantly on the look for a product. I received an email from Adore about this product targeted for acne prone skin, which has also received mostly positive reviews. She has been using it for about a month now and says its amazing. She uses it morning and night and has mentioned that she barely breaks out any more and a...

Read More

Ok moisturiser, not buying again

I feel indifferent about this product. Sometimes it would sting my skin when I put in on which wasn't great. It did feel nice and light afterwards but didn't especially help clear up or prevent breakouts. I won't buy again.

I love this moisturiser

This moisturiser is so lightweight, it absorbs super quick into your skin. It moisturises without leaving you feeling clogged up or greasy. You also don't get left with that tacky feeling on your skin. i use it night and day and under my makeup during the day, it doesn't make me shiny throughout the day.


Reduced my acne

I was suffering from hormonal acne when I read the article about this product when it was first released to Adore Beauty. I thought it sounded too good to be true but was willing to try anything to reduce my current and future breakouts. I have combination skin and had been using products that were essentially stripping my face. I found PCA Clearskin did the opposite. It is a gel like consistency ...

Read More

Feels really nice but didn't help me

Thought I'd purchase this product and give it a try, but unfortunately didn't help me with my breakouts around the chin area. The product itself is really nice, super light weight, smells great and feels great on the skin. But with me it caused me to wake up with a new breakout every morning for the whole week I used it. Maybe it was getting everything out to the surface or maybe my skin just didn...

Read More

Good bye chin acne

I'm in my mid 30's with hormonal chin breakouts. These are nasty deep and painful pimples. Since starting using this, my chin acne has largely disappeared. I love that this product has a gel like consistency. It's light, quickly absorbed and not too heavy for my combo skin

If you've tried everything...

I have been suffering from periodic acne flair ups which left my skin in somewhat a state of shock at times and left behind red marks predominately on the side of my face. To combat this I decided to try a multitude of products, a lot of which didn't necessarily show lasting impacts to my concern. I was sceptical of using a product containing Vitamin A as I am in my early 20s, however, at my wits ...

Read More

Best sensitive skin moisturiser ever!

I have been using acne treatments on my skin for the last 2 months and they have been making my skin so irritated and sore (the peeling and drying etc). This moisturiser has been the best thing I have every purchased. It has a cooling effect, has managed to also maintain my oily t zone while leaving my skin supple and smooth. My acne is finally clearing and I definitely recommend this cream for an...

Read More

Amazing and light

I've only been using this for a week or so. But definitely less breakouts and it's really light on my skin. It's not heavy like other moisturizers I've used in the past. I've got sensitive skin and I've had no problems with it.

Healing my acne-crazed skin - after trying so many other things!

I was completely at my wit's end before trying this.

I get hormonal acne on my chin that usually lasts for a week and clears up after my period. However, since the beginning of this year my skin has been on some sort of rampage. I've been experiencing months of constant, deep, sore spots that kept appearing no matter what I did.

My diet is pretty good (drink heaps of wa...

Read More