Olaplex Hair Perfector No.3 Home Treatment 100ml
4 instalments of $12.50
Or 4 instalments of $12.50 with
LEARN MORE
4 instalments of $12.50
Or 4 instalments of $12.50 with
LEARN MORE
Official Stockist
Is this for you?
Olaplex Hair Perfector No.3 Home Treatment works by finding and reconnecting the broken bonds that make up the protein structure of hair,.Olaplex is currently the only known product that is able to strengthen and repair these broken bonds that make hair dull, frizzy and damaged.

Frequently bought with
Please wait while we find a match
Questions & Answers
(7 Questions)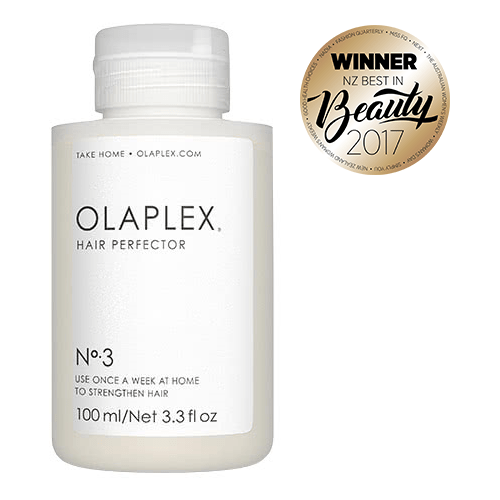 Olaplex Hair Perfector No.3 Home Treatment
Get an expert to answer your question about this product!
Olaplex Hair Perfector No.3 Home Treatment Reviews
93% recommend this product
Most Helpful Positive
Best product
Making my hair longer stronger and more soft. The olaplex is a game changer for blondes
Most Helpful Criticism
Meh?
I have dark brown hair with belayage highlights, it's long so the end of my hair get a beating from the lightening process. I bought a twin pack of the Olaplex to really give it a fair chance to do its magic, I'm into the second bottle half way and I am yet to see any difference? I use it overnight as a treatment and wash it out the next morning. I've also left it in the ends all day...I wanted this to work so bad!!
Best product

Making my hair longer stronger and more soft. The olaplex is a game changer for blondes

Hair god

I have used olaplex 3 for a while now and noticed a massive difference to my hair conditon

Love this

This has really helped my dry and damaged hair. I started noticing a difference from the first use, it's started repairing my hair and even made my curls more defined. It is a little pricey but 100% worth it!

Worth the price

I have thick long hair and while not the most affordable product for the size I don't even care, this stuff is HAIR CHANGING! I can't remember the last time my hair was so soft and smooth even after just one use!

Saved my crunchy hair

I recently went from brown hair to very light blonde. My hair felt brittle and was horrible to brush as it knotted so easily. Immediately after one use of this my hair was so much easier to brush without my hair breaking. Its so much softer and it now dries with a slight wave/curl which I didn't know I had.

great

I have very healthy hair. In other word I don't have any dye in my hair or any damage from heat styling. Therefore I use the home treatment very 2-3 weeks or when I know I need it the most. Olaplaex really helped me control my frizz.

Salon Feeling at Home

Olaplex 3 is THE hair treatment. Where as other treatments may be ultra moisturising, this genuinely repairs your hair. Unless you have super damaged hair, I would only use this once every few weeks as you only get 3-4 uses in a bottle.

Noticeable difference!

I have long, fine hair that had become rough and damaged after dyeing it. I bought this treatment after it was recommended to me and honestly, it works! My hair already looks noticeably healthier and smoother, even after the first treatment. The only con is that the bottle is really small and I have long hair. I don't see this lasting beyond 3 more treatments.

Life changing!

This product has changed my life - I've only used it twice but the changes I've seen in the frizz and feel of my hair are amazing!! Will purchase again for sure!!

Best on the market!

I heard about this product through my sister and a friend, since I recently bleached my hair this product has done wonders for repairing my hair! My hair was black and I bleached it three times, using this product along with the shampoo and conditioner of olaplex has really helped repair the bonds of my hair. I highly recommend this!

Literally saved my hair

My hair was falling out from all the breakage from bleaching it since I was 12 but this saved my hair, I do not want to know what would have happened if I didn't start using olaplex 😬😬

Works wonders!

This treatment is amazing! I have very damaged bleach blonde hair, this has restored my hair in such a short amount of time and I really noticed that my hair was growing very fast which isn't normal for my hair. I do use this in link with the shampoo, conditioner and the styling cremè! Very pricey but the results is what you're receiving and the results are what you pay for! Definitely worth it!

Work but expensive

A 100ml product, I used 1/6 bottle for a single use, a bit pricy.

Not for me!

I have thick hair and from mid to lengths, they have become pretty rough because of all the colour treatments. I saw 100s of reviews online about 0laplex and how it was changing their hair game. I have used this treatment at least 4 times. It didtn do anything for me unfortunately. It didnt make my hair end look better/smoother or even roots. I wished it would have done the same thing for me as f...

Read More

Love it!!

This is a great product to use once a week. I have long hair that is thick and breaks easily. I've been using this more than once a week to help improve it and it really works. My hair is less frizzy, doesn't break and looks healthier.

Helping to grow my hair

I have long hair which is really prone to split ends and breakage and Olaplex No.3 is definitely helping me combat the breakage and continue to grow my hair! The only negative is that considering the price, a little doesn't go a long way and I do find myself using a lot of product each time, even when trying to use it sparingly. If you can do the treatments consistently, it's definitely worth it.

best product ever

this is my holy grail product, i use it once a week and my hair has never been so healthy

Hair hero

This is so amazing. It's thick and helps my hair feel so much better immediately. Wish it was cheaper as I have long thick hair

a must for blondes

this is a must if you have dyed your hair blonde, or for anyone really! so good and helps repair my hair

best product

brought my hair back from the dead!! so so incredible

favourite product

saved my hair which i bleached to platinum blonde from black!!! best product

Love this

This gives my hair a soft feel and I think it has really helped nourish my hair!

3rd time buying it

I am on my 3rd bottle and I don't know what I used to do before this .. it makes my hair feel so soft and bouncy I use it once a month and it is enough.

The best product EVER to repair damaged hair

I was suggested to use olaplex by my hairdresser several years back for my stressed and damaged locks. I trust her, so went ahead and tried it. This product seriously works at repairing and protecting your hair. I highly recommend it to everyone. I don't know how it works, but I can honestly say it lives up to the statement "what is this sorcery?".

Wish I discovered sooner!

I've been using this as a weekly treatment in addition to smartbond and my hair is completely transformed. I'm blonde and so my hair is prone to breakage from the bleach but this treatment really helps prevent that. I would really recommend buying it however for the price point it's expensive for a small bottle and you do use quite a bit each time.

Essential item for damaged hair

My hair has been seriously damaged from years of colouring and I thought I was left with no option other than to chop it all off and start again. As a last ditch resort, I started using this and saw an immediate improvement in the appearance of my hair with less frizz and more shine. This has salvaged my hair and returned it to a healthy state. This is worth every penny.

It works!

This worked wonders for my hair. My hair is quite damaged from all the bleaching and dying I have subjected it to. I left it on overnight and after washing my hair in the morning, my hair (especially the ends) are visibly softer and smoother to touch. It is pricey for the amount but a little goes a long way and it's very effective.

Definitely improves the health of my hair

I finally bought this after hearing about how good this brand was. Initially, I thought it was a kind of styling protectant cream but realised it was a pre-wash treatment. It says to use a lot so your hair is saturated with the cream, but the bottle is tiny so it doesn't last very long depending on the length of your hair. Once washed well my hair felt like it still had some residue on it, which I...

Read More

Restored damage after years of constant straightening

After using this once a week the night before a wash - I have noticed the difference in health with my hair. It has minimized frizz and pretty much reversed years of damage from straightening my hair.


The best

I love this product. I always repurchase it even though I say i dont need it anymore. It makes my hair so soft and shiny

Have been using No.3 for years and swear by it

Olaplex fixed my dry, bleached hair. I get the in-salon professional olaplex with my colour, and then use No.3 as a weekly treatment in between visits to the salon. It helps to maintain the bonds in the hair so less split ends, less breakage

LOVE

Firstly, this product smells amazing! I can genuinely tell is has helped repair my hair and my ad split ends. My hair feels so nice and soft after using this, i wish it was just a bit more affordable! I will be repurchasing though as i think it is worth it if you have quite damaged hair like mine.

My absolute favourite mask

If you're on the fence with trying Olaplex, just do it! It's made a massive difference to my hair and my curls are so much happier and less fluffy when using the Olaplex system! Remember to use the mask on dirty hair before washing with the shampoo and conditioner (and make sure your hair is wet/damp so you don't need to use so much product!)

Still my favourite treatment after 4 years

I am a committed olaplex user and have been loving this treatment for four years! Only downside is you have to wet your hair first, but perfect for baths!

saved my hair

so moisturising for my hair, i use this with the bonding oil and it saved my hair after years of bleaching and dyeing

My hair looks and feels great

I have really fine and damaged hair and Olaplex has done wonders to it. I have less breakage and it definitely looks and feels stronger and less damaged especially on the ends.

Favourite once-a-week treatment

I have long, dark hair with highlights and I use this product weekly. Before shampooing and conditioning, I wet my hair and towel-dry then apply the treatment from the roots to the ends of my hair. I leave it on for about 30 mins. After using it my hair feels 5 x stronger and smoother!

Miracle product!!!!

I wish I had this when I was a teenager! This stuff is golden! I use this project in conjunction with Olaplex Shampoo & Conditioner and swear by it. it has transformed my hair and I noticed a difference after the first use. Perfect for bleached hair that needs nourishment and is a really good price point. You can leave it in for as long as you like, sleep in it (if that's your jam) and it easily w...

Read More

The bees knees

I use this religiously on my hair, it has made a huge difference to the strength and appearance of it!

Not sold!

After using this treatment, my hair does feel softer and more manageable.....buuuut I'm not sure it's worth the hype or the price tag? I have relatively long hair so only get about 2 treatments out of the bottle and my hair generally goes back to it's usual self after the next few washes. It definitely is a good product, but unsure if I would re-purchase. I feel like you can get just as good produ...

Read More

Amazing mask

Has really helped to repair my fry and damaged hair. I leave it on overnight and wash it out on the morning for best results.

Works!

I use this in conjunction with the shampoo and conditioner and although it doesn't fundamentally change the health of my hair it does give me smoothness with less tangled and fly away hairs so they are less likely to break. Once I stop using my hair goes back to normal.

Great

A cult product for a reason! Strengthening and nourishing.

love

love this product repairs damage from colouring, and heat-styling

It worked for Bleached Frizzy hair

I swear I have really frizzy and damaged hair. A friends hair stylist friend saw my coloured hair on his insta story and asked my friend to suggest me to use this product. I used it and it actually worked well. My hair were much more manageable and soft. Easy to comb after shower and showed much lesser frizz. Currently this product is out of stock and I am desperately waiting back for it as i can ...

Read More

Saviour!!!

Saved my damaged blonde hair. Anyone with dyed hair should use regularly to repair any damage.
Life changing stuff

amazing stuff!

this stuff is life changing! i use it once a fortnight and leaving it on for about 24 hours and my hair ends up feeling amazing, my hair is growing fast and i have no split ends, so worth the money

Underwhelmed

I have thick, naturally wavy Virgin euro hair. I've been straightening it daily for 12+yrs and have used the covid lockdown as an opportunity to give my hair a break and learn to wear it naturally as well as give it some well deserved TLC.
Most masks and treatments I use always leave my hair feeling replenished, moisturizer and silky smooth when rinsing but this one feels almost like I never...

Read More

more manageable

This product did make my hair softer and made it look and feel more manageable as my ends were very dry and would tangle but after this oloplex treatment it felt so much healthier. I would definitely repurchase

Nothing better

What a game changer this is. It's restored so much strength and shine to my brittle damaged hair. One of the few products that really makes a difference.

A must if you dye your hair blonder

Can definitely notice my hair feels stronger after using this. I have dyed my hair blonder and was really worried about breakage so I brought this and would recommend it to others in the same situation. Love that you can just wet your hair and put this in, go about your morning workout or whatever and wash it out later :)

Best product for blonde hair

Absolutely love this product. I do 3, 6 & 7 (no.7 is great for spilt ends) once a week and it has brought my bleached, damaged hair back to life. My hairdresser is so impressed with the quality of my hair now. I've read a lot of reviews on here saying people leave it in overnight or all day and don't think it does anything, that's because you're not suppose to leave it in for too long otherwise it...

Read More

Can't live without

I am white blonde scalp bleach and ever since using olaplex I cannot be without it. I use the in salon treatment as well as this. I like to leave it in for half the day when I can before shampooing my hair and have definitely noticed a lot less breakage. How did we ever live without olaplex?

Great for thick, curly hair

This product really helps with my frizzy hair. I like to leave it in overnight as an extra boost of moisture once a month. It does what I expect from a treatment, softens, adds moisture, shine and doesn't weigh down my curls.

I might be the only one...

My hair was dyed blonde (from medium brown) for over 8 years when I started using Olaplex weekly. I had a lot of breakage and my hair was beginning to mat together when I shampooed it, leading to a lot of delicate combing to get it tangle-free and smooth. I got a huge chop to keep my blonde hair colour looking healthy and began with Olaplex.
It helped a lot at first, ESPECIALLY with detangl...

Read More

Don't get the hype?

Maybe Olaplex is best for coloured hair, because I was super underwhelmed. I mean, it was okay, my hair felt fine after using it.. But no better than any Chemist Warehouse hair treatment product I could buy for a third of the price. My hair is wavy, on the frizzy side and prone to damaged/split ends (especially because I straighten it), but it hasn't been dyed for about five years so there's no co...

Read More

Hair saviour

This transformed my brittle fine hair.
I have fine hair but a lot of it, and it easily breaks so really nice split ends as we all want.
I swear this actually made my hair grow longer as well! Smoothed out my dry ends, made my hair feel thicker, and so smooth! My new staple! Highly recommend! Read the instructions though, this goes on before shampoo and conditioner not after!

Great product

I try to leave this in overnight and feel there are benefits of using it. I can't say I've been as blown away by it as others, but would repurchase.

best hair treatment

I've bleached my hair so many times and this has brought my hair back to life

Healthy soft results

This stuff made my bleached hair soft, bouncy and healthy. I would but again and again !

So soft!

This product makes your hair SO soft. It doesn't have to be left in the hair for long to experience it's magic. It is a small bottle so I have gone through mine quicker than expected.

Holy grail

Best treatment ever that actually repairs your hair. Feel the difference once your hair is dry as it brings so much life back to it!

Love it but expensive for long thick hair

I have bleached curly hair so my hair has been put through it over the years and this product made a noticeable difference for the better. I used it as an overnight treatment under a shower cap and that gave me my best results. Would definitely buy again but just wish it was a bit cheaper so i could buy it more frequently. I have thick and long hair that soaks it up so i might get MAYBE two-three ...

Read More

Holy Grail Product

I love this product so much! I have used 2 bottles so far and it has made a huge improvement to my hair health and is so much softer, healthier and shiny now.

Amazing for any kind of hair damage

I have been using Olaplex about every 7 - 10 days for the last 3.5 years and I can honestly say it's improved the quality of my hair so much. Overall my hair is thicker, shinier, and grows longer before it starts splitting at the ends. I started using it to heal my hair from an ombre, but now it's years later, my ombré is all grown out, and I use it on my natural hair just to counter damage from...

Read More

worth the splurge

I don't use dye, nor have I had my hair chemically treated - just trying to grow it out from a pixie cut. I wash my hair and condition it, then leave No. 3 overnight - and honestly the difference in the look and feel of my hair is pretty noticeable. It's much thicker, shinier and feels a lot healthier too! Definitely recommend this to people wanting to take care of their hair!

Amazing!

I have brown hair that's not dyed. Only used this once and my hair is super super soft. Definitely recommend and will continue to use and repurchase! The longer you leave it in the better, over night or applied in the morning and washed out at night would be ideal.

Worth trying it

I've bought a bottle of this product twice now. It seems to help but hard to know for sure because I use other products. My hair has felt thicker since using it though. Downside... the bottle doesn't last long when you have below the shoulder length hair, making the product quite expensive. You need to use it before washing hair so make sure you have the time to do this.

Blondes holy grail

I am a victim to hair breakage due to bleaching. Olaplex products have literally saved me from shaving all my hair off. I use no. 3 once/twice per week and leave it in my hair overnight. My new hairdresser (clearly wasn't going back to my old after the freak breakage incident) asked what products I use as my hair felt great.

For all the bleached babes out there

Given i has bleached blonde for 7 years i thought nothing could repair my hair. Thank god for the person who made this product as it saved my hair. Noticeably stronger and less fall out.

Must have

Having bleached blonde hair, this is a must have in my hair regime. I leave it in my hair for 1-2 hours, once a week and then wash out with shampoo and conditioner. My hair feels stronger and shinier. I'll use this one forever.

Great at-home treatment

I like this product as it actually feels like it is absorbed into the hair rather than sits on the outside. It does smooth and repair my hair, especially when the ends are breaking. However, I still feel that this could be a bit more nourishing as a treatment. Whilst the packaging looks lovely, it is annoying to get product out and so it. has to sit upside down on its small lid, rather than uprigh...

Read More

Brilliant

Wow, this transformed my damaged post-bleach hair after just one use. I now use it weekly and my hair has never been healthier.

Rescues bleached hair

My hair pre bleaching: dark brown, almost black, very thick, straight, shiny, little dry but generally bomb-proof with regular nourishing shampoo, conditioner and mask. My hair POST BLEACHING (ombre, 4-5 shades lighter): drier, delicate, tangles easily, knots in ends, brittle, dull/no shine, almost impossible to wet comb due to weakened state of strands. MY HAIR AFTER OLAPLEX (1-2 times per week, ...

Read More

Every person with hair needs this.

I was recommended this from a friend and I was so glad I was. I had recently got my hair horror bleached at the salon and left feeling very flat with the texture and feeling of my then dry hair. This instantly added back life and softness to my hair. My hair now looks back to its shiny happy self.

No. 1 hair product

Massive difference after just one treatment. Love this product.

Healthy Hair

I have always had fine, dry and damaged hair. I have been using Olaplex no3 for probably over a year now and my hair has never been softer and healthier. Even my hairdresser complimented me on how healthy my hair was- which I never thought I would ever hear!

Saved my hair

I had really damaged my hair from at home bleached (quarantine life got me good). In a desperate attempt to save what used to be incredibly healthy hair I forked out the money to buy 3, 4 and 5 from the olaplex set. I used 3 as directed 2-3 times a week for 2 weeks followed by 4 and 5 and my hair has been incredibly resurrected! I've gotten comments on it's shine and movement, it feels stronger an...

Read More

Obsessed!

I'm obsessed with this product. My colour and heat damaged hair is much smoother and more manageable since using this. Would absolutely repurchase.

Overrated

Having heard so many great things and read a lot of reviews on this product, I have been rather dissapointed with this brand in total ( I bought the shampoo and conditioner in this range as well). It didn't bring my blonde locks back to life in any way but I guess it didn't make them worse either. For me it was a waste of money.

SAVED MY HAIR

After bleaching and using heat on my hair I started noticing that my hair was super weak. I bought this treatment and it has honestly saved my hair! Will definitely be repurchasing.

Heaven

Thought every time hairdressers recommended this stuff they were just trying to sell product... I stand corrected. Olaplex 3 is genius, my hair instantly feels 10 x better, particularly good if I've been in the sun or not looking after my hair. Definitely recommend leaving it in for as long as you like too.

Winner for bleached hair

This product has been a game changer for me to keep my balayage dyed hair healthy and prevent it from damage between visits to the hairdresser. Helps to restore your hair from bleach damage.

Not for me...

Unfortunately this product did no wonders to my mane that i can see. Same troublesome long damaged strands but i guess the only upside is it smells lovely. But like all else really, trial and error.

Must have for bleached hair

This product along with their shampoo and conditioner has saved my over processed, fine, bleached hair. Noticeable improvement in density, health and texture. Honestly worth every penny and a must have for anyone who bleaches their hair.

so great

this is a must have, helps my hair so much and smells great. I leave it in for most the day then follow up with the olaplaex shampoo and conditioner

Love it!

I received this as a sample quite some time ago but hadn't used it until now. OMG... why did I wait so long!!! I have fine long chemically lightened hair. It can be very knotty and lack luster. I used this once and my hair is actually shiny and feels so nice and looks healthy! I Will definitely purchase when this runs out.

Didn't do much for my hair

I used this product when I dyed my hair blonde , the hairdresser made it out like it was the best thing ever, it literally made no difference to my hair, In fact my hair became more dry. I'm not a fan of the olaplex products

Amazing

I've been using this product for a few months now after going from brunette to dark blonde. Has kept my hair so healthy and never really got any damage from the lightening and I believe it's because I used this product. Absolutely amazing

Amazing

I've been using this product for a few months now after going from brunette to dark blonde. Has kept my hair so healthy and never really got any damage from the lightening and I believe it's because I used this product. Absolutely amazing

I still don't understand how this product is so magical?

My hairdressers change often due to my travels and movements... however they are always SHOCKED at how my hair has barely any signs of damage despite the constant bleaching. I use salon quality shampoos and Olaplex maybe once every 2-3 weeks and I swear this is the miracle worker in my hair routine!

If you're blonde, why aren't you using it?

This stuff is absolute magic, i am dark haired and went platinum blonde, and it got very dry and damaged and if it wasn't for this stuff I would be bald. I loved to leave it in for as long as I can and then do a mask. But everyone needs this

Holy grail hair product!

This product has made the biggest difference by far to my very damaged and difficult to get a brush through hair. (I went from medium brown to a light creamy blonde for several years). I wet and towel dry my hair, comb it through and leave in for a few hours, sometimes overnight. My hair comes out smooth, soft and shiny and is so much easier to brush, resulting in a lot less hair breakage.

Life saver

I use this product once a week and it has saved my hair!!

Repaired my extension damaged hair

I had damaged my hair big time with extensions, not a lot was helping it. I've been using this mask weekly for over a year and my hair is becoming so much more like what it was originally. I am blonde and have thin hair and this keeps my colour good and gives my breakage some loving! Higly reccomend and can not fault!!

Must have for all bleached hair

I use to have very fried hair, I went from platinum blonde to balayage to platinum blonde in a short time. I also have fairly frizzy dry hair. This treatment saved my hair! Although it says 10 minutes, I usually leave in for a few hours (before cleaning or some other chore). Makes me hair feel so good after washing it out.

great for hair

helped my hair into a better state of dry and brittle ends

What you all need!

After years of dying, bleaching, straightening, curling ...this was the product that has given me some hope that I will have healthy, luscious hair again. The feeling it gives you hair after using is one of a kind and something I look forward to doing weekly. After several months of use, I have seen a difference in the strength and shine in my hair. Would reccomend !

So good

I don't have chemically treated hair, but it does get dull and coarse. Olaplex has changed the texture significantly - it feels feel stronger, smoother and I have less frizz. A win!

Best hair treatment on the market

I've been using Olaplex 3, 4 and 5 for over a year and my hair has never been better. It has helped reduce breakage and has definitely strengthened it. I use this treatment once a fortnight and my hair always feels amazing afterwards. It's quite heavy so a little bit goes a really long way.