Nuxe Huile Prodigieuse Multi-Purpose Dry Oil 100ml 100ml
Questions & Answers
(1 Question)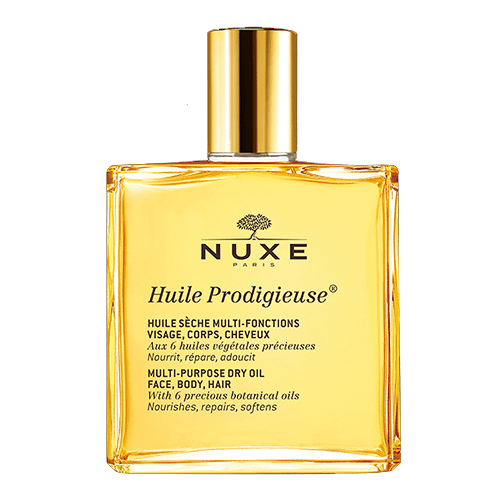 Nuxe Huile Prodigieuse Multi-Purpose Dry Oil 100ml
Get an expert to answer your question about this product!
Ask a Question
91% recommend this product
Most Helpful Positive
Loved it
Thought it was great in my hair! Smells incredible!
Most Helpful Criticism
It's okay
I received a mini deluxe sample of this a while ago but never reached for it. recently I tried it and loved the smell, other than that it was nothing mind blowing. Used it as a hair oil
Loved it

Thought it was great in my hair! Smells incredible!

Holy grail product

This is a holy grail product of mine. It smells fantastic (not too perfumed) and drys really quickly without leaving an oily residue. I use it on my hands, elbows and around my neck to moisturise but also act as a light perfume. Certainly worth it!

one product which can be used everywhere

This is one of my Holy Grail products. It smells wonderful and leaves my skin feeling soft quickly. I don't like to use it on my hair, but it works well everywhere, including my sensitive face! I love the new pump spray top, I waste less and don't worry about the slippery bottle!

It's okay

I received a mini deluxe sample of this a while ago but never reached for it. recently I tried it and loved the smell, other than that it was nothing mind blowing. Used it as a hair oil

USED THIS PRODUCT FOR YEARS ITS GREAT

I have used this oil for the last couple of years and the product is fantastic. Secret is not to use too much especially on the hair, but just use economically I usually start on the body then use the residue on my hands for the face neck and hair.

Only problem with this delivery was that one bottle had leaked majorlry in transit..... Mayb packers need to check if the lid is tight. Not sure why the other two did not leak..



love for body

love this for body but I don't really understand how if could be used in the hair - just too much in hair but great and lightweight for skin

Absorbs nicely but it's not enough

I have very dry skin so purchased this version and the Riche version based on all the amazing reviews. While it's a good product, I just can't seem to find a real use for it in my overall routine.
In terms of the product itself, it does soak well into the skin and leaves the skin supple and reasonably moisturised - so it does do what it says. The problem for me is that, alone, neither this or the Riche version are enough hydration for my skin; I have to apply another moisturiser on top (a barrier cream like Cetaphil Moisturising Cream or Cerave Moisturising Cream). It kind of feels like an extra, unnecessary step because I'm not sure the end result is so different.
The scent is nice but pretty strong - I definitely competes with perfume so you have to keep that in mind.
If you have normal or mildly dry skin this might be for you but if you have extremely dry skin, this won't be enough.

so impressed

i am so happy i purchased this oh my god. this is such an amazing product so many uses! the scent is just outrageous i love it i always get so many compliments, i love using this for an elegant slick back ponytail really tames all the frizzies and manages your mane. love for the body as it really does hydrate and keep you smelling great all day/night

I don't recommend to use as a hair oil

I got a sample of this with one of my purchases. It smells absolutely divine but it turned my hair into an oil slick.
I have long, very thick, wavy hair so I use a lot of argan oil in it . I tried using this oil in the same way I would normally use argan - straight after washing while my hair is still damp; same amount, approx. 10c coin sized pool in the palm of my hand. It made my hair look dirtier/oilier than before I washed it. It didn't absorb into the hair strands at all.
Maybe I used too much. Either way, I won't be using it in my hair ever again. I would probably use it in smaller quantities on my body though, just for the amazing scent.

surprisingly good

I wouldn't have brought this but received a sample in a previous promotion so thought it was a good opportunity to try it out.
Wow i was surprised at how great this is for pretty much everything - I used it on my hair, face and body.
The scent is quite strong so it might be too overpowering for some people

Great Product for my Hair!

I love this product for my Hair! just a little is all you need (I have very short hair also) it leaves a beautiful scent and I don't need to wear perfume - this is the only scent I need on a hot Queensland day! I often get compliments on the fragrance..

Smells amazing!!

I love this dry oil!! I bought it for use primarily on my hair and it makes it smell amazing. I also love the fact it is a spray bottle which make it hassle and fuss free. The packaging is also very luxe.

Beautiful light oil, multi-use

Lovely light oil with a soft fragrance that can be used on hair, nails and skin (both face and body). A little pricey but so handy for travel with a natural and light skin finish.

Very strong scent!

I use pure oils often on my body as I have really dry skin so was super excited to use this oil with so many reviews!

Unfortunately the scent is SO strong.. completely overpowers anything else... It's like wearing a perfume, and a strong one. And also really lingers for hours. I have a really sensitive smell to synthetic perfume, and as the product is 98.1% natural ingredients, I think the remaining must be the synthetic fragrance as the ingredient list just states "PARFUM/FRAGRANCE", which is a shame because the remaining ingredients are really lush and natural.

Love the spray feature for the oil, and also it does seep into the skin really quickly and nicely.

One of my favourite products in the world

I can't be without this.
The scent is amazing, and it's a good for moisturising and as a hair leave in.
For use in the hair, it does travel to the roots (as good oils do) so I'd recommend the night before washing.
I use on my body and find it can fix peeling cuticles too.
I would wear it just for the perfume thought.

Not for me

I purchased this on the hype of how often a bottle sells

I cant stand the smell.

I think it's Patchouli, and I can't stand Patchouli. If you love that smell you are going to love this multipurpose oil

I think oily skin/ hair people should avoid it

i imagine mixing it with a broken highlighter would be so pretty in summer

When i used it, i'd felt just like i imagine, not sticky or uncomfortable



Truly multi purpose

I tend toward dry skin and purchased this oil as a post shower, body moisturiser. It is perfect, goes on dry, moisturises beautifully and smells divine. I also use it on my hair (long, thick and wavy) if the ends look a little dry or to smooth down some frizz. A couple of drops mixed with a cream moisturiser is lovely for some extra care on the face. I have very senstive skin, but have no issues at all with this product. I can't live without this oil, it is just perfect!

gorgeous scent, lightweight, so many uses

I started using this oil only a few days ago and am quickly falling for it. the smell is gorgeous (hard/weird to describe but a little nutty, feminine) and not too overpowering. I have used it on my body, hair and a tiny amount on my face and love that it has so many uses!

Great product!

This stuff smells amazing and makes your skin feel fresh. I love spraying it on my chest and shoulders and it makes for a nice suble glow.

Beautiful Oil

I would definitely buy this again, it smells devine , its light and its LUXE! very happy with the purchase

Nuxe Huile Prodigieuse Multi-Purpose Dry Oil 100ml

OMG, i could bath in this stuff, so lux, so light and smells divine! great after a hot shower or extra hydration on hands knees and elbows!


Paradise in a bottle

I have dry and irritated often itchy skin. This is amazing. A dry oil that leaves you silky soft and never greasy. The smell is Devine! - i actually went and purchased their perfume to layer the scent. 10 stars.

Perfect for all seasons!

Have been using this on and off for years and every time I try something else I end up being disappointed and immediately go back to the Nuxe Dry oil. Every drop is absorbed into my dry skin and it just has the most divine fragrance as well. Never greasy, my skin just soaks it up and am left with velvet soft skin. Highly recommend!

Luxurious Everyday Product

I received this full sized product via and Adore Beauty promotion and fell in love. I have long hair that benefits from a light treatment on the ends after a shower and this was beyond the answer. Think Tahitian waves and curls....plus I can't really stand to wear proper perfume, but this scent is beautiful and not too much.

Best multi-purpose dry oil

Have been a fan of this product for years! Use it for my body and hair. The scent is subtle yet iconic. Please offer it in more sizes Adore Beauty!!

Best body oil

I'm obsessed with this body oil. The smell is divine & it's so nice & light on the skin & quick to absorb. I recently bought the limited edition released bottle which is so pretty. But the exact same product. A little goes a long way.

The best body oil

I have loved this product for years- the scent and the way it softens my skin! I want bigger bottles please just like in USA!

Brilliant

The scent of this is what makes it so much better than any other dry oil! Its moisturising and makes my skin glow! My boyfriend loves it too ahaha he took it to his house while I was overseas haha

Luxury in a bottle

Feels so beautiful in the skin, I received as a sample before purchasing full size. The bottle has lasted almost a year! So although expensive upfront cost for use is amazing. The smell is Divine and makes my arms and legs feel amazing soft and nourished imparting just the most subtle sheen for healthy glow

Love!

I don't often use body moisturizers/oils (even though I should) I often get really irritated and itchy but this was amazing made my skin feel soft and not too oily and smelt amazing

Meh

The oil is great and I love what it does to my skin, but the smell can be too much. It doesn't wear well through the day. Still that's just my opinion.

Great all round-er!

I originally bought this oil to help me with my extremely dry skin on my legs. It has been a wonderful light oil that has changed my skin!!! I started putting it on straight out of the shower while my skin is still wet and it absorbs so much better into the skin and you use less product :)

Also great to use on your hair ends!

Beautiful

This oil has the most amazing beautiful scent. Leaves my skin supple and well moisturised. Would definitely recommend. Bottle lasts for ages.

A luxurious multi-purpose oil

This dry oil is great for both hair and skin. A little goes a long way so it lasts a very long time!

Beautiful Oil!

I received a sample of this and it is DIVINE! It's very hydrating and absorbs really well :) Most importantly it doesn't leave my skin with an oily residue.


Luxurious

Such a luxurious product, makes my skin feel incredible without being overly oily in the slightest.

Wonderful

It's the first time I've used this product and I was sceptical as I have super sensitive and reactive skin. I've been using it on a daily basis on my face either on its own or mixed with my moisturiser for over a month now, and wow it's just wonderful, my skin is softer, smoother and no more dryness or oilyness it's just perfect. Will continue to use and recommend this product, it's just wonderful

Lovely oil

This certainly is a beautiful product, it is a lovely oil that absorbs readily into the skin, smells divine and adds moisture without being sticky or heavy.
Nuxe Oil is a very premium product that makes you feel special when you use it. Although it is a five star product, I have given it four stars for the following reason: the bottle: it looks gorgeous, but as other reviewers have mentioned it does become slippery when you have oil on your hands. I have nearly dropped it on more than one occasion so am very careful when handling it. Secondly, it is expensive. I wish I could use it freely, all over my body and face. I realised I was going through the bottle far too quickly, so I now I save it for mixing with my daily moisturiser, and use on my face and dec only, otherwise I would go through the entire bottle in just a few days!

Beautiful product!

I use this oil daily! Especially in winter when my skin is dry.
It's so hydrating, absorbs really well and doesn't leave your skin oily. The scent is so beautiful and stays on your skin for hours.

I have fallen in love with this oil.





Amazing

Smells sooo good! Perfect for winter months but also occasionally use it in the QLD summer. Husband always comments that my skin is super soft when I use it. I use it mainly on my body and haven't used it on my face (but thats because I am nervous as have super sensitive face!)



Really nice after a shower

I love this product after I've had a shower, I like to use it when my skin is still damp, I have very dry and sensitive skin and I think this relieves any itchiness I might have. it smells nice and feels very luxurious on but not too heavy or sticky.

Hydrate

Wow, I've tried so many products to hydrate my skin in winter and this wins hands down. I use it morning and night. It's not too oily at all and makes your skin glow. I even apply my powder foundation over it. Also any left over in my hands I rub into the ends of my hair. I have sensitive skin and I've been using for a week and so far so good. Very impressed with this product and I will buy again and recommend. Comes in a spray bottle as well which is perfect. 2 sprays pea your face ends of your hair and hands. Absolutely love it.

Highly recommend Nuxe in your daily routine an overall body and hair moisturizer.

Absolutely love Nuxe. My skin was dry Nuxe Instantly left my skin and hair soft and the fragrance is beautiful. Highly recommend Nuxe.

Amazing product!

I love this oil, you can use it all over the body, face and even hair. It is hydrating but doesnt leave your skin feeling sticky like youd imagine an oil would. It absorbs into the skin and leave a nice glow and smell!

From Sample to purchase

I got a small bottle as a sample and loved it so much I have bought the big bottle. The spray is handy. A small squirt makes my supermarket "Dry Skin Moisturiser" a luxury product.

Nice!!

I have quite oily skin so I was hesitant to buy this, but I really like it! It doesn't feel too oily on my skin and when it soaks in my face and body feel soooo soft! I love the smell and a little goes a long way, so his product lasts ages

Smells beautiful

I bought this product because of the good reviews. I have never used a dry oil before but I really love this product. First of all it smells lovely and applies easily without that greasy feeling. Definitely feel pampered when i use this.

Wow - I'm loving this!

I am always grateful of product reviews as I check all new products before purchase and hope for honest reviews. And in the case of Nuxe's multi purpose dry oil, I'm thrilled. I'm applying a minimal amount of this oil morning and night before my moisturiser, and after four days only my skin is truly radiant! I have a healthy glow, my skin seems plump and firmer (not always an easy thing when you're 45). Having extremely curly, often frizzy hair, I have been rubbing it into my tresses as well, and have had remarkable results. My curls are defined and no longer out of control, without losing volume and seeming weighed down or oily.
My only suggestion to improve this product would be that I wish it came in bigger sizes.

Beautiful oil

Skin Type: Dry and sensitive

I use this oil on my body, face and hair. It's absolutely fantastic for dry skin and absorbs beautifully.

My face is very sensitive so I was shocked that this worked so well for me.

I will say - the fragrance is very strong. It's not unpleasant (smells strongly of jasmine to me) but its something to consider.

Effective and easily absorbed

I love this product - it is very moisturising and nourishing, easily absorbed and the packaging is gorgeous. The bottle has a pump-spray dispenser which i wasn't too sure about, but the spray is quite targeted so it's not messy. I'm using this all over my body in the winter months and will definitely re-purchase.

Great oil

Great oil. Makes my dry patches vanish and feels great on my face.

Feminine

So hydrating, absorbs well and the smell is charismatic and feminine - So, very delicate. Love It.

Smells gorgeous

I like to use this after I get out of the shower when my skin is still damp, smells gorgeous and makes my skin feel incredible

So hydrating

This hydrates my skin like nothing else. It's amazing and perfect for winter, definitely worth a try.

Very good

This is so good for my whole body. I use it most often on my face but have on my hands etc too during cooler months.

Strong scent, effective oil.

I purchased this to take as a bit of an all rounder on travel. So far I'm happy with using it on my hair & body (haven't tried face) & it soaks in nicely. Not greasy or oily & makes you feel a bit fancy. The scent is strong & I see on other reviews people seem to be split down the middle on whether they love it or not. It is growing on me, but it is quite a strong scent & I don't think you would use your normal perfume on top, it would be too much. I'm 25 but I almost feel like the smell is too mature for me, slightly musky & sweet, v sophisticated. Lovely smell but just strong & very 'grown up'.

Winter need

I need this during winter. It's a total must have. My skin all over is hydrated and so soft after using this.

Amazing smelling

Perfect on legs, arms and decolletage - makes my skin look super moisturised, healthy and glowing. The smell is absolutely gorgeous.

Feels fresh and luxurious!

I bought this product as I wanted something sheer that wouldn't make me sweaty when I applied it in summer, and this is perfect! Leaves your skin looking fresh, dewy and supple, and the packaging is simple, but with a luxe feel.
I read a lot of reviews about the smell being amazing; however, when I received it, I actually wasn't fond of the smell at all. I really didn't understand the hype. Although, since then, the smell has really has grown on me, and I now think it smells divine!
Just don't expect it to be a heavy skin treatment that you would apply to relieve excessively dry skin. It's something you can use daily and wear under your winter layers of clothes without sticking to them, or in hot weather without getting sweaty/slimy. I have normal/dry skin, and use a thicker Aesop body balm at night, but this dry oil is IDEAL if you're like me and hate feeling like you have a thick film on you during the day.

For dry skin

When I first tried this on my body it felt too rich. And when I tried it on my hair it made my hair look greasy and gross.
But when I was pregnant I used up a whole bottle, applying it to my belly.
It soothed my itchy stretching skin and kept it supple and soft.
So I don't think this is for everyone but if it works for you then it's a fantastic product.
I love the spray, it makes for easy application.
The oil is lovely to rub in and it absorbs quite quickly, though of course not as quickly as a cream.
But when I was pregnant my belly was in need of deep comforting hydration, so this was perfect.
I now use this is the colder months and it works well in preventing scaly skin.
The scent is lovely too.

Beautiful

Beautiful dry oil that sinks in quickly without leaving a greasy feel. I like using it on my legs for a gorgeous, healthy glow all year round whether it's summer or winter. Adds radiance and the smell is just beautiful but not overpoweing. Feels like a luxurious product and the packaging is so pretty. Everyone definitely needs a bottle of this!

best oil for everything

bought it because of the reviews. I was not disappointed. Light enough to use on a warm summer day, also moisturising enough during colder months. I use it on my body and hair. Love the smell & can be mistaken as a fragrance. I have to purchase another bottle because my mum has taken mine.

Makes me feel so luxurious !

It smells terrific and makes my skin and hair shine! Its such a beautiful, multi purpose beauty product!!

Gorgeous scent makes you feel so luscious

It's so hard for me to find a scent I immediately love. I'd wear this everywhere its delicious and exotic and makes your skin feel so lovely too - am yet to try the shimmery version.. only thing is it's a bit expensive, bit of an indulgent purchase.. but then again it is a moisteriser and perfume in one

Love the scent and the sheen

I have fallen in love with this oil. It isn't quite moisturising enough for my dry skin, but I mix it with an unscented moisturiser and it is heaven. The scent is quite strong, but is beautiful and natural. The bottle looks stunning on my counter too.

Luxury in a Bottle

I have oily acne prone skin, and if you do too I wouldn't recommend using this on your hair or face. I do love to love this dry oil for my arms and legs. Quickly absorbs, smells lovely and leaves my skin moisturized and glowing.
The packaging isn't the best for travelling, as the lid does not tightly seal and the glass bottle weighs a bit. But it's a great addition for your beauty regime at home, where you can quickly spray on your body, rub it in and off you go for the day!

Shimmer Shimmer

Hi product is great, smells fresh, hydrates and nourishes the skin and like me, who has ezcema its always hard to find something that not only helps with dry skin but provided a nice scent too, I'm always using products that have no smell, so its refreshing to try something that works on my skin and has the added bonus of a lovely fresh summer scent!

Great body oil for going out at night. great fragrance.

I only use this for a bit of a sheen at night, but it is lovely. A bit too oily to use as a moisturiser or in the daytime. Fragrance is amazing though, and gets compliments (the sheen does too). If the perfume has a similar fragrance, I would love to try it. if you don't like strong perfumes, this would be a great alternative.

very strong scent

I purchased this product based on the reviews below, and the awesomeness of the nuxe lip balm. Unfortunately i can't really attest to the moisturising properties as the scent is much to strong for me... its very sweet, very floral, and i can't handle more than a fingertips worth :(. Basically if you find strong scents overwhelming, try and test this out before you buy.

Heaven In A Glass Bottle

The ultimate body oil for summer, I love this product so much.

However, I personally have issues with this product as a multi-use oil. I have had mixed results with using it on my face, first of all. I have combination skin and it takes a loooong time for my skin to drink it up, and as someone with super fine hair it's a definite no-no for my head (hellooooo instant greasy ends)

BUT as a body oil, it's absolute heaven. It smells like being on a yacht with Bey and Jay in summer and the dry oil consistency means it sinks into my body and hydrates almost immediately. There's a very subtle shimmer, and the wonderful smell softly lingers hours after application.

Best Body Oil

I have dry skin and require a rich cream or oil for my skin. I find after using this product my skin is soft and supple. The fragrance is quite pretty as well. I love this product and will continue to buy and recommend.

Beautiful Product!

Goes into the skin beautifully, leaving it moisturised and soft. Smells excellent and comes in a beautiful package. Can even spray it into your hairbrush to tame frizz (Probably only good to do that with thick hair!)

It's excellent - a classic skincare product

Nuxe huile prodigieuse is lovely to use, deeply nourishing and leaves my skin (normal to dry) smooth. I t can be used anywhere on the body or hair. It's great as a primer for foundation

THE BEST

I bought this recently and I absolutely love it! I use it after the shower on my body and hair. It makes my skin feel fanatastic and my hair so soft, it doesn't make me feel oily at all! Have 100% recommended it to friends.

Perfect glow on top of your body moisturiser

I use this on my body only. Ive tried it in my hair however made it very oily. It is amazing to use on top of a tan! It leaves your skin looking very luminous and healthy.

Divine Body Oil

I got a sample of this product then had to buy it. It smells absolutely amazing and feels divine on the skin. I use it as an all over body spray. The fragrance is beautiful, makes you feel like you have been treated to an all over body treatment when you use it. The only problem I have is it runs out too quickly and it's a bit pricey. But in saying that it's worth it. Its a bit rich to use in my fine hair but I put it in at night as a treatment when I know I'm going to wash my hair the next day! If you want an all rounder that's incredibly versatile and luxurious, this is for you.

Love, love, love this product!!

I use it every day on my body and hair (haven't used it on my face) and my skin has never looked or felt better. I've started giving it to friends as presents after they've commented on how much they like the smell of it. Nothing like spreading the love!

Awesome

Love the oil. I mainly use it for my hair. Haven't really applied on my face. I do use it to massage my neck. The fragrance just lightens up my mood.

lovely smelling all rounder!

what i loved most about this product is the fact it was spray on and so easy to apply and its multipurpose-ness!

i only use it on my legs, arms and body as its quite a heavy oil, rubbing in well but ssuuupperr rich.
i have slightly oily skin face wise but get dry legs and arms in winter working outside so make sure after applying do not touch your face unless you're prepared for a break out!



Excellent for winter dry skin and as hair treatment

My skin becomes rather dry in winter (both body and face). I use this instead of a creamy moisturiser all over my body during winter. Oils are the only thing that really does the trick and this one doesn't require 5 minutes to absorb to avoid it going all over my clothes. It's great on my face over the top of the normal daily moisturiser for that extra injection or, if I'm not going out into the sun, on it's own. Finally, it's a great product to de-frizz and treat my coarse, dry hair. All in all, it is definitely a multi-use product that smells great and goes a long way.

Recommended Highly

I have recommended this product to so many friends, I could go into business (just kidding) I love the softness, the smell and it's great for the dry days.



Awesome

I received this today as a sample with another purchase from Adore Beauty.

I have applied it to the ends of my (very long) hair and to my skin. To be honest, whether it works wonders or not is a moot point for me...as soon as I smelled the fragrance I knew I'd be buying a bottle!! The smell is just delicious. So good in fact, I keep sniffing myself :) I blend my own oils for skincare, so I'm used to developing blends purely to suit my taste but I was blown away by ohh-and-ahh aroma of Nuxe Huile Prodigieuse Multi-Purpose Dry Oil.

As a product it is lovely, as the other reviewers rave about, and that is a great bonus, but all I want is more of that Moor-ish intoxicating perfume. Love it love it love it!!

Anything from France has got to be good!

Beautiful product, I use everyday as a moisturiser on my face & body, sometimes in my hair. I have been using Nuxe Huile Prodigieuse Multi-Purpose Dry Oil for a year now and cannot live without it.

It's a lovely, light dry oil that leaves a beautiful shine without being greasy. A small amount goes a long way & the pump spray means not spillage.

Unbearable smell

Nuxe Huile Prodigieuse Multi-Purpose Dry Oil is high quality however I find the fragrance unbearable and too overpowering for use. It's a pity, because the packaging is nice and for a high quality oil it is quite good value. The L'Occitane Almond Oil has a much more pleasant fragrance but is unfortunately much more expensive.

Gorgeous smell

Wowza! This dry oil is a product that my skin has been waiting for for all of its life! The dry oil comes in a glass bottle with a spray. I use this over all my body while I'm still damp after I've showered. It's sinks in immediately and leaves my skin delicately fragranced and thoroughly moisturised. I cannot be without this now!! I even use it on my face and the ends of my hair! I LOVE, LOVE, LOVE this product!!!!

My must have beauty product

This product was a complete surprise - it is really so inexpensive, and yet so so delightful. I am a big fan of May Lindstrom's 'The Good Stuff', but at $110, it doesn't come out every day.
This Dry oil is almost equally as delightful, but less than 1/4 of the price. The oil does not leave any residue on your clothing, and the scent is subtle, clean, sensuous, and fresh. It is not easy to describe, but reminds me of frangipanis - but not strong - perhaps like walking past a frangipani tree.

My husband and my 4 year old son both exclaimed how lovely they thought I smelled when I first used it, and I did not hint for a compliment, I did not tell them I was trying something new. Neither of them have ever done this before (not even when I wore 'The Good Stuff').

I have worn this oil across a couple of season changes now, and even in winter it is enough to stop my arms and legs from drying out.

I have extremely allergic skin - I am suffering from an illness right now that makes me hyper allergic to so many scents, products or foods that normally I am fine with. To my happy surprise this oil remains fine on my skin, and even feels soothing when I have broken out in hives. (I know - maybe the last detail should not have been mentioned in a beauty review! - sorry).

Lastly, whilst I mainly use this oil on my body, you can use it on your hair - I have real fine hair so do not tend to use products, but sometimes for a special treat I spray the oil on my wet hair, and let it soak in for a good nourishing treatment.

The mean girl in me thinks I might not tell my friends about this one! But really, it is great, well worth a try.

beautiful oil

This oil is divine. It smells beautiful and feels beautiful. I've used it on my face under make up and it makes the skin positively glow. I have also tried it in my hair but I bought it mainly for all-over skin care.

my best skincare discovery ever

THIS PRODUCT IS UNREAL!!

I had read the reviews on AB and decided to try some. I bought the Gold fleck one and the normal and both are AMAZING. I would have a bath in the stuff its so good. My skin is fantastic after just a few uses, the gold version hides blemishes and scars well on legs and arms as well as the neck area. Ive never ever found a skin and hair oil that absorbs so well, doesn't leave an oil slick sheen and is so fantastic at repairing the dry ends of my hair.

If you're getting on the oil, rather than moisturizer band wagon- get yourself some of this great stuff!

Amazing

After giving birth to my two children I could not stand the smell of perfume anymore and luckily stumbled across this miracle oil. The smell is divine, the texture is like silk and using it from top to toe is the added bonus.
I also purchased the glow version....smells metallic, doesn't apply easily and spray/pump broke after first week as the glitter particles were to gluggy and thick to pass through the spray.

A daily moisture boost for any skin or hair type.

Not only is this amazing oil a great skin moisturiser, stretch mark minimiser and scar reducer, but my god, the SMELL is AMAZING. You may as well use it as a perfume, it smells that nice! This is another reason why its fantastic to use in your hair - because once its dry, anyone who gets a waft of your hair will smell the beautiful fragrance, and then notice the healthy shine the oil gives your hair! I have had many compliments while using this product, and will continue to use it for years to come - I now consider it a must have. You should, too!

LOVE IT!

Love the oil!!
ANYONE TRIED THE shimmering one??
Is it much different apart from the shimmer??

Makes me feel beautiful.

The Nuxe oil is the one daily luxury I cannot live without! It transforms my skin and conditions my hair beautifully. It really does make me feel beautiful.

Beauty staple

How can anyone live without their Nuxe oil! Parisienne staple, this stuff is wonderful! I have friends who all use it differently and we all absolutely love it! I use it on my skin and just lather myself in it! Cannot live without it!

Wonderful!

Nuxe oil lives up to the hype surrounding it. A wonderful product.

Perfect!

Absolutely wonderful - best buy this year :)

subtle & soft

Delicate and soft, left my skin glowing. Perfect to reduce hair frizz also!

Def. buying again!

I bought this hoping it would combat the very dry skin on my arms and legs. I've only used it the once, but I am in love with the gorgeous scent it has! It's quite a lightweight oil, but a little goes a long way, especially when I used it after the shower while my skin was still damp. I do think I am going to have to combine it with my usual body moisturiser coming in to winter, but already my skin feels a little smoother.
And did I mention the gorgeous smell?!

Makes hair stunning

Wow, added to washed hair, it repaired the ends of my dry hair, got rid of frizz and as a bonus, made my hair smell beautiful! While this product is a bit expensive it is worth the splurge as it can be used on your skin as well.

Decadent daily ritual

I love this product and use it everyday after I've used the cleansing gel from the same range. I have mixed it with my daily moisturiser, my bb cream & I love the clean sheen it leaves on my face - I've even used it on my hair. It tames the fly aways really well without making your hair look greasy. LOVE IT!

All season must have!

I was wary about this product as I have oily skin in general, however this oil is smooth and non greasy. It has a pleasant scent, not overbearing, although you could skip the perfume whilst wearing this oil. It given the skin a nice sheen. The only reason I dropped a star is because it doesn't work well with sunscreen.