MOROCCANOIL Curl Defining Cream 250ml
4 instalments of $12.49
Or 4 instalments of $12.49 with
LEARN MORE
4 instalments of $12.49
Or 4 instalments of $12.49 with
LEARN MORE
Official Stockist
Is this for you?
A no-fuss, all-in-one styling product for wavy and curly hair, that replaces the regular cocktailing of several styling products such as leave-in conditioner, gel, mousse and/or anti-frizz.
Frequently bought with
Please wait while we find a match
Questions & Answers
(1 Question)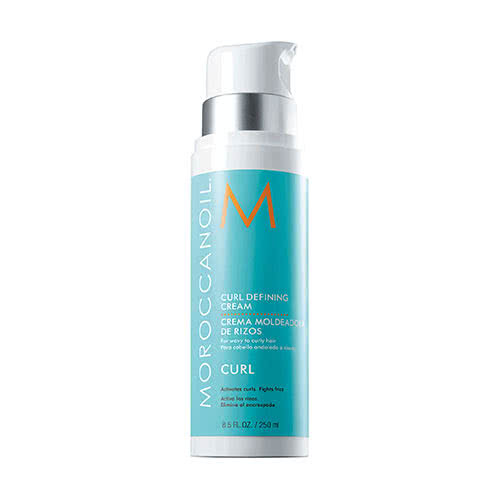 MOROCCANOIL Curl Defining Cream
Get an expert to answer your question about this product!
MOROCCANOIL Curl Defining Cream Reviews
76% recommend this product
Most Helpful Positive
Amazing
Moisturising and hydrating cream that makes your curls look gorgeous.
Most Helpful Criticism
Don't knock it until you try it
This curl defining cream has more hold then I like although it is not the "crunchy" unnatural hold like other products so it is bearable to use. Great if you have a lot of flyways that need taming.
Recommended

A great product that defines curls without the crunch which helps give a natural look.

Amazing

Moisturising and hydrating cream that makes your curls look gorgeous.

Don't knock it until you try it

This curl defining cream has more hold then I like although it is not the "crunchy" unnatural hold like other products so it is bearable to use. Great if you have a lot of flyways that need taming.

Mum swears by it

I've been buying this for my mum for many years and she loves it. She doesn't use any other product for her permed hair

Love

Love using this for days where I want to go natural. Adds a nice amount of moisture to my hair

Luxuoris

A very heavy cream, that smells incredible. Less is more though with this product or it can weigh down your hair. Does an amazing job of moisturising curls

Left hair oily

I was so excited to try this product, and it smells amazing, however, it left my hair super oily after use, and I only used one pump. I do have fine hair though, so that could be the reason.

Best Curl Cream Ever

I have bleach blonde, unruly, untameable curly hair...trying to tame this beast has been impossible, until I came across this! I put a tiny bit after a wash my hair at night and then a larger dab in the morning to style. It's light, make your hair feel so soft (no crunch), smooth and frizz-free!
Highly recommend to anyone with ANY curly hair type - best curl cream ever x

Not great for fine hair

I have fine hair and found this product made my hair super oily. I ended up washing it out the next morning because it felt horrible and I threw the bottle out. I imagine on thick hair it might be great but not for me!

Great hair product

I really liked this it's a big size and with a pump

Amazing curl cream

I absolutely love this cream! I have wavy/curly hair and when I use this it just gives my curls so much more definition and holds perfectly all day. The smell is strong as others have said, but I don't mind the smell at all.

I would definitely recommend this! I have tried many curling creams and so far this is the best one I've tried. Will absolutely continue to use this.

Gorgeous product with fabulous scent!

I love combing through this product in my hair as the scent is delightful!

Goldmine for curly hair

If you have wavy curly hair and like to air-dry like me but don't like the frizz, this is for you!!! It's very conditioning but don't be afraid to use a small handful, scrunch scrunch it in. You will not believe the curls you get!! I bought this after my hairdresser used it on me to give me the most beautiful curls (and to save me some money from getting it blow dried). It's not cheap, but it last...

Read More

Great for frizzy hair

My hair can get very frizzy and reacts to humidity. I love this product because it gives my hair definition and body, without looking like I have come out of a "mousse" parade! Fantastic smell too. I use other MoroccanOil products, and it is a great brand. Would recommend.

Great for curly hair

I have used this product twice now since i bought it and I'm impressed with how well tamed my curls are. My hair still frizzes up a little the next day or two but I can easily fix it. I would have given in 5 stars if it wasn't for the heavy masculine smell it has. I don't mind mens perfume but the smell in the bottle is too overwhelming. If they can get rid of the smell the product would be perfec...

Read More

Didn't love it

It made my hair oily and funnily enough a lot straighter rather than defining curls, didn't work for me

Gives your hair the body it needs

I love this product. I have a sensitive scalp and dry hair, I need something that doesn't irritate. This is perfect for my hair, and makes it lovely and bouncy. Not too badly priced either. I also like how it smells, it isn't too overpowering. Give it a go!

Very heavily scented

I had been looking forward to using this product for ages but confess am very disappointed that it is so heavy scented. Quite a masculine smell too.

Love it!

I have long, curly hair that tends to frizz, and I have a sensitive scalp. When the last product I used (MOP curling cream) became hard to source, I tried this. It's fantastic. Although the pump pack dispenses quite a thick cream which seems like it will weigh the hair down, it doesn't. It helps separate (and, in my case, form) the curls with or without blow-drying. It doesn't weigh my hair down a...

Read More

Love the Moroccanoil curl defining cream

This stuff is fabulous. Leaves my hair soft and bouncy not sticky or stringy

Over-perfumed!

I would have loved to have tried this product in my frizzy, curly hair but I found it to be overly perfumed. I tried a little on the ends to see if the smell faded over time but it didn't and I ended up having an allergic reaction to it. I am sensitive to a lot of perfumes, so I guess most other people wouldn't have a problem with it.....

Another fantastic product from Moroccanoil

I love this product. It keeps the dreaded frizz at bay, smells great and does not weigh my hair down. The pump is very easy to use, I just put a small amount through my hair and let it dry naturally. Def buy again.

Blank

I have fine wavy hair and it does not weigh it down. If I leave it to air dry and apply this, it gives defined wave and curls with a soft hold and without frizz. Huge pump pack that will last me AGES. Love all the Moroccan oil range. The smell is AMAZING!

I love this stuff. It's in a big pump pack tube, and one pump gives the perfect amount of product for my hair. I rub the product between my palm and then just mess it through my hair, give it a quick comb, blowdry the front down and leave the rest to airdry. The reult? Beautiful waves/curls, which are quite defined and with minimal frizz. I love love love this.