Medik8 Hydr8 B5 Intense 30ml
4 instalments of $24.75
Or 4 instalments of $24.75 with
LEARN MORE
4 instalments of $24.75
Or 4 instalments of $24.75 with
LEARN MORE
Official Stockist
Is this for you?
Meet the next generation of hyaluronic serums. With all of the power of the original best-seller, Medik8 Hydr8 B5, plus the latest in technological advances, Medik8 Hydr8 B5 Intense is the ultimate solution to dry patches and a must-have for those who are exposed to dry air, or cold climates.
Cosmeceuticals
Cruelty Free
Vegan
Artificial Fragrance Free
Skin Concern:
Dull, dry or dehydrated skin

First signs of ageing

Sensitivity and redness
Skin Type:
Dry

Normal to dry

Normal to oily

Oily
Frequently bought with
Please wait while we find a match
Questions & Answers
(3 Questions)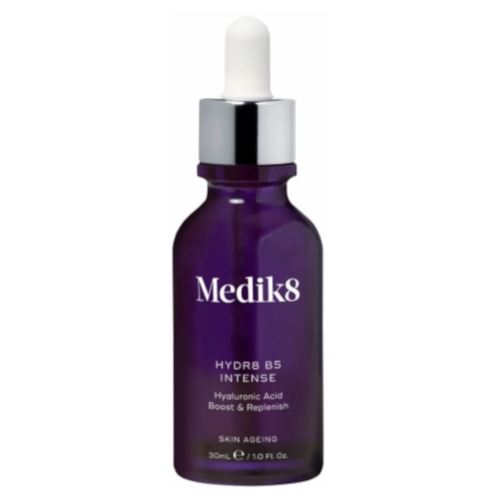 Medik8 Hydr8 B5 Intense
Get an expert to answer your question about this product!
Medik8 Hydr8 B5 Intense Reviews
93% recommend this product
Most Helpful Positive
I like it.
My skin absorbs it very quickly and it is not sticky.
Most Helpful Criticism
Prefer TO
Actually had my eye on this product as I was hoping to step it up a level from my The Ordinary HA serum. Was stoked to receive a sample before I purchased, as I was kind of left disappointed... I found it to be quite sticky and prefer the texture of my TO serum which is a fraction of the price.
I like it.

My skin absorbs it very quickly and it is not sticky.

Deep hydration

Noticeable hydration on my face and neck. Good texture and fast-absorbing :) I have tried the ordinary and la roche posay and this one has been my favourite.

Great hydration

I'm so happy my therapist put me on to Medik8. I've got sensitive, oily skin, am in my early 30s and have tried so many products in my 20yrs of using skin care religiously. I finally feel like i found something that really WORKS. I think i would use this one more in the PM than AM as i think it may make me a little too hydrated under my make up.

visible results in 1 week

I bought this for my friend! It has been one week and i have noticed a remarkable difference in her skin texture. What a treat hyaluronic acid is. this is so good for dry skin or dehydrated skin. however, if you are oily....i would also recommend this as it will repair your trans epidermal water loss!!!!
amazing results already !

Worth it

At first I was a bit hesitant to buy this after using the regular Hydr8 B5 for so long, now I can't imagine going back. Texture is great for layering and absorbs quickly without loosing the hydrating and soothing feeling. Definitely can see the difference in my skin if I go a day or two without using, it almost instantly makes my skin feel brighter and less dull.

Like a cool splash to your face

I really enjoyed this serum. After application my skin felt a bit sticky however this goes away then you start to feel this cooling sensation. All Medik8 products are amazing!

Good Serum for dehydrated skin

I received a sample of this at a skin care clinic I go out. I have dry dehydrated acne prone skin and could really see a difference after using this serum at night. My skin looked much healthier with the extra boost of hydration. I'm on my second bottle and would definitely recommend.



So luxurious!

Love, love, love this HA! If you are debating between the regular and the intense, I'm telling you that this is the one you want. It makes your skin feel so lush and plump, I feel like a juicy peach when I put this on.

Great serum for dry and acne prone skin

I got this product after getting my first chemical peel treatment from a skin care clinic. They recommend me using this one (I've been avoiding moisturiser or serum as I'm afraid of them causing blackheads).

It works really well with my dry yet blackheads prone skin, it moisturises my skin without making it greasy. I also like that it doesn't contain any fragrance. It needs to be use...

Read More

Very hydrating!

I'm so glad I received a sample of this as I have been wanting to try it for a while. It is the perfect hydrating serum for my acne prone skin. Definitely recommend if you have hormonal breakouts and are using actives as this helps re-hydrate your skin.

Prefer TO

Actually had my eye on this product as I was hoping to step it up a level from my The Ordinary HA serum. Was stoked to receive a sample before I purchased, as I was kind of left disappointed... I found it to be quite sticky and prefer the texture of my TO serum which is a fraction of the price.

Fave HA

I am working my way through skin products and decided to step up to a more $$ HA, I am so glad I did. Definitely worth the money, skin feels hydrated but not too much (I have oily skin). Would buy again.

Supple Goodness!

The tiniest bit goes a long way! Just a pea size amount for my face and neck is more than enough! I was lucky enough to receive x2 small samples from AB. Being a dedicated medik8 user I have popped this into my wish list and can't wait to purchase. Wonderful little serum to help qith repair use after micro needling or retinol treatments :)

Good serum

Love the packaging and the texture. The serum takes little time to absorb to your skin. No smell is detected.
I am using retinol, so my skin sometimes feels a little dry and tacky, and this serum is the perfect solution. The price is a little bit expensive though.

Just ok

I received this as a sample. It's ok, I don't know if I noticed any extra hydration, but I also have oily skin, so I don't usually require anything extra.

Broke me out

I had high hopes for this serum but unfortunately I developed lots of little bumps on my skin after starting this. Luckily they went away after I stopped using it. Medik8 has another hydr8 B5 serum and that one works really well and didn't break me out.

Best G5 products for superdry skin.

Medik8 B5 intensive is the best B5 gel I've used . It is very hydrating and calm the sensitive skin. Highly recommend for super dry skin. And I will repurchase it again and again.

Deeply hydrating serum

A deeply hydrating serum that I use every morning in conjunction with a Vitamin C serum. Goes on a little sticky at first but then melts in leaving my skin feeling supple and plump. Would buy again for sure.

Great hydrating serum

This serum is instantly hydrating. It is lightweight drys quickly with no sticky residue. It has worked so well on my oily skin. Really reccomened.

Medik8 Hydr* B5 Intense - amazing

I was recommended this product by the skin clinic I go to and haven't looked back. My skin is usually on the dry side and putting this on first thing in the morning before my Vitamin C has helped so much esp in winter. The consistency is gel like but easily absorbs in to your skin and provides the ultimate hydration - love it!

Intense hydration

My very dry skin absolutely loves this amazing product. My skin dries a lot in winter and I am constantly applying moisturiser. But this product has saved me and its absolutely perfect for my skin. It feel hydrated and so soft.


Do it!

I really like this product! Super hydrating and definitely notice the plumping effect. Definitely going to repurchase.

My New Favourite!

I started with the Medik8 B5 Hydrate and loved it so got the Intense one and I will never go back!!! I have very oily skin, but feel like it is also lacking hydration so this gives the perfect boost of hydration without clogging my skin. I also feel like it's super plumping and smooths out my fine lines.

Great hydrator!

Light and silky texture yet super hydrating. It can be applied alone or with moisturizer for an extra moisture boost when my skin is feeling dry.


I love Skinceuticals more..

I don't want to write a bad review on this because I don't think this is a bad product at all, I just had previously used the Skinceuticals Hyalauronic Acid Intensifier and found it worked sooo much better! It is a lot more expensive though. That being said; if I hadn't used that first; maybe I would have loved this more? For me I would rather pay that bit more for skinceuticals because this isn't...

Read More

Excellent.

I got a sample of this and was really surprised at how good it was. I usually don't notice much difference with hydrating serums but this was very plumping. Will definitely buy a full size.

hydr8

really really good for dehydrated skin! my skin just drinks this up and the dry flakey bits go away overnight

Amazing for dry skin types

This is my favourite serum! I use this both morning and night and my skin has never looked so hydrated and plump.

Hydrating

This does exactly what it says, it hydrates! Love this serum, especially in winter when my skin is on the dryer side. The only downside is that it absorbs super quick and I find it hard to spread the product evenly without using too much of it, however I love that it doesn't leave a tacky feeling. My skin definitely benefits from this and looks nice and plump afterwards.

Super hydrating

I've been testing out new B serums and this is one of the best I've tried. Really hydrating!

Great hydration!

I got a sample of this and was immediately excited to try it.
It absorbs beautifully and left my skin soft and comforted. I also noticed my skin was dryer when i stopped using it.
I'm a little on the fence about this one though as although it was definitely effective, I think there are more affordable options that aren't quite as good, but are good enough. Ultimately, I'd prefer to i...

Read More

Excellent hydration!

Fantastic hydrating serum. Love the feel of it, no real smell as far as I can tell. Layers REALLY well with vitamin C in the AM and evening serums as well. Definitely noticing a difference in my skin since replacing my old HA serum with this one. I live in Canberra, and it has gotten really cold, really fast, however my skin has been coping really well despite that, and I think this has definitely...

Read More

Really lovely texture and super hydrating

This product is so silky and sinks into the skin beautifully. My only issue with it is it gets used up so quickly! But it's amazing and a my skin feels so much more plump and hydrated since using it. Highly recommend

Still deciding, but so far so good!

I've been on the hunt for the perfect hyaluronic acid, I've tried a few before which haven't met the bar. I decided to give this one a go based on the reviews. I'm liking it so far but it's too early to say whether it's going to be my new go to. I like the texture, it sinks in nicely to the skin and isn't tacky like some others I've tried. Overall I'm fairly happy and my skin has remained fairly w...

Read More

Hydration at it's best

I've just started using this product and love the way it is absorbed by the skin. I feel like it is hydrating even though it's only been a week. So far, so good.

Lightweight Hydrating Serum

I've been using this serum on and off for the past year or so. I love how lightweight the serum is and how easily it pairs / layers with other serums. It's a nice staple to have in your regimen.

Amazing

This is an amazing serum. It goes on easily and sinks straight in leaving your skin dry to touch and ready for make up. I am a big fan of the media8 brand.

Super hydration

This serum is a great step up from the other Medik8 hydr8 serum in a clear bottle. I am using acne prone products which can be a bit drying so my skin always needs a boost of hydration and I find that my face sucks all of this serum up! I use it day and night after cleansing.

So far loving!

I've been using this serum every morning for the past 2 weeks, and so far my skin has been really liking it. Previously I used The Ordinary HA serum and while that was good, I was looking to step it up. The main difference in this serum I noticed immediately was how easily it sinks into the skin, and has a much better finish, perfect for use in the morning when I want to move on to my makeup. I've...

Read More

Great Hydration

This is a great hydrating serum - my skin just drinks this up and a little goes a long way. I would repurchase, however due to having to tighten my budget am going to try the original version but am sure I will love it just as much.

Impressive

Love the feel of this serum I use it to give my skin a nice dose of extreme hydration. My skin absorbs it beautifully have tried others but this one is my favourite no sticky feeling.

Exceptional hydration

A new but huge fan to the Medik8 range and as I am beginning to see the first visible signs of ageing, proper care for my skin has become extremely important to me. I started with a starter kit from Medik8 & progressed to this product which I adore. It sinks into the skin quickly, feels amazing on the skin & Ive noticed improvement since using.

My new best friend

I am loving using this product so far. I've incorporated in my morning and night routine and my skin has honestly never looked better.



Hydration for Skin

I got this from one of the two samples from my purchase and now I'm going to purchase the full-size bottle because of how amazing it is! It gives my skin the right amount of hydration and it doesn't feel heavy despite it being an intense version of the Medik8 hyrating serum.

This is serum is so hydrating

I have pretty good skin, my main issue is dry skin and the occasional breakout. I have been using good quality products for 5+ years which provided me with good results, however the products I was using were very expensive. A dermatologist recommended Medik8 and so far, I am seeing the same great results at half the price. This is serum is so hydrating, I can feel my skin drinking it up. It is esp...

Read More

Those looking for hydration

A great everyday product to add an extra step of hydration to your routine. Skin was left feeling nice and moist and plump. I love that this can be popped into my routine whenever I felt like the extra boost, morning and night.

Beautiful hydrator

I didn't assume much when I used this treatment as the product seems quite thin but overnight it did something amazing as I woke up to lovely skin with my fine lines seemingly blurred. I don't think I've experienced this before with any product so I will definitely purchase.

My absolute favourite HA

I used the Medik8 B5 serum before this one was released. That was good, but this HA serum is next level. My absolute go to serum for hydration. It's lightweight and absorbs quickly but is so efficient. My skin can't go without it now.

Hydrating

Perfect for layering and adds the extra bit of hydration, only downside is it's quite expensive for what it does

Excellent

I use this all the time for much needed hydration. It leaves my skin incredible soft. I use it under many other products as it is great for layering

Must-try item!

I used Medik8 Hydr8 B5 Original serum before and moved on to this!
More hydration, skin feels soft and plumped! Amazing for people who do not like oily-greasy skin serum.
Works well with other skin care like vitamin and retinol.
There are many hydration serums in the world but this one is still my fav.


Can't live without!

a product I cannot live without! This is the third time I've purchased. Hydrates and makes my skin more plump and never made my acne prone skin break out!

Super hydrating and great for acne

So hydrating and really helped clear up my acne. Use every day and night before my moisturiser.

Love

I love anything Medik8 and especially this serum - super hydrating and nourishing and I have been using both day and night. Highly recommended!

hydrating

Love this serum!

This serum is soo luxurious and works incredible on my dry skin. It also works harmoniously with my other branded vitamin c and retinol. The fragrance is minimal, which is always a plus.
Would purchase again!

Great Serum

This is a great product. I like to use it on its own in the morning, in lieu of an emollient moisturiser, under my SPF. This product is very hydrating and makes my skin feel plump and refined.

Good so far!

I have fairly acne prone dry- combo skin and really like this product so far!!! My skin looks clearer and the texture is improving. Only reason I'm giving 4 stars is I've only had it a little while. But LOVE it so far!!

Hydrating and that's all

It's a ok hydrating serum. But you can get the same result from some cheaper ones. This brand is overpriced. Off my list.

Solid hydration

Swapped to this from Skinceuticals. Really like the gel-like texture and definitely has helped with my hydration,

Solid

This is a lovely serum, just not sure if it's any better than other hyaluronic acid serums I've used.

Bottle of hydration

This product richly hydrated my skin! I have combination skin (dry/sensitive yet acne prone). I apply this serum to all of my dry areas such as my underlies and forehead and have had amazing results without causing any breakouts. The increased hydration is visible by giving me a healthy glow and it has decreased the appearance of fine lines under my eyes! I LOVE this product

Expected more

Absorbs quick into the skin, kept my skin hydrated, but I did not experience dramatic changes within my skin. Slightly thicker consistency compared with the other B5 serum from their range. It's an okay serum, did not helped me with my hormonal breakouts.

Soaks in nicely

Hi have combination skin. It's dry with fine lines but congested with rosacea in areas. I purchased this serum to help with the dryness and to address the fine lines. I use my 0.25 needle roller before applying this serum at night and in the morning, after cleansing under a C serum.
I love this product because it feels great, it soaks in immediately and doesn't leave any stickiness or film...

Read More

B5 intense

This b5 serum is a beauty! Small amount goes a long way! I put this on after I get out of the shower!

HA best friend

I love using this serum since it makes my face feel very refreshed, skin feels soft and I also know that hyaluronic acid is getting flooded into my skin which is a really good thought :)

I love the MEDIK8 range

I have only started using this range in the the 6 months and I noticed a difference straight away my skin feels really soft and I have even bought some products for my family to try because I am so happy with the results.

Great

Been using this for over a year now and I love it. It has 100% improved my skin. It's so soft and hydrated now. Works as a great base for other skincare

Very Happy with this product!

I have normal to slightly dry skin and am in my early fifties. I recently purchased the 'new' Medik8 Hydra8 B5 Intense serum and it is an excellent product. Lovely texture and very little fragrance, none at all really. Each morning when I apply it, I really do feel that it is enriching my skin. Great ingredients to!

Did nothing for me

I have gone through half a bottle of this and it has not helped hydrate my skin at all. Will be looking for a different hydrating serum now.

Thirsty Skin's Best Friend!

After listening to Beauty IQ Podcast I was pretty keen to try this product! It sits beautifully on the skin and is one one of the best hydration products I've used. Unfortunately silly me used most of my carry on liquid allowance for makeup and this baby is warming my vanity at home - after 4 days I can already tell the difference and won't be making that mistake again!

Similar to the non intense version

I have used the medik8 b5 for around 2ish years and was excited to see a "stronger" version of it.
Was a little disappointed as i could not tell much of a difference between the this and the original b5 serum on my skin.

Best hydrating serum

I think this is the best hydrating serum I've used, it is head and shoulders above The Ordinary's similar version.

But it!

I have been contemplating buying this for ages and I'm glad I finally did. It's like weight and moisturising. I have dry almost dehydrated skin and this sinks in and feels light.
I don't like how some serums leave you with an oily film, this one doesn't! Definitely buy if you have similar skin to me.

Super hydrating

I purchased the ABC pack from Medik8 and am happy with the products. When repurchasing I noticed the 'intense' option and purchased for when I travel. I am late 20's but when I need a little extra hydration at night, I reach for this product. The consistency is water like but feels thicker than the regular B5 gel. It's a really beautiful product and I will repurchase

Amazing for combination skin

I have used medik8's standard hydrate B5 and liked it but this takes it to another level.

This product is great for my combination skin. I have break outs on my jaw line and feel that this has helped calm it down.

While it seems pricy a little goes a long way.

Good

my skin has been a bit dry lately and i've added this into my routine and it looks so much better. use this serum before moisturiser every night and is amazing. Would recommend this


AMAZING

This product is amazing. I have combination skin and had damaged my skin a bit by using too many actives. I've been trying to repair the skins barrier and improve hydration. This has improved my skin texture sooooo much and as a bonus, all the milea I have around my eyes have cleared since I've started using this!
Definitely would recommend if you are wanting smooth, hydrated skin.

Lovely fix

This is amazing for an added fix of hydration. I use at night time before my serums and it helps my skin stay hydrated and the next morning it looks incredibly glowy and hydrated

Intense

i do love this b5 hydrating gel! it has helped transform my skin from dry to plump in a matter of days!

A big drink for your skin

I love Medik8's Hydr8 series, they definitely help to keep your skin plump and refreshed. However, I'm still not sure how this differs from the normal Hydr8 serum... they both make my skin feel amazing and plump but this one is just more expensive really... don't see the difference. I would recommend trying the other Hydr8 serum first to newbies.

Holy Grail

Wow, I thought the medik8 Hydr8 was good. This is amazing. Using this morning and night gives my skin the 2 litres of water I should be drinking everyday.
My dehydrated skin is now more plump and radiant, no more tightness and sensitivity. My makeup applies better and overall I think I managed to wind back the clock a little with this serum. Will repurchase again and again.

Holy Grail

Wow, I thought the medik8 Hydr8 was good. This is amazing. Using this morning and night gives my skin the 2 litres of water I should be drinking everyday.
My dehydrated skin is now more plump and radiant, no more tightness and sensitivity. My makeup applies better and overall I think I managed to wind back the clock a little with this serum. Will repurchase again and again.

meh

Medik8 has a another version of this serum with this one being the intense version so for something that calls itself intense hydration, it failed to live up to the name.
I have dry, sensitive skin so I purchased this product in the hope that it would hydrate my skin however, it did not. The NIOD MMHC2 is a way better alternative. This could be okay for normal to oily skin types but for dry...

Read More

Wow! This is amazing!

I put this on before bed and when I wake up in the morning my skin is super glowy and radiant! It makes it so soft as well. This is a product I will continue to buy

Great hydrator to layer with other products

I have been using this for about a year and noticed it has helped with my dehydration especially in winter. Great for appling after oil based moisturisers.

Like a big drink of amazing

Such a good hydrating product. Must have for all as apart of the basics. Great results from the intense version.

The Love is Real and Intense

The love is real and intense for the Hydr8 Intense, I can't say enough about this product.

I was reluctant to swop out the normal version for this, - but the ingredients speak volumes for themselves, and your skin with Thank You with volume! I use this, and follow with a water-mist.

As always, the packaging is beautiful - Medik8 nails this - it's travel friendly, simple ...

Read More

My skin has never felt softer

I kept using retinol and enzyme masks to try to get my face smooth as it is now but it is Hyaluronic serum my face yearned for and medik8 intense has left it feeling as smooth as a babies bottom. I use this along with cremolab Hyaluronic face sheer mask and every couple of days I use aspect hydration mask. Love them together!

Absolutely love!

I have oily skin and my main concern with my skincare is to keep the oil at bay but make sure my skin is getting enough hydration and nourishment. Medik8s B5 intense delivers just that, I've noticed huge improvements in the texture and oil levels of my skin. It's hydrating but never makes me super oily. I use it morning and night after cleansing. Would absolutely recommend to anyone with oily skin

Sensational

My skin has been so dehydrated of late and I purchased this product based on the reviews! Very satisfied! I am now using cremolabs Hyaluronic mask prior to a splash of medik8 hydra8 before bed and my skin is glowing. I do not look depressed anymore. So happy

Still unsure

I have oily and acne prone skin that's also dehydrated apparently (being told by my skincare specialist)and was put on a regime by a skin care clinic and 1of their products was their own brand of Hyaluronic acid. I've been using it for 3 months and when I ran out I bought this after so much reading about ingredients...and the prior serum had alcohol in it... which I'm not a fan of...Too be honest...

Read More

Wonderful plumping and smoothing

My dry, sensitive skin drinks this serum. It plumps and smooths my skin, and helps to prevent dry, red skin after a day spent in office heating. It leaves a beautiful dewy finish. It's also cruelty free. Love.

So hydrating

This serum is so hydrating and makes such a visible difference to my skin. It feels extremely smooth and looks so glowy after using it. I haven't had any reactions to it. A little goes a long way.

Love it!

A deeply hydrating and nourihsing serum, which instantly adds moisture to my skin and makes it look and feel healthy which glows! It absorbs quickly into my skin and puts the lost moisture back in!

Better than the original!

This newer, improved version of Medik8's B5 serum is worth the extra money! It's super Hydrating and I have noticed visible improvement in my dehydration lines. I use this every night with some other serums and it's really made a difference to how my skin looks. I'm 32 with dehydrated skin and fine lines.

For thirsty skin

This product is one of the first products I ever bought from AB and I absolutely love it. I have dry skin and this product is amazing for my skin, I use it everyday and my skin is no longer flaky and dry. Yes it's expensive but it's so worth it, I had used The Ordinary one previous to this one and it doesn't even compare. I use a lot of medik8 products and they never disappoint. I love this produc...

Read More

SMOOTHE skin!

This is amazing. My skin has never felt so soft, and the morning after using this my skin is so glowy. One of very few products that actually gives noticeable results instantly

Pure hydration

I have used Medik8's B5 liquid hydration serum now for a couple of months which is so hydrating, so when I saw this new serum I couldn't wait to try it. I am pleased to say I am not disappointed and it is even better than the B5 serum. My skin is not only hydrated but so soft and smooth. LOVE.

The best of the HA Serums!

Medik8 Hydr8 B5 Intense is by far the best of the HA Serums I have ever tried! Yes it is expensive but it is truly worth every single penny and can be combined with so many products! Works a charm!