Maybelline Instant Age Rewind Eye Eraser
Skin Type:
Dry
Normal to dry
Normal to oily
Oily
Questions & Answers
(No Questions Yet)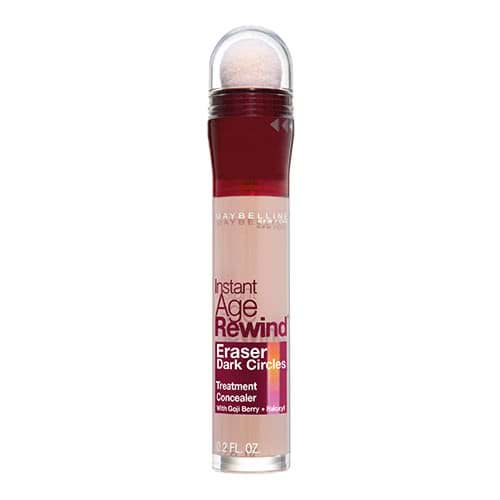 Maybelline Instant Age Rewind Eye Eraser
Get an expert to answer your question about this product!
Ask a Question
90% recommend this product
Most Helpful Positive
Love!
In love with this concealer. Hides the darkness under my eyes and covers blemishes on my chin.
Most Helpful Criticism
Funny on top of primer
I have used this product a few times but will only now use it if I dont intend on starting with primer as I think the mix of the 2 create a funny surface.
Love!

In love with this concealer. Hides the darkness under my eyes and covers blemishes on my chin.

Favourite Affordable Concealer!

I love this concealer! It is hydrating and can be applied for sheer coverage, but is also buildable. Looks lovely and natural on the under eye area. Will repurchase again and again :)

Best concealer out there

i love to just slap it on my skin quickly every morning. super blendable and last so long on my skin. love it!

Great Price

This is a great product for the price, doesn't crease or move too much, for the price can't beat it

Funny on top of primer

I have used this product a few times but will only now use it if I dont intend on starting with primer as I think the mix of the 2 create a funny surface.

Really hides dark circles

Great concealer that doesn't crease and really helped hide my dark circles! Great especially for the price

Great affordable concealer

This is a fantastic affordable concealer, I usually use the MAC prolongwear concealer which i love but the pump causes a lot of waste. This applicator is great, no waste at all. I still blend with a beauty blender and it lasts all day. I do find it settles into fine lines a little but for the price I don't mind for wearing to work.

Great affordable concealer

This is a fantastic affordable concealer, I usually use the MAC prolongwear concealer which i love but the pump causes a lot of waste. This applicator is great, no waste at all. I still blend with a beauty blender and it lasts all day. I do find it settles into fine lines a little but for the price I don't mind for wearing to work.

Beautiful and Effective Concealer !

This is my go to inexpensive concealer which I have spent ages looking for !!! I saw Tati use this product on her YouTube channel and was just so impressed with how effective it was in concealing the under eye area. I thought why not give it a chance and I am so glad that I did !!! Really love the results !!! The only thing is, I wish it was a little larger as I'm running out fast !!

Best affordable concealer!

By far one of the best affordable concealers! I love the applicator. I have pretty bad eye circles/bags under my eyes that are basically there 24/7, so it's always so hard for me to find a good coverage concealer. The concealer is not full coverage but it does help with those annoying purple/blue eye circles. It doesn't cake and is just so good. Highly recommend!

Amazing for dark circles

I was a little skeptical of purchasing this product at first because im used to using Nars and other 'expensive brand' concealers and I kind of considered this one a drug store brand. Completely blew my mind - its an amazing concealer. The applicator is so soft and easy to use and it really covered all my darkness under the eyes.

Affordable and does the job

This is my everyday go-to to cover up under eye bags at work. It works wonders and lasts the whole day. Since I use it everyday this is affordable and I don't feel too guilty for using a lot of it!

great product

I realy like this product. The colour is great ( I got the fair shade) on my fair skin with dark under eye circles, and has good coverage. If you wear very full cover makeup it may not be quite enough coverage for you. It goes on nice and opaque, I like the applicator, makes it easy. I apply over a moisturising eye cream and BB cream as I had read some other reviews saying it was a little on the dry side. But I have also worn it alone and it's been fine even on my combination skin.

A good buy

This is such a good every day concealer. I have really dark circles due to my eyes being quite deep set and this covers the purple well and also blends out really nicely into my moisturiser when I don't want to wear foundation. Easy to blend, isn't oily and has nice natural coverage.

Cant fault - love this

I love this concealer so much. Its has such a creamy and smooth consistency and really covered my dark circles under the eyes.

Love this

super full coverage, awesome at concealing spots and under the eyes, i do find it takes a lot to get the product out of the sponge but once in use and kicking boy oh boy does it looks awesome on

great concealer to wear for few hours

it is a great concealer if you are looking to wear it for few hours. after that it starts to crease. however, the formula and coverage is amazing. it might go on for longer hours if you set it up with powder.

Used about 3 tubes

I couldn't say enough good things! It's so bloody good!!! It glides on super easy with the sponge tip and wears really amazing all day. Such a great price too!

Perfect for day wear not heavier makeup

I have this product in the light shade and find it a perfect concealer for a very light coverage day makeup look. I do not recommend if your really trying to cover bags or dark circles as I find it too sheer for this. Although you can turn the applicator and apply more product it is still not for night time makeup.

Good for everyday

This concealer is easy to blend and work with , good for everyday use , but for a night out or special occasion , I'd go for something with a bit more coverage

No more dark circles

Im amazed at this concealer. I typically only use quite expensive makeup brands and have always used the NARS concealer. Decided to try this one because of the reviews I seen on it and its ten times better. I will never buy NARS concealer again. This is so well priced. The little soft applicator head makes it so easy to apply and effortless. Its also great on sensitive areas or breakouts because it is so soft. I get dark circles under my eyes and this completely covered them! Im converted!

Sits perfectly on the skin

Blown away by this concealer. Its got a lovely creamy texture to it. The shade fit perfectly on my skin and blended in. Removed all the darkness under my eyes and also hit little blemishes on my chin. Love the soft applicator head.

Amazing concealer

this concealer is so amazing and comparable to other high end concealer i have! i don't like the puff as i feel like it is not sanitary for multiple application but i don't mind as it is cheap and I can just replace it if i don't feel good using it

Best affordable

Best affordable concealer out, i used it when i first started makeup and it worked a charm. I feel like it ran out quickly though.

You get what you pay for

Is a reasonable product, but nothing amazing. Really you get what you pay for. I find this tends to be streaky, not super great coverage, and goes powdery / emphasises little lines. Is fine to use, and does offer some coverage - so it's fine for $20.

Worth it!

A great concealer, better than most expensive concealers out there! *****

Effective and cheap

This product is fantastic especially seeing as though the price point is extremely affordable for everyone.
I find it covers dark circles REALLY well.
I have found if your skin is dry it doesn't sit well but I have since encoperated an eye cream and better skin care in my routine.

Best drugstore concealer

Hands down the BEST drugstore concealer I have ever used, in fact I use this more often than my high end concealers. Great coverage and I don't even need to set it! I'll either use a hydrating primer or eye cream underneath as it is a little dry but other than that, this is a MUST.

The perfect concealer for tired mums

I bought this on a recommendation of a fellow tired mum.. HOLY GRAIL.

This is the best concealer I have used, hands down. It has great coverage without looking cakey.
I find it a little bit drying, but have changed up my skincare routine to include an eye serum and I find this combats the drying factor.
Love the applicator and the packaging is gorgeous!

Best concealer I have ever tried, and i have tired a lot!

I'm not normally one to go out of my way to recommend a product to someone, but I LOVE this concealer. I'm very pale with dark circles and this is the first concealer I have used that almost completely covers them! A little goes a long way with this product and it blends really easily. The only thing I would say is to make sure you use a good moisturiser before applying because it covers well but can be a tad drying.

love this product

this is my favourite product! i use this every day and do not need much at all

creases a little bit

perfect coverage, however does crease a little bit on oily skin

Great every day concealer

I have dry skin and recently have had problems finding a concealer that doesn't make my eyes look dryer than they already are. This concealer in the shade light has been working great so far as an 'every day' type concealer when I don't need super full coverage. Good price for what it is, will try other shades for when I'm more tanned.

Holds it own against expensive concealers

I have used many expensive concealers from tarte, nars, benefit but this one always gives me the most bang for buck and best finish. It blends out easily with a beauty blender and gives a beautiful finish, also great for contouring

Good concealer

Great easy to use concealer. I love using under my eyes and over my blemishes on my no makeup makeup days.

Enhances lines and under eye bags

I have dark under eyes and I had been recommended this, but it unfortunately just settles into those fine lines and doesnt even cover up my dark circles. Love the applicator system, very easy to use and very clever, but unfortunately I will be sticking to my Tarte Shape Tape.

Great product!

I love this as a concealer. It's such a great formula to wear just everyday. I particularly love that the texture is great for wearing on a bare face because it blends into your skin so well if you just want to cover your eye bags

Just as good as expensive brands

I have tried many expensive concealers over the years but keep coming back to this product. The N creamy concealer used to be my go-to but I find that this is just as full coverage, comes in the same bright yellow-toned shade I like but does a better job a hydrating. I do blend in with my finger but the applicator is great for distributing evenly and bouncing off the skin to avoid product settling into fine lines.

Best concealer

Easy to apply, full coverage, very natural looking and good price. So much positive comments. I love it definitely.

Brilliant

This is the best under eye concealer I've ever used. And I don't say that lightly as I've tried pretty much everything that's out there. It covers beautifully, feels very light, looks natural but gives a full coverage pay off. The applicator makes it super easy to use and has a great price point.

Love!

I struggle so much with finding a good concealer and this has been the only one that's done the trick for me. Perfect for dark circles! Blends seamlessly and is so easy to apply with the built-in sponge. Only negative is that it can get a bit cakey if you don't spend the time to blend it properly.

Holy grail concealer!

This my absolute holy grail concealer that I use everyday! It covers up my dark circles so well and it has such an easy and convenient application with the sponge tip. It's also hydrating enough that it doesn't crease under my eyes and it lasts all day.

FAVE!!

only concealer ill ever purchase!!

one con is the sponge, but I usually pull it off and apply the concealer with a small angled brush, plus you get more product as its not being soaked by the sponge :))

Good for the price

This might not be the best concealer on the market but for the price, it does quite a decent job at covering the evidence of late night studies. The product itself provides a medium coverage and utilises a sponge tip applicator which I quite like to use in order to spread the product out within the area I desire before using my fingertips to warm the product up and tap it into the skin.

Drying

A bit too drying for under-eye. Good coverage though

Worth the money!

I was really surprised of the quality of this concealer. I usually use Nars and Saint Laurent but this is pretty up there! Great consistency, doesn't crease and it looks so smooth! I love it!! I did purchase the medium tone. If I would recommend going for the lighter one if you are switching. Was a little more lighter in the picture!

LOVE

Lightens, brightens and conceals. I love the texture of this concealer and also how it applies with the spongey applicator tip. Little wastage and helps you blend. I have already recommended to friends and will continue to do so!

BYE BYE DARK CIRCLES

I love this product, no more dark circles. YAY! I wore this in combination with Estee Lauder Double wear and it stayed on for well over 8 hours of dancing (sweating) and still looked flawless. Very impressed to say the least, such an affordable product.

Great for under eyes & Contour!

Easy to use and a little goes a long way. I use it to conceal my dark under eyes and also to contour. I will definitely buy again. The quality is thick but not cakey.

Love it,

easy to use, covers up my dark circle beautiful. Colour spot on.

Great applicator and easy to use

I love the sponge applicator and think that this is a very brightening under eye concealer. I will say that I don't think it's 100% full coverage, and if you had super dark circles you may want to apply a corrector first. I really enjoy using this however.

good

makes my skin look pretty

Amazing coverage

I have very fair skin and struggle to find a concealer that is lighter than my skin tone. I had heard amazing things about this product and decided to give it a go. Not only is there a suitable colour for my skin tone, but the coverage is amazing. This is my holy grail concealer, even better than my expensive high end ones and I have now repurchased it multiple times. The only downside to this concealer is the packaging. I hate the sponge as not only is it unhygienic but it wastes a lot of product. I ripped the sponge off of mine and now it's perfect. Definitely would recommend and will definitely continue to repurchase.

Not for me

The sponge applicator is just not for me, it is very hard to disperse the amount of product you are after as you twist and twist and twist and nothing comes out and then suddenly half the tube is gone! It was very thick and dried and sat straight into my under-eye creases which doesn't usually happen to me. Had to throw it out after 2 months of trying to use it :(

didn't live up to hype

I had high expectations after reading reviews on this product but I was let down, it takes forever for the product to come out and then there's too much on the applicator, you can blend it out but I found it dries in patches/ is flakey and also shows lies under my eyes, wouldn't recommmend

Didnt like at first

At first, it wasnt working for me - played around and started to see why theres so many positive reviews. Very good coverage, reasonable price range. I think the packaging is effective.
However age rewind doesnt offer a large colour range and for me, the undertones were very pink.
Easy fix with banana powder.
All in all, i would recommend.

Best concealer I've tried!

Have recommended this concealer to many of my friends since trying myself. I had previously tried high-end concealers that I found didn't cover my dark circles much or creased throughout the day. This concealer brightens under my eyes effortlessly and blends out so easily. Doesn't crease throughout the day and doesn't feel heavy on the face. Love it!

Perfect concealer

I have used this product every day for almost 5 years now and have yet to find a better concealer on the market. Its affordable, super light weight and not cakey at all under the eyes and is a great spot and redness concealer as well. Highly recommend!

AMAZING AMAZING AMAZING

the best concealer ever. i had struggled with over priced concealers for a long time until i found this and it solved my problems. very hydrating under the eyes and applies very smoothly.

Good

This is such a good concealer. Perfect for under the eyes. Really brightens my complexion

Good for dark circles

I love this concealer. So easy to apply and blend. I have dark circles under my eyes and this concealer helps to cover the darkness. Also very good to brighten my T zone and chin :)

LOve love love!!!! Only thing that works!

So happy! I am 30, with dark bags of a 60 year old. I have always had them until I found this product nothing worked!!!! So happy! Will use this forever

Love this

This is my favourite product for under eye high lighting. I even use it on my cheeks to cover acne scars and it works perfectly. It is hydrating and blends well on my dry skin. Good level of coverage too.

Didn't find that it lived up to it's hype

Given this concealer is highly rater by beauty bloggers and youtubers, I had really high hopes for it but unfortunately it didn't wow me. To start off with I thought mine was faulty because I had to turn the packaging a billion times before it dispensed any product, so beware of that. The sponge applicator applies ok and I would say the coverage is light to medium but it's difficult to control the amount of product applied with the sponge applicator. It's easy to blend out with a sponge, lasts well on my dry skin and doesn't look heavy but it does crease a little under my eye. Nothing too wrong with the formula but the packaging makes things a bit difficult and I would prefer if this formula came in packaging with a doe foot aplicator so that I had more control over the amount and how I applied it.

Recommend to me, now I'm doing you the same favour!

I am VERY fair skinned. Most foundations and concealers are waaaay to yellow toned for me. This one is excellent and lasts. You wont regret it for this price!

Oh Yeah, It's THAT Good!

I use this under my eyes religiously. It's amazing and I could never go without. If I'm not wearing foundation it blends into my skin so well and doesn't have a starkness to it. It covers my bags and all my deep, dark, secrets. I love it to pieces! Doesn't dry anything out either and barely creases. Why would you need anything else?

Worth the hype

Yes, this is as great as everyone says, especially considering the price.
It's light in consistency, applies smoothly, blends seamlessly and covers well.
I would say it has light to medium coverage, but it looks more natural that way, high coverage under the eyes can look cakey and over the top.
The applicator is great, the sponge makes it easy to apply. It's not the most hygienic because you can't clean the sponge, but I use this everyday and will not have it laying around for months.
Also, it's much more hygienic than a doe foot applicator, which is place on the skin then the brush is shoved back in the tube.
I highly recommend this concealer!

Awesome

don't love this as a concealer but its cheap so it's worth try and might work for you

Always on sale

Amazing for the price. Usually costs around $12 as there's always somewhere that has it on sale.

I don't feel it's the only under eye product I use because the fact is that for dark circles, you need a corrector. In saying that, I've had concealers that cost twice as much and aren't as good as this.

I have eczema prone skin too, and this doesn't break me out. Winner all round.

Great Concealer

This is a great concealer for brightening under the eyes and other parts of the face. I am not the biggest fan of the little sponge applicator but i would definitely buy this product again as i really like the formula and coverage!

Amazing product

I couldn't believe how much of a difference it made the next day after I had used this product. Pleasantly surprised how the dark circles were fading away.
I don't know why I had stopped using this brand in the first place. At the age of 36 and doing long hours it does take its toll on your skin. This product is amazing.

FINALLY

FINALLY! I have spent so much money on concealers. It is so hard to find one that looks good and has a light enough shade. Finally! Not to mention how affordable this one is compared to others!

Great for brightening and lightweight

Great brightening, I don't think it's the highest possible full coverage concealer but certainly enough for daily wear. Easy and comfy to apply with the sponge applicator = although I prefer to blend with a brush as that works the product more into the skin.

The best

I love this concealer, it's thick but blends well and covers everything!

Good

Really nice product at really good price. I have really bad chronic dark circles and I normally use Tarte Shape Tape Concealer. Maybelline Instant Age Rewind is a great affordable alternative, great coverage and no creasing throughout the day. Sits well over foundation and touches up well too.

Good budget option

Great concealer, especially for the price! I don't mind the applicator, however I still find you need to blend in with a brush or fingers. Good coverage

#1

Definitely deserving of Australia's #1 concealer title. It's not only affordable, but has amazing medium-full coverage, brightens the under eyes beautifully and conceals dark circles, leaves a skin-like soft matte finish and is gentle on sensitive skin. I can't rave about it enough! I prefer it over the Fit Me Concealer has it's less fluid and a little thicker in consistency. If you want more natural coverage go for FM, if you need something fuller then go for AR.

Best Drugstore concealer on the market!

This concealer is my absolute favourite. After years of using Urban Decay & Tarte... I haven't seen a dark circle and my bank account has thanked me for it! Set with a loose translucent powder and you're ready to go.

Very good product for the price!

I usually use concealers around the $70-$80 mark and I wanted to try a more affordable option this time. The sponge helps to gently spread the concealer and the coverage is medium, which is what I like, as I prefer minimal makeup and more a reflecting concealer. Will continue to use.

Love it

Perfect formula and full coverage

Great

This is an affordable concealer with good coverage that is also long lasting, have recommended to many friends

Awesome concealer for under eye

Really light weight but good coverage concealer for the under eye area. I use the colour light and is perfect for my skin tone and really good at cancelling out the under eye circles

One of my holy grail concealers - and for good reason!

I really love that you can layer over this concealer and because it is so light and airy, it doesn't wrinkle up or crease like a lot of other concealers do.

I have bought this one many times already and will continue to do so, It's not the thickest or heaviest concealer on the market but its one of the few concealers that you can add to over the night without it becoming one big mess like others out there :)

For reference I am 29 with oily/combination skin

Very limited colour range but great product

This concealer provides great coverage and is lovely to use. However the extremely limited colour range is very problematic and I find that I don't really reach for it because it either looks too pink or too light for me.

Best drugstore concealer

Best concealer, love the formula and it blends well. I pull off the applicator though before using it as its unhygienic and wastes product.

lovely coverage

I absolutely love this concealer. Has amazing coverage and doesn't cling to dry patches. The concealer doesn't move around and looks very natural on the skin.

Great for under eyes

I love using this concealer under my eyes, the applicator makes it so quick and easy to apply and then I just blend it in with my ring finger. I have very dark under-eye circles and this doesn't completely cover them but is still better than anything else I have tried. It can crease and wear off by the end of the day but I've found setting with a translucent powder has helped enormously with this!

Amazing formula

Really amazing formula, just wish they would expand the shades.

Amazing

best drugstore concealer out there hands down. Don't like the applicator if im using this on pimples as it seems a bit unhygienic but does the job anyway

Amazing formula

Love the formula it's great full coverage but the applicator sponge is horrible!

Good for cheap

This concealer is packaged not the best, but is pretty good for the price, have used it for many years.

Favourite drugstore concealer

This concealer is so good! It's creamy, but not too thick and blends in really well. When set with a nice powder, it doesn't crease too much under the eyes. The color match is also really nice. Will continue to buy this.

Great concealer, not hygienic

I was using this with the applicator provided and it was terrible. I'm not sure how hygienic it is after you have used it a few times
so i decided to rip off the spongy bit and I apply the concealer with either a brush or sponge and it is amazing
hides my deep under eye circles and lasts longer than any other concealer without becoming blotchy .I used a lighter shade than normal to hide my undereye circles and lightly contour my face. Worked great

Okay

This is a great applicator however I feel that it does waste a bit of product and I'm not sure how hygienic it is. The product formula is nice and soft and I had no reactions (which happens a fair bit) but its quite thin and definitely not full coverage

Pop the sponge top off for hygiene & precice usage

I bought it to use for non-creasing brightening under my eyes, because I don't have any discolouration, but the "Fair" (lightest) shade is darker than the backs of my hands! I'd always planned on popping the sponge applicator off as a hygienic experiment, and it does use up a lot less product that way -- just 4 clicks makes enough ooze out of the spout to do the backs of both my hands! Clicking more than this makes product ooze out for ages ... slowly. I recommend clicking, setting on its side (over a palate) and brushing teeth while it comes out. Then use a brush to apply (or to mix as follows).

Due to it being far too dark for under my eyes (and I'm not porcelain at all!), I mix a few drops with a pump of moisturiser and a drop of verrrry light foundation, for a light-to-medium coverage foundation! Has a smooth /matte finish that's not powdery or cakey and does not settle into lines or break up over time!

Would still recommend to anyone darker than myself as an under-eye concealer -- the pigmentation/coverage is amazing, and it doesn't crease.

Not as good as the fit me concealer

In my opinion, this product isn't as good as the fit me concealer, the packaging is a bit unhygenic, and there can be problems getting product out - especially since sometimes it comes out as really sheer - despite being full of product. A little bit disappointing since there is a lot of hype around the product, personally did not suit me

Iconic

This is the holy grail concealer everyone loves and talk about. It is amazing coverage and the application is super easy. But at the same time i do wish the packaging was a bit more hygienic. I also wish they had a greater shade range but the actual formula of the concealer is amazing and also price is very affordable.

Classic

i switch concealers to try different formulas all the time but i always use this one in between switching - and for good reason!

i find it gives medium coverage and gives a really nice brightening effect.
It is buildable but it does not 'cake' when doing so as it is not drying (like shape tape!)

Great formula

The best to cover dark circles! However the sponge applicator isn't great, I pull it off and apply the product with a brush, then dab with beauty blender. Set with banana powder and looks great.

Perfect

I actually like this! I wasn't sure about buying it and I had spent ages at Priceline wondering if I should get it or not but I ended up buying it anyway. I'm so happy I did.

I'm a student and I tend to stay up late at night. That means that I often wake up with puffy, dark eyes. The shade Fair Clare (Clair?) is my true match—I usually get told to get the lightest shade there is because I am quite light in colour.

I don't use makeup so I was looking for something quick and simple. This is it. It is so easy and it hides the darkness of my under eyes enough to make them look natural. This concealer also gives me the look like I had over eight hours of sleep.

I like it and I recommend it.