Maybelline Instant Age Rewind Eye Eraser
Skin Type:
Dry
Normal to dry
Normal to oily
Oily
Frequently bought with
Please wait while we find a match
Questions & Answers
(No Questions Yet)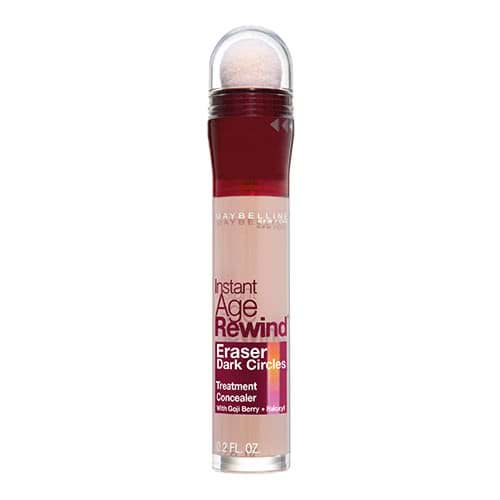 Maybelline Instant Age Rewind Eye Eraser
Get an expert to answer your question about this product!
Ask a Question
82% recommend this product
Most Helpful Positive
Love
I love this concealer. It covers dark circles and its so affordable!
Most Helpful Criticism
It's ok
I don't love this under the eyes as it creases fairly badly on me and the applicator is a little bit weird. It is however quite nice on the rest of the face for light coverage
Love

I love this concealer. It covers dark circles and its so affordable!

Not the best coverage

this is not the best coverage for under the eyes!

It's ok

I don't love this under the eyes as it creases fairly badly on me and the applicator is a little bit weird. It is however quite nice on the rest of the face for light coverage

Not the best

I wasn't impressed by this concealer. It doesn't have the best coverage and I found it to be quite drying. I wouldn't recommend for those with dry skin types. In saying that, it is a good concealer for those on a budget.

not a fan

high coverage for bags and blemishes but the consistency is hard to blend onto other prodcuts

Dark circles just dissapear

The only concealer I use, doesn't crease and removes dark shadows from my 42 year old eyes. An absolute must for the mature lady.

Obsessed

I struggle to believe the bad reviews on this product because I'm literally obsessed with it, blown away by the quality for the price, it has fantastic coverage for my dark circles and red blemishes, it blends sooo well, I wasn't expecting to like the little application sponge but now I really do. I'll be repurchasing over and over! A winner.

Not good

Not good, really hard to get enough to come out and even then, doesnt really work as a concealer.

Not amazing

Not good coverage but does the job! Wouldn't recommend or buy again unfortunately

Fast and easy

On the days you're too lazy to wear a full face makeup, this is good to hide the under eyes

The search is over

Being in my 40's, concealers I used in the past are no longer my friends! I've tried so many undereye concealers and each one left my skin 'crepey' or dry. Often the concealer would also settle into my fine wrinkles and make me look older. I purchased this one after all the rave reviews and was amazed at how it worked. I apply it with a clean fingertip - it's workable, buildable, doesn't settle into wrinkles and it lasts all day. You can't go past it for the price, and I have to say it lives up to the reviews. So happy I've finally found a concealer that will love my aging eye!

My go-to concealer

I've tried so many different concealers over the years, but I always come back to this one. The fair shade matches my skin tone and easily blurs the dark shadows under my eyes and skin blemishes without making my skin feel dry. Love it!

not the best

doesnt cover much. also left a grey tint under my eyes. made my under eyes look dry also and my skin is combination. creased too

nice for the price!

Helps a little, though find my teen loves this more than I do. May be better designed for young skin & a quick pick me up, rather than middle aged and tired eyes :)

Great concealer

Great concealer. Took me a while to figure out how to use it (twist and dab, duh). Blends well and has good coverage for blemishes and under the eyes. I have fair skin and it's perfect. Will definitely buy again once mine runs out

Tried so many and this is the best!

I purchased this because of the raving reviews and was blown away at the products quality. A little goes a long way, smooth, light, doesn't build up in fine lines, dries quickly, and it blends in flawlessly. I've started wearing this with no other make up which I never do (it's either a full face or nothing at all), it covers my dark circles perfectly yet stays invisible. I'll be repurchasing over and over. So reasonably priced too! Highly recommended!

Best drugstore concealer

I use this concealer under my eyes and it is very natural looking. It doesn't crease or settle into lines. Will continue to repurchase this as it is really worth it for its price.

Good coverage

This is one of the best drugstore concealers I've used. Very good coverage and lightweight

Perfect concealer

Works amazing to brighten under eyes! Love using this on its own under my eyes and sparingly to spot conceal as a pick me up for my skin when I don't want to wear foundation.
Just a really great concealer for a great price!

Great Concealer

Really easy product to use under eyes and on blemishes. It gives pretty good coverage and lasts all day. Affordable as well.

light coverage

does not have the best coverage for under the eyes!

Everyday staple

This is without a doubt my all time favourite concealer! It blends like a dream and doesn't sink into any fine lines. Also VERY affordable. Win win!

Great

This is a very affordable concealer that you can build up to cover your blemishes. I love the finish of it as well and it does not make my skin look dry or flaky

Recommended!

Have recommended this to many friends and family. Easy to use and blends out so easily to brighten my under eyes. Doesn't leave a big white ring around my eyes and looks natural.

So brightening!

This is a really lovely product, and completely lifts your face! The subtle luminosity is perfect for when you're tired or a little dehydrated. I don't love the applicator, but I apply it onto a (clean) finger then onto my face instead which works just fine.

The best in market

As a drugstore brand its best..i hv medium color which goes perfectly well with my skin tone..i use mac foundation with it..really conceals my dark spots n circles..highly recommended

Undereye

Lovely concealer for undereye - very flattering on imperfect skin. The applicator would be better as a doefoot instead of sponge

Goos coverage, very buildable

I dont love the sponge applicator, but it does make using it very quick, and it is buildable without creasing. Occasionally I'll even dab some around my nose where I've got some veins. Not a HG, but pretty good

love this concealer

this concealer does wonders! its super blendable and is medium-high coverage, but doesn't look cakey and it doesn't crease! it looks flawless all day long.