A good brow styling gel is a must-have in any makeup kit, whether your morning routine is 5 minutes start to finish or you like to layer your brow products for the perfect look. From clear to tinted, our selection of the best brow gels offers something for everyone.
Our favourite clear brow gels
Besides mascara, a clear brow gel is probably the fastest way to add some polish to your look. They can be worn alone to groom and smooth unruly brows, or applied after powders or pencils to lock in colour and give long-lasting hold.
One of our favourites is Anastasia Beverly Hills Clear Brow Gel. Combining a lightweight feel with powerful hold, it's great for keeping thick and bushy brows in place all day long.
Benefit's 24 Hour Brow Setter does what it says on the tin, with up to a full day of wear and an invisible finish that won't flake off.
If you're all about the multi-purpose products, try Eye of Horus Universal Brow & Lash Serum. Infused with nourishing botanical oils and essential B-complex vitamins, it helps encourage growth and care for brows while creating soft, natural hold.
Our favourite tinted brow gels
If you want to combine colour and hold, a tinted brow gel is for you. Some formulas include added volumising fibres for a fuller look, while others are designed to add dimension and natural-looking highlights.
Benefit Gimme Brow+ straddles the line between a gel and brow mascara, with a tinted formula and microfibre technology that defines, grooms and builds your brows.
Anastasia Dipbrow Gel takes the best-selling Dipbrow Pomade formula and makes it easier than ever to use. Richly pigmented and with a small cone-shaped brush, this tinted gel adds definition and colour while locking hairs into place.
If you're all about the tiny details, you might just like Napoleon Perdis Wand-er Brow Gel. With a tiny, slimline brush, this tinted gel offers precise control for that perfect finish.
Showing 20 products of 26.
---
Brow Setting Gel, articles & community
Recent reviews on Brow Setting Gel products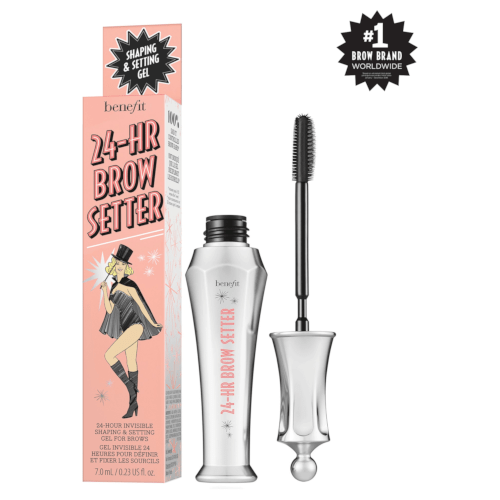 Benefit Cosmetics
Benefit 24 Hour Brow Setter Clear Brow Gel
$45.00
The best
I have tried many different brow setters as my eyebrows are very soft and do not stay in place, generally most of brow setters wont stay effective as long, but this one does stay for many hours. It might take a bit of time to get use to its firmness on eyebrows.
What people are looking for the most