Lonvitalite C7 Collagen & Gold Lip Mask - 6 Pack 6 pieces
Questions & Answers
(2 Questions)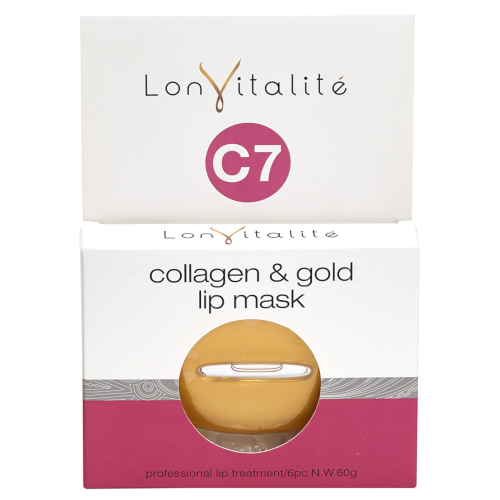 Lonvitalite C7 Collagen & Gold Lip Mask - 6 Pack
Get an expert to answer your question about this product!
Ask a Question
88% recommend this product
Most Helpful Positive
AMAZING
Best ever treatment for lips, however i just wish the pack came in a larger version
AMAZING

Best ever treatment for lips, however i just wish the pack came in a larger version

Amazing!

I used a horrible staining lipstick which left my lips peeling , swollen and cracked. For weeks I tried to hydrate/ fix them when I came across these lip masks. Within two lip masks my lips were back to normal!!! I'm on my second packet now because they are great hydration and give a slight plump.

Fun pamper pre event

These don't make a difference long term, only good lip care can, but they are definitely great for prepping just before an event and make a fun selfie shot ;)

Hydrating

Good to use before a matte lipstick or if you have dry lips! Very hydrating

Super hydrating

Great after a long day at the beach or stuck in the drying, air-conditioned office. Very hydrating!! However, on a side note it was a struggle to keep these on my face unless lying on my back. They kept sliding down off my mouth. Nice excuse to lie down and enjoy the luxury but :)

nice for an occasion

These were a treat in the lead up to my sister's wedding. Product was good, and help with prepping lips for make-up

Not as good as I expected

The quality feels good. But there was minimal plumping. I maining wanted it for my dry lips, but it didn't help at all. Should have just bought a $3 chap stick instead.

love before matte liquid lips

this is perfect for a night out where you are wearing a drying matte lip, it just plumps and hydrates your lips so they are ready for lipstick on top!! super smoothing and nourishing

Really hydrating

Love these! Hydrated and plumped my lips.

Really like these

Great to use before a special event, they make your lips super hydrated and plump!

Moisturising!

These masks are great if you have severe cracked lips, I used mine when i had the worst dry and cracked lips and the dead skin just melted away it was amazing!! magic mask!

Great before an event

This mask had a great softening effect on my chronically dry lips, that lasted about 24 hours. They'd be perfect to use before a night out or special event.

Didn't notice much difference

I was hoping this lip mask would plump my lips however, I didn't notice any difference. It did leave my lips soft though!

They work

These are so fun, you can feel them working and definitely gives a temporary plumping effect that lasted 1-2 days for me, so great to use before an event or night out.

i n c r e d i b l e

these lip masks are definitely the best ones i've tried to date! i've been through so many and these have become my go to! they give the best results re: hydrating and plumping ....completely can't go past recommending them to my girl friends etc.

Lips of Gold

Love how soft these masks make your lips feel. although they do feel a bit awkward on your lips they resuls are worth it

It works!

I honestly didn't think these lip masks would make much of a different to my lips - but I was pleasantly surprised. After just one use, my lips looked fuller and softer. I'd definitely recommend using one of these lip masks prior to applying lip liner and lipstick! I have since recommended these masks to a couple of friends who have also been impressed with the results.