Lonvitalite 24K Gold & Collagen Eye Masks - 6 Pack 6 pack
4 instalments of $12.49
Or 4 instalments of $12.49 with
LEARN MORE
4 instalments of $12.49
Or 4 instalments of $12.49 with
LEARN MORE
Official Stockist
"Don't know a good thing til it's gone"
Check out these alternatives...
We're fetching some products you may like...
Is this for you?
Lonvitalite 24K Gold & Collagen Eye Masks 6pk contains active ingredients to help boost circulation effectively, with the latest in film technology to allow ingredients to easily penetrate the skin.
Frequently bought with
Please wait while we find a match
Questions & Answers
(2 Questions)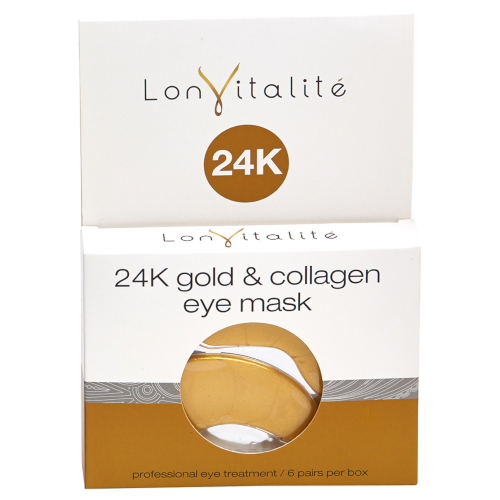 Lonvitalite 24K Gold & Collagen Eye Masks - 6 Pack
Get an expert to answer your question about this product!
Lonvitalite 24K Gold & Collagen Eye Masks - 6 Pack Reviews
86% recommend this product
Most Helpful Positive
Refreshing and full
Gold Eye masks leaves your under eyes feeling plump and fuller. Really recommend this product!
Most Helpful Criticism
Feels nice but no visible effects
These feel really nice sitting on your face, I feel like they are waking up y our puffy eyes but once I took them off I noticed almost no difference.
Probs cold cucumbers work better, sorry
Pleasant, but expensive

I bought these as a treat to pamper myself, but found they didn't really do much for my puffy eyes, nor were they exceptionally hydrating. The experience is nice to wear them, but I'd probably look for something more affordable in future.

Refreshing and full

Gold Eye masks leaves your under eyes feeling plump and fuller. Really recommend this product!

Very cooling

I've been using these for a little while now and they are really good! They reduced puffiness and a little bit of my dark under eye lightened after use. I've had no issues with them sloping just have to make sure you don't have them too wet and they stick just fine. Although the results are just temporary in my experience.

Eye masks slip down my face and minimised the effects

The eyemasks wasn't suitable for me as they would slip down my face and had to constantly readjust, and therefore minimised the effect under the eye area. I would feel a cooling effect when intially placed. but a couple minutes later can feel it slide down. Being a multi-tasker while using skinscare products, unfortunely these didnt' work for me.

Really great pick me up when you've had a big night

My friend and I had a big night out on the town and barely got much sleep so we decided to give these a go cause our eyes felt so dry and sensitive, they were so cooling and calming and felt really energising for the eyes.

Lovely cooling effect

This product feels lovely while wearing it but I didn't see any noticeable difference, it did leave my under eyes feeling lovely a soft though

Boujee treat yourself eye mask

I love these eye masks! They are so refreshing and hydrating. Brought my Mum some for mothers day bc I loved them so much.

Actually does reduce puffiness

These are excellent. They really do reduce puffiness and I think do help the appearance of fine lines. Won't go back to the comparatively very expensive Estee Lauder ones after using these.

Disappointed for price

These are fun to use, very instagram friendly and do a good job of brightening the under eye. They just didn't do anything special or anything more than supermarket sheet eye masks so I probably wouldn't buy again at this price.

Always have handy

This is a go to for me! It is hydrating and so lush. Wake up feeling less puffy and glowyx

Special treat

I received as sample and so pleased with product.
Great for those pamper days or special outing.
My eyes were less tired looking, less puffy and hydrated and less old looking.
Great product that I will add to my regime.
Very pleased.

Lovely eye masks

I really enjoy using these and the short term benefits. Not sure how much they do long term but my skin definitely feels softer and plumper after using and my makeup sits better.

They feel nice

They feel nice and hydrating especially after a night out when you've hAd to scrub around your eyes so this feels nice and cooling and hydrating

Big, Big, BIG FAN!

It does what it says it promises to do: soothes, hydrates, moisturises and made my eye area more plump and feel rejuvenated. Would definitely recommend esp before going somewhere special to look and feel less puffy/tired. Good list of ingredients too without nasties and filler ingredients.

Eye Mask Heaven

My eye area is delicate, happy that the product didn't sting or tingle. It was very cooling and made me feel super relaxed. I don't have noticeable wrinkles yet, so couldn't tell if it helped. It did brighten my eyes and the next day I noticed how luminous the skin looked compared to the rest of my face.

The Best Feeling

These feel divine under the eyes! Ideal for a mini at home spa moment or if your under eyes just need a bit of love. The results aren't instantaneous however, but I do notice if I do these before bed I wake up with brighter, smoother under eyes.

Great product

I do find this brand in general to be quite pricey however you do get what you pay for- great results!!

Self-care at its finest!

I love using these on my self care days along side a face mask, hair mask and a warm cup of herbal tea. Really helps to soothe and de-puff your under eyes.

depuffs

depuffs undereye bags and reduces redness

Feel lovely

I received a sample of these in a recent purchase. I popped in the fridge and applied after a particularly rough night with my 7 month old, and they definitely make the under eye area feel less puffy and more awake! Concealer applied beautifully afterwards too.

Feels nice but no visible effects

These feel really nice sitting on your face, I feel like they are waking up y our puffy eyes but once I took them off I noticed almost no difference.
Probs cold cucumbers work better, sorry

Enjoyable!

I received a set of these as a sample with my last order, and I really enjoyed using them. They did tingle a little but I assumed it was normal. My under eyes looked so much brighter and less puffy when I took them off. Will be buying more.

Quick fix

I suffer from dark circles under my eyes - these are a great quick fix, my under eyes felt plumper and brighter after use. But I definitely will stick to using a good under eye cream for permanent results.

Not sure they are right for me

This is a really nice product. The masks feel very nice when applied. Not sure I could notice much difference in my under-eye skin after wearing them for the 15-20 minutes recommended. I think maybe they just don't suit me.

Great before applying makeup

I hadnt slept and was having my make up done for my bridal shower. These help me look no so tired and the make up sit better, its a quick fix.

makes my eyes look so good

this eye masks hydrates my under eyes so much and gets rid of all the dark circles. Definitely recommend!

Amazing!

Love these eye masks! Absolutely amazing! Great results!

Love these

I use these little numbers once or twice a week to feel pampered and boy do they deliver!! For the rest of the night/ day my under eyes appear less lined and more youthful. Highly recommended!!

Hydrating

These masks hydrate my under eyes and reduces my fine lines before applying make up however I feel like that's all they do. A bit pricey for the amount you get.

Instant results!

Great for a night out if your eyes are looking puffy and tired. I always make sure I have some in the fridge. I actually notice the difference with my under eyes when I don't use them.

Great for before events, makeup etc

So nice and refreshing, I really like this! Nice for the morning and good before makeup.

Soft hydrated skin

I bought these to use before my wedding & they made my under eye skin feel so soft & hydrated, even my make-up artist complimented how well the makeup was settling in & sitting under my eyes!

Impressed

I've tried many eye masks over the years, some I go back to some I don't. I was very impressed with these, I purchased by reviews, not so much interested in young 20+ reviews as they can't really give a definitive review of the product. They didn't slip down my face & were so easy to use. I noticed a difference immediately they really lightened up the skin under the eyes. It lasted quite a few hou...

Read More

Instant results!

I was skeptical when first trying these but I noticed a massive improvement in my under eyes after using this mask. Gives you instant results that have you looking fresh, hydrated and well rested. I always save them to use before special events.

Pretty good!

I wouldn't rave about them and don't notice any big changes but they're still nice and slightly hydrating. They do burn a little though, not entirely sure if this is normal.

smoothing

i find eye masks really hard - they always have such a good affect as soon as you take the eye mask off but i find within an hour my eyes are back to fine lines. does help with the blackness a little i found. very soothing though

LOVE!

These are beautiful and hydrating and don't fall off as easily as some of the cheaper under-eye patches I've tried. I keep them in the fridge so they're even more soothing and refreshing to use.

Lovely Product

I purchased these to try as I was finding my undereye area was getting a bit dull and dry. I enjoyed how well the patches sat and didn't slide off and the fact there wasn't a strong scent.
Only con is they say to use 3 consecutive days initially then 1-2 times per week so would be great to be able to but a bulk pack to save $

Hydrating and plumping.

I use these overnight whilst sleeping, they don't move and are perfect for tired eyes. They really plump up under the eyes. I use three nights in a row then twice per week to maintain.

Nice but not my favourite

My main focus with the under eye area is to keep it hydrated so I love a good eye patch! These feel beautiful and soothing if you keep them in the fridge before putting them on, however I feel like they dry out quicker than the other Lonvitalite eye patches, this is ok if you are going to leave them on for precisely the recommended time, but I often like to leave eye patches on for as long as poss...

Read More

not worth the hype

i found people raving about these but they give my under eyes very little hydration only smoothes them a little

Amazing

Lovely little extra step to the skincare routine. I can see how pretty my under eyes look and feel after one of these. Beautiful!

So good before events

Very hydrating and feels fantastic before events! Lovely

excellent

these eye masks are great! they hydrate under my eyes, they get rid off the dark circles and just make the biggest difference! I love them so much! They are so good to use after a day of wearing makeup and your eyes can get dried out. These masks help a lot and I can definitely see a difference when I use them

Not bad

Not the best under eye mask I have tried, but does feel smoother and makes makeup application go on better (compared to using nothing).

Value

Good value for money and nice for a little pampering session. Love the luxe gold masks and feel very refreshed afterwards. Haven't noticed long term benefits so far

Suprisingly Great

i thought i would try something a little different for a change to my normal regime and as a busy mum wanted something I could use and if interrupted by the kids (you know what i am talking about) i could leave on and keep up with my mum duties.

these eye masks did not diasppoint and my eyes felt refreshed. This has now become part of my weekly regime and I just love them. so easy t...

Read More

Disappointed

I loved the effect this eye mask gave, however it burned my eyes and left red patches. I'm not sure which ingredient irritated my skin, so if you have sensitive skin I don't recommend this at all.

LOVE!

I love these eye masks, they felt so soothing on and definitely nourished the delicate skin around the eyes. Using a few times a week and then once a week thereafter makes a great difference.

My favourite beauty product

I love these. I use weekly and leave on for as long as possible to ensure the serum absorbs. My under eye area always looks and feels refreshed with fine lines plumped out after use

Gold eyes

Great price for gold eye masks. Have used these before going out and putting make up on. Eyes look brighter and my make up hasn't stuck so much in the lines around my eyes. Will definitely purchase again when my pack is finished.

Very refreshing

Can't say that I noticed any difference unfortunately, just felt very refreshed in my under eye area, but for the price, and with the great reviews, I had higher expectations.

Best eye mask

I'm usually a bit slack on using eye masks. This one is amazing. Eye area felt hydrated and brighter after one use. It's easy to use and stays put while I walk about the house finishing up chores. I use it once a week and see pretty good results.

Great before an event

These are lovely, super hydrating & plumping. I really like that they stay in place!!!

Refreshing eye masks that have a slight sting to them

These eye masks felt wonderfully cool the moment I put them on. They gave me an instant feeling of increased hydration around the under-eye area, but about 10 minutes into the incubation period they started to produce a slight stinging sensation. I was expecting to see some sort of allergic reaction due to the stinging but surprisingly there was no redness or skin irritation. The skin underneath m...

Read More

okay

haven't really noticed a massive change in my eye area after using the whole packet of these eye masks, they also sting quite a bit. not bad for the price tho and they do look very luxe with the gold colour so its still a nice step in my pamper routine

Great value

These are certainly not the most luxurious eye masks on the market, but they are great value and deliver amazing results for the price! These have become a weekly staple for me

Recommend

I really like using these before I go out on the weekend. I have slightly crepey skin and dark circles under my eyes and this product smooths, brightens and plumps under my eyes!

Luxury for your eyes

I have tried other eye masks but this one is pure luxury. The thought of putting 24k gold under your eyes feels very expensive. After only one application I could see a difference and after three consecutive days the change in my eye area was like I had had a professional treatment. This is a luxury treatment good to do leading up to an event but probably not something I would continually buy.

Sleep in a dreamy eye mask

I'm in my early 30s with more than my fair share of fine lines around my eyes. My makeup always seems to settle into them so I was super excited to try these masks and they did not disappoint. They wake up the eye area making it appear tighter and brighter from the first use. As recommended I used it every day for three days then weekly after and am super happy with the cumulative results. I make ...

Read More

LOVE!!

Got a sample of these, and I'll definitely be buying a full box. Felt very cooling and hydrating on the skin, and will stay in place as long as you gently pat them into position. Perfect for a pampering session or before an event :)

A nice treat

I tried these for the first time on the weekend - I received a sample pack from adore a few months ago and completely forgot I had them - probably because it's not the sort of thing I normally use. I was pleasantly surprised- they did give me eye area a 'lift' (which went away within the day). Nice option for a treat or before an event.

Not sold

after reading amazing reviews, i have to say it did not live up to the hype around it.

Brightening YES!

Love these! I'm 40 with combination/oily skin. Fair to medium skin colour. I do have lines around my eyes as well as medium dark circles, puffiness but also sunkenness due to age. These help a lot. They brighten my eye area, help puffiness as well as plump up a bit wear needed. I don't feel they effect my dark circles. But as I'm not well and have a lot of pain (which causes me dark circles). I do...

Read More

Slippery but sensational

I love how these brightened and softened my skin, however was a struggle to keep these on my face unless lying on my back. They kept sliding down my face. Nice excuse to lie down and enjoy the luxury but :)

luxury eye mask

This eye mask is a life saver when it comes to dark circles and puffy eyes.

soothing much

i got this mask as a sample and it is very very soothing and hydrating for the under eye area. adjusted well to my skin and did not gave me any kind of bad reaction . brightened the under eye too.

Avoid if you have sensitive skin

So disappointed, as soon as I put these on they started burning and I had to take them off within a minute. If you have sensitive skin do avoid, I had to wash my face thoroughly with water to get rid of the burning sensation.

Not so much

I read such good reviews on this product so I thought I'd give it a try, and it's just not for me. It would irritate my skin and saw no results.

These are the best eye masks!

I love all the Lonvitalite masks, but the 24K Gold & Collagen Eye Masks are the best. Instantly brightens and softens the skin, keeping my eyes feeling hydrated and looking incredible under makeup, even after a full day of wearing it. I much prefer these to the C8 Collagen ones, I don't know what is different but the results from the 24K seem much more instant.

Ok

Didn't really notice anything after using these. They do feel cooling and soothing on the skin though. Would be great for those who experience a lot of puffiness around the eyes. Also be careful taking it out of the packet as the masks can tear easily.

Luxury pick me up

I love to use these for a super quick pampering session. Adds a touch of luxury and leaves my eyes feeling refreshed and the skin moisturiser.

Soothing

I love all eye masks, and these are no exception. Very relaxing, serum feels nice and cooling, and leaves under eyes smooth and plump.

Fun to use

I have sensitive skin so it can be hard to find something that doesn't irritate my eyes. This was very gentle and soothing. It definitely plumped out the skin under my eyes afterward but nothing dramatic. I like it but it seems like you have to do them very regularly, minimum once a week, and that would be quite expensive. It does feel luxurious and relaxing.

Best for undereye wrinkles

I havn't noticed a difference in dark circles but it really helps with puffiness and the wrinkles under my eyes! Love using these before an event- my makeup looks amazing under my eyes

Old favourite

So glad Adore stocks this brand of gold eye mask. I've used them for years as part of my weekly face mask routine (or on days where my eyes look tired and puffy they're a great pick-me-up)

Good hydration for dryness, and the extra fluid is useful for dabbing all around my eye area afterwards to keep the effect going

I should say despite its claims about helping dark circ...

Read More

Need these eye masks

I received a complimentary sample of these, and I have literally just come on here to purchase a pack! I can't believe how effective these were for just one use! cant wait to see the long term benefits of continued use. For the price, these deliver so much more than expected.

Perfect prep

I received this as a sample and ended up purchasing the 6 pack. They are so refreshing and really get the job done and plump up the eye area. Tip - if you have a long drive ahead of you, wear them under your sunglasses :)

They work

These little gold patches will make you feel like a million dollars! Tighten, brighten, remove dark circles and reduce puffiness. Do need to use a few times to remove excessive puffiness which is what my partner suffers from --

Luxury eye mask

I bought this just for fun and I'm glad I did as my eyes looked great afterwards. I get dark circles and bags under my eyes and this made them look better quickly. I left on a little longer then recommended


Wow.

I received a sample of this product from adorebeauty and I am so impressed. It is the first eye mask I have used that upon removal, I instantly noticed a difference. The area under my eye was bright, smooth and blurred to perfection. I couldn't stop comparing the under eye region where the mask had been to the cheek area below. Great results. Will be repurchasing.

LOVE - so silky

Got these as a free sample and absolutely loved, made my undereye area feel so soft and hydrated.

I noticed a difference.

I very recently was given this as a sample by Adore Beauty and used it almost immediately. It was easily applied stayed put but wasn't sticky.
It felt very cooling under the eye and it felt nice! I used it for 30 minutes while I was watching a movie and upon taking them off I immediately noticed that my under eyes looked less dark and there was less lines. I also noticed that it visibly red...

Read More

OMG I LOVE THIS

Just tried this out for the first time and can't believe the difference it's made. After just 10 minutes, under eyes were very plump and hydrated. I'm very keen to use these again.

The best

I received a sample and couldn't wait to try it after reading the reviews noticed a difference straight away on my puffy tired eyes will purchase

Great after a big weekend

I find this to be helpful for under the eyes after a big weekend. I like to use it on Sunday nights to make my eye area feel less puffy and more rejuvenated for the start of my week. Great product

Beautiful hydrator

These masks are beautiful, soothing hydrators. They don't irritate my sensitive skin (which is a bonus).

Great for wedding prep

I've used the eye masks on a weekly basis for the past two months. I found that they have been hydrating and brightening. In fact, I've noticed that my under eyes are somewhat more plumper and my dark eye circles are less prominent. I would recommend wearing a pair once a day for 4-5 days before your big day.

They work!

These eye masks make me look like I've had Botox. They are easy and comfortable to use. They are very hydrating and results last about 24 hours. Will definitely repurchase.

Fabulous!

Love these under eye masks!
They stay in place and my under eyes look refreshed and hydrated after use. Great to use after a sleepless night to hide tired eyes or before a night out/special event to help make up look even better.
I also use these when travelling, they are great after or even during a flight.
Great value too.

magical

i find these really do work. Obviously it doesnt fix the problem for ever but definitely helps if your going out for the night or the day before something. relives puffiness/darkness and fine lines

Great product

As with most, my eye area is often dehydrated despite my efforts to plump it up. This product does just that. I've repurchased this once, and will probably continue to.

Results after first use

My undereye area can be quite dry and sensitive. I tried these masks for the first time last night and I've already noticed an increase in moisture levels and appearing more plump! Looking forward to continuing to use these masks!

Nice

The gold patches feel really luxurious and cooling on the under eyes. I'm not sure if they do much but are a nice treat for when you want to pamper yourself :)

Great for reducing puffiness

I love these eye masks. They feel lovely on your skin and are great for moisturising and getting rid of any puffiness. Results don't seem to last though, so these would be good to use before an event.

Beautiful

Really love these masks. They help brighten my dark under eye and also hydrates the skin. Leaves you feeling pampered. Only downside is they are a bit pricey.

Great for dry under eyes!

I bought this product after hearing the hype about how hydrated they make your under eyes. I have very dry under eyes and my makeup always soaks into them, so I decided to try these before a night out. I wasn't 'amazed' by the results however, they did make my eyes brighter and a little more hydrated. I think I would need to use them more often to get the overall effect however they are very expen...

Read More

Amazing

I have been wanting to try these out for a while and finally purchased them! These are AMAZING what a difference it made to my eyes after wearing them for 20 minutes as directed. I then also used the left over product and dabbed it under my eyes after i took them off. My under eyes were smoother and definitely more hydrated! Would be perfect before a big event

Incredible

I got these as a free sample and my oh my they are nice.
Not only do they feel incredible on the skin but they are so easy to apply. I noticed visible differences after my first, my texture had shrunk and my hydration had increased.
A bit expensive but totally worth it, especially as a treat for yourself

Can't live without these!

These eye masks are a staple in my skin care routine and are worth every penny! They make my under eyes hydrated and smooth and help reduce the appearance of my fine lines, I always use them 2 times a week and again before special occasions!