L'Occitane brings the organic essential oil of the golden immortelle flower to its exquisite line of anti-ageing beauty products. The comprehensive L'Occitane Immortelle collection cares for your skin with its combination of organic essential oils and botanical extracts.
Begin your L'Occitane Immortelle beauty regimen with Immortelle Precious Cleansing Foam. This fragrant cleanser washes away surface skin impurities with immortelle floral water, leaving skin fresh and soft.
Continue your quest for beautiful skin with L'Occitane Crème Divine. This best-selling, award-winning cream combats the visible signs of ageing by combining organic immortelle flower essential oil with a complex of other active plant ingredients. With regular use, your complexion will appear healthier and more youthful.
Try the L'Occitane Immortelle line for yourself, and see how beautiful your skin can be.
Since 1976, L'Occitane has incorporated over 200 botanical ingredients—such as locally sourced almond oil, herb and flower extracts, shea butter, and organic myrtle—into its line of products. L'Occitane's reputation is unsurpassed as a manufacturer of top-quality beauty and grooming aids.
Showing 17 products of 17.
---
Recent reviews on Immortelle products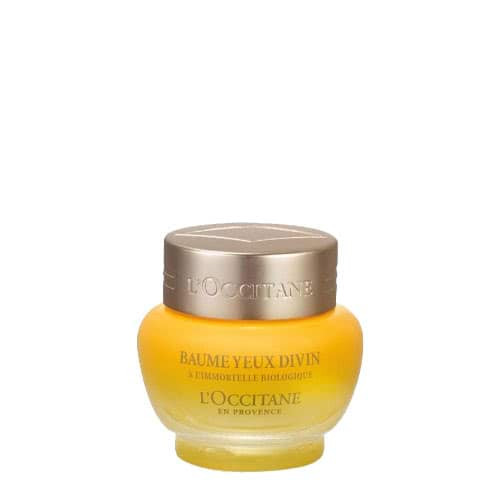 L'Occitane
L'Occitane Immortelle Divine Eye Balm
$105.00
Just not that into you
Nope / I used this sample two nights in a row and underneath my eyes went really dry and crepe-like, I certainly wouldn't recommend this product - I walked away worse off! I usually love this range but wouldn't waste my money on this eye balm
What people are looking for the most