Lanolips 101 Ointment Multi-balm - Peach 10g
Questions & Answers
(No Questions Yet)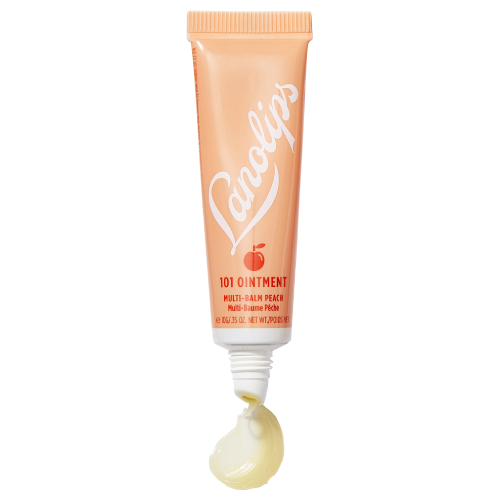 Lanolips 101 Ointment Multi-balm - Peach
Get an expert to answer your question about this product!
Ask a Question
98% recommend this product
Most Helpful Positive
lovely
very thick! but thats perfect for those chilly winter months
Most Helpful Criticism
Ok but not great
I find the texture of this balm a bit greasy and the scent just a bit much. I was really hoping i would like it because it seems to have such a cult following. It's fine and I used the whole thing I just probably won't buy it again.
lovely

very thick! but thats perfect for those chilly winter months

Great balm

I really like these balms and glosses with SPF to protect your lips. Great everyday product

Cruelty Free Shimmer

If you're looking for a nude lipgloss with a bit of shimmer this is the one for you. I bought the nude one as well, but found that this is closer to nude. It has that slight shimmer without looking glittery. Its cruelty free too!

life saver

this balm is such a life saver. i suffer from extremely dry lips (always!) and no matter what i used, it always made them peel or drier. this balm instantly soothes my dry lips and makes them moisturised like no tomorrow.

Ok but not great

I find the texture of this balm a bit greasy and the scent just a bit much. I was really hoping i would like it because it seems to have such a cult following. It's fine and I used the whole thing I just probably won't buy it again.

Love it!

Love this lip balm. The scent is so yummy and the formula works great for me. Makes my lips feel nice and soft. Would recommend!

Perfect for Cold Weather

I love this as a lip balm in winter. It is super hydrating and does not feel sticky like some lip products. I also use it on my nose when it gets dry and cracked. Peach is my favourite scent.

Awesome

Favourite lip balm. Amazing to use in winter, need to stock up again long lasting

Best for a glossy hydration

leaves your lips glossy and nourished for hours! I feel like I don't need to re apply after use and can use all over not just lips!

Love it

Very addicted to its smell and "taste" plus it really helps my chappy lips. Good buy!

love love love

Nice and hydrating without that sticky lip balm feeling

One of my favourites

I love lanolips products. I think they are great. This one is probably my favourite though. It smells amazing, is so hydrating, looks nice on the lips and the tube lasts a really long time. I will repurchase again and again.

beautiful scent

smells amazing and works perfectly!

obsessed.

I discovered lanolips two years ago and havent used another lip balm since. My lips used to be so dry that they would bleed. Ever since i started using lanolips before i go to bed i wake up to moisturised lips. It is a super effective product despite being a bit more expensive than most lip balms, could not recommend more!

love love love

I have a tube on Lanolips in my handbag, bedside table, at work and gym bag. Can't live without it! So hydrating smells nice and stays on for ages. Love it!

BEST

I use this as well as the original, but this one is particularly good for lips if you get dry lips and wind burn in winter. It's a bit more stickier that the OG so lasts a bit longer and gives a lovely gloss effect. Peach is my fave but I've tried them all, and they're all awesome :)

So yummy!

Such a yummy lip balm, it really does smell like peach! The formula makes my lips nice and soft and I love the packaging. Would definitely recommend

Soooo in love

As a self confessed lip balm addict....this stuff is legit. It stays on for so long, without feeling sticky and yuck. Super hydrating and smells amazing.

amazing for dry lips

keep dry lips hydrated and feeling plump, bonus points for the heavenly scent of peach

I recommend this to everyone

I have recommended Lanolips to pretty much everyone who has dry lips. This works better than any other lip balm I have ever used, and successfully got rid of a persistent dry patch on my lips overnight.
On my second tube of the peach scented one, and will definitely continue to repurchase, as it is so quick and easy to use. Particularly when you have a very busy work schedule and don't have time to touch up a lipstick during the day, I find this a nice alternative, as it isn't messy, it hydrates your lips and gives you a really lush lip shine.

Really nice

Soften my lips a lot more than others and is longer lasting. Not sticky like I thought it would be when I read ointment. The small is divine

Obsessed

I have constantly dry lips and rely quite heavily on lipbalm, and I LOVE the Lanolips 101 ointments. I have only tried the strawberry and peach flavours but they are both great. I have also used them on dry skin patches during winter and they work well. I love that they are paraben/sulfate etc. free also. Highly recommend!

Great product

Works well and has a nice scent.

Favourite lipbalm

The peach lanolips is hands down the best flavour/scent of lanolips, unlike strawberry which tastes like chemicals to me. The lip balm itself is so nourishing, I never have chapped lips anymore. However it is a bit sticky like a gloss, which some people may not be used to, but I love the smooth feeling

Amazing

An amazing product - love this on the lips and love the peach scent, so refreshing! The only thing that actually locks the moisture into my lips and relieves the dry spots

FAVE

Amazing smell and just as moisturising as the original. I love peach scents and this is just so good!!! Helps with very very VERY dry lips! Wear it for a little and put vaseline on top and rub off with a towel and dead skin is gone. I love it.

Amazing!

The peach scent is divine. I use this for chapped lips, cuticles, dry patches, flyaways - everything! A must-have product.

STOP BUYING ALL OTHER BALMS

I have tried SO MANY other balms. They don't seem to penetrate my dry lips. The search is over. I have found fruities. The peach scent is divine. I have also used strawberry and the coconut - also very good. It may seem pricey but it's worth it. I buy a couple and keep one in my bag, one in the car and one in my bedroom. Could also be worth getting the 3 pack - it's good value if you're starting your collection! Recommend.

Favourite lip balm

Favourite Lanolips scent! It really does smell like peaches and I love how hydrating it is for my lips. The formula and packaging are great and I would definitely recommend!

Summer fun!

Love the whole lanolips range. I normally use the plain multibalm but this is a bit of fun over the summer months - super hydrating, the perfect amount of gloss and smells like summer and fun!

Great

literally made my lips so hydrated!! I take it everywhere now and I get sad when I've left it at home it's honestly so good

Delicious Peach

Love all the Lanolips products, this lip balm smells really delicious and peachy. The balm is very luscious and hydrates and keeps my lips nice & soft.

Smells so good!

I love this lip balm! It tastes amazing and smells exactly like a peach which is so good! The formula is really nice (though a little sticky) and I love to use it as a cuticle balm too. My only issue is that it is yellow so if you wear too much then your lips look like a funny colour. Would recommend overall though

Love this

Love how thick and hydrating lanolips is! Smells delicious too.

Love these

I've fallen in love with all of the products I have tried in the lanolips line. At first I was put off spending the asking price on a balm but once I tried the product I was a convert. The tubes do really last ages too.

Soooo Good!!!

I really love using this product on my lips. Keeps them really hydrated for ages and love the fragrance to. I love how it's more on the thick consistency, as I really like my lip balms like that.

Just peachy!

I received a tube of this as an Adore Beauty freebie and I fell in love with it! Love the peachy scent and thickness of this balm. It feels divine on your lips and helps keep them glossy and moisturised for hours.

Delicious!

This balm is thick, sticky and smells absolutely delicious! It's truly hydrating and a little goes a long way. I wouldn't go anywhere without it. A word of caution if you have long hair and it's a windy day - your hair will stick in this balm repeatedly, so maybe wear your hair up that day! Otherwise a gorgeous balm.

Smells lovely but a bit too thick for me

This is a really nice lip product. I find it way too thick for me and I don't love the way it feels on my lips but it does smell really lovely and makes my lips soft. It's pretty good for the price so I would probably buy it again.

Go to Balm

i purchased this as it had won elle beauty awards. I now know why! I get very dry cracked lips so I needed something to use daily that would help my lips stay soft. this stuff is so good, i have bought it for all my friends and family who also love it. it is thick and a little sticky, but it works so well.

Very thick

A very thick formula. I love the peach smell! I love how it makes my lips feel. I like to warm it up before I use it otherwise the products is like frozen. (It's freezing in my house.) I find they apply better when warmed up.

Peach

Beautiful peachy scent and lots of shine. Very moisturising and rich for dry lips to restore back suppleness. Lasts ages on the lips compared to normal balms. Highly recommend. My lips really love the lanolin and soaks it in!

Yum!

The formula of the fruities is slightly thicker/richer than the original 101 ointment but still prefer these. It doubles up as a lip gloss because it makes your lips super shiny, while being intensely moisturising and rich. Unlike the original, it doesn't occasionally leave that white cast on the inside of the lips. The peach scent is very subtle and you can't really taste it once on. It lasts ages on the lips because of the thickness, and is probably the longest lasting balm among the plethora of the ones I own. However it is very sticky and your hair will get caught in it in the wind, but I don't mind it. Overall my favourite Lanolips product.

Multi Use Love!

After receiving this as a GWP from Adore Beauty, I have gone on to buy it as gifts for a few friends. I love that it can be used as a lip balm, a cuticle oil, treatment on dry patches of skin, I have even used it to gloss up an eyeshadow look.

Peach Treat

Lanolips are the best lip products on the market and the flavours that are coming out are amazing! This is summer in a tube, it tastes like real peach and it's helping my lips!! Absolutely love it!

Incredible

I really like this balm. It's thick and very versatile. I use it on my lips, hands, cuticles and feet. It has a beautiful peachy smell that's not too overpowering. It also does a good job at healing cracked skin. I'll apply it to scars and it will help them fade. All rounded, good product.

Glossy

received as an Adore Beauty GWP, I've ready all about the Lanolips hype but never really got on board......aaaaand where have you been all my life. Needless to stay this product will be a staple in my handbag. Why? It's easy to apply, it travels well, it's compact, it doesn't smell too strong (hello fragrance intolerant peeps), it's super glossy, whilst sits on top of your lips it sinks in as well but yet still looks amazing!

smells great amazing product!

by far the best lip balm I have ever used, it leaves my lips moisturised for a long time I don't have to reapply as often as other lip balms. the peach scent is wonderful
i would recommend this product to anyone.