La Roche-Posay Thermal Spring Water - 300ml 300ml
Skin Concern:
Acne, breakouts and blackheads
Dull, dry or dehydrated skin
Oiliness and shine
Sensitivity and redness
Skin Type:
Dry
Normal to dry
Normal to oily
Oily
Questions & Answers
(No Questions Yet)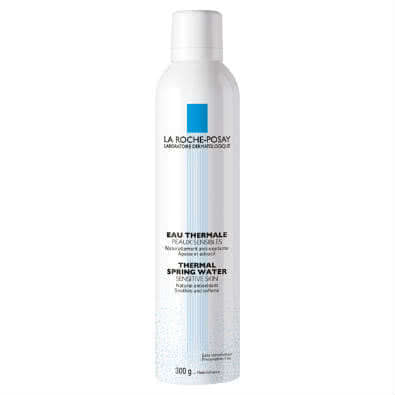 La Roche-Posay Thermal Spring Water - 300ml
Get an expert to answer your question about this product!
Ask a Question
89% recommend this product
Most Helpful Positive
Makes my skin look and feel fresh all day long
So hydrating and refreshing !
Most Helpful Criticism
Refreshing
Refreshing treat for summer but it's literally just water, not worth the money in the slightest
Makes my skin look and feel fresh all day long

So hydrating and refreshing !

Refreshing

Refreshing treat for summer but it's literally just water, not worth the money in the slightest

Been using this for years!

Fads come and go but hydrated skin is a constant, this has been a staple in my regime for years. I have the large can in the bathroom and the 50ml in the bag, I use it first thing after cleansing and periodically throughout the day for a refresher. You simply cannot go wrong if you have this in your arsena no matter your age or skin type!

Amazing product used twice daily

This is a beautiful product that I use twice a day to add moisture to my skin before layering on hyaluronic acid and moisturiser - apparently this is the best way to moisturise so that you're adding water to your skin before your other humectant products that actually help seal in the moisture. I've noticed my skin is so much more hydrated since doing this. Previously I was using the Sukin mist toner but it was too harsh for my sensitive combination skin (could have been the citric acid) so I switched to this thermal water which is much, much better and more effective.

So refreshing

I love using this in the warmer months, it's just so refreshing and cooling.
The big bottle lasts for ages and I love using this to cool my kids down as well.
The packaging is simple and effective. The mist is very fine and even.
There is no added scent which is great.

I know it's just water

Actually a really nice treat to set makeup with this. I feel better knowing it doesn't clog the pores, makes me feel refreshed and it's all naturalè

Perfect refreshing treat

I've been using this for a couple of weeks now, and I love it. The mist comes out as a super fine spray, and feels lovely and cool on the skin. Sinks in fairly quickly, and works well to refresh tired afternoon makeup. Doesn't irritate my sensitive skin, and doesn't have a smell- which I love!

Its water

Kind of spewing I spent $25 on water. Might enjoy it more in summer but will definitely not repurchase.

Soothing

This reminds me of the avene thermal spray, although I prefer this one because it feels more hydrating and less like water. It feels like I'm applying a toner and it is soothing, especially when your skin is a little red.

awesome

amazing for keeping my skin soft and hydrated throughout the day, love this product

WOW

I enjoyed this way too much. So much that I had to ask my partner to take it off me otherwise I would've used it all up. But to no avail, I used this within weeks over the summer. It's refreshing, it's light, it's amazing to use.

Gentle mist

I love the way this product sprays out! It sprays out in a gentle mist and doesn't squirt you in the face like some other's can. It's very calming and great in the summer as a refresher or to settle down redness.

Refreshing

This product is great for after washing! Leaves skin feeling clean and refreshed, and dries quickly. Very soothing to the skin!

Use it to bake

I bought this after reading about at makeup setting technique called 'jamsu' on Huda. While skin is baking, dunk your head in cold water. I couldn't quite tolerate the dunking, but I put this in the fridge, spray it on and let it dry/set. I've tried it and it works- I'll be using this thermal water to set my makeup for my wedding!

Better than Avene

Somehow my skin reacts to Avene thermal water when it's not stable, but never to this one! There would be some water left in the bottle that cannot get out - but I find it to be the case for all thermal sprays.... I only use it when my skin is allergic and I couldn't use any other products. For this purpose, I think it's a great product. But I do think Evian would be a perfect and cheaper substitute for it.

Simple yet effective

Keeps my skin hydrated throughout the day, no chance of irritations and reactions. I've been through 4 300ml bottles of this already!

Keeps my skin hydrated and glowing

I have always believed that one of the most important factors when it comes to anti-aging is keeping your skin hydrated. I have a large 300ml of this at home and spray on my face in the morning and night before my skincare, I also carry a small bottle to refresh my face throughout the day.

one of my favourite skincare steps

this keeps my skin soft and hydrated :) love using this to freshen up throughout the day

Holy Water in a can

I use this all day long to keep my skin toned and calm, I have sensitive skin that reacts really easily to alot of different products so I feel great knowing there's no ingredients in this that can breakout of harm my skin. since using this my skin is always hydrated and plump and looks and feels so soft and healthy.

Great!

I bought this big bottle after trying out the smaller size first and loving it. t cools and calms down my dry, sensitive and irritated skin, I like to use it right after stepping out of the shower to balance my skin again, and before I apply makeup as a prep/boost of hydration so makeup applies smoother. I like that it has a really fine mist. In summer I also store it in the fridge and I'm addicted to the cooling effect it has. Absolutely would recommend. I prefer it over other thermal waters.

Love this for refreshing, toning and moisturising

I have bought this three times (the big size once and the small size twice). I mostly use it during the warmer months, to freshen up my skin at the end of the day or after bringing the sun or heavy air conditioning. I have oily skin and it doesn't exacerbate this at all. Leaves a really nice fresh dewy glow. It sits well over make up but I don't use it as a make-up setter. If I had to apply make up after, it would also still sit well under it. Other brands have stung my eyes but never this one. Great for travelling.

Would repurchase

I always thought aerosol water was such a gimmick but honestly this is such a great product for a skincare routine, it's very simple and plain hydration and very soothing on dry, tight skin. I usually spray it after I have cleansed, onto a dry face, then let it sink in and I apply my serums/ oils/ treatments. I know some people use it over makeup but I personally just don't use it that way, I like it for skincare purposes only.