La Roche-Posay Serozinc 150ml 150ml
Skin Type:
Dry
Normal to dry
Normal to oily
Oily
Questions & Answers
(1 Question)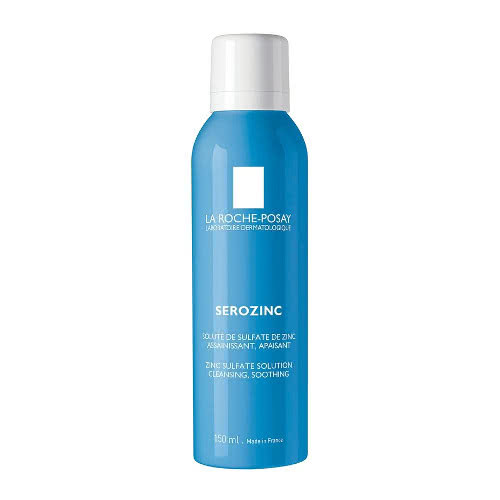 La Roche-Posay Serozinc 150ml
Get an expert to answer your question about this product!
Ask a Question
92% recommend this product
Most Helpful Positive
Amazing!
This has helped to clear up my skin so much
Most Helpful Criticism
A misty delight
Anything La Roche Posay I love and this is no exception. I love the convenience of a toner in a spray bottle as I don't have to dab it on with a makeup pad and it's a quick and easy especially in the mornings when you're in a hurry to get to work. It has a weighless feel on the skin without feeling overly drying like traditional toners. The only downside is I feel it's wayyyy to pricey considering you can make your own toner for next to nothing with a little sea salt and water. I suppose you can't replicate the mistiness of the aerosol at home but considering your typical deodorant is a few dollars and this is over $20 I don't feel it's worth it.
A misty delight

Anything La Roche Posay I love and this is no exception. I love the convenience of a toner in a spray bottle as I don't have to dab it on with a makeup pad and it's a quick and easy especially in the mornings when you're in a hurry to get to work. It has a weighless feel on the skin without feeling overly drying like traditional toners. The only downside is I feel it's wayyyy to pricey considering you can make your own toner for next to nothing with a little sea salt and water. I suppose you can't replicate the mistiness of the aerosol at home but considering your typical deodorant is a few dollars and this is over $20 I don't feel it's worth it.

Amazing!

This has helped to clear up my skin so much

This is awesome!

I love it! My skin is often oily, reactive and hurts with some breakouts but this instantly soothes it and balances out the "combination" skin areas on my face. I love it under my make up also, to prevent the oily T-zone during the day. I also get painful breakouts on my chest, arms, legs, etc. and spray it on the area I need and it gives me instant relief. So good for so many things :)

Great for redness and irritation

This is perfect for my reactive skin. The spray mechanism is the best because it means that I don't have to rub my skin to apply it. This adds to the amazing calming effect. It causes minimal irritation and has a soothing feeling. Also works well on mosquito bites!

Amazing

Skin type: Oily to combo, prone to hormonal breakouts.

Hands down best facial mist (without scent). This is perfect for everyday spitz on oily skin, I don't wear make up a lot so I keep the smaller one in my hand bag, then this size next to my bed and one in the fridge. I'm obsessed. Keeps my skin hydrated and keeps it from getting oily. Make my skin look very dewy after applying.

Hint - put your facial sprays in the fridge during summer that way when you put them on they are cold. I have all my mists in the fridge durinng summer

Great Product, wish it came in a bigger size!

I have always been a fan of using thermal water (I have very sensitive, eczema prone skin), and have always struggled with toners being too astringent on my skin. However, this has turned out to be an incredible alternative. You need very little, and I find that if I use it after softening with a thermal water spritz it absorbs best. I just wish it came in a larger size to justify the packaging.

Refreshing

This is a beautiful, light and refreshing skincare item that is so easy to add to your routine. A lazy girl's dream!

Highly Recommend

I was given a small sample can of this and I absolutely LOVED IT. Although I'm not a super big fan of sprays, it really did help to clear up my skin when I was having acne issues.

Serozinc

I love this product it keeps my skin hydrated on application and shine free for most of the day.

Refreshingly mists

Though i have oily yet dehydrated skin i don't actually have acne but i used this last summer to help stamp out the shine and like other sprays it was cooling on application. I noticed the shine decreased slightly if i was indoors but working outdoors in the hot Australian Qld weather is probably always going to be impossible.

Preventative and Corrective Solution for Breakouts

Purchased this product in order to treat my acne prone skin. The zinc within this product is really great for reducing the size of current inflamed spots. I also find that with continuous use on face and other affected areas (chest and back) pores are reduced and future breakouts definitely aren't as intense. Size of the aerosol is very good and tends to last a while - purchased this 3 times already. This product is a must have within my arsenal, although not an everyday item. Would recommend this to someone who is suffering breakouts / acne and is looking for something to soothe/reduce it.

Always the last step in my skincare routine

I have been using this product for over three years and it has remained a staple the entire time. I have combination, acne prone skin and it is a life saver. Once I have finished with cleansing, serums and oils in the evening, I use this before bed. It refreshes the skin while helping to keep it clear and calm.

Love this

I love this spray! So nice on dry and irritated skin, I use it all over my face and body for instant soothing effect. Particularly nice on sunburned skin!

Great for hormonal acne / combination skin

I have oily/combination skin and mostly break out in my T-Zone and the tops of my cheeks. I never had breakouts until I turned 20, and after doing some research about hormonal acne I stumbled upon this product. I started using the whole La Roche-Poasy Acne 3-Step system about a year ago and found it really helped my skin.

I was pretty skeptical of this product when I went to repurchase because it is quite expensive for how much use you get out of it. I noticed a considerable difference in my skin when I left this product out of my regime, such as more little red bumps on my forehead and less overall glow. I also found using this product meant I used less moisturizer as it was more easily applied over slightly moist skin.

It does have quite a zinc-y smell, which I didn't mind. The only downsides of this product are the price (I usually go through 1 1/2 cans per bottle of cleanser) and the fact that it is an aerosol as therefore not great for the environment.


Refreshing and balancing but...

This simple zinc sulfate solution does what it says which is to sooth and balance blemish-prone skin. It's refreshing and helps balance sebum but I didn't reach for this over my other mists and toners. I ended up using this like a thermal water for cleansing and rinsing.

Better as a refresher, not as skin care

I wouldn't rely on this for skin clearing or oil balancing, or substitute it for more targeted skin care solutions. I have been using it for a just over a fortnight and while it feels cool and refreshing on the skin, I have found no added skin benefit. I prefer the original la roche thermal spray as a refresher for skin.

This stuff still gives me nightmares

I was 17 when I started to get severe cystic acne. I turned to this brand as it was just beginning to get a name for itself and its all anyone could rave about. I used this product a handful of times and noticed the redness but just thought it was my skin adjusting to a new routine. My face looked greasy and inflamed and I told myself it was my acne flaring up. Come to think of it I told myself a lot of things. After a week of skin getting progressively angrier. I stopped and the symptoms vanished. I have been afraid of this brand ever since. But I'm not sure 100% its the brand as it is my skin being incredible sensitive to whatever is going on. I'm pretty devastated to see how well it has worked for everyone else but oh well.

helps breakouts alot, wow

my skin is wayyy clearer since using this product and I definitely didn't expect it to work as well as it did

Never skip this step!

I have been using the Effaclar range from La Roche Posay for 2 years now and I always swear by their 3-step acne range. I recommend to never to skip the Serozinc toner as I noticed that when i stopped using it, I became more oily throughout the day, and my breakouts were worse. I didn't noticed if it was doing anything until I stopped, and now it is a must have step in my routine!

Don't skip this part of the la Roche posay routine

I use this with effaclar cleanser and effaclar duo. I didn't think this product was doing anything....until I stopped using it and started breaking out and getting super shiny!

I had dry skin in winter and oily skin in summer. This helps to control my shine all year round and works on those pesky hormonal breakouts too.

I usually get this as part of the effaclar triple pack (with cleanser and duo) but usually run out of this earlier than the other products. So now I just keep an extra can handy.

very effective with all-day oil control

I have normal skin in the winter and dry-combination skin in hotter weathers. Although this product is usually recommended to acne-prone, oily skin and sensitive oily-combination skin, it still perfectly controls any oils forming on my face in the summer (especially after applying ) and soothes the texture of skin when using as a toner before my essence. So personally, I would recommend this product to all skin types that have a concern over oil and sebum control, as well as refining a smooth skin texture.

Great inexpensive product

I've gone through 5 cans of this stuff and needless to say am loving it. I suffer from oily skin and make up just slides right off. I spray abit of Serozinc all over my face just before makeup application and after (as I don't like the powdery look). The zinc helps keep my oils in check hence helps makeup stay on the face. I love the fine mist (helps with not leaving drops of fluid mark on the face). It's refreshing and non drying especially in the summer months.

Make sure u shake the can well to incorporate the zinc into the solution when u spray.

Helps with breakouts

I have definitely noticed a big difference in the amount of breakouts. I get since started using this, I do find it a tiny bit drying but I just put a thicker moisturiser on :)

Love it

This product helps my hormonal breakouts become less intense and heal faster. I've noticed a huge difference since using this. I don't break out as often as I used to, and this helps my skin stay hydrated. I have a combination skin and I live using this before my makeup and before I go to bed. Highly recommend.

Can be a little drying but seems to help with blemishes

I've been using this for 2 weeks. I do think it's helping minimise the amount of breakouts and spots I'm getting, but I also have noticed my skin feels drier since switching from the thermal water to this. I'm currently making sure that I use a rich moisturiser while using this and will continue to see if this helps with spots :)

Not sure what it's meant to do

I didn't really understand this product as it just felt like water to me. No noticeable difference, without using other products with it. Before makeup and before bed are great times to use it so you can feel clean and refreshed. 3/5 for freshness.

Helps my makeup stay put.

I use this as a base for my makeup after I've moisturised to just mattify the skin and I find that not only does it help diminish spots and pores but it helps my makeup stay on for longer.

LOVE THIS

makes my skin feel clear and soft, so glad I tried this!!!

Such a great facial mist

I love this ! I have been wanting to try this product for a while now and purchased from adore a couple of weeks ago and have been loving it ever since! Makes my face feel fresh and clean and is great for keeping skin clear (:

Amazing!!

I really love this product. I have never had a toner in a spray can before but I actually love it, it makes it so easy to use! This can be used for so many different things other than a toner, like for reducing in grown hairs after shaving. I really love this stuff and would highly recommend.

Holy Grail Product

I LOVE this product. It is such a simple formula, but it is so good for so many reasons. It is such a lovely spritz after acid toning, and my go-to when I have congested skin, or feeling zitty. I have dry/sensitive skin and I have absolutely no issues using this. If you have oily skin or acneic skin, you will love this product even more; like some sort of heavenly miracle water, it completely calms down pimples, redness and even oiliness. I spray this on my partner's body acne and the difference is noticeable 24hours later. Couldn't recommend this more.

Refreshing, clarifying!

I bought this for my middle daughter, 19, and she loves it. She has some intermittent problems with skin congestion and this toner - along with a selection of the effaclar products - has made a huge difference to her skin tone and appearance. She says that it looks more like it did when she was in early high school and before her first pimple ever made an appearance! She'll be sticking with it. It also smells lovely.

Fantastic

I don't think I've ever bought a skin care product with only three ingredients before - one of which is water! My skin absolutely loves this stuff. It helps control excess oil and sebum production without drying out the skin and is perfect for use in summer, in particular, when my t-zone starts to resemble an oil slick by the end of the day. Highly recommended!

skin loves this

My skin absolutely adores this. I spray it as my toner after cleansing and it leaves my skin so hydrated. I use it mainly it the mornings as find it also does a great job in waking me up.

your skin will thank you!

I use this product as a hydrating toner for my face. I spritz it on after my cleansing toner. it takes a few minutes to sink in but it is so worth it. feels refreshing & soothing. Perfect for dry skin, eczema & or acne sufferers. 100% worth the price tag. It also soothes sunburnt skin. in Winter i use all over my body to soothe dry irritated skin. you must try this product!

Skincare staple

I use this as my toner after cleansing. Spray onto a cotton pad and swipe over the face. It helps to control oil in my t-zone and soothe hormonal acne.

This is a very gentle product that I highly recommend for anyone with skin sensitivity.

Highly reccommend!

Whilst this is described as "oil-balancing", which is only of concern to me through my T-Zone, I have found this product to be an excellent overall addition to my skincare routine.

I use La Roche-Posay Serozinc morning and night after I cleanse, and it helps to make my skin feel extra clean and mattified - ready for my sunscreen, serum and moisturizer to take full effect.

Good product, particularly for healing existing blemishes

The application method takes a little getting used to (it's a spray), particularly as I'm used to applying toner with a cotton ball. However, overall it's a good product, particularly for healing existing blemishes.

Love it

Will keep continuing to purchase.
Works well under my makeup and keeps my oily skin under control.


Refreshing and lightweight- great complement to my current skincare routine

I have been using La Roche-Posay Effaclar Duo for years now as it is the best product to help keep my acne-prone skin under control. Adding Serozinc to my skincare routine has been almost effortless. It mists onto the face very nicely, and leaves the skin feeling very refreshed. It also absorbs into the skin very quickly, which I find fantastic. After using it, I have definitely noticed a difference- my skin is more balanced, and it does soothe any existing blemishes that I do have.

As I started using Serozinc during the colder months of this year, my skin is already less oily to begin with, hence the 4 star rating. I am looking forward to continue using it and if it suits my skin during the warmer months as well, it may very well earn a 5/5 star rating!

Great for reactive skin

I'm so glad that I found this because my skin is so reactive to any change in the environment and this just calms it down then seems to act as a barrier to stop it being irritated again. Already worried about what I would do if they stopped making it!

This will be a repeat buy

Was a little puzzled that a "spray" would be able to deliver, but it does.

As with the above reviewer I found it acts well as a Primer ( more so than the other well known brand I spend a lot more on). I have been using this for a few weeks now and yes, my skin does seem clearer and the oily sheen I was getting due to my skin type and the climate has seemed to be held in check under my foundation. Due to sensitive skin I am always wary of new products but have no irritation from this as I use it in conjunction with Effaclar Duo Plus and actually enjoy the light mist it leaves after using. Fast delivery too - definitely recommend this product.

Thank you La Roche-Posay for another great product!

I am so happy with this product. I have normal to oily sensitive skin and was finding my Foundation was not staying on my skin in the hot climate that I now live in. Using La Roche-Posay Serozinc after I cleanse seems to act like a primer (more so than the products I have purchased as primers) and holds my foundation on all day and doesn't look greasy after perspiring or even when I'm wearing a SPF 50+ sunscreen underneath my foundation. I have been using the La Roche-Posay Effaclar Foaming Gel Cleanser and the Effaclar Duo for a few years now, which has absolutely repaired my problem skin that years of using alpha hydroxy acid products (thinking they were the best for all skin types) was actually way too harsh for my sensitive skin. Thank you Adore Beauty for your great service!