La Roche-Posay Lipikar Baume AP+ 400ml 400ml
Skin Concern:
Dull, dry or dehydrated skin
Sensitivity and redness
Questions & Answers
(1 Question)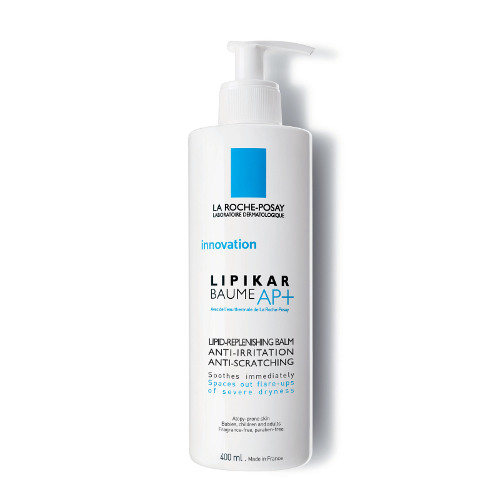 La Roche-Posay Lipikar Baume AP+ 400ml
Get an expert to answer your question about this product!
Ask a Question
100% recommend this product
Most Helpful Positive
amazing.
my favourite product. can use it anywhere and everywhere! so thick and soothing.
amazing.

my favourite product. can use it anywhere and everywhere! so thick and soothing.

Good product

This brand is quite good for sensitive skin. Worked well for me!

Best multi purpose balm ever.

This is an amazing cream that fixes skin almost instantly ! I love his product and will continue to buy it and recommend it to people for many years to come

Great product - absorbs beautifully.

What a clever find! I must have tried every body moisturizer on the market over the years, so pleased I found this one. Immediately ordered another bottle to make sure I don't run out. I love it - so will you.

Soothing on sensitive skin

Very soothing on sensitive skin, however it did block the pores a little on my arms. I found I had to lightly exfoliate more often. It was so great for dry, itchy skin though it is worth it.

Gr8 for eczema will become a routine staple

Really nice product. Disks in fast and not tacky after application. Immediate relieved my son's severe eczema. It also leaves a really nice sheen to your skin

Divine and simple!

I'm on to my 6th bottle or so of this product and it has become a routine staple. I feel like after owning it for over two years now I'm not needing it as often as my skin feels nourished without being congested.

It's excellent for those small bumps one might get on the arms, as well as sun burn, itchiness and dryness -plus I use it as a shaving cream and Foot balm. It's my travel buddy all rounder and I highly recommend to anyone who wants a more advanced classic moisturising / nourishing body cream for all skin types

Bottle of perfection

This moisturiser has been perfect for my dry, sometimes irritated/itchy skin. I love that it is really easily absorbed in to the skin, not super greasy with no scent. If you suffer with really dry and sensitive skin, this is something you should definitely consider purchasing ASAP!

Super soothing

I have purchased this twice now and I just love it. My skin has been dry due to some medications I was taking and this is a life saver. Helps reduce itch and keep the skin moisturized. Very grateful for this product.

Perfect for sensitive dry skin

This moisturiser is a life changer! I have had dry irritable skin for as long as I can remember, and I feel like I've tried every combination of body washes and moisturisers under the sun to try and relieve it! This moisturiser provided basically instant relief. I don't get itchy right skin anymore after showering and leaves my skin feeling hydrated all day! If you have the same concerns, I would 100% recommend trying this!!

Impressed

As always, I'm impressed with another product of the La Roche Posay range! It's perfect for my sensitive skin and soaks in so well. My skin is silky soft!

Great

With the weather going crazy from hot to cold, and wet to dry, my skin has been suffering. My legs especially feel dry and scaley so I thought I would trial the Lipikar Baume as an 'after shaving balm'. OMG! This is amazing! The cream was thick and luscious without being greasy. My skin practically drank the cream - was so fast absorbing! Being fragrance free it was gentle enough to use as soon as I jumped out of the shower and my legs feel AMAZING! I also covered my kids in it after their bath and their skin feels soft and supple. Definitely be buying this!

Winter Moisturiser

This cream has a true rich texture. I find it absorbs well and leaves a light film on my parched skin to keep it comfortable all day.

Heavy cream but a lot of moisture

I do like this product but find it a bit heavy. After a couple of uses I have seen the benefits on my dry and irritated areas.

My favourite night time product

This is super light and a little goes a long way. It's refresh on the eyes and helps moisture that's lacking in the eye area. Love this product so much

great

a great product, really helped out my skin when it was super dry and stressed out. so very happy

Just a good, basic, body lotion

I have sensitive, dry skin on my body - especially on my legs - and this lotion is wonderful.
A little goes a long way with this, especially when applied straight out of the shower, and the huge 400ml bottle usually lasts me 2 months.
It's not "firming" or "illuminating" or "anti-aging" or "whitening" or anything fancy. It's just a great, no-frills moisturiser that actually makes a difference to dry skin (has anyone else tried lotions just to have peeling skin again within hours?) and calms down any sensitivity I have from sunburn/epic showering.
I also LOVE that this is unscented. But it does have that faint chemical-y smell most unscented products have, so keep that in mind if you like a nice smelly lotion.
I've tried lots of other products over the years but always come back to this.

One of my favourite body moisturisers

If you're looking for a super hydrating but 'plain' moisturiser you'll love this. It feels quite heavy when you apply it, but soaks in right away so you can get dressed and don't feel or look greasy.
Really good on sensitive skin (as all of the La Roche Posay products are). Perfect for an everyday body lotion

Dry skin no more!

Okay, I am a bit obsessed by this brand. I never paid much attention to it, with its unassuming, clinical style packaging. I read the reviews on here and decided to try it on my dry skin. OMG! It is seriously a life changer for people who have dry skin. It is thicker than I thought it was going to be, and it does take a little while to get used to using - knowing how much to apply etc. I use one pump for each leg and that is plenty (a little goes a long way). I have had scaly, itchy lower legs for my whole life but not anymore since using this product. It is not something I apply to my entire body, but I use it on my legs, arms, and face/neck in the evening. I can't recommend this product enough! My tip is to add a small amount of Nuxe oil (one spray for each pump of balm) - it gives it a creamy texture and goes on beautifully - the best combo ever.

Great for super sensitive skin

I have very sensitive skin, and have difficulty finding a body cream that doesn't irritate, is really hydrating but not too greasy. This is it. It is very emollient, rich and hydrating but still absorbs well and isn't greasy. Great product!

Saved my skin

I've had dry legs for as long as I can remember, I always hated lotions because so many of them just felt greasy or sticky, this one makes my legs so soft with no horrible sticky feeling afterwards! I even use this only face and it doesn't break me out, just makes my skin super dooper soft!

Very impressed with this product,

I have a lot of problems with my sensitive, dry skin that 99% of lotions and body creams do nothing for, they are either too greasy, or too heavily fragranced. This balm has fixed my skin since purchasing a couple of months ago.. I have used it everyday and I no longer get itchy skin and my skin is no longer dry but now soft and normal. This is a godsend for people with reactive troubled skin and I have already recommended this to my family and friends.

Soothing

I get super itchy skin on my legs after shaving. The itchiness is so bad I can't help but scratch my skin, which makes it inflamed, red and even more itchy! The Lipikar Baume cream completely solved this problem of mine - all irritation was gone and my skin was hydrated and soft again. It has a slight funky smell, but it's worth putting up with. I also love that it comes in a pump bottle, but do remember that the lotion is quite thick, so once the bottle is almost empty, there is still product stuck to the sides of the bottle that the pump can't get to ;) It's easy to unwind the bottle and shake the rest out. A little product also goes a long way, so it's economical. Great product which delivers what it promises!

The best moisturiser I've ever tried. :)

Heavenly... It has helped my skin repair the damage of other moisturisers that have been filled with fragrances and other nasty ingredients.. I love this and use it every day :)

Great for dry hypersensitive skin

I have hypersensitive itchy dry skin, especially in winter. I have started using this after showering and it has really helped to reduce the dryness. It is a very thick and hydrating moisturiser and is not very fragranced. I am finding my skin is becoming less itchy with regular use.

The best moisturiser I've ever tried.

I have super sensitive skin, almost every product I have used makes my skin feel itchy, dry or irritated, I bought this because I read that it was great for sensitive skin and I will never go without it again. its really thick and nourishing and definitely feels like a. balm rather than a lotion which I love. would definitely recommend to anyone looking for a super thick moisturising balm that won't irritate their skin (:

Haven't found a better moisturiser!

Perfect whole-body moisturiser for sensitive skin. I've tried so many brands and after trying Lipikar Baume, I won't go back! I recommend this to everyone!

A must for dry thirsty skin...

This cream is great for the whole body. I lather it on after a shower and my skin feels instantly soft and plumped. Smooths out the elbows! It absorbs well and doesn't leave you feeling greasy. The texture is nice and thick and it has a very very mild smell that just feels fresh.

great for babies & eczema!

originally bought this for my baby & older child who suffer eczema & dry skin (as well as myself.) it keeps skin supple & hydrated & has made a huge difference in my son's skin. applying after bathing/showers is ideal & replenishes dry skin. get it for your kids! it is a truly wonderful body moisturiser, not tacky or greasy, absorbs really well & no scents

It just works!

This is a great basic body moisturiser. The texture is not too thick and not too runny, and it contains some fantastic ingredients (including niacinimide which improves barrier function). I haven't suffered from any scalies since I started using this daily after my morning shower.

Excellent for super dry skin

Got this for my mum, who suffers from super dry flaky skin, has helped amazingly

Great thick moisturiser

Really great moisturiser! I have quite dry skin and get itchy patches on my legs and this really helps relieve the itchiness. Because of the price I only use it on my legs, or other areas that might need some relief, but if I could afford to repurchase this regularly (I go through a lot of moisturiser) I would totally use it everywhere! Highly recommend if you suffer from itchy skin

Nice and gentle

This is an amazingly gentle moisturiser, it's free of nasties and really does the job! I still love to use this every night even in the warmer months as it nourishes and hydrates my skin beautifully. Highly recommended!

Thick and nourashing

I liked this product. Having received it as a free sample I enjoyed using it. A little goes a long way and I did feel like it did leave a slight greasy residue on my skin but I could feel my skin was instantly a lot softer. Especially noticeable around elbows and knees. Great that is has no scent.

Loved this moisturiser

I have very dry skin and I loved this product. It moisturised my skin well without being greasy and had a lovely light, fresh fragrance.

Nourish dry skin

I began using La Roche-Posay's Lipikar Baume AP about two months ago and my skin has never felt so nourished. I moisturise religiously, it's the one step to my daily routine that never changes. It has no fragrance, which I love because it doesn't fight any perfumes or oils I apply afterwards. It's thick and leaves my skin glowing.

You will especially love this if you have very dry skin or sensitive skin. I will continue using Lipikar Baume every Winter without fail. It's the perfect companion to combat dry, flaky skin.

Does the job!! AMAZING

La Roche-Posay Lipikar Baume is absolutely amazing! I have dry skin skin from extreme weather conditions and eczema on my leg. Within one day of using this, my skin began to replenish its moisture. It has been one week since using it and the eczema on my leg has almost disappeared. It doesn't leave an oily residue which means I can put clothes on straight away and it doesn't smell too bad. Just a light natural scent.

AMAZING!

Perfect everyday body moisturiser!

Absolutely love this body balm! I keep some on my desk and i feel my hands and arms are instantly replenished with one quick application!
Doesn't really have much of a scent which makes it perfect for everyday use (i don't like very fragrant body moisturisers that mix with my fragrance) All in all, my number one choice for a daily body moisturiser.



Luxurious and nourishing

Just love this body balm! It's creamy and silky, yet not sticky and doesn't leave any oily residue. La Roche-Posay Lipikar Baume was recommended to me for dry skin and it is fabulous! Deeply hydrating with a beautiful texture - not too thick like some body butters and not to runny like some moisturisers.

Definitely recommend, particularly for sun-parched legs, arms and across the shoulder blades. Nourishing and a very clean, neutral smell. Two thumbs up for La Roche-Posay on this one!