La Roche-Posay Hyalu B5 Hyaluronic Acid Anti-Ageing Serum 30ml
Is this for you?
The La Roche-Posay Hyalu B5 Hyaluronic Acid Serum works to plump skin and dramatically boost moisture levels. This powerful hydrating serum is formulated with two types of Hyaluronic Acid as well as Vitamin B5 to help recover bounce and suppleness in skin.
Skin Concern:
Dull, dry or dehydrated skin
Skin Type:
Dry

Normal to dry

Normal to oily

Oily
Frequently bought with
Please wait while we find a match
Questions & Answers
(1 Question)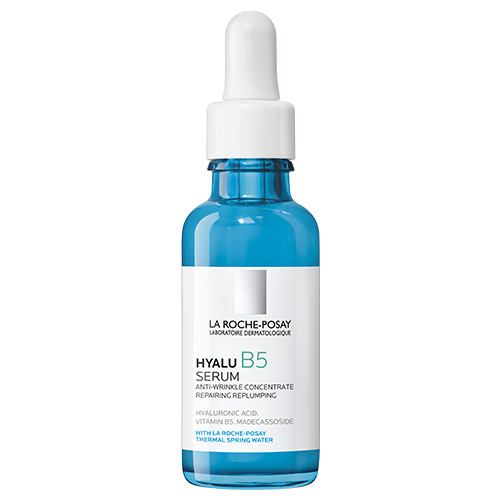 La Roche-Posay Hyalu B5 Hyaluronic Acid Anti-Ageing Serum
Get an expert to answer your question about this product!
88% recommend this product
Most Helpful Positive
awesome!
Most Helpful Criticism
fragranced
This is really nice, texture and hydration wise its perfect to me, but it has a perfume which smells very unnatural like a blue "ocean breeze" candle or something. It also stings my skin when its very fragile and red, I guess this is the perfume? But nobody has time for that. A simple hyaluronic acid is sometimes all I will do when my face is sore or irritated, so no thankyou.
awesome!

One of the Best!

I love this stuff!! I use it religiously! It gives my skin that extra hydration it needs and plumps the skin leaving me looking fresh and hydrated AF! I pat it in after using a mist, and before my moisturiser. I like to let all my skincare soak in to my skin properly before makeup and this gives that extra bit of glow to my skin so I don't look dry and crusty. Even on days I have no makeup on, I j...

Read More

Love the texture of this serum

I have dehydrated skin so this has been a great product for me. I use it day and night. A little goes a long way and it leaves such a nice smooth silky texture. I have been using it together with La Roche Posay's vitamin C serum and have noticed a huge difference in my skin.

Beautiful & hydrating

This serum feels amazing, it does exactly what it promises. Hydrates and plumps beautifully! I use it morning and night with other LRP products and won't ever be without it!

Pricey

It is a very hydrating serum granted that you top it off with a nice moisturiser however I recommend trying out a cheaper hyaluronic acid serum to see if the ingredient works for your skin before investing in this pricey serum.

Love it. Works as well as more expensive versions.

I replaced my really expensive Hyaluronic serum with this one because it's a bit more affordable. I'm so pleased that I did as I've found this one works the same, if not better.

Super hydrating serum!

This is an amazing serum for very dry skin. I use it at night sometimes in place of reship oil and let it sink in for about a minute before applying my moisturiser. I always wake up feeling soft, supple and have a dewy glow!

Great

This really helps my dry skin and makes it look plump. Will purchase again when finished

Find better

It smells good and blends into the skin well, however after a few days I was getting a reaction to it. Wouldn't recommend it.

Immediate results

Immediate hydration upon application. Just seal the hydration in with a thicker moisturiser

smells nice

This product smells better and has a different consistency to others that I have tried in the past. It has a light, fresh feel when using it but does take a minute to soak into the skin.

Excellent hydrating serum

At first I thought this serum was too sticky, but I just wait an extra 30 seconds or a minute before I put on moisturiser and it gives it time to soak into my skin.
This serum is amazing - it provides extra hydration and is wonderfully anti ageing for my 40+ year old skin. This serum does exactly what the label says it will, which is why I am on my fourth bottle and also have my husband usin...

Read More

Stickiness

Even though it can hydrate my skin, the texture of this is too sticky!! It is also not good for makeup, so I only use it at night.

fragranced

This is really nice, texture and hydration wise its perfect to me, but it has a perfume which smells very unnatural like a blue "ocean breeze" candle or something. It also stings my skin when its very fragile and red, I guess this is the perfume? But nobody has time for that. A simple hyaluronic acid is sometimes all I will do when my face is sore or irritated, so no thankyou.

Hydrating

This serum really hydrates my skin and reduce flaky skin.

Good

This is great for hydrating my skin but prefer if it was fragrance free

Feels luxurious

I love this serum. I use it every night as part of my routine and it feels so nice on my face. The texture glides on and is really easily absorbed, it feels so much more expensive than what it is. It sits nicely underneath other serums/products. I will definitely buy again and again.

love this serum

a lovely serum that doesn't break me out and is easily absorbed into the skin

Nice but doesn't do anything for my skin

This is a nice lightweight serum but I don't think it makes a difference to my skin at all.

LOVE IT

I love this product - it smells amazing, absorbs well and keeps my skin hydrated

I have tried many different Hyaluronic Acid serums, and this is one of my favourite. I have very dry skin and this keeps my skin feeling hydrated all day!

It has a bit of a scent to it which I like but those who don't like scents may not like this.

Great

THis really helps with hydrating my skin. I use it every night

Plumping Redness

I have been giving this product a good go because I do believe it's a good products. It goes on really nicely and feels like it goes in. And your skin does feel refreshed and plump the morning after. It's a great product to travel with given the dehydrating action air travel can have. However for some reason it activates my rosacea.

Great

My skin is dehydrated during the winter season but after using this for a few days I can already feel my skin is more hydrated and less dry flaky skin. Definitely love the product.

Life saver

My skin use to be very dry, but after using this for a few weeks, my skin feels so much more softer and hydrated. In the beginning I was applying it day and night, but I find the product to be a bit sticky, so I just apply it before bed, and it's more then enough. Will definitely be re-purchasing.

Intense hydration

This serum gives my skin instant hydration. My skin feel so soft and smooth the whole day. The texture is not too thick so its very easy to absorb. It is the perfect product for me during winter season. Definitely repurchase.

beats super expensive hydration serums

This is the best hydration serum I have ever used. It layers so well with my other skincare morning and night whilst providing intense hydration. I really like the consistency of this product too, it isn't too watery.

Great hydrator

I love this hydrator, and it doesn't irritate my sensitive skin. I tend to use it at night as it doesn't layer too well under my sunscreen and foundation.

Best one I've used

I have to say I really wasn't sure about this serum for a long time, but it is the best one I've used. It has such a nice scent, and feels lovely on the skin. I do find that if I layer the La Roche Anthelios sunscreen on top of this serum it can pill especially into my hairline, but I've recently switched sunscreens and now don't seem to have that problem. Noticeable difference in hydration to my ...

Read More

The most effective serum for hydration

This is the most effective serum for everyday hydration I have used. And I have tried a few. It's quite pricey when compared to the rest of their range but you can feel every penny of it on your skin. Plumping, hydrating, smoothes fine lines and goes on like a dream under SPF and makeup. This is my third bottle and I can't imagine swapping it out. Like all LRP products, I have experienced zero irr...

Read More

Great Hydration

I have never used a Hyaluronic Acid before, as I have oily skin, and didn't think I needed one. However, after commencing serums (Vitimin C, and retinol) and liquid exfoliants this year, I found my skins was becoming flaky, regardless of how much moisturiser I used. This was the solution! Learning the difference between hydration and moisture was key, and this product has plumped up my skin, and m...

Read More

Most hydrating serum I've used

Have tried a number of different B/hyalauranic serum and this is hands. down. the. best. Immediate feeling of hydration when applied, and with regular use you can see the plumpness in your skin. Dry or dehydrating folks must try.

Great

'm a guy and I've only just gotten into looking after my skin and this product was me intended to me and I love it. My skin and noticeably softer and smoother. I will definitely buy this again when it runs out.

The halub5 cream

It's amaizng not heavy light weigh and sinks into the skin straight away I would defiantly reccomend this

I Love It

Currently my favourite serum, this has a luxurious texture and leaves my skin feeling silky smooth and hydrated. I also really like the scent. I would highly recommend this serum. I have been using it morning and night.

Hydration plus!

This has completely renovated my skin. I have normal to dry, super sensitive skin and I have zero irritation with this.

It has markedly reduced the pigmentation in my sun spot which I've tried a zillion products for. My face feels hydrated all the time.

My morning routine is now HA serum, (wait to soak in), BB cream, setting spray. It gives me the most luxuriously dewy ...

Read More

Expensive but in love with this

Love this serum, I'll skip moisturiser on lazy days but never this serum - its super hydrating and packed with nutrients that is great for my dry skin!

Fell in love!

This serum left my skin feeling INCREDIBLE. I received this as a sample that lasted for multiple uses as you only need a small amount. It smelt lovely as well. I have fairly dry skin and after the first use it was so smooth and supple. I used it at night and left it on a few minutes before moisturising. It was light enough to put on before bed without feeling oily and leaving a mess on my pillow. ...

Read More

Gorgeous

Goes on like a dream and gives the face a great natural glow. Has reduced some forehead wrinkles for me. Sits nicely under make up.

Very hydrating

Originally purchased to help plump out some indented acne scarring, I'm not seeing much results there but (even though I know it's not designed for use around the eyes) I've noticed a difference in plumpness around my eye sockets since using this. Its a thick goopy consistency that does take a little while to sink in, but it makes a great base for makeup application. I do have to use very sparingl...

Read More

So hydrating

My skin no longer feels dry and tight. This is so hydrating and my skin loves it !

Works amazingly!

An amazing serum for intense hydration, which makes my skin look and feel incredibly soft, smooth and plump. Very effective and I can tell my skin loves it - it soaks straight into my skin and does a great job of smoothing out my fine lines around my eye area. Excellent value for money!

Works amazingly!

An amazing serum for intense hydration, which makes my skin look and feel incredibly soft, smooth and plump. Very effective and I can tell my skin loves it - it soaks straight into my skin and does a great job of smoothing out my fine lines around my eye area. Excellent value for money!

Excellent results very quickly

I tried this serum for a week after receiving a sample and the difference in the look and feel of my skin was extrodinary to me. The costs were extremely reasonable and finding an Australian supplier online was a bonus. I brought the serum and cream and use it as directed I also rub the back of my hands when finished applying to my face, neck and chest. Be careful of the amount you squeeze out as...

Read More

Excellent product

This is an excellent product. Fine for my sensitive, oily, aging skin. After using it for a couple of nights, my skin felt smooth, and looked much better than it has for a while. I will be buying this again for sure.

glowing and smooth skin

Every time I use this serum at night, I wake up with dewy, glowing and smooth skin. My skin always looks very fresh and plump. I absolutely love it

Great serum

I have been using this serum from past few months, little goes long way.. i m not a fan on its texture but you guys it's definitely does what it claims. I have noticed visible change in my skin's texture, I would definitely be repurchasing this.


deep moisture but could do more

this hyaluronic serum is highly purified and does nothing more than provide moisture. it is recommended for all skin types as it provides all the essential deep moisture for the skin and absorbs relatively fast, however, for the price marked for a serum, it definitely can do more than it does now

So good!

I love this brand and decided to purchase this product, so happy I did! The smell and texture of this serum is lovely, I apply it at night after my vit C and its the perfect combo, I wake up with plump smooth skin.

Love!

I received a sample of this product and love what it's done to my skin already and it's only been a few days! My skin tone looks more even and fresh, going to buy more

Bouncy Skin

I love this hyaluronic serum more than The Ordinary's hyaluronic serum. It is more dear but i think it's worth the money. It gives the skin this bouncy plump texture when you wake up and i can feel like there is more moisture retention. Definitely will be repurchasing this one!

Smells better than the cream version

I really didn't like the smell of the hyalu b5 cream, thankfully the smell of this is much subtler and tolerable. It is very runny, so be careful when you first start using it. It didn't cause me irritation, however I didn't see great improvements either. Certainly didn't help with my deep neck lines, might work better on superficial wrinkles but they aren't an issue for me yet.

The perfect product for lots of hydration without oil.

This is a lovely hyaluronic acid product. Your skin will feel lovely and smoothed out. You will feel nicely hydrated, plump and glowing. I can feel when I don't have it on.

great brand

I was very happy to receive this product The serum lasted over a week.
The serum is clear & has a pleasantly mild fragrance. Slightly sticky to touch, but applies easily over your skin. A little goes a long way.
It has been a rather harsh winter, but during the time I used this product my skin was glowing. It was also soft to touch & I did think my skin looked a bit more 'plump' than u...

Read More

lovely

love this product, helped save my dry winter skin

Gives a healthy natural glow

I find this is nice for hyration and a slight plumping effect to the skin but I'm not a big fan of the smell so might shop around for my next hyrating serum. No adverse effects it just smells sort of chemically/alcoholic

Very hydrating and gentle on sensitive skin!

I have made this product an integral part of my skincare routine. It is so easy to apply, so very hydrating and works very well in combination with other serums (e.g. Vit C suspension from The Ordinary). My skin can be somewhat prone to irritation but this product caused zero flare-ups - if anything it calmed my skin! Very keen to repurchase.

Amazing hydration

I received a sample of this serum in a beauty package recently and this was amazing! Perfect for all skin types and leaves the skin feeling amazing!

great product

very hydrating and great for sensitive acne prone skin like mine.. I liked the texture and inoffensive smell.

Would Buy

I've trialled this product and as I haven't used long term, to see the long term results, I'm happy at how it blends into the skin upon application. The watery texture makes it easy to smooth along the face - a little goes a long way. My only downfall is that it is quite thick for a serum but the feeling does go away.

Hydration

Love this product, my skin feels super hydrated!

Amazing

Great product gives my skin that extra hydration in the winter.

Helped my skin alot.

I used this after I had sunburn and it really helped my skin heal quicker and replenish all the lost moisture. I liked that it didn't have a strong scent and it has a nice texture too, my skin is very sensitive and I didn't have any problems with this product in terms of breakouts or reactions.

Plumps skin

When I use this my skin feels plump and it feels like this product locks in moisture, I always use this or the hylamide low molecular before moisturising and my skin is never dry :)

a good addition to basic skincare :)

very good for people with sensitive skin like myself. it's hard finding products that don't irritate and make your skin worse so I'm so glad la roche posay have created this, I put this on under my Clinique moisture surge when my skin is feeling extremely dry and when I wake up the next morning my face is plump and moisturised :)

very hydrating :)

quite a thick gel that makes skin feel plump and hydrated, not sure of the long term benefits of this product as I haven't been using it for very long but it does make skin feel really hydrated

Love this serum

I have been using this serum for about a month now, it's amazing! Definitely see an improvement in the few fine lines I have around my eyes and my skin has a beautiful healthy glow to it now. I love it!

Saw a change quickly

I love this stuff! I like the gel-like texture, the smell and that a little goes a long long way. I noticed a change in my skin in the first week. Since then I've been using it some nights and not others. My skin feels softer, smoother and looks fresher. I'm contemplating saving up and giving it to my mum and sister for Christmas. I like things which are a bit different and I think this is. It see...

Read More

Hmmm

I love me a good hyaluronic serum, and this is a goodie. I also love the La Roche-Posay brand. So why only 3 stars? Firstly, it contains alcohol as the 3rd highest listed ingredient, which is weird. (Why include it at all?) Secondly, it is quite expensive for a 30 ml hyaluronic serum and we've all become a bit spoiled with The Ordinary's more budget-friendly serums. And thirdly, it has quite a thi...

Read More

Great for Sensisitve/Oily Skin

Super soothing and hydrating. Thick gel-like texture. A little goes a long way.

Perfect for Sensitive/Oily Skin

Thick gel-like texture. Hydrating and soothing, you only need a drop or two and absorbs nicely into skin. Not suitable for very dry skin.