La Roche-Posay Cicaplast Soothing Repairing Balm 40ml
Frequently bought with
Please wait while we find a match
Questions & Answers
(No Questions Yet)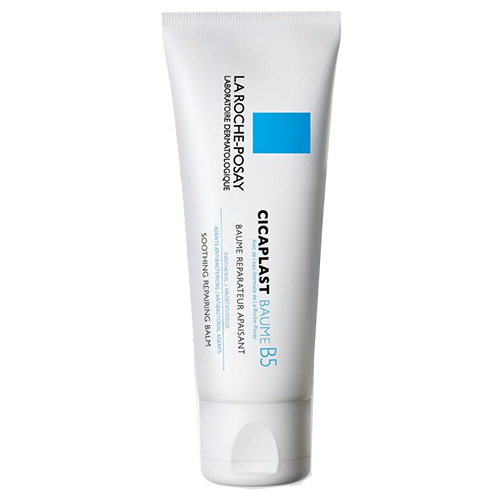 La Roche-Posay Cicaplast Soothing Repairing Balm
Get an expert to answer your question about this product!
Ask a Question
89% recommend this product
Most Helpful Positive
Nice
Pretty good. Nice and gentle.
Most Helpful Criticism
Not really suitable for my skin
I was given this as a gift from my mother who absolutely loves this. I found this didn't really work for my skin, I don't really get irritation/redness so I think this product was a bit redundant for me. I did use this on parts of my body where I had some itchiness/redness like on my neck/decolletage area. I probably won't repurchase this only because I have different skin needs than what this cream provides.
Nice

Pretty good. Nice and gentle.

High performance cream!

Really love this cream. It is well suited for my dry, sensitive, acne prone skin. When my skin becomes dry and irritated, this works wonder! Warning, this is such a heavy cream, so it is best to applied during night time. Pro tip; even if you have any other fancy cream, save your money and buy this as your neck cream!

Good

This helps my skin a lot when it gets very red, irritated or dry. I also apply it on my dry areas and it is so soothing

Great for healing burns and redness

This is the best go-to balm I have ever used. If my skin is ever feeling super dry I use this (on my face), or if I have any redness or irritation this works well at relieving that. I even recently used this after I had burned my ear on my curling iron- within a few days of applying this, there was no trace of the burn, really recommend this product.

amazing

The best for dermatitis - relieves the itchiness and flaking skin that happens, all over my body. I use this twice daily during flare ups. Phenomenal!

So lovely.

Nice and gentle on the skin. Really love it.

Great for winter

When my lips crack on the side of my mouth this helps a lot. Great winter product to keep in your handbag for when your skin is feeling the cold weather!

Rescued my skin on holiday

While holidaying in Europe, my skin couldn't cope with the heat and broke out in a severe heat rash. My face was patchy and red with incredibly rough texture (unlike anything I've experienced before) and insanely dry and uncomfortable.

I tried using the moisturisers and serums I had brought with me but to no avail. They all had my skin burning after application.

LRP to the rescue! I went into a pharmacy and found comfort in my go-to brand whenever my skin becomes sensitive and irritated.

This Cicaplast Balm has my skin almost back to normal in two days. I coated my skin before going to sleep, almost wearing it as a face mask, and within 24 hours the redness had reduced dramatically. Within 48 hours, the texture of my skin was almost back to normal. It was quite hard to believe actually.

This product will forever be my new travel buddy when I'm chasing the sun, just in case my skin decides to turn on me again.
I highly recommend this balm for anyone suffering from reactive, uncomfortable, irritated sensitive skin.

Great item but not for everyday use

I've bought this as the famous YouTuber was introducing to use to repair the skin after the treatment. I had the skin flaking after retinol use so used this balm to repair and restore the skin but if you use everyday it caused some breakouts so don't recommend to use everyday.

Fixes irritated skin

If I have a scratch or irritated skin this is my go to product. It simply fixes it. It stays in my bathroom cupboard and the same tube has been there for a long time because a little of this creamy product goes a long way.

Handbag essential

I love this product it is perfect for so much, I use it all the time for different things such as any dry patches on my skin, any redness around my nose from blowing it too much when I have allergies, my lips if i cant find lip balm, any skin itching. I love it!

lovely and hydrating

The repairing balm is very hydrating as it penetrates deeply into the skin and leaves a lovely, natural scent afterwards. I love to use this before bed. It is definitely slightly more expensive, but worth it for the great quality!

WORKS WELL

This is really great especially for very dry skin, it's non greasy and you only need to use a little as it goes along way.

I use it for both my baby and me

very good product, calm skin and release the irritated skin. i use it on my baby skin when she has eczema. it really works.

Great

This product instantly relieves dry, cracked, irritated skin! Perfect to use when beginning retinol/retinoid treatment!

Amazing can't go wrong with the la rochay posay products

I have sensitive skin and when I do my laser treatments it helped repair the the redness and and over all amazing

great product!

incredible. has improved my skin in weeks. very thick and hydrating

A fix all

This thick cream fixes skin irritations from over using actives and other adverse reactions. The size of the tube means it's really portable too.

Really good for sensitive skin

Helped my dry skin a lot! My skin is super sensitive and this soothes it quite well. Definitely a go to.

This product is my go to in winter

This product is AMAZING in winter with my dry dehydrated skin or when it's irritated - it is my go to for all of my skin issues. I always need it around the house, just in case

Godsend for winter

Love this product so much, especially in winter with my dry dehydrated skin or when it's irritated. I also love mixing it with foundations to make the coverage more sheer. Absolutely beautiful product.

Perfect moisturiser

This product is super helpful if you have dry and sensisitve skin ! Would definitely recommend to everyone , has a nice calming effect

Dry flakey skin no more.

La Roche - Posay Cicaplast Soothing Repair Balm is a must have! My daughter was suffering from dry flakey skin, I use this on her daily and her skin is perfect again. My partner has also used on his eczema and it helps keep his skin hydrated, and eases the irritation.

Perfect for irritated, dry skin

This is a saviour for any type of dry, irritated, inflamed, itchy skin. It's incredibly soothing and calming on eczema and heat rash. It's also amazing after laser resurfacing procedures. I always have a tube of this in my medicine cabinet for any skin emergencies.

silky to put on

silky to put on - i have dermatitis on my hands and feet that shows up whenever it feels like it. This helps a lot and doesn't have a funky smell like some dermatitis products

Good headstart

This product gives you a good head start at hydrating the area quickly, i've not used it long enough to see long term results but I like what I see so far

Nice soothing balm

Very soothing for sore skin, thick but not very greasy. Worked fine on my face and body, no scent and did not cause breakouts in spite of being quite thick.

Not really suitable for my skin

I was given this as a gift from my mother who absolutely loves this. I found this didn't really work for my skin, I don't really get irritation/redness so I think this product was a bit redundant for me. I did use this on parts of my body where I had some itchiness/redness like on my neck/decolletage area. I probably won't repurchase this only because I have different skin needs than what this cream provides.

Works as a quick fix, not sure about daily use

I overused on my chemical exfoliation once or twice last year and suffered from minor chemical burn. This is the only moisturiser that did not irritate my skin and promoted healing. The balm is quite thick, takes forever to sink in and leaves skin with a slightly white cast and shiny finish. For these reason, best to use the balm at night time and for the sole purpose of fixing skin barrier only.

Soothed my sunburn

I have fair skin and occasionally get sunburned, which results in redness followed by peeling and irritated skin. I recently used this after getting burnt and it felt like my skin recovered much more quickly and with much less peeling and irritation.

Amazing for dermatitis

I found this product after developing contact dermatitis at work, and I was amazed at how much it helped my hands overnight. For me, it helped heal a lot of the irritated and damaged patches of skin, and the redness reduced. It didn't fix everything, but it's the only topical product that made a difference for me. It's not particularly hydrating, so I'd recommend using this as a treatment first and apply a hydrating or occlusive hand cream over the top.

good cream to have in the drawer

I like this cream as something to have at hand when you need a bit of extra repair or nourishment, so many uses!

Just ok

I have sensitive, rosacea prone skin, and tried this cream as a special treatment to spot-sooth when I am dry and red due to wind or swimming in a chlorinated pool. It is just ok - a bit greasy, adds moisture but not particularly helpful for calming angry red patches. Have had better results with other creams.

House Hold Staple!

It's the ideal repair balm!
It does exactly what it says!


Love this product!

This product provides a good barrier without feeling too "thick" and greasy. I use this on my face at the end of my skincare routine.

Comfortable on skin but what to use?

I was recommended La Roche-Posay by an AdoreBeauty online consultant for my sensitive, red & dry 51 year old skin.

Whenever I try a new range I like to get a selection of products to give it a sold try. This review covers the following La Roche-Posay products which I've used for 4 weeks now:

- Rosaliac AR intense
- Toleraine Ultra
- Toleraine Ultra Nuit
- Toleraine Sensitive
- Toleraine Sensitive Riche
- Toleraine Riche
- Cicaplast Baume B5
- Cicaplast Mains
- Cicaplast Levres

First of all, what the heck are each of these products designed for?!!? Which do I use for what? They all claim to "soothe, hydrate, repair" or some combination thereof but the facial creams are hard to decipher. Sure "nuit" is a night time cream and the Rosaliac an antirosacea product but Toleraine Sensitive, Toleraine Sensitive Riche, Toleraine Riche?!!? Utterly confusing & the La Roche-Posay website helped not one bit.

The positives of these products are that they are not heavily fragranced, sit comfortably on my skin/lips/hands and soak into my skin quite well. I particularly like the lip balm & hand barrier cream. Both are good at providing protection without a heavy, greasy feel. The Toleraine Sensitive cream also soaks in particularly well.

Unfortunately most of the face creams live a shiny film which I find particularly annoying on my already often red face. Rudolph the Red Nose Reindeer sound familiar?

The Rosaliac AR Intense lotion was in fact not intense enough to calm my skin when angry, red, sore & burning. It's just not thick & emollient enough. Similarly while the Ultra products are fragrance, alcohol, paraben & lanolin free, they're just not moisturising enough for my skin.

Conversely the Cicaplast Baume B5 cream must be meant for nappy rash as it reminds me of zinc oxide. It sits on top of the skin and leaves a white film over the skin.

None of the La Roche-Posay products aggravated or irritated my skin but aside from the hand & lip creams, none of them felt like they were doing anything to make my skin better. I'm ambivalent about recommending these products so I'd suggest you try them for yourself & see how you go.

HEALING

A few years I go I broke out in adult acne for the first time - completely out of the blue. This was the ONLY product that both soothed my skin whilst allowing to heal. Less than a month later my skin was completely back to normal with no scarring,I Highly recommend it for any skin that needs protection whilst healing.

Be cautious

I was really struggling with irritated skin, i am prone to eczema and generally reactive skin. This works well at PREVENTING problems i've found, keep the dermal barrier healthy and strong. However, i had terrible results using this once that barrier had already become compromised and was red and inflamed. I slathered this on and the irritation became worse. I later found out from my dermatologist that this was because the product had actually trapped the heat in my skin. So i'd say that yes it is a good product, but if you have an actual skin issue or are flaring, use with caution.

Really good repair balm

I put this on at night time to help my blemishes heal and it calms down my skin overnight

Very soothing

Bought this by accident but found it to be very effective

Thick moisturiser - AND I LOVE IT!

The consistency has the thickness of a sunscreen lotion. I apply it on my face and hands and my eczema areas. It does wonder and has a really great moisturising barrier. I love putting it on my face as my overnight moisturiser as this one actually does the wonder work. I get a nice supple skin the next morning.

Multi-purpose balm good for very sensitive skin.

I use a very tiny amount on healing acne spots or blemishes that are dry and flaky. This helps in applying concealer to cover spots. (Too much balm and the concealer won't stay put, as it is a greasy product).

Occasionally I get bad flare-ups of contact dermatitis on my hands. When this happens, any cream that I normally use makes my hands sting. This includes brands specifically for incredibly sensitive skin. This balm is the only thing that has worked for me.

It is okay

I bought this product after reading amazing reviews about its repair capabilities. However I found it was very average for me, A bit too greasy and left a white cast . So I don't particularly enjoy using this product but I will reach for it if I have picked on a pimple and want to soothe and moisturise the area whilst ensuring no further infection due to the balm's antibacterial properties.

So It does the job of soothing when I have distressed my skin.

Accidental purchase

I bought this with Adore thinking it would be good for lip balm.
It's actually better for hands I feel that have gone through he rough experience of eczema.
Like mine!
So I'm glad I bought it nonetheless as it has been helpful for me during the dry allergy season when hands can become more worn, chapped and undernourished -
Perfect for work when you're in a rush and need a small powerful dose of moisture.

Gentle repair

I dab this onto little areas on my face that get a little irritated from time to time. Magic.

miraculous

I have recurring perioral dermatitis that is very difficult to control, and this product is such a lifesaver! I've gone through the tube pretty quickly, and I will repurchase again and again as conjunct treatment to prescription immunomodulating cream—although I actually don't think I'll continue to need that one! before washing (or even alternative to washing if water is making you sad, because this has antibacterial properties) morning and night (ie before removing makeup) I smear a bit all over the affected areas and then wash after it's absorbed. I will often reapply as a final step at night to keep hydrated. this has enabled me to return to some of my favorite actives, because the balm creates a barrier where my own is failing, giving my skin a chance to repair itself. truly perfect, can't live without it.

Helps with redness and irritation

This helped the redness and irritation that I had on my face from enviroment irritation, waxing and injectable. It helps calm down the effects quickly.

Bought for eczema

I purchased this to use on my baby's mild eczema and found that it didn't do much to relieve redness or dryness. Relegated to my stash of body creams, it's taken on a new role as hand cream and is actually quite nice for that purpose. It's light, smells pleasant and absorbs quickly.

Worth a try

I have severely sensitive skin due to eczema. This product gave me blister like reactions within a week. Although I've heard a lot of good feedback from it, it wasn't for me

Wow

Wow is this good . I use lip balms daily so I've tried heapsss this is another one I love.

Calming & Hydrating

I tend to get a red blotchy skin around my mouth and the same around my nose with some flakiness. This is great for calming the redness down and healing the skin.

Helps with dry skin

I use this repairing balm on my skin where it is extremely dry and it really helps making it smooth. It is nice and gentle on my skin and I enjoy using it. It makes my skin feel a lot nicer.

super calming

makes my skin less red and irritated, super calming and hydrating, I use this every day and night as my moisturiser now

So far so good

Purchased to try on my toddler's recurrent eczema. I don't think it stops the eczema from occurring, but once applied it does seem to create a protective barrier when it dries on the skin. You can feel it once dried on the skin, but it's not sticky/tacky - more like an extra light layer of skin which I think would protect the skin from further irritation.

Great skin treatment

Works well on damaged, itchy, dry and sensitive skin areas.

Great multiuse balm

I use this to heal old pimples, cracked heels or sensitive skin. Also works on dry skin patches. It's antibacterial nature makes me feel like it'll just work on everything!

Fixes any sensitive issues I suffer from

I often end up with rashes after trying products from other brands. I first discovered this cream when trying to fix and awful welted rash that covered my whole face.
It is super hydrating, but can be used under make up.
Whenever my sensitive skin feels dry or irritated, this is my go-to.
In fact, I use it most days that I wont' be out in the sun as my daily moisturiser.
I've recommended this for all my friends and my sons used it when they were having acne treatments that left their skin super dry and hydrated.
I"m on about my 20th tube I love it so much - and its not expensive

Not bad, not good

Wasn't a huge fan of this product. While the cream is smooth and easy to apply it didn't make much of a difference on patches of irritated skin. Maybe it's better for other uses, but unsure if I'd purchase again.

Helps alot

This helped to heal my lips after sunburn, it was very hydrating and soothing, I will definitely buy it again once I've run out!:)

Great cream

I mix this in with my moisturiser to boost the soothing effects. It calms down my acne and helps them heal faster!

Good for Eczema

This really helped when I had eczema, it was very soothing and my skin felt so relieved. I think it's the panthenol and zinc in this that feels so calming and has a cooling effect on the skin, I'm onto my 4th tube!

Cleared up my breakouts!

Fixed my skin when I was breaking out! I know this isn't advertised as a spot treatment but when I had a bad breakout I put this all over my face and the next morning my blemishes were all starting to clear up, I used it for a week after that and by the end of the week my skin was clear. I will be stocking up on this cream and can't believe how cheap it is

HOLY GRAIL

This is my favourite cream and I will buy it forever, perfect for face, cuts, burns, scratches, eczema, anything! I love it and use it on my face after acid peels :)

Barista problems

This is the ONLY over the counter barrier cream that is perfect for a barista. Its heavy duty enough to actually act as a barrier but it doesn't leave your hands so greasy that you can't work on the coffee machine or pick up cups and glasses without leaving them looking like they've been soaked in Vaseline. Heals cracks, non irritating, stops your hands from drying out and its ideal for contact dermatitis and barista cracks from hospitality work.

great for eczema, burns, even nappy/shaving rash!

I originally bought this product for my baby's nappy rash. it was so bad it was bleeding & burnt from acid teething poo's. it has been two weeks & it is almost completely healed! i use morning & night on his bottom & it keeps rash away whilst treating his burn. highly recommend this product for anyone with eczema etc skin conditions. also great for dry skin & repairing skin conditions or sun burns etc. great for dry hands

Repairing & hydrating

I always find it hard to review a multipurpose balm. Someone has already said that it's not too great for lips and that was my experience too - luckily that's not what I bought this for.

This is fantastic if you need something to soothe and repair skin damage. And by damage I mean the kind you get after an intense treatment, or if you accidentally overdo your chemical exfoliants, or if you're not sure if you're sunburnt or maybe you just want a quick hydation dose after a shower. I'm kinda suggesting this is almost certainly something you should have in a well-rounded skincare kit! It's not for every day - though I've heard of people with eczema really benefiting from using this as a face moisturiser too.

This feels like a medium weight, rich emollient cream. It actually sinks in very quickly - don't expect this to sit on the surface of your skin! I found I often had to put this on, then put on another richer moisturiser when I used it to repair dehydrated skin.

This isn't scented (kind of smells like deliberately unscented products... hmm not sure how to explain it), and is very gentle and repairing.

I've repurchased before and will continue to do so!

Not great for lips

I have recently started taking Roaccutane and my dermatologist recommended this brand to help deal with some of the side effects. After experiencing great results with the Dermo-Cleanser and moisturiser, I was looking forward to giving this product a try to deal with my dry, chapped lips.

On application, I did get some relief but it only lasted 5-10 minutes or so. I also found it difficult to apply 'on the go' as it practically coloured my lips white.

I did use the rest of the bottle on other parts of my face and had reasonable results, but as a lip balm, paw paw ointment is much better (and cheaper!).

Excellent product

Brought this on a whim. I have terrible sensitive eczema skin. This helps repair and sooth my skin so well. I just wish it was in a bigger tube

Best repairing balm

This is the most amazing product. It is perfect for cuts, burns and things like really dry skin. When I get allergies any other cream stings when I apply it. Not this cream at all. Its so soothing for when you have a sore skin patch.