KORA Organics Rose Quartz Luminizer 6g
Frequently bought with
Please wait while we find a match
Questions & Answers
(1 Question)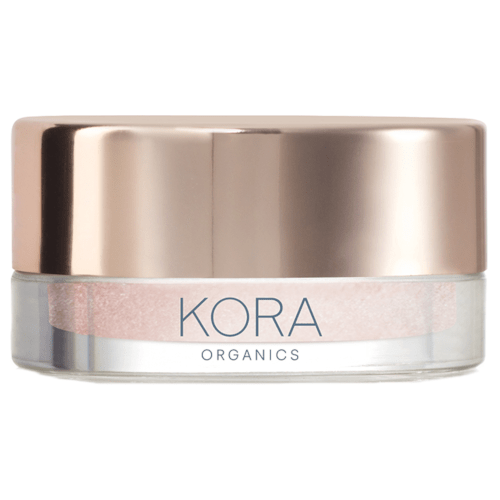 KORA Organics Rose Quartz Luminizer
Get an expert to answer your question about this product!
Ask a Product Question
95% recommend this product
Most Helpful Positive
Glow
This product is very hydrating, easy to use and give a beautiful natural glow to my skin. Highly recommend.
Most Helpful Criticism
Nice if you are after a subtle effect
This product is a beautiful texture and adds a nice subtle highlight. Not for those after a more noticeable highlighting effect
Nice if you are after a subtle effect

This product is a beautiful texture and adds a nice subtle highlight. Not for those after a more noticeable highlighting effect

Nice, but not amazing for pale skin

It's nice, don't get me wrong, but the effects aren't super noticeable on pale skin. That said, I haven't found one that's better.

Natural glow!

Gives such a beautiful and luminous glow on my skin! Though it didn't last as long as I wanted, but is a great natural cream highlighter!

Glow

This product is very hydrating, easy to use and give a beautiful natural glow to my skin. Highly recommend.

Hydrating illuminator

Hydrating ingredients and nice glow. I expected it to look more dewy than shimmery due to the ingredients.

Its a nice luminizer for bare skin

I'm a bit on the fence about this.. the colour is nice and the way it looks on bare skin is gorgeous. However, the texture is a little weird and I find it a bit sticky.. and it doesn't apply well over any power and moves foundation (however I think it's targeted more for bare skin).
I think this is a great product if you're looking to add a bit of glow to your skin and not looking to put it over makeup.

Beautiful highlighter

love how creamy and easy to blend this is! Also, adore crystals with rose quartz being my favourite! such a beautiful luminous colour . Will suit all skin tones.

Lovely natural shimmer without glitter

This is a natural looking highlighter/luminizer that is so easy to use. I will try the lilac next time. It lasts for a long time.

Gives the best natural glow

I bought this directly from Kora Organics and it is by far the best luminizer I've used. The price is a little steep but it's honestly worth the price. As it is in a cream form it is so easy to apply and blend into the face. I've gotten so many compliments which is why I'll be repurchasing.

High praises for this natural luminizer

Love this highlighter from Kora. I have found it so easy to apply with fingertips & get the desired effect of a healthy natural glow. A little application of the cream is all I need to give my face a healthy look. Best of all is that it is an organic product which won't harm your skin. Even the packaging looks high quality.

Nice Glow

My makeup routine usually only consists of mascara, so after reading reviews on this product I thought I will try adding this to my makeup 'routine'. I had purchased this and the Kora organics facial balm. Since I have been using the balm (dry skin concerns), I don't feel the need to use this as the balm gives a nice dewy appearance. If I don't apply the balm I use the luminizer instead. The luminizer gives more of a subltle glow, whereas the balm is more dewy.

Short Wear Time

I was quite disappointed in this product and the short wear time on my skin. It may work better on someone with less oily skin. I will not be buying this product again but it does have quite a pretty glow. It's just not for me.

so beautiful

when i ordered this i didn't realize how little grams it was, i didn't look at that part, but i assumed it would be a medium sized tub. and i was shocked when i opened my package and it was so small but when i used the product i was pleasantly surprised at how little you need to use on application. this will last quite a long time! it is such a fluffy tacky texture and glides on the skin beautifully. leaves such a hydrated glowy finish on the skin. would recommend to any one with dry skin searching for a cream highlight

Absolutely love it

This Illuminating cream is just so beautiful! Gives the most healthy natural glow!!

Beautiful subtle glow, but not super long lasting

The rose quartz luminizer is soo beautiful on applicaiton, I left for work feeling so dewy and gorgeous, but after about 5 hours of wear it appeared to diminish, likely due to my oily skin. This doesn't deter me from buying it again, it is really beautiful and a small amount goes a long way. It is very dewy and somewhat tacky but once it sets it, you don't have any issues (i.e. your hair wont stick to your face like a sticky lip gloss).



Very natural looking

I was surprised how natural this looks on my skin.
Gives just the right amount of glow and can be built up for a night time look.

Makes me feel better knowing there are no nasties in it

Almost 5 stars

Smells beautiful but it would have a fifth star if it were longer lasting. It's very much a glass skin high lighter which I love, because I'm tired of the full on shimmery high lighters. Love the rose gold colour and this has become a staple in my kit for an extra pop of colour and to add the finishing touches. I have dryer skin too so this goes on super nicely over a Creme blush.

Dreamy

Even though it's a little up there in price for a highlighter, I always feel gorgeous putting it on because it gives the perfect subtle glow!
A little goes a long way so I know it's going to last me ages. It smells lovely and I adore the creaminess and the fact that the ingredients are quite minimal and clean.

I'm not super into crystal energy theories but I appreciate the thought that goes into the product and applying it does always give me a little joy so maybe there is something to the rose quartz energy!

Obsessed

Love that it looks so natural.

So dewy

Love this highlighter it's so natural and dewy on the skin.

So pretty

Such a pretty iluminizer! Very subtle and natural. Perfect for daytime.. feels luxurious on the skin! Absolutely adored this one

Beautiful

Wonderful product but it doesn't last all day. I will say for makeup it's the best organic one I have tried. Maybe not ideal for night time but it is lovely and makes my makeup really pop.

Love this highlighter

I love this product so much. It gives a gorgeous glow, and doesn't break me out at all (which a lot of products do). Would def recommend.

BEST HIGHLIGHTER!

I use this as a highlighter and it is the best!
It gives the best glow and it shines sooo much in the sun.
I use it with a full face of makeup and when I'm just brunching with only BB cream.
It's so versatile and amazing.
Can't recommend this product enough.
Love love love!

So luxe!

I was in search of a good quality, cruelty-free highlighter and this fit the bill perfectly. It's so soft and blendable, and gives the most gorgeous, luminous highlight once it melts into your skin. I use it on my cheekbones, cupids bow, inner corners, browbone etc and it's fantastic. Highly recommend. Packaging is amazing too.

Gorgeous Luminizer!

Gorgeous luminizer, gives the most natural looking glow with very 'clean' ingredients! However was taken a back by the tiny size of the luminizer for the $$ paid. But find you only use a very small amount so it will last a long time. In my personal opinion find this works much better with tinted CC cream than foundation. This is definitely my summer go to makeup essential!

Subtle glow

Love the gorgeous subtle glow this luminizer gives

So lovely!

I have about six different brands of highlighters in my make up drawer, but this one is definitely the best one for my fave when I'm not wearing any make up. Such a beautiful and subtle glow! I didn't have much success with it when I had a full face of make up on, but I'll try a different application technique next time to see if it works a bit better.

Absolutely Beautiful

This illuminizer is amazing. When it first arrived I have to admit I was a little bit unsatisfies as I thought it was a tiny container it was in but once I tried it, it became clear that there's well and truly enough in there as you only need to tiniest bit and it spreads so much. It makes a beautiful natural shine that I've been looking for everywhere and it smells soo good! I will be buying this from now on! :)

Beautiful, natural highlighter

Firstly, I love the clean ingredients used in all KORA products. Secondly, this highlighter provides a natural, healthy glow for those of us who don't want the obvious harshness of too much product. I mix this with a tinted CC cream [to even out skintone] and my skin glows all day long. Loooove it!!



Lovely soft highlight

I love an intense highlight so at first I was a llittle dissapointed with this one as it is so creamy that I definately think its more for the natural highlight lovers... however... for me I love to add just a touch to my bb cream and its add a lovely glow. The consistency is like a firm moisturiser so it is easy to blend into other creams. I LOVE using it this way and often get compliments on my skin when I use it to add luminosity to foundation

Subtle shine

This product is great for a definite shimmery look. It's super easy to apply and has a lovely sheen. Great for those nights out under the lights!

Perfect sheer luminizer

I am in my mid twenties and am always wanting my skin to look very young and fresh. I found that powder products tended to make me look older and tired so I gave this cream luminizer a go, especially as I already love Kora organics products. It gives you the perfect dewy glow without looking shiny at all. I adore using this product on make up free days too for that great glow. Have gotten many friends with different skin types onto it as well who all love it too.

Great everyday highlighter

I love this product. It's very gentle and natural, giving a shimmery and dewy finish. I've even used it on my eyelids for a little sparkle. Can be used every where you would highlight, including inner eye, nose and Cupid's bow of lip! Lasts ages and a little goes a long way!

Glow

Absolute my favorite make up product. I love it

Glowing

Wasn't really sure what to expect from this but I love it! High quality like all Kora products. It's a cream in a little round container. Honestly you don't get a huge amount, but you only need to use a tiny amount of product to get a great result. It's a nice subtle glow, make my face look brighter and I feel great wearing it.

This product was fab!

I love this product. It is my new summer 'go to' product. It really lifts my skin tone and gives me that fresh glow which gets me lots of comments. You know it's going to good for your skin too as it as certified organic! A little goes a long way. Great value for money!!