Created by Australian supermodel Miranda Kerr, KORA Organics is an award-winning Certified Organic and Certified Natural skin care range designed to detoxify, nourish and revitalise your skin. KORA Organics encompasses Miranda's holistic 360 approach to health and wellness, designed to enrich your skin and spirit – they are about taking a moment for yourself, during your busy day-to- day routine to nourish your mind, body, skin.


KORA Organics products are of the highest quality and integrity. Our special ingredient "Noni" is derived from the Noni Fruit and is a superfood used for healing the body both inside & out. Each of our products are infused with high performance certified organic and natural ingredients such as; antioxidant-rich Noni Extract, Jojoba Oil, Aloe Vera, Essential Fatty Acids, Herbal Extracts, Essential Oils, Vitamins A, C and E and many other highly active, rejuvenating and replenishing ingredients. Our products are energised with Rose Quartz, a crystal believed to carry a soothing energy to encourage love and acceptance of ourselves & others. By energising our products with Rose Quartz crystal, we infuse the vibration of love into KORA Organics and onto you.


Every thought you think has an effect on your mind/body/spirit and positive thoughts create positive energy vibrations within the body. You will find on the back of each of our KORA Organics products, a positive word to inspire and uplift your spirit. This reminds you to take a moment out of your busy day, to be present and mindful in all that you do.


KORA Organics products are all certified organic and certified natural in accordance with COSMOS strict standards, so you know exactly what you are putting on your skin – no Sulfates, Parabens, Synthetic Fragrance, Synthetic Colours, T. E. A., D. E. A., Glycols, Silicones, PEGS, Ethoxylate, Formaldehyde or Formaldehyde derivatives are used. Every product is deemed cruelty free, not tested on animals and free of any added herbicides or pesticides. KORA Organics are proud of their heritage in that KORA Organics is proudly Australian owned, and Adore Beauty is proud to be an offical retail of KORA Organics in Australia.


Feed your MIND with positive affirmations and self-love.
Feed your BODY with the nutrients it needs to function at its best.
Feed your SKIN with products to help to detoxify, nourish and revitalise.


By nourishing your MIND, BODY, SKIN you too can "Get the NONI GLOW"
Shop with confidence by reading reviews from our biased community of beauty lovers.
Showing 20 products of 34.
---
KORA Organics, articles & community
Recent reviews on KORA Organics products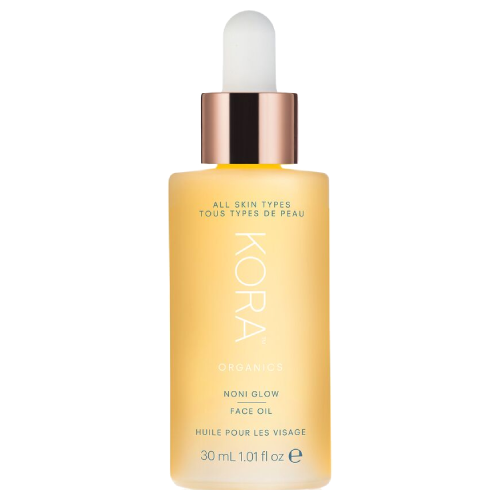 KORA Organics
KORA Organics Noni Glow Face Oil
$83.00
Great product to boost moisture retention
I bought this product to use in my night time routine as a final step to boost moisture retention. A few drops is all you need to wake up to soft, glowing skin in the morning. Would recommend this product to any one wanting to try out a face oil.
What people are looking for the most