Koh Gen Do Maifanshi Aqua Foundation 30ml
4 instalments of $18.50
Or 4 instalments of $18.50 with
LEARN MORE
4 instalments of $18.50
Or 4 instalments of $18.50 with
LEARN MORE
Official Stockist
Is this for you?
With an improved formula, Koh Gen Do Aqua Foundation is more lightweight, with a more streamlined bottle. Koh Gen Do Aqua Foundation is a cult-classic liquid mineral foundation that captures a youthful glow with a luminous and dewy skin-like finish. Rich in both blendable pigmentation and skincare ingredients, this liquid foundation adds a natural-looking luminosity, while minimising pores and fine lines.
Frequently bought with
Please wait while we find a match
Questions & Answers
(3 Questions)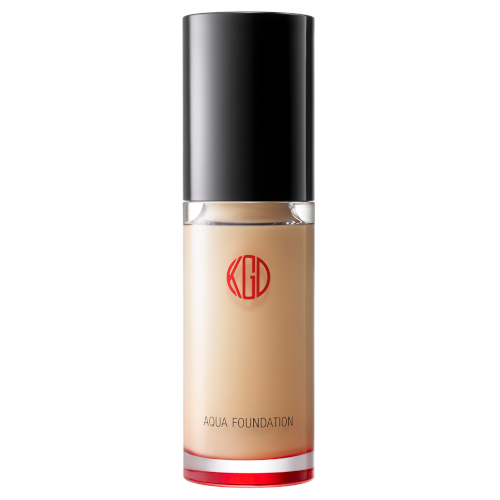 Koh Gen Do Maifanshi Aqua Foundation
Get an expert to answer your question about this product!
Koh Gen Do Maifanshi Aqua Foundation Reviews
94% recommend this product
Most Helpful Positive
Liquid gold.
Incredible even and natural look. Can be layered up for a fuller coverage. Nice moist finish
Most Helpful Criticism
Sheer, but doesn't last for oily skin
I like that this is sheer, but I have oily skin and it doesn't last as well or as long as the Giorgio Armani Luminous Silk Foundation
Liquid gold.

Incredible even and natural look. Can be layered up for a fuller coverage. Nice moist finish

Great dupe for GAs luminous silk

Absolutely love this foundation. It is lightweight with a beautiful luminous natural coverage. Cannot fault the formula however the shade range leaves a lot to be desired. Otherwise would've rated 5/5

Wow!

I had high hopes for this foundation, and it has certainly delivered. A beautiful finish, easy to apply (I personally think it applies better with a foundation brush than fingers). It lasts well, doesn't irritate my skin, and looks very natural, but polished - doesn't cake or cling to large pores or dry patches. I prefer this over the many high end foundations I've tried, as it ticks so many boxes...

Read More

Holy grail foundation for dry skin

My favourite base makeup of all time! Makes my skin look naturally radiant, and looks great in photos. Best paired with wet beauty blender. Doesn't accentuate dry patches at all and looks even better over the day!

Good

Very skin like and natural. Unfortunately, the colour or undertone is not quite right.

KOH GEN DO

The foundation is very hydrating and dewy. The colour is pink which suits me perfectly. The only downside of this product would be its coverage, which is on the lower end of the spectrum which would be good if you want something light. The product overall feels more similar to a BB cream or a tinted moisturiser rather than a foundation as it is so lightweight upon application.

Long time fave

My absolute all-time favourite foundation. Applies flawlessly, rarely creases and has the exact shade to match my skin. I find it's perfect for a natural everyday look or a heavier nighttime look and lasts the entire day.

great product

this is great, cruelty free and gives a nice finish. It is just a little expensive for me

not bad!

it was not bad, but it did not go well with my oily skin! I just felt a lot more oilyish. However it did not give me any reactions :)

New favourite foundation

I have quite dry skin and I love a luminous, natural glow. I have tried many foundations trying to achieve this look and this is by far my favourite. Spreads easily and blends well, a very nice natural finish with a sheer glow. I feel like its still my skin, but better! A sheer - medium coverage depending on your application and desire to build. The packaging is aesthetically pleasing and it comes...

Read More

sheer coverage

This product is exactly what it is advertised as, sheer coverage. I have found it to be long lasting and find it best to apply with a beauty blender. However it is not as dewy as I thought it might be but would still classify this as dewy like finish. I do find it build able and colour 002 blends perfectly on my skin and matches to my neck which is always a positive. I also find when you add produ...

Read More

Amazing

I bought this because I love the moisture foundation but wanted a little more coverage. It does not disappoint. This glides on like a dream and is works well with others products. Coverage is medium and the finish is natural compared to the moisture foundation which is really dewy. I find this a little drier but still comfortable to wear all day.

Great and light foundation but gives great coverage

I loved this foundation, not only it is light but gives great coverage. For Asian skin I used 123 and it looks great on my skin and face. I don't normally use heavy make up but I want enough to cover my spots and dark circle and this product is great for me. It feels like I don't use make up and at the same time it brighten up my face. I totally recommend this product.

Beautiful and light weight

This foundation is extremely light weight and long wearing. Somehow it even seems to look better as the day goes on. It quite matte when I apply it in the morning and develops a beautiful dewiness that in no way looks oily. It's hard to describe but it really does 'glow'. One pump applied with a buffing brush gives me medium coverage but it is buildable. It shows up dry patches but honestly what f...

Read More

My search is over

I couldn't wait to give this beautiful foundation to the test! Boy did it deliver exact colour match beautiful glow.
Buildable without looking cakey beautiful skin like finish and great staying power. Love the way it makes my skin look healthy and glowing and best of all I don't need to set it! Give it a go the search is over I finally have found my HOLY GRAIL!!

Glowy and lighteight

I got this foundation in shade 113 and I'm absolutely loving it. It's lightweight and quick to apply and it gives me a healthy looking glow. Would definitely recommend.

good foundation.

the shape matches my skin tone, and meets my needs, i really like it.

New Holy Grail

I had this on my Wishlist for about 6 months. Finally bit the bullet this week. Thought I'd treat myself during this crazy weird time. Instant HG! :) The colour match (213) for my olive-leaning Asian skin is the most perfect match ever. [Other foundations that are a good match are Hourglass Stick in Warm Ivory, Illamasqua Skin Base in 6.5, Estée Lauder DW in Rattan. NARS SG in Fiji, and Giorgio Ar...

Read More

This is sensational!

Having finally cleared up my hormonal adult acne, I was looking for a lighter coverage foundation that'd show off my newly clear skin but also cover the annoying acne scars and pigmentation left behind. Having worn heavier foundations historically (MAC Studio Fix and YSL All Hours) I honestly can't see me reverting to these having tried the Koh Gen Do- it's stunning! Think natural, glowing skin wi...

Read More

good

nice coverage foundation, great for sensitive skin

Awful for me

I was so excited to order and received this foundation after reading largely glowing reviews.

The colour was lighter than I thought (shade 123), but surprisingly matched once I put it on and a little bit goes a long way. It is not a thick fluid either, so on the initial pump, less is more. That is where the good comments end.

I have a combination skin, some large pores a...

Read More

Good foundation

This foundation is mildly hydrating and somewhat luminous. It has medium coverage, but is very buildable, while still looking like skin. For me, it performs similarly to Giorgio Armani Luminous Silk. When my skin is on the drier side, I don't find that this is hydrating enough for me, but it performs well when my skin is balanced and well-prepped.

My staple foundation

I love this foundation. It does me no wrong. It is silky and easy to apply. It doesn't pill when I use it over my skincare, light coverage but buildable. I have been using this as my go to for at least 18 months and I couldn't use liquid foundation prior to finding this one as I found I broke out with it. It's a yes from me.

Light and beautiful

This foundation is lightweight and has a sheer-medium coverage. It lasts throughout the day after using powder and a fixing spray. I use a damp beauty blender to apply this and it has a lovely finish. Recommended!

10/10

My sister recommend I try this foundation and I'm so glad she did. I have really struggled to find the perfect foundation the past few years as I am in my 30's and my skin is starting to change. My usual go to is tinted moisturiser but I need a little more coverage these days and this product is exactly what I've been looking for. It's super lightweight and lasts all day keeping my face lookin...

Read More

I love this product!!

Aqua foundation provides a medium coverage with great pigment payoff. Gives an amazing glow to the skin and somehow blurs imperfections. Don't apply too much when applying, I find I can still see some redness under foundation when first apply but by the time I leave the house, it's gone.

Looks like skin!

I love this foundation! it blends out seamlessly and looks just like skin! Had plenty of shades to choose from so i could find my perfect match! Doesn't have the best staying power but well worth the price for the finish it gives.

Beautiful finish

I ordered this product in shade 113 based on swatches I looked at online. I have light skin with neutral undertones. This shade (113) is lighter than expected but a good match, not too yellow or pink- hard to find! It dries darker than when first applied as well.
It has a beautiful natural finish which lasts all day. I don't look like I'm wearing make up. Less powdery than luminous silk and...

Read More

Perfect coverage

This foundation is absolutely stunning! The coverage is perfect and very buidlable, making it perfect for every type of loook it blends out beautifully and lasts for hours on end! Definitely recommend

one of the best foundation

I got this because of friend's recommendation, and yes, it doesn't let me down. It's not heavy and thick like wearing a mask, it makes your skin looks natural, even and glow. Highly recommended!

My Go-To!

When I first used this product I was quite sceptical because I've always been a medium to full coverage person, but throughout the night, it just kept looking better and better even with the sheer coverage! Will definitely repurchase!

One of my favourite everyday foundation

This foundation is one of my favourites! The coverage is quite sheer which I like for everyday, but it provides enough to even my skin tone out. Very easy to blend, I normally use my fingers or occasionally a blender brush and both works well. It gives a fresh dewy finish but not too shiny. I think oily skin people can use this. The shades aren't as many but I find with the sheer coverage, each sh...

Read More

Love it!

This is one of my favourite foundation. I love how it makes my skin looks glow naturally like wearing nothing. The consistency of this foundation is pretty thin and kind of watery. I feel like just using finger tips is the best way to apply this kind of foundation. I usually apply one thin layer just to even my complexion and if I need more coverage I prefer concealer. I have a combination skin bu...

Read More

Best foundation!

I tried this for the first time and was so happy with the result. It's nice and light but gives great coverage. If I'm going to work I do one layer, if I'm going out I add another layer for a more dramatic look. It's so beautiful and silky going on. Huge fan. I have freckles and it looks lovely without covering them up which I like. For help with your colour I can highly recommend using the chat f...

Read More

Love!

Such a beautiful foundation. It doesn't feel heavy on the skin and gives a wonderful glow. My new HG foundation! For colour reference I'm around a NC30 in MAC and the 143 shade matches my skin perfectly.

Flawless

Love this foundation, only need a little bit, blends beautifully and gives good coverage but still nice and sheer, looks like skin.

Too dark!

I prefer the previous formula and shade so much better! The new version feels a lot thicker and the colour is not the same. The shade i was (113) is now way too orange for me. Such a shame as the old formula was nicer. The lasting power and wear time is not good and it feels heavy on my skin. The coverage hasn't changed either. It's still pretty sheer to light.

Such a great foundation!

I bought some of this in japan when i went and have been converted, i love it! a really smooth dewy foundation that goes on easily and gives a nice finish. I bought this as an alternative to nars sheer glow but I think I actually prefer this one!

Sheer, but doesn't last for oily skin

I like that this is sheer, but I have oily skin and it doesn't last as well or as long as the Giorgio Armani Luminous Silk Foundation

Medium to full coverage but no cake!

This foundation is absolutely gorgeous. It doesn't cake around my trouble spots around the nose or mouth. It has full coverage but just looks like your own skin but better. I got the 123 which is a nice beige with a slight olive undertone. I mix in some of the ordinary number 2.0 with yellow undertones if I want to look a bit more tan.

This foundation is worth the investment if you w...

Read More

Prefer the old formula

Have gone through a half bottom of the new formula, and have to say, even though i have combo skin which can be quite oily in the t zone, I prefer the old formulation. Less dewy the new one, more matte. Such a shame, think I'll be switching to something else. If I want a more matte finish I'd go with a fuller coverage. Still a nice product which wears off well.

Beautiful skin

This foundation is so beautiful on the skin. I personally find that one thin layer is enough for my skin because I don't mind minor imperfections coming through, but I have been able to build it up to a medium coverage for more glam days. I think the biggest pro of this, however, is that it literally just looks like my skin (but better!). If you are after full coverage, this one is not for you.

Read More

Really lovely

I used this a few times at my friends house, my makeup didn't budge at all! I loveeee the finish of it! If you're thinking about it, give it a go!

fav foundation

I have been using Koh Gen Do foundation for years now. I have it in two different shades. It's easy to blend and little goes a long way. I find this works better for me than other expensive name brand foundations. I would highly recommend taking the leap and getting this foundation.It's not cakey and last all day. I have acne prone and oily skin. I feel this doesn't clog my pores and doesn't cause...

Read More

Flawless Everyday Skin

I cannot rave about this foundation any more! I've been using this product for years and have been through countless bottles. It's virtually undetectable on the skin and overs light-medium buildable coverage. I especially love the colour 213 and it suits my olive complexion perfectly, unlike most other brands that don't offer an olive shade on the lighter side. However, as it's coming into winter ...

Read More

Best natural foundation!

Love this foundation as it never looks cakey on my face. I have combination skin and my nose is very oily. I like my foundation to be natural looking but last the whole day. This foundie works wonder and it works better for my skin than their last formula as it is not as glowy and tacky. Recommended for people who like natural skin but their skins are still a bit oily

Dewy Glow

I love this foundation. I previously only wore matte foundations and saw this foundation was getting a hype following for glowy skin.
Normally I am skeptical. However, this foundation delivered. I love dewy foundation now and this is a holy grail.
So much product for the cost; you only require a small amount, blends beautifully with a brush and sponge.

You need this in ...

Read More

Holy Grail

I don't normally write reviews, but this foundation is my absolute favourite and so good that I'm now onto my third bottle. If you're into that "your skin but better" look you will absolutely love this. It feels weightless on the skin and provides a light to medium coverage, with a natural skin-like finish. It does a really good job of evening out the skin tone, correcting minor imperfections and ...

Read More

Goes on very easy to give full coverage.

I was recommended this product by a friend so I tried it. It is very light and gives excellent coverage. It does settle in eye creases and looks like you are not wearing any make up at. It also lasts all day

Not as good as I hoped I would be

I had high hopes for this foundation not as good as the reviews and I don't find it last as long as the gergio Armani.

Love this foundation

Love this foundation, would recommend for any dry skin women, I was able to put on easily and blend as I accidentally bought the darker shade. I am light to medium olive and 143 was a bit dark, so probably better for medium tones, will be buying 213 as well!

Great for dry skin

I bought the shade 012 and I love it. I've got sensitive skin and I needed a foundation that wasn't too thick or heavy. This foundation is amazing and doesn't emphasize my dry patches. I'd recommend it to anyone that has dry and/or sensitive skin.

Beautiful foundation

I purchased this foundation shade 143 and for my olive skin it is a perfect match. It has a beautiful light formula and yet gives great coverage. A small amount goes a long way. It is so flattering and I highly recommend it.

Natural, long lasting and non oily

I've heard many good reviews about this japanese foundation and decided to give it a go. For someone who uses powder and cushion foundation my whole life, I decided to try out this liquid foundation as my current one seems to give me pimples or spots everytime I use it.
I've got combination skin and was worried that liquid foundation will clog pores or make my skin oily and give breakouts, t...

Read More

Amazing

This foundation is ridiculously amazing. It doesn't settle into any fine lines, doesn't leave a cakey appearance or texture and is probably the best example of the phrase 'your skin, but better'. I have extremely dry, flakey skin (I have eczema) and this foundation doesn't settle on my dry spots or accentuate them. Couldn't recommend it more for my fellow dry skin gals or guys!

Love

Love the new packaging, this foundation is brilliant for those who are trying to achieve a no makeup, makeup look. This foundation is hydrating and doesn't settle into any fine lines or cling. Absolutely love it!

Great for dry skin

This foundation is a great for everyday. I have dry and mature skin and this foundation doesn't settle into my fine lines but I do have to set under my eyes so my eyeliner doesn't transfer. It is a light to medium coverage and gives a natural finish with a slight glow. The only con would be the limited shade range. It's a sightly pricier foundation but definitely worth it if you're looking for a b...

Read More

Incredible glow

I love this foundation. It feels so light weight on your face and not cakey. But best of all gives you such an incredible glow. I have lots comment on my skin since I have been using this product. Colour match is a little difficult as I think the swatches appear darker than the actual product and I had to buy 2 bottles to get it correct.
Guaranteed you will not look back after buying this fo...

Read More

Finally something that works!

I saw this foundation recommended on the adore beauty website in an article and so glad I gave it a go - it's amazing! My skin feels amazing using this foundation, doesn't clog, looks dewy but not oily ( I have combination skin as well ) I love the fact it also has SPF in it too.

I'm not surprised to see it's sold out and while it is a little pricey, foundation is one product of the ...

Read More

Luxurious Foundation

This is like the Nars Sheer Glow stepped up to a luxury level - it leaves a really nice inner-glow look to the skin, making it look healthy and natural! Would describe this as a medium coverage, but is buildable and can also be sheered out, so incredibly versatile. Most suitable to dry-normal skin in my opinion

Pefection!

I've seen this Koh Gen Do foundation touted as "the Holy Grail" of foundations, and I am SOLD! Coverage is perfect to cover uneven skin tone and redness, but feels so light that frankly, it doesn't feel as though you're even *wearing* foundation. Perfect for those who typically do not like makeup. I have very oily skin and find that, in a day at work, my usual foundations have broken over my skin ...

Read More

Lovely

A beautifully light foundation for those that don't like a 'caked-on' feeling. Gives just enough coverage to even skin tone and hide my red patches of skin. I have sensitive skin, and this make up has also proved no dramas. A massive fan.
Filled with the usual things we know you'll love, and surprises you might not expect, it's real rewards, really simple.