Koh Gen Do Aqua Foundation 30ml
Is this for you?
Koh Gen Do Aqua Foundation is a cult-classic liquid mineral foundation that captures a youthful glow with a luminous and dewy skin-like finish. Rich in both blendable pigmentation and skincare ingredients, this liquid foundation adds a natural-looking luminosity, while minimising pores and fine lines
Frequently bought with
Please wait while we find a match
Questions & Answers
(5 Questions)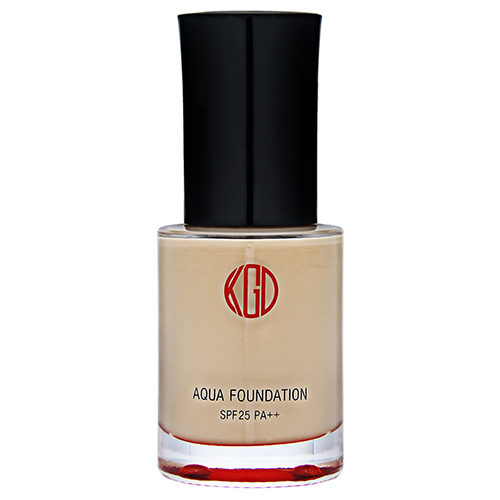 Koh Gen Do Aqua Foundation
Get an expert to answer your question about this product!
83% recommend this product
Most Helpful Positive
Excellent foundation
Such an incredible natural foundation which looks flattering on dry/ textured skin types! Definitely recommend
Most Helpful Criticism
Not for me
This is a really sheer to light coverage foundation. I found I needed at least 3 coats to cover my redness. I think I'd get through the bottle really quickly at that rate. As this is a pricey foundation, I'm not sure I want to be replacing it so often. This did blend reasonably well but I found that it didn't hold up til end of the day on my oily skin, even when set with powder and setting spray.
Excellent foundation

Such an incredible natural foundation which looks flattering on dry/ textured skin types! Definitely recommend

didnty work out for me

i have very oily skin, some acne but mostly scarring and rosacea.(yay me..)
this foundation did not love me at all. it gets extremely oily after a few hours, actually not even oily, more greasy looking like i havent washed my face in a week, started wearing off around my bumps and left the red poking through and just started breaking up... i used this when i went out to dinner so i wasnt around heat or doing exercise. weather is also cold.
this would def suit someone with perfect skin who just wanted a little coverage and very very dry skin.

Sheer But Buildable

This foundation is flawless!
I
t is a super sheer foundation but I find it can be buildable if you layer it.

I do tend to wear this personally when my skin is feeling good and blemish free as I find it doesn't really cover any blemishes and isn't ideal for bad skin days.

it is perfect for the no make-up make-up look, I find it to be very glowy and radiant!

grab this foundation as they change the formula

if you like the dewy skin you get after using this foundation, you better grab this old formula as the newer one will leave a more matte skin as the result. I don't mind it but i do miss the old formula for winter.

Amazing

I keep coming back to this foundation. It is undetectable on the skin and whilst not full coverage, it canvases your face in a believable way. I have acne scarring that is not made undetectable by this foundation, however it makes the rest of my face look flawless and is the perfect base layer for spot concealing where needed.
I find I don't have to set it and it wears beautifully throughout the day or night. I tend to save this for events as it photographs well.

Love

Not very full coverage, but is great for an every day look. One of my go-to foundations. Looks amazing on my skin

Nice, sheer foundation

I do like this foundation because it's blendable and gives a nice, medium-sheer coverage.

Dewy barely there foundation!

Koh Gen Do Aqua Foundation is a light, barely-there foundation with good coverage. It can also be built up with more layers. I have combination skin which is a little oily in spots. This is such a natural looking foundation that doesn't look cakey at all. It gives my skin a dewy, natural look which I prefer to a heavy foundation. It doesn't crease, or flake off. Recommended if you like a more natural looking foundation.

Not for me

This is a really sheer to light coverage foundation. I found I needed at least 3 coats to cover my redness. I think I'd get through the bottle really quickly at that rate. As this is a pricey foundation, I'm not sure I want to be replacing it so often. This did blend reasonably well but I found that it didn't hold up til end of the day on my oily skin, even when set with powder and setting spray.

Amazing

Hydrating and doesn't settle into any fine lines or cling. Absolutely adore it! This one stays pretty well put during the day and only looks better as the day goes on.

Beautiful

A beautiful foundation that is lightweight, doesn't sink into pores, and provides a natural light to medium finish. On my combination skin this lasts relatively well and I like the finish so much I don't feel like powdering it. This is a great everyday foundation for those who want some coverage but still wish for their skin to show. Highly recommended. The shade range can be slightly limiting so best to try this out in stores if possible.

Moisturising and light

This foundation is gold in a bottle! The formula is light and moisturising and doesn't cake up during the day. I have really sensitive skin and it doesn't irritate or break me out. The colour is a pretty good match I have the lightest shade, I just make sure to blend it down my neck. I usually use a sponge to apply it so I have more natural finish. And it sets well with the Koh gen do loose setting powder.

Weightless Perfection!

Fair, light freckles, dry skin, some oil in T-section.
I absolutely love this foundation, I had tried Nars luminous foundation and a tester for Too Faced born this way, I found these to separate on my dry areas. Koh Gen Do sits weightlessly on my skin and provides a luminous medium coverage and doesn't cling to dry areas. I do find that that to get to a medium coverage I use two applications. On a night out when I want a little extra coverage I do go for three applications. If you are after a full coverage, its probably not for you. Works best when you apply with your fingers as it is very thin liquid. I was hesitant at first with the price but it was definitely worth it, although to extend the life of the foundation I don't use it as an everyday. I would definitely recommend this product for dry skin and medium coverage.

Try it!

The perfect foundation. I have been a loyal Estee Laudee Double Wear (original and nude) advocate for 2 years now without any interest in changing things up. I was recently looking for something more natural and dewy to give my makeup a more lived-in look and I couldn't be happier. This foundation is a true weightless "your skin but better" formula if you're used to heavy coverage. My new holy grail 100%. Gives you the glass skin look.

Beautiful foundation!

This stuff is the Holy Grail for aging skin.I can't tell you how much I love this stuff. It literally disappears on your skin, never accentuates fine lines, and the coverage is buildable! You can actually add a second layer for additional coverage without getting any cakey effect what-so-ever.

Worth the hype and the money

This has become my holy grail foundation. It looks, and feels, like skin. I have fair/light dry skin with a neutral-warm undertone and I wear shade 113 and it's my perfect match. It is light to medium coverage and so flattering and comfortable on the skin. I prefer to apply it with a damp beauty sponge and the result is gorgeous. It's absolutely worth the price and all the hype it gets. Highly recommend!

Great natural looking makeup

Sheer, looks natural, feels comfortable, and adequately evens out skin tone. Hasn't caused any reactions. I'm 100% happy.
My skin type/problems:
Combination dry/oily
Congestion/acne prone
Sensitive
Easily inflammed/red/itchy
Mild hyperpigmentation


Not bad, not good

I didn't find this product to work any better than a cheaper regular foundation. It did perhaps last a little longer and was slightly smoother to apply, but overall average.

The only foundation I need

Firstly, this foundation in the shade 213 and the Bourjois Healthy Mix #52 are the only foundations I have tried which have a true olive undertone that match my light to medium East Asian skin. Most foundations on the market are either too pink, too yellow or too orange.

Secondly, a lot of pro makeup artists use this on celebrities for red carpet and for good reason. This has the lasting power and coverage of an HD foundation without the powdery, cakey finish. It looks as beautiful on camera as it does in person, which makes it the perfect foundation for all occasions.

It also doesn't contain mineral oil or fragrance which can irritate my skin, so it checks ALL the boxes. I have already purchased a backup!

Amazing Foundation - So good I hope it never ceases to exist!

This Koh Gen Do Aqua Foundation is seriously good. The texture goes on like silk, and if you leave it for a few minutes after it comes out of the container, it thickens a little - perfect for covering under the eyes. I have had so many comments on my make up since using this Foundation. It leaves my skin feeling moist all day (I don't use a setting powder). I love the way this product looks and feels on my skin. ❤️

Nice but...

This is a really nice foundation goes on really nicely and smooth.
I use a foundation brush to apply it.
I've got fair to medium, normal to oily skin and some freckles and sometimes pimples here and there.
I can build it up to cover the pimple marks.
Now the but, I find the colour, 113 is a bit light for me. I've been wearing it anyway and just applying bronzer :). I need something in between 113 and 123. I'll probably purchase the 123 in summer as I tan a bit in the sun.

Perfect for everyday!

Obsessed with this foundation! I don't go a day without applying this! It is super lightweight, hydrating, gives the perfect amount of coverage and keeps skin radiant all day long!

Rash!

This product gave me a rash and stinging when I applied it! I have normal to dry skin so it may not be great for the drier areas on your face.

One of the best

It applied smoothly and buildable for a higher coverage. It doesn't cover blemishes well but nothing a concealer can't do. Very hydrating and will suit dry to normal skin well.

Looks like skin!!! No makeup , makeup days lol

This foundation looks like skin! I love it for when I don't feel like putting on makeup but want to feel good and fresh lol.
This is my go to foundation for every day !! I love the satin finish . Blends beautifully!! I would repurchase it without thinking twice !! Love it

Like Skin

After using Nars Sheer Glow for many years I wanted to try something new.
This foundation did everything Nars foundation did and more.
It goes on like a dream, looks like skin, offers a medium but buildable finish and stays all day. It feels so lightweight on the skin, like I'm not wearing foundation at all.
I absolutely love this foundation!

I wanted to love this but don't

I really wanted to love this product. In fact when I first purchased I thought I had finally found THE ONE. (I even convinced my best friend to go and buy). It applies beautifully at first, with a satin finish. HOWEVER, I always seem to notice that it now clings to dry patches (that I didn't even know were there), settles into lines, and makes my skin look dry overall (despite being combination skin). I think if you are quite young (ie early 20s) and have great skin, this could work very well though.

The colour range is also very poor. I'm quite fair and purchased 113 as it is the lightest colour with a warm undertone. It is slightly too dark however I can make it work, (or it is good match when tanning). So if you are very pale with a warm undertone you will find there is no shade to match.

I keep trying to make this work, changing the way I apply and the primers etc but at the end of the day the effect is still the same and I won't be repurchasing this product.

My one constant!

On good skin days, bad skin days, natural days, glam days - anytime, anywhere, if I wanted my skin to look perfect & look like its glowing from within (without looking like an oily hotdog), this is my go to. I know it always works, I always come back to it, and I can always depend on it to make me look 100%. Lightweight formula, buildable coverage, sits beautifully on my combo skin. I don't know how I can express my love for this any more. We all need a foundation like this in our lives - try it out, you may fall in love with this as much as I did! (The shade range though.... KGD needs to expand it like ASAP!! ☹️)

Not worth the price.

Ok so I have a love hate relationship with this one.
Looks beautiful when applied, but fairly quickly sinks into fine lines and pores and clings to dry patches I didn't know I had. The colour is also a bit off too, and I tried all the colours within my range. Staying power is pretty average too.

But after all that, it just looks stunning when applied.. which is so frustrating with all of its shortcomings.
I compare the finish to the GA luminous silk, though slightly less dewy. Similar coverage and staying power.
But like the LS, I just don't think it's worth the money to be honest.

Maybe if you have perfect, creasless, poreless skin? Just not for me and my poor damaged skin..

Natural looking Foundation for every skin type!

I have dry skin and freckles and absolutely love this foundation for a lovely natural looking foundation with good coverage.

Not for my skin...

I really wanted to like this foundation, especially to justify the hefty price tag! Unfortunately, it did not sit well on my skin, it separated pretty much as soon as I put it on and clung to all my dry patches and overall made my skiin look terrible! I applied it with a beauty blender, foundation brush and even tried my fingers but unfortunately technique did not come in to play - my skin just doesnt go well with it. I was so disappointed especially because the shade was a perfect match for me which I havent been able to achieve with other brands.

I have used this foundation around 5 different times, but pretty much the whole bottle remains just sitting on my dresser not getting used!

I would say this foundation would work best on those with a normal skin type. It has very light coverage which I did not find that easy to build up so it is definitely suited to someone with well moistured skin with minimal blemishes.

Almost the holy grail of foundations for me!

On one of my late night Internet searches for the "perfect" liquid foundation for fair skin which doesn't settle into fine lines...brought me to Koh Gen Do. I was searching for people's reviews and amongst them was this website. I was sick of my current foundation, so I bit the bullet and purchased online (which is also terrifying). I went lighter than this site suggested after I put my regular foundation in to get a match, as I am more than happy with the shade being a little lighter. From the moment I used this foundation it did not settle into the fine lines like my other Nars foundation, and as other people had written it is a light coverage. That's the only downfall I can say about this, I did try to build it up, but I do wish it was slightly thicker. I was so impressed that I ended up buying other products in this brand, yet to be reviewed!

Sensitive, combination skin saver

I finally caved and bought this pricey foundation after hearing amazing reviews, and how great it is for sensitive skin. My skin is highly sensitized and will often break out on a whim. I have been wearing this for two weeks and my skin is loving it.

I saw that some with oily or combo skin find it separates - I have combo skin and live in high humidity and this has been fine on my skin. No separation where I set with powder (except maybe at the very end of the day, which, fair enough). And as long as I prep with a hydrating moisturiser where I'm dry, it does not cling to dry patches.

I apply with (clean) fingers and then press with a damp (but not wet) sponge over each layer to work it into the skin and have found it easily buildable this way and leaves a satin finish. I doesn't appear cakey to me with this application.

Everyday Foundation

Skin type: Supersensitive skin and by this I mean reacts easily, itches or gets rashes when in contact with new chemicals or oils.

I highly recommend this for those who have skin just as sensitive as mine.

PROS: Natural finish, Amazing (but costly) everyday wear, lightweight, and suitable for sensitive skin

CONS: - Price
- Shade range. I am a NC40 in MAC and bought the 143 shade which is too light so I have to mix it with other foundation shades
- Emphasizes dry patches/whiteheads, so my advice is to really prep your skin before wearing this.
- Very light coverage, the more you pack on although it doesn't get cakey your face just ends up looking really pale

Love for day wherei

I love, love, love this for daily use, although I don't particularly agree that it is very buildable. So for me it is absolutley perfect for day wear, it feels like you have nothing on and it has amazing staying power. For nights or events though I would prefer something with a bit more coverage.

didnt work for me

i have combo skin (can tend to get a bit oily just depends on the weather) with redness on my cheeks and nose and light (only i can see) acne scars, pores can tend to be bigger around my cycle time but nothing huge.... anyway i know this is marketed more towards people with dry skin but i thought id give it a go since ive seen people with oily skin like this too.. it just sadly didnt work for me :( my skin looked amazing when it was first applied but then within an hour or so it would separate majorly on my nose and chin areas and i just looked greasy.. i found it wiped away so easily so it doesnt have any transfer proof power what so ever (ive tried multiple primers nothing worked)
anyone with my skin type id steer clear tbh

giving 3 stars because i mix this with my holy grail estee lauder double wear and it gives it a nice semi-matte finish because double wear can tend to be very drying

Beautiful finish

I used this with Becca's First Light Primer and it works wonderfully. It has a wonderful natural finish, and it lasts quite long on my skin. I have dry - combo dry skin and this foundation had a dewy glow, not greasy which is what I found with my other foundation (MAC's studio fix fluid). It doesn't cling to my dry patches, another problem I had with the MAC foundation.

Overall a wonderful foundation. Shame it's so expensive, but given its quality, I can kind of see why it's priced as such.

Great natural looking coverage

Dry fair to medium skin type.
This foundation is a great feeling, great coverage foundation. Similar to the Georgio Armani Luminous Silk foundation, this foundation has a lovely texture, doesn't look chunky or cakey. Looks very luminous and natural with the ability to build up coverage.
I would and already have recommended this foundation to friends. A must try when searching for the perfect foundation!

Illuminating, seamless natural foundation

Free from all nasties so great for sensitive skin and I haven't had a reaction to this product. This foundation blends into the skin and provides light coverage drying to a velvet finish. Looks like your skin but better. Colour range is very natural. Probably not as long lasting as I'd hoped for, touch ups needed by mid afternoon. Hygenic bottle and one pump enough for a light coverage. Great for every day wear.

Worth the buzz

This foundation has a beautiful finish. Looks so natural and blends very well.
It doesn't have much of a longevity though. For me on my "drier" areas it patches slightly, sitting obviously on top of the skin. And of course it's no match for my oily t-zone.
I wear this mixed with my HG Estée Lauder
double wear light, which is a really great match. Together they create a gorgeous glow.
If u have normal skin don't hesitate but also if you normally use a more matte foundation and your finding you want to dial down the matte-ness but still need that's oil control try mixing this in.
I plan on repurchasing when I run out.
My only complaint is the pump is faulty.

Your skin but better

This foundation covered my red toned skin well yet still made it look like just skin. Looks flawless all day without getting cakey and stuck in any fine lines. Love how it blends so seamlessly and so easily. My go to foundation. Also, no flashback in photos!

Lovely finish

Perfect colour match with my skin tone, although I sometimes blend it with another foundation of mine to give a slightly warmer look. Feels great on my skin and lasts all day.

Great Foundation

I loved this. It is the best foundation ever? No. However, it's a beautiful, natural finish foundation and it is more a 'my skin but better'. The coverage isn't great and I would only use this on good skin days. I am also slightly oily so by the end of the day it was a little patchy.

The colour range is terrible. Basically if you're anything other than slightly tan you're out of luck. I was lucky to pick the right shade.

Would definitely still recommend but keep in mind that if you're oily I wouldn't purchase this.

Great every day foundation

Beautiful foundation for every day use. I would say this is light to medium coverage as when I build this it still doesn't cover everything.
The reason I bought this was because of the video from "nikki tutorials the power of makeup" it doesn't cover like it does in the video for me personally but that doesn't change the fact that this is still really beautiful. Every time I wear it I get complements on how nice my skin looks. And let me say I have never used a foundation that is the most perfect match for my skin tone! I do love this foundation but I would use something a little more heavy/better coverage for special occasions like marc jacobs remarcable foundation.

New holy grail!

Honestly, you need this foundation in your life! I have normal/combination skin and this foundation is so stunning on the skin. It's a medium, buildable coverage and just looks like your skin but better - plus it lasts all day and looks perfect till the second I take it off. I'm obsessed ❤️

New favourite!!

There are SO many things I love about this product. I have normal-dry skin, and tend to prefer foundations that offer medium, buildable coverage so that I can customise coverage depending on the occasion. Something I struggle with a lot, is trying to find a foundation that still looks healthy and radiant once I've finished applying the rest of my products and once I've set my face with a lightweight powder.

This foundation applies beautifully and blends out with no effort. If I am after a little more coverage, I'll use a flat top kabuki brush to apply the product and follow with a damp sponge to blend out and layer where necessary. I find this application technique gives me the best coverage without using too much product. I do wish the shade range was more accommodating for darker skin tones (fingers crossed the range expands!) but I am a huge fan of the undertones offered in the existing shade range. I frequently fake tan and find shade 143 is a great match for when I'm wearing Loving Tan Dark. It's the perfect warm undertone without being too yellow!

As for the finish, I am absolutely obsessed. It melts into the skin so nicely and doesn't look heavy or like it's just sitting on top of the skin. It's hydrating and doesn't emphasise any of my pores or settle into my smile lines (something most foundations do on me!). I would describe this is a radiant finish. It is glowy and healthy looking without being oily or too dewy. Despite having dry skin, I always tend to set my foundation with powder for longevity reasons and this is the only foundation that I've found keeps it's radiant finish even with powder applied! I would highly recommend this for anyone with a similar skin type to mine and even for those who have normal-oily skin but don't want to be limited to matte foundations all the time. I have nothing but love for this product and plan on purchasing more shades so that I can wear it more frequently!


Please make some darker shades!!!

I have the shade 143 in this foundation and it's waaaay too light for me .i am nc34 in mac and syracuse in NARS sheer glow. I mix it with other foundations which is a shame. I thought I would be using it now that it's winter but it's still too light I love the formula and the bottle is so beautiful I just wish they made darker shades because honestly the darkest shade only covers half the population lol

Perfect coverage

I was really surprised with how much I loved this product, I normally opt for a full coverage when it comes to foundations, but found this medium coverage still did the job! I love the radiant finish it gives and how lightweight it feels on the skin. It is quite dewy, so if you have more of an oily skin I would recommend using a powder to set!

Gives the most beautiful natural finish

My shades is around NC 20-25 and I picked shade 213. It's a pretty good match for me. I have some redness on the cheek and the yellow tone of the foundation definitely helps covering that. I would say the finish is between semi-matte and dewy. I usually put the foundation on the back of my hand first before applying it, and I did spot some shimmers on the back of my hand. The shimmers are very fine and are undetectable on my face.

I have MAC face and body foundation (in C2) and I'd say this foundation is a much less oily version of the MAC F&B. It gives a similar natural skin finish. The KGD foundation blends into the skin like butter and does't require a lot of work to blend. I use my fingers to sheer it out on my face and blend with a beautyblender. I love it and thinking of getting a back up bottle already.

BEST foundation on the market!

I have a lot of very strong opinions about the Koh Gen Do Aqua Foundation.

My skin is normal to combination, so in my experience a lot of foundations that say they leave a luminous finish tend to be either too oily, unflattering unless your skin is perfect to begin with, too sheer or too short-lived on the skin.

I've seen a lot of popular makeup artists get onboard with this foundation lately and there's good reason. Koh Gen Do Aqua Foundation is a buildable light-medium foundation that leaves your skin looking naturally luminous, hiding redness without making it look like you're trying to cover up.

It is a thinner, emollient liquid that buffs easily into the skin - works great with blending sponges, those cushion sponges that come with foundation/BB/CC compacts, and doesn't cling to dry patches.

If I had the time I'd rave forever about this foundation so you know what? Here's a dot-point breakdown.

+ Flattering colour range - hides redness, most lean neutral-yellow in tone to hide redness well
+ Barely there feel, natural look
+ Diffuses light but looks great in all lighting (somehow) - just as good for every day as it is for photography
+ Stays put, feels hydrating
+ Can be worn without being set if your skin is dry
+ Sits nicely under powder if your skin tends to be more oily
+ ... is therefore perfect for combo skin - set it where you need it!
+ Doesn't cling to dry patches
+ Blends really easily
+ Buildable

The only negative is that the shade range doesn't extend into dark shades - hopefully Koh Gen Do come out with these soon!