Kiehl's Creamy Eye Treatment with Avocado 14g 14g
Frequently bought with
Please wait while we find a match
Questions & Answers
(1 Question)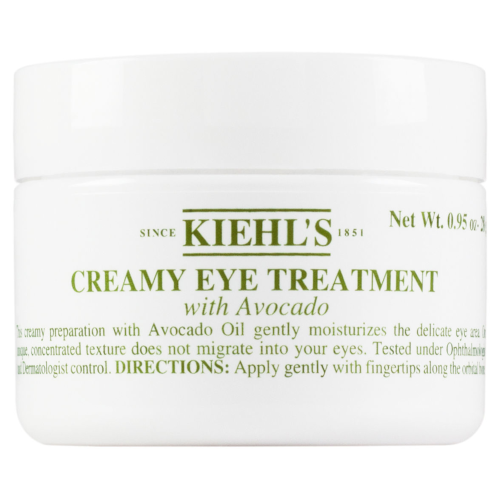 Kiehl's Creamy Eye Treatment with Avocado 14g
Get an expert to answer your question about this product!
Ask a Product Question
77% recommend this product
Most Helpful Positive
Love it
This is a really good product. Helped to improve dark circles under my eyes
Most Helpful Criticism
Holy Guacamole... Eye Eye Eye?
I'd been given several sample sized sachets of this product to test out through various beauty purchases, Social Soup campaigns and friends. Everyone had been singing praises from the rooftops! It made me expect great things but alas it was exceptional mediocrity.

Yes, it feels nice on the skin. It's soothing and cooling but just like guacamole (my 3yo did attempt to eat some thinking it was - thankfully that crisis was averted) it was thick and heavy until you really gave it a good massage into the skin.

It was nice to use otherwise; and did reduce my dark circles somewhat, but the texture and the fact that my son tried to eat it (thank goodness it wasn't wasabi) kinda put me off a bit.
Underwhelming..

I have used this eye cream for two months and have found it underwhelming. It is really thick, greasy and heavy. I haven't noticed much of a difference to the lines under my eyes.

Love it

This is a really good product. Helped to improve dark circles under my eyes

Holy Guacamole... Eye Eye Eye?

I'd been given several sample sized sachets of this product to test out through various beauty purchases, Social Soup campaigns and friends. Everyone had been singing praises from the rooftops! It made me expect great things but alas it was exceptional mediocrity.

Yes, it feels nice on the skin. It's soothing and cooling but just like guacamole (my 3yo did attempt to eat some thinking it was - thankfully that crisis was averted) it was thick and heavy until you really gave it a good massage into the skin.

It was nice to use otherwise; and did reduce my dark circles somewhat, but the texture and the fact that my son tried to eat it (thank goodness it wasn't wasabi) kinda put me off a bit.

Use under concealer

Have used this for awhile but haven't found it has reversed any problems under my eyes but in saying that I have very dry under eye skin and use this on top of my concealer. I apply a gentle dab on the area(no rubbing in) and let it sit there for awhile so it naturally absorbs. After a while I dab the rest in and my eye area has a nice glow instead of looking dry and pulling.

Thick but moisturising

Very thick and can be hard to spread especially under the eyes were you don't want to be pulling or stretching, but nice over all feel on the skin.

Hydrating, absorbent and creamy - wonderful!

I came across this eye-cream while searching for a more affordable option, and results were great. The cream is really thick and only a small amount is needed when applying, but it was absorbed quickly and was extremely hydrating. There was some improvement with fine lines and dark circles, and I was able to apply makeup/concealer over the top without creasing. Despite the small tub, it lasted a surprisingly long time and was quite affordable.

Thick texture

I've had a few people that raved about this product hence I bought it. The eye cream is super thick and I've been using it for 2 months now and haven't noticed much of a difference. It's quiet thick and greasy and just feels a bit heavy under the eyes.

Hydrating

Very thick and creamy. Helps my concealer not crease when I wear makeup the next day. Hydrating

Creamy and thick

Love the texture of this so so so thick! Which I love I've noticed a difference in my fine lines after 2 weeks of use.
Little to no scent and does not migrate into the eye.
Only downside is it's actually so small for the price however a littles goes a long way because it's so rich.

Moisturising & luxurious

I'm a fan of this eye cream, especially given the bulk size option making it better value. It lasts forever as a little goes a long way. Hydrating but still unsure re actual improvement to fine lines. Mid 30s, normal skin with some pigmentation and fine lines.

First world problem

The product was ok, however I experineced sensitivity, so I stopped and re-tried it a month later, however I still experienced sensitivity.

must have

i highly recommend this eye cream! i love using this under my concealer. i have dark circles under eye and my concealer looks a lot better when apply kiehls eye cream. it's a bit pricey for a small pot but really worth every penny because you only needed a small amount of cream to apply.

Great

So creamy really nourishing

A bit too greasy for an eye cream

I'm not a fan of this eye cream. It's too greasy and doesn't absorb well. I like an eye cream that is light and absorbs well. I find their other eye cream much better.

Noticing some difference

I'm persevering with this product as I've read great reviews on various websites. It does moisturise my eye area well but I'm not noticing a huge overall difference to other less expensive eye creams. I'm going to keep using it and hope I notice a bigger change longterm.

Moisturising

I first rub it between my fingers and warm it up. Because the thing with this is that it's cream at first but when you rub it into skin, it gets watery. Does the job

Did not hydrate!

I've been using this eye cream for about a month now and this eye cream barley hydrated and does last on your skin at all. At first when you put it on it might seem like your eyes will stay hydrated through out the day but I soon realised that about 3 hours after applying or even less there is no hydration under my eyes. I do have dry under eyes when I wear makeup and this definitely does not help to smooth out my under eye area what so ever. So if you are looking for an eye cream that will hydrate well under neath the eye and to help smooth out makeup, this is not the product for you.

Best eye moisturising product

Best under eyes moisturiser, so thick and hydrating. MY GOD. I layer it on when my eyes are really dry and leave it over night and it makes such a huge difference.

Little goes a long way!

I love this product. I suffer from dry under eyes and this product melts beautifully into the skin and hydrates it a lot! A little definitely goes a long way so I'll get great use out of this product!

Phenomenally thick

I've heard people talk about how they didn't like this eye cream because of how thick it is, but for me it's because of how thick it is that I love it! It feels so luxurious and it very hydrating, and helped soften fine lines and makes concealer apply in the the morning like a DREAM!!

Awful texture

The texture is simply awful, it's not smooth, not oily, not moisturising. Instead it would just clunk on the skin making it absolutely impossible to spread the substance evenly.

Awesome

couldn't recommend this anymore! absolutely love it so much,

First Eye Cream and So Happy

As I am 23 I didn't think I needed a specific eye cream yet. However, I received a sample of this and loved it so much I purchased it.
You can wear it during the day for a dewy and hydrated look.
Or, after wearing it at night I always wake up looking refreshed.
When I first opened the pot it looked so small I thought it would run out really quickly but it has surprisingly lasted me quite a while (about 4-5 months and I still have a bit to go) so it is great value.

bit thick

rich eye cream that has a lot of great ingredients, but I did find it a bit thick and hard to spread

best with dry eyes

natural and moisturising eye cream that works so well with dark eye bags !! super happy with the outcome after using this product :)

Love it

Best eye cream I have used. I have dark shadows under my eyes and this is the only cream that moisturises and lightens the shadows within days. A little goes a long way so the jar lasts a long time.

Thick but works

At first I thought it was too thick and sticky, but it is really nice and moisturising once soaked in. Happy with the results.

Love!

That's my second jar, everyone tried my first one due to my raving about it.
The truck with this cream is to use out your palm over your eyes (the curve on top of the carpel) and count to 30 for it to dunk in and....VOILÁ....cear, bright eyes!

The only thing I don't like about it is the price and the fact that it finishes fast.

Wow

this is the first eye cream I've tried that hasn't broke me out in milia around the eye and has actually brightened my eye area and made it look more healthy!!! I'm only 22 so I don't have many lines around my eyes but I do have tiny ones that I can see and this cream has already gotten rid of those nearly completely! This eye cream is not expensive as you only need the tiniest touch of product. It's very thick which is great as it doesn't move or seep into my eyes making them water. So glad I bought this cream

HYDRATING BUT SUPER THICK!

This eye cream is SUPER THICK!
I find I do over use it, I would much prefer a pump bottle over the container.
I only use at night as it is too thick for day use for me personally.
It is hydrating but I don't like the oily residue it leaves for some period after I apply.

Holy grail

I have always suffered from a dry eye area. After using multiple eye creams and serums that promise big things, nothing has worked as well as the Kiehl's avocado cream. I use this every morning and it always provides a hydrated glow and minimises my lines in that delicate area. I have just finished my third tub and will definitely be repurchasing!

The Best

I loved this cream so much, I got it as a present and recommend it to everyone. The only eye cream I've trued that respects the sensitive eye area, it doesn't, irritate, sting my eyes and doesn't migrate into my eyes causing them to water!

Wish it was cheaper, but a minimal amount goes a long way ...it also lightens the eye area & freshens it up.
I'm a Clarins user for over 25 years, fir me to say that it's better than ALL Clarins eye creams is really something! ❤️


always go back to this eye cream

i fee like this eye cream works amazingly under my eyes. it immediately brighten my under eyes and didn't feel heavy if i am going to put makeup afterwards. could rave this eye cream enough!

beautiu

This is my holy Grail eye cream!! Every eye cream I have used before this eye cream has given me white milia like spots under my eyes because of how rich the formulas were, but this eye cream has never done that to my under eyes. It is also a very cooling formula and sinks into the skin well.

So natural and something that works

I am using several eye creams for my dark circles. This is one of my favourite. It is beautiful texture and light weight, when applied. It's not nasty smell like other brands. I am using it every night.

Not worth it

I personally found this way too thick for my skin needs. It doesn't blend well and caused eye irritation. I think it is probably more suited to older skin that needs the intense thick nourishment.

Absolute Favourite

This has been a staple product in my collection for years and is something I always come back to - especially in the cooler months. I do find it a little heavy for during the day, but as an eye cream it is divine, my skin always feels super soft after using this. Plus the price tag is great as A little goes a long way


Solid favourite

I'm in my mid 20s so not tackling serious fine lines but need the moisture around my eye area. This cream is a great place to start. Really love how moisturising it is. Sometimes it can feel a little thick or hard to absorb but just rubbing with fingertips helps the product to melt down a little making it a bit easier to apply. Helps keep the eye area looking fresh and youthful and does not irritate my sensitive eyes.

Eye cream

My friend told me to get this as she had been using it. I only started about a week ago, and already noticed less puffiness. You only need a very small amount, so will last a long time. Good quality for the price.

Great

I purchased this particular eye cream as i read that an added trick to keeping concealer out of the fine lines under your eyes is to put a thick eye cream right before your make up goes on and also because i just needed a new eye cream. The trick didn't work lol it still snuck into my fine lines however this eye cream is beautiful SUPER THICK for an eye cream but i reallyfind that to be the part i love. My eyes area always looks bright/awake/hydrated as my concerns are fine lines/dullness and puffiness. Would def re purchase

Worked for me

Product feels thick but it absorbs quickly and doesn't feel heavy once applied, noticed a difference after only a few days.

Beautiful eye cream

This eye cream is so beautiful! Wakes up my tired eyes and my eye area feels so soft and nourished after using it!

Good

This is such good value and enjoyable to use.

Amazing! Can see a difference almost immediately

I have pretty normal skin, maybe on the dry side but I am acne prone and this is amazing! It's so hydrating but doesn't cause break outs. I can see a difference in the firmness of my skin and the fine lines around my eyes are smaller and my bags less visible. I will definitely be repurchasing!!

fixed my dry eyes after an allergic reaction

had a bad allergic reaction to eyeshadow which left my eyes super dry and irritated! this completely cured it!

hydrating

I have suffered with eczema under my eyes for some time but since using this product my skin is hydrated and I no longer suffer with it. The product is smooth and can be a little thick for some people but i find it to be just right. The dark shadows under my eyes have also lightened slightly.

Excellent value for money

I used to spend twice the cost of this eye cream on one equally as good. Definitely the only eye cream I would recommend at this price point,

Amazing!

This is super thick and moisturising but sinks into the skin after a minute. I have dry skin and dark circles and this makes my concealer sit smooth and stay moisturised all day.

Hydrating

Thick and easy to over apply, I think it takes quite a bit of effort to rub in, but once absorbed it's invisible. I have purchased a couple of times now, still not sure I'm convinced it's the best eye product on the market

Best eye cream

This is by far the best eye cream I have ever used. It has a super thick texture so it's easy to apply too much but wow is it good for hydration!
I use this every morning and night, it's beautiful under foundation and helps your concealer to not look dry or cakey under the eyes. I have purchased four so far and will definitely order another!

Thick

A rich hydrating eye cream

I like it but...

This eye cream is very thick and it is very easy to apply too much. It does feel very hydrating however I have not noticed massive improvement to my eye area so am unsure if I would repurchase. For the price I feel it should be better.



Good product

I really like this eye cream, it is very rich and hydrating, does not give me little bumps around the eye area and smoothes the area. However, I do not like the packaging, it is unsanitary and I do believe that it loses its potency quickly after opening. It is also quite greasy so I cannot wear it during the day or under makeup so I only apply at night. I have repurchased this a few times, it goes a very long way.

Lovely cream and gentle on the eye area

Although quite emollient to touch, this hydrates the eye area nicely and doesnt leave a greasy residue. I've ordered this twice and will continue to use.

Love-Hate Relationship

I have a love-hate relationship with this product, it is definitely hydrating for the under eyes and is brightening, but the product is so thick that it sometimes feels heavy, even if you use the smallest amount. I've noticed that as its so thick it sometimes doesn't blend in properly, like leaves a residue behind? It was more of an expensive eye cream so I continue to use it at night but I probably wouldn't repurchase

Okay eye cream

I gave this a go because it was pretty well priced and my usual eye cream was sold out. I didn't mind it. It felt really nice and hydrating to put on. It is thick so a little goes a long way. But overall I didn't notice any benefits or change in my tired/dark circled eyes.

Very Hydrating!

The tub is very small but a little goes a long way 1 tub has lasted me about 10 months which is amazing, the cream is very hydrating under my eyes but I have not noticed any visible signs of improvement yet!

It's just ok

Been using it for a bit over 2 weeks and I don't know what the Hype is all about.
It's a sticky Guacamole consistency, which means you a little goes a long way but that gluey consistency is irritating.

The one thing I like is that it doesn't migrate into the eyes nor irritate them....other than that..for me it isn't worth it and does nothing at all.

Doesn't work for me

I usually like thick eye creams but this one is quite sticky and a bit unpleasant to wear. Whilst it lubricated the area superficially, I didn't notice any improvement at all. I have mature skin, might work better on younger skin.

Avo-go at this!!

I cannot say a bad thing about this product! I love the texture & consistency. A little goes a long way which is perfect when it comes to eye creams as they're not always cheap.
I have noticed my dark circles have faded, my eyes look bighter & less tired. Fine lines not so noticeable either. I would definitely recommend trying this before any other overly priced product.
I use this day and night. I haven't found any issues with it under my make up either as I've read some struggled with..

First eye cream and never changed!

I am obsessed. This has been an essential for me for years. I have tried so many eye creams and this has been the best for hydration for extremely sensitive skin. It's so wonderful and comfortable on the skin and does not merge into your eyes at all.

Good but not amazing

I thought this product was nice and rich, applied really nicely under my makeup as well. Has a weird consistency and I did find that it gave me milias, which sucks!

Very Hydrating

No fuss hydating eye cream on the market. I've tried a lot of eye creams in the past and this is my favourite by far. I've been through countless of pots of these. It is extremely hydrating due to its thick texture but once on contact it melts away.

Cannot say about dark circles but wrinkles did plump up.

Lovely!

I bought this product after speaking with an adore beauty consultant - I was a little worried because I had read that some people had found the eye cream a little sticky - however I haven't found that at all. The eye cream is lovely, soft and goes on really easily - I've been very happy with this purchase.

Highly recommend

Would highly recommend trying this eye cream and seeing if it suits your skin personally. For me, this eye cream was very hydrating without being too thick or heavy on the skin. 14g is quite small, but you only need the tiniest amount to spread around your eyes.

Very thick consistency

This is a thicker eye cream than most others but when you run the product between your fingers and warm it up it becomes a lot thinner almost like an oily consistency, and blends out so much easier. I like to use this at night cause I do still find it to still be a little thick for under my concealer. I never wake up with dry eyes now!

Lives up to its name!

Over the years I've had so many recommendations for this eye cream and until now I understand why. Its pretty great!

It's super rich and the consistency of the cream itself is both thick and light. you only need the tiniest bit and it goes a long way! I use it everynight in my night time routine and it has hydrated my eye bags and lifted away the dark bags underneath. It has plumped up the area and makes it look more vibrant and less dull!

Mixed feelings

I have mixed feeling about this eye cream, the texture is a bit weird and almost feels watery when on your skin, I found best way to apply it was to dab it around the eye

Heavy duty eye cream

I love this eye cream. Has quite a thick consistency in the jar, but applies almost oil-like to skin. Need only a small amount to feel moisturised.

Best eye cream I've ever used!

Yes it's sticky, but I put it on my lower and upper lid and it not only nourishes my eye area, but also my lashes and holds my brows in place! I can head out the door without any other eye makeup and feel confident because it lightens the area slightly too. I feel like my eyes look wider and less aged since using this eye cream.

Good eye cream

It does have a thick consistency but a little goes a long way. You only need a small amount to apply and absorbs in to the skin well. Its one of my favourite eye creams. Definitely recommend.

Thick consistency

I have tried to use this product many times but I always find it too oily/too thick on my oily skin. It is a very rich product perhaps better suited for drier skin types. I can only use the smallest amount by warming it up btw my fingers then tapping the product on lightly.

Calming and moisturising

I've been using this eye cream for years and love its texture. The skin around my eyes are the driest parts of my face and this product has helped to keep my skin moisturised.

i love avocado

The texture is very smooth and creamy, applying it on then massage will be good to absorb.

Great overnight eye cream

A thick eye cream that gives hydration but stays on your under eyes so good to use at night time

Not good at all

This very sticky for an eye cream. Even when I warmed it up in my fingers, it doesn't glide on your skin. I won't buy it again. Not happy.

Love the texture

I really like this eyecream. I dont think it'll be great on mature skin but it's pretty good for someone just starting out with eyecreams. Only a tiny amount is needed and it feels thick when first applies but after being tapped/massaged in, it absorbs really well.

Great for dry skin

Very creamy and rich, great for dry skin or in winter.

Rich

This cream is very thick which is good for fine lines but has a sticky feel

Must have!

I'm really loving the Kiehls range. Everything is superb! This product is what had me hooked though. Pure goodness for the skin under the eyes. Beautifully silky but heavy texture, that effortlessly melts away as you apply it. Hard to describe really but it's a fantastic combination. Don't be tempted to cake it on because a small amount extends a long way under the eyes. I find dabbing it first gives instant cool moisture, then gently using ring finger to glide the rest along works perfectly. My eyes always immediately look brighter and not as tired. The skin is softer and doesn't catch foundation in creases. Absolutely love it.

Okay

I have been using this cream day and night for a month now, but i haven't seen any visible results on my dark eye circles to be honest. The cream itself is very creamy, i really like the texture and the way it melts into my skin after i lightly 'dab' them and let my skin absorb it.

It's okay

It's a bit tricky to put on (even after warming it up with my fingers) and it feels a little sticky after application. I managed to get around this by letting it sit on my eyes to warm it up further and then rubbing it in. It also hasn't helped my dark circles nor my undereye bags. It's a little disappointing considering the price point.

bit disappointing

As a skincare fanatic and a lover of Kiehl's products, I thought to give this product a go since my bags aren't the best; though I was utterly disappointed by how little it worked for me. Yes it is a moisturising product but it didn't improve the appearance of my dark circles/bags

great eye cream

I love Kiehl's Avo Eye Treatment. This comes in a small 14ml tub but a little goes a long way. You only need the smallest amount. The cream is thick and sticky at first when applied but the delicate skin around the eye area quickly absorbs it all. I applied this morning and night and woke up to supple and nourished skin, even my dark circles had been dramatically reduced. Fine lines seem to fill out as well. I leave this cream in the fridge and it is perfect for applying on baggy eyes. Make-up can easily be applied once the cream has been absorbed and it doesn't slide down your face

A great eye cream!

I was searching for a new eye cream and got this after reading the good reviews. The tub is small for the price but you don't need much product. The cream soaks into the skin really well and leaves my under eyes feeling hydrated. I really like this product and would purchase it again.

Holy grail for sensitive eye area

I adore this eye cream. I'm 40 and began having odd allergic reactions to skin products earlier this year which brought on sensitivity and occasional dermatitis around my lower and upper eye areas. This eye cream has soothed and saved my area. It is rich and very creamy. You do need to wait until your eye area is completely dry after cleansing otherwise the cream doesn't go on quite right but it works an absolute treat.

Yes!

Like many, I've tried lots of eye creams - this is first to really surprise me.
I got a sample and had to buy it. The size seems small, but a little goes a long way, especially when it warms up.

I've only used the sample and started the bottle, but I've already seen an improvement in fine lines and darkness. Can't wait to see the long-term results!




repeat purchase!

This is my favourite eye cream ever I've gone through at least 4 tubs and it lasts ages. I can noticeably see a reduction in any dehydration and under eye creasing after I apply this. I also find that it never gets in my eyes because of its texture and this for me is a big plus because I have sensitive eyes.

rich moisturising product

I found this product to be very moisturising to the under eye area as it is quite thick in texture and absorbs nicely. I am in my 20s so I use eye cream as more of a preventative measure so I don't exactly have undereye wrinkles yet, so I don't know if it would perform any anti-aging effects as such. It is more of a rich hydrating product. I really like it and would repurchase! Did not irritate my sensitive eyes.

The original and the best!

I used this years ago and have recently returned to it - i don't know why i ever stopped using it! I have started to get some 'crepiness' under my eyes with some subtle lines, and this has improved both within a week. I can only use it at night because the texture doesn't work under makeup, but that's okay because the intense hydration and plumping it provides at night lasts through the day anyway. I love that this doesn't move into my eyes, and I don't get watery or milky eyes with it (i have sensitive skin and eyes). You only need the smallest amount, so it's very economical. I won't be straying from this again!

My new favourite eye cream!

I got this after reading the reviews and I'm in love! It's so hydrating and my dark circles are less prominent. I'd definitely buy this again.

Love this product!

I tend to get very dry, flaky, itchy skin around my eyes, particularly during winter, this product has totally changed that! After less than a week I have seen an enormous improvement, and as an added bonus, I've noticed that my eyes are much less puffy when I wake up (I normally apply this product before i go to sleep). I have quite sensitive skin and have not experienced any reactions. The only reason it doesn't get 5 stars is because it has a very odd, almost slimy texture, which is the reason i apply it at night, rather than before i do my makeup in the morning. Not something that bothers me, considering the benefits, but something to consider before purchasing.

Best eye cream ever

This eye cream is super hydrating and perfect for dry skin. The texture is quite thick and the best way to apply is to rub between two fingers to slightly warm up product and this will help it to melt into the skin!

moisturises well

noticed that my under eye circles are less, and I look a bit more well rested. a bit sticky though.

Beautiful product

I love this eye cream, it is rich and creamy, and once you've put it on it doesn't budge. I have dry, flaky skin and this is the best eye cream I've found. It's not an anti-aging product, but it makes my eye area look fresh and supple.

Tested on animals

I recently got a sample of this eye cream with another Kiehl's product that I bought. It stings my eyes and I would never buy it for that reason alone, however I've since found out that Kiehl's products are tested on animals so I will never again buy another one of their products.

My Favourite Eye Cream so far!

I bought this on a recommendation from a friend as I had stayed clear from it because it says creamy and I do not like the feel or how thick creams are on me as I have very oily skin. But this I will continue to buy until I find something else. At the moment it is my favourite eye cream and I am so happy I gave it a chance! Who knows if something better comes up one day for me but for the price range I can afford this is superb!

Very hydrating

A very hydrating eye cream. Does a good job at making my eye area look better.

Feels hydrated

This eye cream has an off texture - quite slimey - so it took some getting used to. However my eyes feel hydrated so it must be doing something right!

Below Average!!!

I was very excited to try this cream as I had read so many positive reviews about this product. I found this cream to be extremely thick and oily - could only wear it at night time. It did help with dryness around my eyes, as my skin had been flaky and puffy prior to using this cream, but due to its thickness and size of the container, I wouldn't recommend it. I feel like there are better products out there for this price. SO don't purchase this!!!!