KEVIN.MURPHY Blonde.Angel 250ml
Is this for you?
KEVIN.MURPHY Blonde.Angel is a colour enhancing treatment specifically formulated for blonde hair/
Cruelty Free
Sulphate Free
Hair Concern:
Brassy tones (blonde/grey hair)

Colour protection
Frequently bought with
Please wait while we find a match
Questions & Answers
(4 Questions)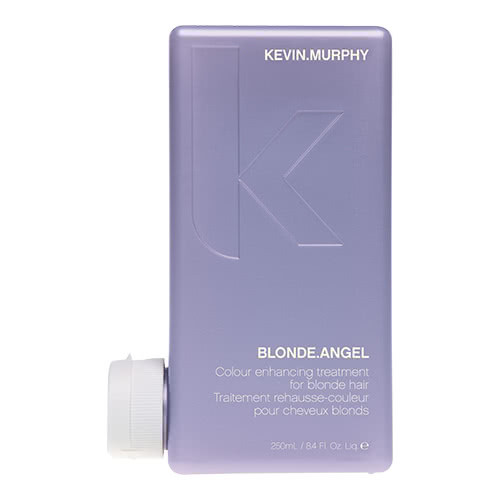 KEVIN.MURPHY Blonde.Angel
Get an expert to answer your question about this product!
91% recommend this product
Most Helpful Positive
Fantastic
Absolutely fantastic toner for blonde hair. Smells so good too. Hydrating and makes hair shine
Most Helpful Criticism
Blonde.Angel or Brass.Angel
Whilst this product is smells divine and being a Kevin Murphy product its cruelty free, it was rather disappointing.
It just didn't do the job for me. I found I was shampooing three to four times and still the colour wasn't lifting to that white, angelic shine.
Fantastic

Absolutely fantastic toner for blonde hair. Smells so good too. Hydrating and makes hair shine

Blonde's best friend

I was recommended this product by my hair dresser when I died it blonde and boy did it save my hair!

This kept my blond toned without it looking dull and dreary. At first I thought it was pretty pricey, but i would definitely give it a go. The product smells nice and makes my hair feel so healthy and strong!

Love it

Works quite well for my blond highlights. love that it's Australian and cruelty free. I would recommend

Nice

i got it as a sample so tried it out. i have dyed hair but dark brown. but this product did made my hair soft and full of body.

Best for blondes

Stop looking you've found the holy grail of purple shampoos. This is the only shampoo for blonde hair I've found that keeps my brasiness in check and my blonde bright and creamy until I visit the hairdresser again. I use a hydrating conditioner to follow as it can be a little drying.

Smells DIVINE and perfectly tones yellow brassy blonde to cool creamy blonde

I have oily fine hair with balayage highlights which are prone to brassiness over time. I use the Kevin Murphy Blonde Angle Shampoo and Conditioner which perfectly tones away any yellow brassy colour and restores the salon fresh creamy blonde colour we all love.I hope Adore Beauty starts selling the salon sized bottles of Kevin Murphy products as the only downside to these products is that they ar...

Read More

Leaves hair feeling great

This has been a really great product for my hair, leaving it shiny, soft & keeps it nice and blonde. It smells great & I love that it uses essential oils.

Doesn't have the most noticeable toning effect

In terms of toning hair, the effects of this are not as noticeable in comparison to products such as Fanola. However, it has a pleasant smell and leaves the hair feeling very hydrated and smooth.

Good Product

This is a good product for bleached hair. It works best when you leave it in for 5-6 minutes as a bit of a deeper conditioner, then rinse out. It keeps my hair brass-free and strong

Leaves hair soft and doesn't overtone.

I have damaged bleached hair, and this conditioner leaves my hair feeling soft and manageable. It doesn't overtone my hair like other purple conditioners, and it smells amazing. Since I have started using this and other KM products my hair has been feeling super soft and growing faster.

Great to reduce brassy tones

I had always used purple shampoos but after getting this as a sample I decided to purchase. I use this purple conditioner every few washes to reduce brassy tones. It definitely helps my hair stay a creamier blonde and it feels very nourishing, my licks feel smooth and soft afterwards. Would definitely recommend it.

softer, brighter hair

This conditioner makes my hair soft. I left it in for a few hours (not what they recommend but I did it anyway) and my hair lifted a few tones, much less brassy, and soft to boot!

Great for colour protection

Great for colour protection, my hair always looks brighter after using it.

Soft locks

This product smells great, and leaves my hair softer than say I pharmacy conditioner, however I really don't think it is work the price tag. It is also more suited for a yellow blonde, definitely not for someone with ash tones, it will change your ash hair colour to a yellow type of blonde.

Super hydrating blonde shampoo

I wanted to love this product more. It's definitely the most hydrating blonde shampoo I've used however it's not very strong and the size is quite small for the price. The smell is amazing, like pink musk lollies. I want to purchase this again but would love to know how to use it to it's fullest potential.

Not bad, okay product

This product does okay at toning blonde hair, it doesn't strip hair of its natural oils or moisture which is great but doesn't tone as strongly as something like a Fanola product.
It smells nice and it quite lightweight which is a bonus. The packaging is also super cute.

nice touch

i got this as a sample and i found a little goes a long way. not a super strong toner but subtle enough to see a light difference. made my hair silky too which is a bonus for toner.

Excellent product.

By far the best blonde toning shampoo I have ever used. Unlike other brands this product is nourishing whilst toning - many other purple shampoos are great at maintaining bright blonde but can be drying. The only thing that stops me purchasing this continually is the price - but if budget were no issue it would be the only shampoo I would use when blonde. I also experienced a bit of mess/leakage d...

Read More

Blonde.Angel or Brass.Angel

Whilst this product is smells divine and being a Kevin Murphy product its cruelty free, it was rather disappointing.
It just didn't do the job for me. I found I was shampooing three to four times and still the colour wasn't lifting to that white, angelic shine.

Good conditioner for blondes

I use this as conditioner with the shampoo. The two together have made by blonde hair more creamy and less brassy. I really like the smell of the two of them, and my hair doesn't feel dry or coarse. The main downside is that its quite expensive, which might make me think carefully before buying it again.

Amazing

I love this! I think my hair looks lovely and soft after using it always. Beautiful!

A treat

This treatment is a real treat for my hair. I didn't know I needed it until I tried it. It has added a lustre, softness and volume which is great.

soft and bright hair

The best natural blonde shampoo I have tried. Other brands either make my hair bright blonde but brittle or soft but dull coloured. This conditioner does both, highly recommend.

Decent product but not worth the price

I used this with the shampoo in the range after dyeing my hair blonde a while ago. It did keep the brassiness at bay and left my hair feeling soft. I wouldn't use it on a regular basis though as i need something a bit more volumising and also it's quite expensive. There are other products i prefer which get better results for me personally.

Soft and smooth!

I use this with the shampoo and my fine hair has never felt so soft. Hair looks shiny, not oily. Would purchase again

Gentle & Hydrating.

I have bleached blonde hair - my natural hair colour is a VERY dark brown and it is very thick and curly. Since going blonde I've struggled to find that balance of hydrating but also pigmented conditioners. Many brands I've tried will either hydrate my hair and make it brassy by stripping the toner OR will maintain my colour but my hair may as well be a bail of hay. This product is super user frie...

Read More

Soft and shiny blonde

Love this shampoo. Smells delicious and left my hair soft and shiny. Brassy tones gone in one wash. A little goes a long way.

Love the product - wish it was more affordable

This conditioner is everything I want for blonde hair: lovely smell, applies well, leaves my hair soft and shiny, and is great for freshening my colour and reducing brassy tones. If it was more affordable, it would be my go to product. As it is, I keep a bottle to use ahead of special events for extra softness, shine, and brightness.

It made my hair super dry

I usually don't write bad reviews, but for this product I had to come here to say how disappointed I am. I only used this once and it made my hair super dry plus changed the blond to an ugly yellow, I had to go to the hairdresser to fix the colour, it was super disappointing.

Bit heavy on fine hair

I found that when I first started using Kevin Murphy Blonde Angel my hair was quite healthy, however after a few months I started getting build up through the lengths and my hair was holding more moisture than it had even done before. It smells good and seemed ok for short term use but I wouldn't recommend long term for anyone with fine or porous hair. It was good at reducing brassyness and keepi...

Read More

Perfect for blonde hair

This has been my go to conditioner for years and I'm yet to find a better one that doesn't make my hair dry or greasy! Really must have staple for blonde hair.

Blonde conditioner

This is the best blonde conditioner I've used. Hair feels softer and easier to comb after washing. Colour is noticeable and less brassy. Only need to use it once weekly and helps maintain my colour as a whitish blonde.

Nourishing and smells great!

Lovely blonde conditioning product.
Smells amazing and instantly softens my hair when I apply it.
I have fine hair which I lighten and it's perfect!

Best for blonde

It keeps my blonde hair feeling really soft and hydrating and stops it from become yellow or brassy without over-toning. A must for blonde hair!

Blondies Best Friend

This is the best product for blonde hair. Tones blonde and keeps brassy out without over toning and without dulling the blonde down. Also makes hair feel amazing. Worth the money


Brown to Blonde

Kevin Murphy has saved not only my hair, but my life!
Going from brown to blonde, I always experienced yellow tones and breakage until I found Blonde Angel. It's a toner and treatment in ONE - what more could a girl ask for?! This is my go-to, even tough it's on the pricey side, it's definitely worth it if you're a (fake) blonde!


Purchase again and again

My blonde looks amazing between visits to the salon and I feel its thanks to Kevin Murphy. My hair feels amazing and no brassy tones to be found. Product smells great and a little goes a long way.

Silky Smooth Hair

I was initially concerned about buying this product and it not living up to the hype. Boy did I make a good decision by making this purchase! Took out all the brassy tones while leaving my hair silky smooth! Love!

Made hair knotty

My hair is thin and prone to getting dry. This shampoo dried my hair out really badly and it was actually sore trying to comb out knots (with tangle teaser). I don't believe it made any difference with brassiness too. Still have 3/4 bottle in cupboard I don't need.

Tones and Moisturises

A lovely companion to the Blonde Angel Wash - used together your blonde hair or hightlights (in my case highlights) get toned and moisturised. Your hair feels lovely and soft and smooth after using Blonde Angel. I would highly recommend this conditioner, I can't fault it!

Great

Creates a far more natural/baby blonde toner than a stronger purple toner. Love how it seems to balance my blonde after every wash.

Great product but a bit pricey

I like it and my hair look nice but it doesn't feel so hydrated as My hair are a bit damaged because of all the colour at the hairdresser.

Best blonde product!!

This is the best product for blonde hair. Tones blonde and keeps brassy out without over toning and without dulling the blonde down. Also makes hair feel amazing. Worth the money

Keeps brassy at bay

I really love this product. Smells great and keeps brassiness at bay which is fantastic between visits to the salon.

Worth every cent

When used with the shampoo, my highlights are toned so gorgeously, my hair has little frizz and so much beautiful, healthy shine without being greasy. And it smells so good, even hours after you shower.

Worth the money

This left my hair well toned, super hydrated and shiny after use. I was a bit hesitant to use this, as I was afraid it would deposit toner in to my hair; however was left pleasantly surprised. I am glad I tried this product and would certainly recommend to a friend.

Loves It

Leaves hair so soft & definitely gives a noticeable difference with the brassy/yellow shades in my blonde hair. I find I only need to use 1-2 times a week!

Best conditioner I've used for blonde hair

I was introduced to Kevin Murphy by Jaye at Edwards & Co, who used it as a basin toner after doing my colour once, and I got sample pots of the shampoo and conditioner to take home.

Both products are fantastic but the conditioner in particular is amazing. It is the most nourishing, non-drying purple conditioner I've ever used, and it does a great job of toning brassy blonde. I can imm...

Read More

Love this conditioner

Absolutely love the Kevin Murphy line of hair products. This blonde conditioner lives up to its name. Perfect for blonde hair.

Really like it

Such a good toning conditioner. I recently tried a cheaper product and really noticed the difference and have come back to this one. I find that with other toning conditioners I have to follow with another conditioner to stop it from drying my hair out but I don't have to do it with this one. I leave this in for a few minutes and my hair feels silky afterwards
A bit expensive but worth it

Perfect conditioner for blondes

I really like this tinder/ conditioner. I was recommended this conditioner by my hairdresser and have purchased again after the first bottle finished. I find a little goes a long way and this lasts very well. This definitely helps extend the time between visits to the hairdresser.

Best product for blondes!

I have been using this product for years - absolute game changer for blondes! Blonde shampoo is ridiculously drying on my hair and this is a treatment and toner in one. I use it once a week and it truly reduces the yellow in my hair. My sister has naturally blonde hair and she uses it - and it works for her, too!

amazing

I just love this product and wish i used it earlier. it conditions my dry bleached hair so great and my hair shines and is smooth after use.

Keeps me blonde and nourished

I have bleached cool blonde hair and swim ~2 a week. This stuff keeps my hair healthy! I go 8 weeks between visits with my hair dresser and she always comments how my tone and ends are doing well. It's a bit speedy, but I manage to only use it once or twice a week. Have bought at least five times now and will keep re-ordering!

Does what it says!

Never used KM before and was hesitant to buy due to price. Hair is left soft and clean and smells like candy. Glad I took the chance!

Great

My hair hasn't felt this soft in ages! and the purple shampoo isn't as harsh as most so you can use it every time you wash your hair

cannot reccommend enough

This is absolutely amazing, i can not brag about it enough. for anyone with blonde hair i would highly recommend this product. and if you are really looking for that WOW factor, highly recommend getting the matching shampoo, as together they compliment each other amazingly

Leaves hair feeling amazing

Leaves hair so soft & definitely gives a noticeable difference with the brassy/yellow shades in my blonde hair. I use three times a week (because it makes my hair feel so good)!

SO good for platinums

This stuff is the best for a bottle blonde! A little expensive but so worth the price and lasts for ages. Leaves my hair brighter but doesn't give it purple undertone that some other toners do. It smells great and leaves my hair a great colour. I'm a full platinum blonde and it takes out all my brassiness and leaves my hair one blonde colour.

amazing for us blondes

This is seriously one of the best toners I had used, unlike most toners that leave my hair feeling quite dehydrated and undernourished this leaves my hair soft and manageable

Excellent toner great conditioner

Love this conditioner. Smells Devine, works a treat

Great for blondes.

This product works great for blonde hair. It eliminates brassiness and is also gentle on your hair. Its pricey, but it saves me from having to go to the salon for a toner in between appointments. Definitely worth the price.

Effective toner

This has to be the most effective toner on the market. It brightens, evens out and gets rid of any yellow tones on your hair. Have been using this for 6 months now and my hair is still looking fresh.

Beautiful

I love this conditioner/treatment. It helps with brassiness and leaves your hair soft, silky and frizz free.

So good

Super pigmented so it keeps away the yellow tones. Does well hydrating my bleached hair.

works!

I find that the more intense the purple pigmentation, the better it tones your hair. this has a deep, finger staining color to it that does a really good job. will buy again

Wouldn't recommend

Hasn't worked in my hair like other reviews. I have highlights and it's made it look no different at all.

Don't be freaked out by the colour.

When I initially used this product I was a little concerned about the crazy colour, but don't be alarmed. The pigment makes blonde hair shine in the nicest way. Love this product.

Great product.

I have blonde highlights throughout my hair and it tends to get brassy and dry after awhile. I have tried multiple other products and haven't got the results i wanted. With using this product i can noticeably see a different in tone...and also health. It leaves it such a nice ashy colour. Makes my hair feel so soft and smell so fresh too.

Best toner for blonde hair

Love this conditioner, keeps the blonde fresh and gets rid of brassy tones, although it's a bit pricey for the amount of product in the bottle, especially when you have fine hair and have to use a lot. I find it works best if you towel dry your hair first and leave it in for about 10 minutes.

Amazing

Hands down the best product I have purchased and used for blond hair. This rinse does wonders in removing brass tones from my hair and leaves it feeling incredibly soft unlike many other toning conditioners. Will definitely be repurchasing this product in the future.

It's a no from me.

I purchased both the shampoo and conditioner. It really didn't work for me at all! Firstly it knotted and dried and my hair, secondly it did nothing to tone it down. Way better products on the market!

The perfect balance of moisure and toning

I have tried soo many blonde shampoos and conditioners. I have. Fine long foiled hair and find most just dry my hair out or don't do anything for the colour at all. I used both the shampoo and conditioner together and I cannot get over how amazing these products are. The shampoo is super creamy and Pigmented and tones just beautifully yet gently. The conditioner the softens the hair without weight...

Read More

Amazing!

I love the Kevin Murphy Blonde.Angel. It smells amazing, a little goes a long way and it really removes those brassy tones from the hair! Works a treat! I would definitely recommend!

The Best

The best scented shampoo and conditioner ever! Leaves hair soft and smooth. My hairdresser recommended to me and I never looked back! Beautiful!

Love it!

Love this shampoo, leaves your hair feeling so silky smooth. However, don't feel it does a real lot with keeping my hair from going brassy. Would still recommend as a lovely shampoo with dry blonde hair!

Best blonde conditioner ever!!

I've recently started using this Kevin Murphy blonde angel conditioner and it is seriously worth it! I use it in conjunction with the Kevin Murphy hydration shampoo as I have bleached hair and it is so moisturising and leaves the hair feeling really silky and smooth. Would highly recommend!!

perfect for in between salon visits

smells amazing and leaves hair feeling hydrated and nourished. Eliminates all of my brassy tones that come along with dyed blonde hair. I use this every second or third wash once my hairdressers toner has faded out and does the job perfectly

Good for everyday use

This blonde shampoo is good for everyday use as it's not too strong. It keeps brassy tones at bay at doesn't dry my blonde hair as much as some other toning shampoos. The only issue is I find it can make my hair a little dull sometimes. I tend to have better luck with stronger blonde shampoos, used weekly than every day use but this is good for that if it's what you prefer. And it smells amazing- ...

Read More

So pretty and smells amazing

I received this product as a sample pot and oh my it smells and feels Devine! I will repurchase the full size once I run out!

Good for brassiness but still leaves hair healthy

I have a lot of brassiness and highlights in my hair from the sun and I found that using the Kevin Murphy Blonde Angel Shampoo and Conditioner reduced the brassiness and yellow tones but still left my hair feeling healthy.

The price will put me off repurchasing as I didn't feel that it worked any better than brands such as a Fudge which are almost half the price.


Unicorn Poop - delicious product

This product is all round awesome. It looks like purple unicorn poop (if unicorns exist).

My hair is fine and highlighted blonde and quite brittle at times. This treatment for one, smells divine like musk lollies.

After just one use, I found my hair was glossy and tangle free.

The purple pigment is quite grippy and I noticed that it removed any brassiness wit...

Read More

Cruelty free and vegan

I have dry, fine blonde hair. Great for getting rid of any brassiness. The smell is ok. I alternate between the angel and blonde angel washes.

Great natural blonde conditioner!

I used to always use the Fudge blonde conditioner however I have very dry and brittle hair and it was making my hair feel even worse. I was then put onto Kevin Murphy products by my hairdresser and I've never looked back. This blonde conditioner I use once a week as a conditioner and i leave it in for 5 minutes and it takes all of the brassiness out of my hair. I would say this puts more of an ash...

Read More

Might be for others but not for me

I was looking for a product that takes the brassiness out of my blonde hair. after a bit of research I decided for this product.
It is beautifully packed and smells sensational, however it doesn't really help my hair which is still getting brassy .
It seems to work for others though, so it just might be a personal thing.
The hair smells great and is soft afterwards but the bra...

Read More

Love it

I use the Blonde Angel for my bleached hair and it is really good for keeping away brassy tones. I use it two-three times a week and leave it on for a good few minutes. To get the best results make sure your hair isn't dripping wet otherwise it doesn't get absorbed properly. My hair feels much smoother, softer, and stronger after using it, and the colour looks perfect.

The perfect addition to my hair routine

The Kevin Murphy Blonde Angel is the perfect addition to my hair care routine. Since becoming a blonde my hair was starting to dry out. However now my hair is soft without being heavy and the brassy tones are staying away. A great product.

The scent!! : )

This product actually smells incredible. I always feel super luxe when I use it. I am a brunette with lighter highlights and I find this product really helps to keep my balyage fresh, so I can extend time between appointments. I try to use once a week and I can always notice a difference, when my hair starts to look a little brassy. Yes, its expensive, but so is a salon hair colour. In my opinion...

Read More

Great product but a tad overpriced

I loved how this rinse would refresh my blonde highlights but I did find it wasn't very moisturising or nourishing for my hair. It's quite expensive for what it does

Best treatment

I would be lost without this product! By far the best blonde conditioner/treatment I have ever used! It helps my blonde stay fresh & bright! After I use this product my hair is soft & easy to brush out any tangles caused by washing it! Would 100% recommend for anyone who has bleached blonde hair!

Mildly good for keeping bronze tones away

Smells good and feels good. Is a gentle conditioner for keeping brassy tones away but I find I need to supplement it occasionally.

Great for brassy blonde hair!

Love this product - I bought this along with the Hydrate Me Rinse by Kevin Murphy, and it has definitely made a difference to my hair. I dye my hair blonde, so notice it gets dry and loses colour quality in between salon visits. Blonde angel revives my hair back to a nice ashy, creamy blonde. I use this product once or twice a week, and a little goes a long way!

Another staple

Light enough conditioner to use from root to tip which allows me to use the Repair Me Wash beforehand (which I love)
This is why Blond Angel Rinse has become another staple from the Kevin Murphy range.

delighted!

my highlighted hair is prone to yellow & has been particularly brassy after the latest salon disaster...I was using loreal colour corrector (pink tube) for blondes- it doesn't work for my hair at all- still brassy ugh.
But Kevin Murphy OMG very happy I bought this, towel dry, leave in for a minute- amazing result, it look like I've just been to a good hairdresser- totally fresh clean blonde!...

Read More

Smells great, works like a charm

I love this product, its much better than any of the others I've tried and its smells delicious. Probably wouldn't recommend for dry, damaged hair as its a very light conditioner. Perfect for my fine hair though, doesn't weigh it down. Will definitely buy again.

Best blonde conditioner I've ever used...

...and I've used them all!

Keeps my blonde locks looking fresh and clean at all times. Beautifully nourishing and smells great.

A bit pricier than other blonde conditioners I've used in the past, however it's the only one that I've ever had success with so very much worth the $$.

Amazing smell

Although this product is a little more than other blonde treatments - it is so worth it! I love how my hair smells and feels after using this Kevin Murphy product.

I will highly recommend this product to anyone with blonde hair!

Favourite toning product

Love Kevin Murphy Blonde Angel. I usually use another silver shampoo which is really drying. Blonde Angel does a really great job of toning my hair with the added bonus of treating it :)

Good product but a bit exxy

Bought this product to keep my balayage ends from going brassy and it's doing a great job. Smells amazing and love the packaging!

My only criticism is that i have fine hair but lots of it and i find that i need to use a fair bit to feel like i've spread it well through the ends. This wouldn't normally bother me but for the price i feel for my hair it's not the best value for money.

Read More

Works well

Bought this to help with my blonde balayage ends and to stop them from going brassy.

Love the packaging! Smell is amazing! My only criticism is that i have fine hair (but a lot of it) and do need to use a large amount to feel like it's going to be enough to penetrate hence probably not that cost effective for me ...love it though and will keep using it till i find something just as go...

Read More