If you're looking for a haircare range that's full of naturally nourishing ingredients, look no further than KEVIN.MURPHY. Formulated especially for dry, fine, and coloured hair, the Angel Range from KEVIN.MURPHY nourishes and protects hair for healthier, fuller-looking locks.

Free of sulphates and parabens, ANGEL.WASH shampoo and ANGEL.RINSE conditioner add volume and moisture to lacklustre hair without weighing it down. These products contain a powerful blend of antioxidants to keep coloured hair looking vibrant and prevent premature colour fading.

If you're looking for something stronger, ANGEL.MASQUE hair mask is a repairing and thickening treatment that contains essential quinoa proteins, tripeptides, and lotus flower and bamboo extracts, all used to moisturise hair. These nourishing ingredients will fill your dry or damaged hair with moisture, leaving you with new-found healthy and glowing hair.

Angel Range also offers special products designed for bleached and highlighted blonde hair. BLONDE.ANGEL.WASH is a colour-enhancing shampoo used to prevent unwanted brassy tones and keep hair clean, shiny, and beautiful. Its light-lavender toning counterbalances yellowness. With all the benefits of the Angel Range, this product will repair and enhance the hair without adding weight or greasiness.

BLONDE.ANGEL is a treatment for blonde hair, formulated to reverse brassy tones. Shea and murumuru butters smooth and hydrate hair for intense repair. The hair will be deeply nourished by these powerful ingredients for softer and healthier hair. Both BLONDE.ANGEL and BLONDE.ANGEL.WASH can also be used to eliminate yellow tones from grey hair.

Whether you have blonde, grey, dry, or fine hair, the Angel Range is perfect for rehydrating your hair, adding volume, and keeping your colour vivid and true. The Angel Range will provide your hair with the much needed nutrients it needs to look radiantly energised, healthy and silky smooth.
Recent reviews on Angel.Range products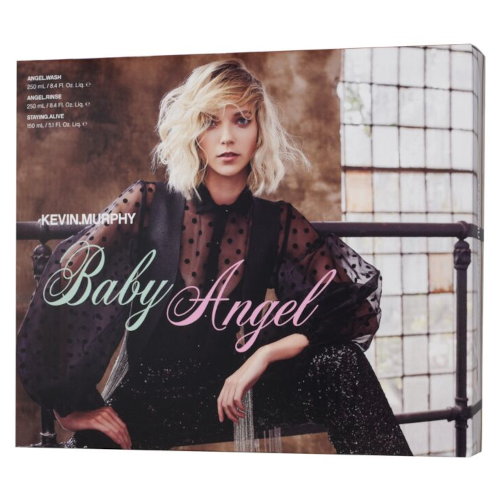 KEVIN.MURPHY
KEVIN.MURPHY Baby Angel
$82.90
Great value
This is a really good set and great value. Kevin Murphy Angel wash and rinse are amazing, they're hydrating and nourishing but don't weigh your hair down and they smell so good.
What people are looking for the most