Kérastase Discipline Fluidissime Anti-Frizz Care 150ml
Hair Concern:
Curl control
Dull, lacking shine
Frizzy hair
Frequently bought with
Please wait while we find a match
Questions & Answers
(No Questions Yet)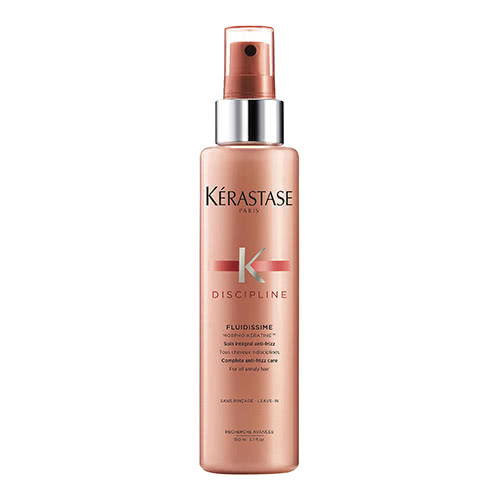 Kérastase Discipline Fluidissime Anti-Frizz Care
Get an expert to answer your question about this product!
Ask a Question
95% recommend this product
Most Helpful Positive
Love this!
Really love this product! Left my normally frizzy hair smooth and completely frizz free! Smells so amazing too!!!
Most Helpful Criticism
Spray pump doesn't work properly
Not sure how good product is as the spray doesn't work properly so instead of a fine mist, it squirts out and doesn't get evenly distributed through my hair.
Love this!

Really love this product! Left my normally frizzy hair smooth and completely frizz free! Smells so amazing too!!!

Frizz be gone!

This product is great! I use it every morning and frizz is gone. It's so lightweight and I don't need to wash my hair every day after using which is great!

Would buy again

I was hesitant on purchasing this product due to the price but bite the bullet since using it has reduced frizz and leaves my hair feeling soft and silky. I feel as though it will last a while as you don't need to use much, would buy again.

Great

Really light on the hair and helps with combing after washing. Does seem to decrease frizz without weighing down hair and making it oily

Really Reduces Frizz

This product really reduces frizz and leaves my hair feeling really soft & silky

Love!!

I absolutely love this product, it's been awhile since I restocked this after I ran out and I don't know what I have been doing since! I have quite fine but thick hair so blow drying can be quite a bother that leaves my hair dry and frizzy. This product is amazing at smoothing this out and keeping my hair smooth until my next wash!

Love this product!

Use this with the discipline range shampoo and conditioner and I can honestly say my hair is back to health and looks fabulous. I use heat tools as well and my hair has never looked better!

Amazing Heat Protection for Frizz-Free Hairstyles

I use this in conjunction with Kérastase Discipline Bain Fluidealiste 1 Shampoo and I love the way it makes my hair feel! I have frizzy hair and after use, hair is soft, smooth and frizz free! This product makes heat styling a dream and gives your hair the most beautiful shiny and healthy glow. I also use this product without the Kérastase Shampoo and find that it still works amazingly as a stand-alone product for heat-protecting & controlling frizz. Although this is a pricey investment, you only need to work in a few spritzes per use so it will last you a while! I have medium length hair and I'm still on the same bottle I purchased a year ago!

Works perfectly as a set

I bought this together with the Discipline Bain Shampoo 2 and Discipline Fondant conditioner, so I haven't tried the spray on it's own with supermarket shampoos, but all together it's a perfect system. It's really humid where I am, and my fine hair has been super frizzy over the summer, so much I wanted to cut it all off. After a recommendation I tried the Discipline system and after a quick blowdry (not a full blowout) my hair is smooth and manageable, and shiny without being oily. As a leave in product you can definitely feel the extra smoothing after the spray, it brushes through so easily. I feel confident wearing my hair out long all day and I've been getting heaps of comments from people asking what I've been doing differently. Plus a friend said my hair smelt really good after a hug! I only use this spray after washing my hair, I haven't been using it daily, but so far it's great and I'm only washing my hair twice a week

really nice

it really works to anti-frizz the hair, one of the better sprays I've used but works best when using the entire range together.

Excellent

Have been using this spray for almost a year now and it makes such a difference in my life. I have very frizzy hair. It's naturally wavy but if I brush it it goes frizzy. I like to brush my hair let's just say, but I don't like the frizzy aftermath. Spraying a little bit of this leave in spray instantly tames and smoothes my hair leaving it manageable. If I want to straighten it I put in wet hair after a shower, or if it's natural and left wavy I spray in when it's dry.

Simply amazing!

I have very damaged frizzy hair and after using this on damp hair and blow drying my hair, the frizz was gone.
I have never used a heat protector that comes close to being this good. I'm so glad I started using this, it will be a staple in my hair care routine forever!

Omg amazing

My hair is very dry on the ends & very thick!!! This spray is gorgeous

Best heat protectant and styling product

I have been using this product for three years now and wouldn't go back to my old products. My hairdresser originally put me on to it and have loved it ever since! It not only protects your hair from heat caused by styling but gives you hair incredible shine! Adore beauty's prices are fantastic for this product and shipping time is excellent! Will definitely be shopping with this company again

Smells amazing & softens hair

Product has an amazing smell and softens the hair. Great used before straightening.
Pump spray mechanism isn't the best - doesn't evenly spray product

Really does discipline the hair

I first became aware of this product when my hairdresser used it to style my hair before a blowout, and this is amazing!! It leaves the hair silky smooth whilst also adding as a bonus low-heat protectant. Love it + it also lasts quite a long time, so worth the price.

Healthy hair!

I have very frizzy hair and this has helped so much when it's humid outside. I use this when I'm applying heat to my hair but also when I let it air dry. It doesn't weigh my hair down but makes it more manageable. It seems to be lasting a while but I will definitely be repurchasing when I run out.

Leaves hair feeling healthier & smooth!

I've been using the Kérastase Discipline Fluidissime Anti-Frizz Care for about 4 years.

I use to be one of those terrible no-protection hair straightening people, and didn't realise the damage I had done! This product is very light weight, doesn't leave a film or stiffness to your hair. Your hair feels healthier after using this before blow drying or straightening.

Spray pump doesn't work properly

Not sure how good product is as the spray doesn't work properly so instead of a fine mist, it squirts out and doesn't get evenly distributed through my hair.

Awesome

I have justified buying Kérastase Discipline products to myself by investing more in the leave-in products (which last ages) over the rinse-off products (which don't). I have long, dry hair so can go through a tonne of conditioner in one go. I would have to sell a kidney to be able to afford using Kérastase masks and conditioners with every wash. Thankfully, the leave-in products like their Anti-Frizz Care spray lasts forever, so I can tell myself that I am not wasting money by buying them! This works wonders on my dry, frizzy, uncontrollable hair. Wonderful stuff.