Jane Iredale PureLash Extender + Conditioner
Is this for you?
Provides a much-needed step towards unbelievable lashes. When used to prime lashes for mascara, it adds measurable thickness and length, whilst also allowing you to use less mascara.
Frequently bought with
Please wait while we find a match
Questions & Answers
(1 Question)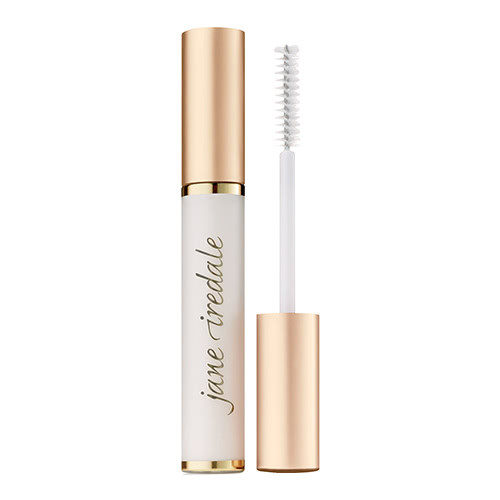 Jane Iredale PureLash Extender + Conditioner
Get an expert to answer your question about this product!
90% recommend this product
Most Helpful Positive
Works
This product adds measurable thickness and length to my eye lashes. Love it.
Most Helpful Criticism
Don't know
Don't know if it works. After losing my lashes to extensions, I have been trying to find a product that works but this didn't really make any difference. But helps if I put a mascara on top when doing my makeup, lashes look a bit thicker.
Works

This product adds measurable thickness and length to my eye lashes. Love it.

PureLash Extender & Conditioner

Commenced using this only 2 weeks ago, so far no sensitivity issues.
Easy application.
Reasonably priced.
Hoping to improve length/fullness of lashes & particularly some problematic lashes that constantly point in the wrong direction that I cannot tame with a lash curler.
Looking forward to positive results.


Don't know

Don't know if it works. After losing my lashes to extensions, I have been trying to find a product that works but this didn't really make any difference. But helps if I put a mascara on top when doing my makeup, lashes look a bit thicker.

healthy lashes

this makes my lashes look a lot more healthy and makes them a lot longer. definitely recommend !

Love it

My eyelashes are very fine and light in colour as a result mascara often looks too chunky and thick. After using this product I noticed my eye lashes looked thicker and longer. I use it morning and night. I don't think I use less mascara but it looks more even and natural when I put it over the Purelash Extender. I will be repurchasing.

Really works

I've only been using it for a short while but I'm really noticing a great difference in length!

Ok

It's ok but not the best.

I prefer the Chanel one or the Tarte one.

It's decent enough but I find it just didn't have the wow factor of more expensive brands.



Surprised and shocked

It works! I used this last year for my lashes and the results were very impressive. I got fuller and longer lashes. This is just perfect and so easy to use.

Effective

Love this! My lashes have grown so much, doesn't sting

Fantastic for protecting lashes

I have used this extender + conditioner for over 12 months now. I use it more for conditioning and protecting my lashes rather than extending. I use a separate lash serum for growth. I put this on before my mascara each morning and it keeps my lashes soft and healthy. You can also use overnight but maybe not by itself during the day due to the white colour. When I ran out and stopped using for a f...

Read More

Not bad for the price

I received this in a gwp and have been using it for a few weeks. I can't say it's grown or thickened my lashes but I really like it as a primer under the Jane iredale mascara. There is something quite nourishing about it as well.

Amazed by the improvement

After suffering with thin, almost non-existent eyelashes my whole life I was pleasantly surprised by this product. It didn't take long for my lashes to be thicker, fuller and longer! Quite amazing!

A great eyelash primer

A great eyelash primer, it makes my lashes look much longer and my mascara sits well on it.

Game changing

This allows my mascara to glide on a lot smoother and I find I use much less. It definitely extends the wear too. I use this with a Jane Iredale mascara and love the results.

Makes lashes look thicker

This definitely makes my lashes look much thicker and more natural looking as I need to use less mascara to get the same effect I was before

Amazing

This really enhances the results of my mascara on top and has helped my lashes look fuller

Great.

Great product just make sure u don't get in eyes as makes them very sore. Haven't noticed much growth but definitely thicker and fuller lashes since using.

Great

I love this conditioner, it's made my lashes so much softer and healthy looking! I've been using it with the Purelash Lengthening Mascara, and I've gotten so many compliments about how long and healthy my lashes look! Very happy with this product!

Cannot go without!

I love this lash conditioner, I first received it as a tester and it made such a difference when applying my mascara. It doesn't matter what mascara I use, my lashes come out separated and voluminous :)

Works very well

This is my second purchase. I have short and sparse eyelashes and this lash conditioner does a really good job nourishing and conditioning my eyelashes so they can grow longer and denser. You've got to use it everyday for at least a month to see results... I've even been using my old tube on my brows. Do yourself a favour and get this - the ingredient list is actually pretty good too.

Great price, need time for results

I have short thin lashes and usually wear extensions but as I'm having a break from them decided to try this product I have been using for two weeks now and I'm not sure if I have seen any results so far it definitely conditions my lashes and the price is great, just need time to see some results.

Easy to use

I'm finding it very hard to tell if this has any effect on the length, thickness or number of my lashes. I think it might be helping slightly, though, and I'm definitely going to keep using it! My beautician says the conditioning aspect is really helping my lashes. It's very easy to use, takes one second of time a day to use, never gets in my eyes, and seems like it will last a while, so I'm prett...

Read More

Love!

I looove this product, I usually have lash extensions but when I need a break I use this under my mascara and it makes my lashes huge! Love the fact it protects your lashes too!

Okay

Seems okay, I have had some lashes on my lower lid come back.
I haven't had as much problems with eyelashes in my eyes.
The guess it is actually a better product than I think?

Lush eyelashes and eyebrows!

I purchased this product 2 months ago and it has worked wonders not only with eyelashes becoming longer.. but also I put it on my eyebrows and it has made them grow so much more. It is now officially a must have product of mine!

Love this lash conditioner and extender!

I'm a big fan of this product - I think it definitely lengthens the lashes before applying mascara, and even gives them a bit more "weight" and curl. It also makes mascara glide on better, and I feel like my lashes are a bit more protected from the crunch of dry mascara. I'm not sure it's making a difference to the length of my lashes, but definitely feels like it's healthier for them. Would re...

Read More

Helps lash's grow

love jane iredale products this is great to apply before applying mascara

Price is great but product could be better

Ive been trying this daily for a month now purely for a conditioner and I cant say Ive gotten any extraordinary results. To be fair I have very thin eyelashes but I have not noticed too much of a difference. Will not be re-purchasing

Lashes look longer

I don't like wearing a lot of mascara (I prefer the no makeup look) and bought this thinking I could wear it instead of mascara. It definitely made my lashes instantly look longer - however it is white so you do have to wear mascara with it.. This with a slick of brown mascara gives me natural looking but defined lashes.

Great conditioner and extender

Since starting to use this I have noticed my lashes are longer, fuller and more robust. I would certainly recommend this product to anyone who is trying to get their lashes back on track.

Extends my lashes

It definitely does as it says and extends the lashes (it looks like I'm wearing mascara). However not sure how conditioning it is for the eyelashes as it feels like mascara as well.

Helps restore my damaged lashes!

My lashes were few and far between after having extensions and I was wondering how I would cope without them. I bought a well reviewed mascara and was so disappointed that it didn't seem to live up to its hype - until I paired it with this primer! This made all the difference and added length to my stumpy lashes and separated them beautifully, preparing them so my mascara can work as it's optimum!...

Read More

Stronger eyelashes

I received a sample of this in one of my orders. I love it, my eyelashes feel stronger and less brittle.

Lashes feel good

I have been using this for a couple of weeks now and it is conditioning, I get lash lifts every 6 weeks and need something to keep my lashes hydrated I wanted something I could apply to the lashes like a mascara not just on the lash line like most and this does the trick.

No seeable results

Skin: slightly oily skin around the eyes.
Lashes: short, thin, light-coloured

I received a sample of this primer in my recent purchase. I was quite excited to try this to see if I could see some great results on my short lashes. Unfortunately I did not see much. I tried this primer with the same of the longest lash sample mascara and neither product worked for me.

O...

Read More

Good product

I received this as a sample and I think I'll buy a full size! I often have lash extensions so I don't always use it but between extensions I use this and it's one of my preferred lash products.

Who needs false lashes?!

For the last couple of years my lashes have been falling out so badly and I was forever worried about the huge gaps in between most of my lashes. I have average length with a slight curl and I have always loved my natural lashes but the fall out was my main problem. After coming across this product however, I have gone from 5-6 lash fall outs a day down to 0-1 and the gaps are slowly diminishing, ...

Read More

Lush Lashes!!!

If you want soft lush lashes, you need this product. I now have extra natural length and soft lashes with very little fallout. Use under your mascara for maximum effect!! Fabulous, highly recommended!!!

It really does increases lash volume and length!

I absolutely love this product!! I apply prior to my mascara and I've been amazed at well it increases my lash volume and length. I have been asked on a few occasions now where I get my false lashes done and people are amazed when I tell them they're my own it's because of this amazing primer. nb: I use NARS climax mascara ☺️

Great product

I love using this before bed, and also under mascara. I have found my eyelash are thicker and don't react poorly to curling. I don't think the length has changed much but I do like knowing that by applying it before mascara, that I am being kind to my lashes

Won't be without it!

I received a sample of this from Adore Beauty once and after using it on my lashes before application of mascara, I have been amazed at how there is no more smudged mascara on my face! I wish I had known about this product years ago! It has also improved the quality of my lashes, making them longer and less prone to breakage! This will defintely be a regular purchase!

Love it

I purchased this product based on reviews and it does extactly what it claims I have noticed a difference already and makes my lashes look longer. I use this product everyday.

I thought a lash primer would be a waste of $...

I received a sample of this and used every last drop of it so I'm off to purchase the full sized product. It works super well with all my mascaras, it seems to do an awesome job at separating my lashes and tends to help my mascara not clump! Highly recommend.

Impressive results

I was incredibly sceptical about this product but thought I'd give a try based on the amazing reviews. I'm now on my third tube!
This genuinely gives greater volume, curl and separation to my fine lashes and makes mascara apply more smoothly and with fewer clumps. I love that you can use it with any mascara you have.
Would recommend applying it one eye at a time - a coat of PureLash an...

Read More

Perfect Base

This is a perfect base to add Mascara too I also love at the end of the day it makes the mascara come off my lashes so easily and leaves them feeling so much silkier

Loving it so far

My lashes have become quite straight recently and I've just started using an eyelash curler for the first time. When I saw the positive reviews for this, I thought I'd give it a try.

I have started applying it after curling my lashes and before applying my mascara and it conditions and primes my lashes really well. My lashes aren't short but it boosted the length enormously and my las...

Read More

Worth it

This really conditions and improves lashes. Highly recommend

Fantastic

I apply this before I put on mascara in the mornings and it makes my lashes look soooo good! So long and soft and separated. I also apply this on my eyebrows and lashes every night as well before I go to sleep. I feel like my lashes seem more thick which is great! And they definitely don't fall out as much. I've been using this on my eyebrows for almost two months now. I have a small bald area on ...

Read More

Brilliant product

I bought this to strengthen and thicken my damaged lashes after eyelash extensions. Product conditions and curls lashes beautifully.

Thicker healthier lashes

I bought this to strengthen and thicken my damaged lashes -- so far, so good! It also helps my black mascara to go on smoothly and look natural with minimal flaking during the day.

Holy grail

This is a holy grail for my lashes. Conditions the lashes so well and curls lashes love it. Definitely recommend it to anyone

Really great

Such a perfect base for building up lashes with mascara. I can't quite believe how effective it is.

No crunchy dry effect, just moisturised loaded up lashes.

I use it at night too as a treatment and am sure that I'm getting increased growth as a result.

It's the kind of product you are sceptical about until you get it - and then it's like you can't live wit...

Read More

Love my lashes!

I don't know what I ever did before this product. I'm addicted!
I usually apply it in the morning before my mascara. My mascara goes on really smooth, and it works even better! My lasher are longer and have more volume. I don't spend nearly as much time applying my mascara. One coat is all I need.
I use a waterproof mascara because any other mascara just tends to run on me, and I usual...

Read More

Grow your lashes

I get my eye lashes tinted and this product appears to help grow my lashes - I've noticed more new lashes growing (upper lid) and previously unseen lashes (lower lid) suddenly becoming visible after only two weeks use!

Fantastic for my damaged lashes

Fantastic for my damaged lashes I highly recommend

Better than vaseline.

after lash extension my lashes are damaged, so i used vaseline which causes sensitive, this is better on the lash, it feel nice.

This really works!

After ruining my own lashes which were always naturally sparse, straight and short with years of lash extensions I never thought I'd be able to 'grow my own'... until I got this product. OMG! After less than 2 weeks my lashes have improved noticeably and I can actually CURL them and easily apply mascara. I'm addicted to this product and don't ever want to run out. I apply in the morning under masc...

Read More

Excellent product

The eyelash extender really helps to lengthens my eyelashes without being gluggy or clumpy. Other conditioners I find dry too fast and then its a bit difficult to put the mascara on but this one is perfect.

Very pleased.

This product is amazing, I put it on twice a day and it makes your mascara stay on longer without any smears or clumps.

Really conditions lashes

This is great for when you've had a lash lift or colour to help keep my lashes long and healthy

Lovely and good for sensitive

This has helped with my sensitive lashes, I used to get irritated after a day of wearing mascara but this primer has been great so far. Glad it's cruelty free

Brilliant

I received a sample of this and love it. My lashes look longer and mascara is so easy to apply after and isn't clumpy!

Long lasting luscious lashes!

I received this as a sample from Adore, and wow am I grateful! This product is amazing, and I was skeptical at first, thinking that this is just another product adding to the length of my morning routine. But, this product is worth it! It makes my mascara (Eye of Horus) glide on beautifully, makes my lashes long and no smudging throughout the day. A great lengthener when used with a good mascara! ...

Read More

Makes lashes look longer

I love that this helps to makes the mascara work better, as Jane iredale is a subtle brand, so this helps alot. It makes my eyes look bigger, and clumps it a little so the lashes look thicker. 10/10 recommend :)

Works so well!

I got this a free sample and tried it out - amazing!
Makes my lashes so long when it goes under my mascara. I have had so many people comment on them - must be working!

Great product

I had never heard of such a product when I received it as a sample and to my surprise it's works really well . My mascara always looks clumpy no matter what I do and this made my mascara glide on ! Really handy proudct!

A protective coating and natural looking lashes

When I first purchased my mascara I decided to try the conditioner at the same time. It was definitely the right choice! The conditioner provides a nice coating and helps the mascara to glide on effortlessly and stay in place. A light application of mascara is all that's needed. My lashes appear thicker, natural and best of all...no clumps!