Jane Iredale Longest Lash Mascara 12g
Is this for you?
This dual-purpose mascara formula contains sea minerals that condition lashes so they can grow to their fullest potential.
Frequently bought with
Please wait while we find a match
Questions & Answers
(1 Question)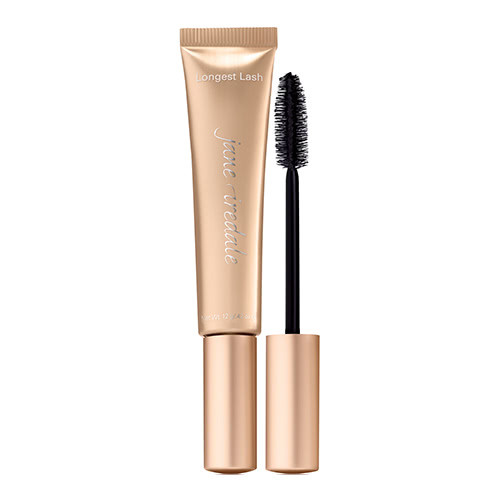 Jane Iredale Longest Lash Mascara
Get an expert to answer your question about this product!
53% recommend this product
Most Helpful Positive
LOVE this
A great everyday mascara. The brush in particular I really like, it gives a soft natural looking lash.
Most Helpful Criticism
Great results but very irritating to eyes
I received this as a sample, love the way it makes my lashes look very natural but still bold without being over the top built up. Not a great mascara for building layers, more of a natural look but really makes your eyes pop. Though I found this mascara highly irratating at times due to the lash fibres so based on this I would not purchase.
LOVE this

A great everyday mascara. The brush in particular I really like, it gives a soft natural looking lash.

Great results but very irritating to eyes

I received this as a sample, love the way it makes my lashes look very natural but still bold without being over the top built up. Not a great mascara for building layers, more of a natural look but really makes your eyes pop. Though I found this mascara highly irratating at times due to the lash fibres so based on this I would not purchase.

So-so

I received a sample size of this mascara. Unfortunately this mascara did not do much for my lashes. I have short, thin lashes and had to apply several coats. As i have oily eyelids, I use translucent powder around my eyes after an eyelid primer - sadly this product still smudged after a few hours.

Meh - smudged after a few hours

I struggle to find any mascara that doesn't smudge on me.I received a sample size and the first two applications went on well and looked great- but after a few hours I looked like I had panda eyes. I felt the mascara dried up quite quickly and was harder to use the older it got. Wouldn't buy it again or recommend - especially for the price.

Excellent

I received this as a sample. I've been happy with Jane iredale products!
I always have a problem with mascara running. No problem with this one :)

Amazing!!

In my younger days, I hated mascara. Absolutely loathed it. It always went clumpy and messy and just.. everywhere.. and it always made my eyes water. I was instead a heavy eyeliner kinda gal.
I received this as a sample. I opened it, saw the super volumes of style applicator, and gave it a shot.
I'm a changed woman.
Literally, this changed my entire makeup routine because I no longer had to wear eyeliner to make it look like I actually had eyelashes. My eyeshadow is lighter, and I now wear blush to soften my face.
This stuff goes on like a dream. Doesn't weigh my lashes down at all and helps them stand tall and proud.

Not the best

I received this in a sample size and wasn't Impressed at all. It was quite clunky and took ALOT of coats to even look like I had mascara on. During the day it also smudged under my eyes.

Dried out so quick!

I had really high hopes for this mascara as I love so many of Jane Iredales other products but it dried out so fast and clumped up that it was by no means worth the price tag!!

Does what is promised

To be honest it is a bit pricey for a mascara. Love Jane Iredale products but still find this one smudge after wearing for a few hours. I do have really oily eyelid so it is hard to find mascara that doesn't fall.

Natural finish.

I tried a sample of this mascara. This gives a very natural finish. It's nice if you want to create a no make up look. It doesn't do a lot for my fine, sparse lashes. It does smudge when my skin gets oily. I love the tube packaging.

It's a no go for short and thin lashes

Skin: a little oily under the eye; sufferer of "panda" eye
Lashes: light colored, thin, short

I got a sample of this mascara and the primer with my recent purchase, and it is a good thing I did because this would not have been worth the buy.

Cons: The brush is too thick and bulky, applying the mascara was difficult and messy. After a few hours of wearing it without something to absorb the excess oils, the mascara bled a bit.

Result: it did not make my eyelashes look any thicker or longer.

Convinced me to leave waterproof mascara behind!

I received this as a sample and I was sceptical at first since I hadn't used a non-waterproof mascara since I was about 13. Foolish me. This is a wonderful mascara, it provides great coverage (I have red hair so very fine and light coloured eyelashes) as well as length, and the only time I've had trouble with smudging has been when I've had a cheeky nap after getting home from work, without taking my makeup off! I'm so happy to have easy to remove mascara, I'm not sure I'll go back to waterproof again. Extra points for Jane Iredale products being cruelty free.

Not a fan

I received this as a sample and was so excited to use it as read the reviews, however must say I was disappointed did nothing for my short eyelashes and transferred under my eyes unfortunately.

HIDEOUS!

Aaaaargh! Thick, clumpy, flaky formula with a big cumbersome brush. Panda eyes verrry quickly. Thanks for the sample as always Adore but it's a hard pass from me sorry!

Love this Mascara

I love this mascara. Originally received as a sample and I will definitely be purchasing the full sized product. It doesn't flake or clump and applies really beautifully. I have short little lashes and find it makes them look much fuller and longer.

The only drawback for me would be the price tag, but I love it so much I'm willing to pay.

Perfect for sensitive eyes

In the last year for some reason my eyes have become incredibly sensitive to mascaras, regardless of the price point or ingredient claims - Maybelline, TooFaced, Eye of Horus, all have made my eyes red and watery by the end of the day. I received a sample of this mascara and it was a success! My lashes are pretty long naturally, but I want a mascara to give them a good lift and curl, and this does just that. I haven't had a problem with smudging or flaking as others have, luckily, as this is the only mascara I've found that works for me!

Not the mascara for me!

I bought this after reading all the great reviews and am so disappointed. I have hooded eyes and shorter eyelashes and this did nothing to make my lashes look full. The brush was really quite thick and awkward to apply. Not only that the product transferred to my skin throughout the day. I have tried this on many occasions because it was so expensive but it really did nothing for me.

Nice enough

Its a nice texture and it did lengthen my lashes a little, but it doesnt have much hold, so it seems to lose its lengthening effect if that makes sense. It essentially feels lightweight

Subtle Everyday Mascara

This is the first mineral mascara that I have tried so I'm not sure what other mineral mascara's are like.
But this one was pretty underwhelming. I don't have the thickest longest lashes so I really need all the help I can get and unfortunately this wasn't enough.
I think it would make a great subtle everyday mascara for some people but I didn't find it volumising or lengthening at all.
The formula seems very dry to me also and caused flaking.
I think from now on I will stick to my usual Lancôme mascara.

Love This Mascara

This is the best mascara I've used. It doesn't clump, and keeps my lashes looking long but natural

Love

This mascara is probably my favourite. It leaves your lashes looking full and beautiful but not cakey and overdone. It's beautiful. However it does flake a bit but that might just be because I've had mine for ages and left it in the heat of the car.

Great for a mineral mascara

I received this as a sample and am considering buying the full size. It performs very well for a mineral mascara. The only reason I didn't give it 5 stars was because it left marks on my eyelids where my lashes touch- which I really don't like- but it's a great mascara so I could probably deal with it.

Lovely mascara, suitable for sensitive eyes

This is honestly such a beautiful product. I apply a layer of the eyelash conditioner first, then apply a few strokes of this to both upper and lower eyelashes. Has a lovely natural look and really elongates the lashes. It's not waterproof and i find it does shed off my eyelashes throughout the day, but doesnt leave any panda eyes!

The MOST beautiful NATURAL looking lashes

I received this as a sample with purchase and have gone on to purchase a full size. Although it is more expensive than other mascaras out there I am super picky, and this is worth it. The brush is oversized and a little tricky to master at first, but boy, does this give me the best lashes I have ever had. I look like I am wearing mink eyelashes. Long, full lashes but still natural looking which I love (I am in my 40s so have to try and act my age a little bit). I only gave 4 stars as I do tend to have an oily lash and without a primer under, I did get a little panda eye after about 4 hours, but my daughter did not experience this at all. WILL buy again!!

Good, natural-looking product.

Purchased this product in the espresso colour. Definitely can see more defined lashes - separates and coats so far without being clumpy. Also some lengthening going on with the application of this product. I prefer a natural look every day - but multiple coats would be necessary for anyone wanting a more 'dramatic' effect. I also like the idea that it conditions lashes. Not a budget product obviously - but a good one.

Nice and natural look

I received this as a GWP and found it nice enough - it resulted in natural looking lashes which were visibly lengthened and I feel like it conditioned my lashes, but found it smudged easily and I started getting "panda eyes" after several hours. I also found the tube a little awkward to use, but that may be because it was sample size and not full size.

Nice mascara

Received this mascara in a promotional giveaway and have worn it a few times. The brush gives good coverage and the colour is good but unfortunately for me I had issues with smudging every time. For the price I would expect it to be more smudgeproof and have longer staying power. There are a lot of other mascaras on the market that I would choose before this one.

Great natural looking mascara

I received a small sample size of this mascara to try. I find it to be a really good natural looking mascara which would be great for everyday makeup. It is also really great at lengthening my lashes, especially when used with the lash conditioner. I find it does smudge a little though if wearing all day. Overall though it is a great natural looking mascara.

Very nice

I really like this mascara. It doesn't give a false lash effect but does give a lovely, natural look. I love that there is not even a hint of clumpiness. Each lash is perfectly defined. On me it seems to look good for about 4 hours before I need to repply.

great natural looking lashes

so soft and great colours, doesnt look clumpy, thick or make me look like I'm trying to look 20 years younger. Doesnt smudge or iritate my eyes. Love the soft tube. My lashes are a little light on, so its a bonus that this conditions and nutures my lashes whilst I wear it.

Jane Iredale Longest lash mascara

OMG love Jane Iredale Longest Lash Mascara --so easy to apply no panda eyes! Great product.

Really impressed

I've not used a Jane Iredale product before and was happy that this brand was in the mascara sampler pack. I absolutely love the packaging. It's such a unique and innovative idea to have a squeezeable tube. The pliable tube allowed me to coat the brush with lots of mascara, all over. The brush is awesome, lots of bristles that hold a lot of mascara, which in turn deposits the perfect amount of product on to my lashes. This says it makes the lashes look longer but I found this mascara actually built up my lashes, creating a more voluminous, dramatic look. I love this mascara.

If you like Panda eyes ...

I was looking for ward to using this mascara given Jane Iredale's reputation - but no matter what I did, panda eyes were guaranteed. The mascara just wouldn't stay on and had a tendency to make my eyes water which didn't help. The brush was okay but there are many better ones out there. And as for lash length - again just OK. I'd never use it again - especially at the ridiculous price.

Jane Iredale

A fan of all Jane Iredale products, good quality mascara with excellent results.

I would buy this mascara

I will be buying this mascara after Sampling it. It doesn't clag my lashes, or leave black spec on my skin or smudge if left on overnight, or run if I accidently rub my eyes. It separates my lashes well when applied. It's a natural looking black.

Let me start by saying that I'm no mascara afficionado,so I can't compare this one to any high end brands. This is a very nice mascara,the formula is quite thick,which I prefer,it applies well coating all lashes evenly and the added fibres do seem to add thickness and an overall fuller look to the lashes.I haven't experienced any clumping,I like the bigger size of the brush for reaching a good number of lashes in one go and I really like how easy it is to remove at the end of the day. I've worn it on a very long and warm day and didn't get any transfer onto lids or anywhere else.Overall a great mascara!

I love this mascara. I think it's the best mascara I've used. It's great for my sensitive eys, coz I have found lots of mascaras irritate my eyes, but this one doesn't. Also, it applies onto my lashes evenly, no clumping. The brush is great and it reaches the small lashes on the corner of my eyes. My time to apply mascara is not really fast because I don't need to apply so many layers to get it on all of my lashes. Also, removal of this mascara is so easy, no tugging or pulling out your lashes. The only thing I don't like is the price. It is very pricey for a mascara.

I tend to be picky with my mascaras and why shouldn't I be when there are a bazillion formulas on the market. If you have sensitive eyes then I highly recommend you try Longest Lash Mascara without hesitation because it has done wonders for my lashes - in no time at all my mid-length lashes become so long it looks as though I am wearing long and fluttery false lashes, without the heavy feel. Black Ice is a deep black that helps to accentuate each lash and with its lengthening formula this awesome mascara provides long black lashes in a matter of minutes. I say 'minutes' because it does take a couple to spread the formula evenly and to give a little bit of fullness to lashes, as mineral based mascaras do not have thickening ingredients in them but I recommend you spare that extra minute because Longest Lash Mascara will impress. It does not smudge or go flaky and drop under the eye like some formulas do and having sea minerals that condition lashes, you can be assured your lashes are being strengthened as you enjoy the temporary benefits of the product. The packaging is so cool - at first glance some would think the mascara is a lip gloss tube but this helps the wand grab as much product from the tube as possible without it getting wasted. Plus the wand's extra large brush gives a beautiful mascara a masterpiece finish every time guaranteed. I am in love!