Jane Iredale D20 Hydration Facial Spritz 59ml
Official Stockist
FLAMMABLE

This item is flammable therefore postage is restricted to Standard Post within Australia
Is this for you?
D2O Hydration Spray resists evaporation, hydrates and plumps the skins surface and gives the face a more youthful appearance.
Cruelty Free
Vegan
Sulphate Free
Frequently bought with
Please wait while we find a match
Questions & Answers
(1 Question)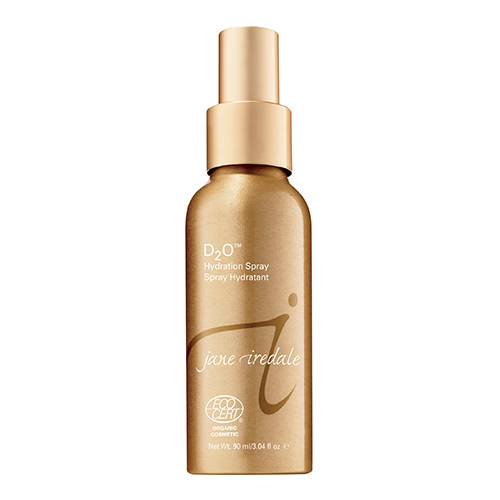 Jane Iredale D20 Hydration Facial Spritz
Get an expert to answer your question about this product!
94% recommend this product
Most Helpful Positive
Nice
Very hydrating. Have been using it underneath my moisturiser and my skin is plump and glowy. Really great!
Most Helpful Criticism
skin looks dewy and amazing
love this product! has a nice smell to it! lasts ages!
Nice

Very hydrating. Have been using it underneath my moisturiser and my skin is plump and glowy. Really great!

Nice smell

Smells good, super hydrating but very expensive, so lost a star for that, can find something similar for way cheaper

skin looks dewy and amazing

love this product! has a nice smell to it! lasts ages!

Quite pricey

I love this for what it does but not sure if keep repurchasing due to the price. I have tried other spritzes that do a great job and are half the price. This one does leave your skin feel very refreshed and hydrated though

My skin looks so good

My skin is so soft and hydrated from using this. Stunning skin!

hydration nation!

I have dry skin. I wanted my face to be hydrated throughout my work day. I purchased the D2O spray to lightly spray my face to keep it natural, dewy, feel of softness, and no dryness on my makeup face. I used the contents as directed and am pleased with the moisture that the spray provided. I'm excited with my results and the availability to purchase a REFILL to save money! Awesome product and ingredients!

Well hydrating and setting make up beautifully

Love this product especially the Pommist...smell fresh and just deliver a quick hydration while setting the makeup at the same time. I use it throughout the day as I work in an air-conditioned office. Good size for carrying around in my bag.

Lovely

Has a lovely subtle scent and is lightweight and refreshing. Not overly hydrating, but gives my skin a quick moisture boost when needed. Light dewy finish so my skin is gleaming perfection

Sets Make up and Hydrates Skin

This hydration spray is great for setting my make up or giving my skin a freshen up throughout the day.

Great

Great spray that sets my foundation and definitely adds hydration to my skin

Great hydrating mist but works best under foundation

I've used this both under and over foundation and find that I prefer to use it before foundation. Unfortunately, I found that this tends to break down my foundation when sprayed over the top. Otherwise, this is a beautiful hydrating mist with a lovely scent.

Loooove it

I use this product after toning as I have combination skin. It's an amazing product that doesn't make my skin oily like other sprays. I love how my skin feels after using it, it's pricey but I use it like it's going out of fashion.

Nice hydrating spray

I apply this before and after foundation for added moisture and to help my makeup set. Smells nice and not too overpowering and adds a nice amount of hydration to my skin

Refreshing

Great hydrating face must. Can apply this on bare skin for hydration or use to set makeup and add moisture

Leaves a dewy finish

Such a great hydrating spray! It leaves your skin feeling plumped and refreshed and also a dewy complexion. A very versatile spray as I use it during the winter months when my skin is dry and also during the summer months when I feel my skin needs to look more dewy and hydrated.
You can also use this product to set your foundation- it has some pretty good staying power.
The only negative, is that the dewy/hydration feel doesn't last for long. You will need to spray it throughout the day and it can feel a little heavy at times.
I would use this more to set my makeup and throughout the day I would use the Ella Bache Mist spray because it feels more lighter on the skin!
Nevertheless, an amazing product.


Great for summer and air conditioned skin

Love this product! I've been using it for the past week (of hot weather and constant air conditioning) and have noticed my skin feeling far more hydrated than before. I recommend spraying it just before bed.

spritzy spray

GREAT OVERALL. so refreshing, will purchase again