Jane Iredale Amazing Base Loose Minerals SPF20
Skin Type:
Normal to dry
Normal to oily
Oily
Frequently bought with
Please wait while we find a match
Questions & Answers
(1 Question)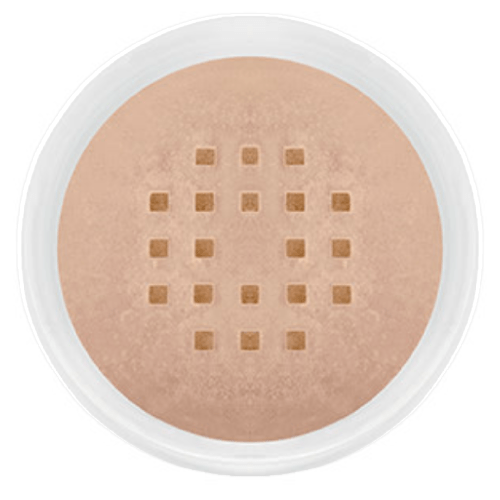 Jane Iredale Amazing Base Loose Minerals SPF20
Get an expert to answer your question about this product!
Ask a Product Question
92% recommend this product
Most Helpful Positive
Keep face matte
Love this loose powder. Keeps the face matte and smooth throughout the day
Most Helpful Criticism
good coverage for combination skin
i like this loose powder by Jane Iredale, all her products are so amazing and easy on the skin! dont clog up pores and easy to remove! good coverage as well!
Keep face matte

Love this loose powder. Keeps the face matte and smooth throughout the day

Great

I've been using this as a powder over my normal liquid foundation and I've found it works very well. I think it would not be enough coverage for me if I used it alone as a foundation. I love that it has natural ingredients and it's a very good color for me.

good coverage for combination skin

i like this loose powder by Jane Iredale, all her products are so amazing and easy on the skin! dont clog up pores and easy to remove! good coverage as well!

Great coverage for oily skin

I love that this product doesn't clog my pores and still has good coverage. It last a long time and a little goes a long way. I pat it straight on spots asa concealer and then use a kabuki brush for my whole face. Doesn't leave my skin shiny like liquid foundations.

Fabulous

Great powder, looks good on it's own or on top of a liquid for more coverage. SPF is a plus too!

Beautiful finish and coverage

I'm a Mac convert! I have been finding my skin drier and with more fine lines appearing as I approach 40. I just love the finish of the loose minerals- it can be layered for more coverage and a little really does go a long way. I like to use a large firm liquid make up brush to apply a little to problem areas first, then a loose all over with a larger brush. Stays all day and coverage is good but very natural. I would recommend rather than removing sticker just puncture 3 holes to begin with so that not too much product comes through. SPF is a bonus with the introduction of retinol to my skincare!

Really good!

Very light weight. This is one of my favourites as it doesn't make my dry skin look gross. Very beautiful!

Love the skin glow

One of the best mineral powders to purchase. I simply love the beautiful glow this powder gives my face and the fact that it stays perfect all day/night. My skin can breathe while I'm wearing.

It's called Amazing Base because it is Amazing

You definitely should apply this loose minerals powder with a good brush! A little goes a long way. Perfect for a light to full coverage. Can be messy so I only use this in the morning before I leave the house.

Great powder

I love Jane Iredale and this is a great everyday mineral powder. It can take a bit of practise to get it on correctly and if you don't do it properly you can waste a lot of product, it settles onto the skin nicely without being caked and the SPF 20 in it means I can pop it on in place of a tinted sunscreen

Light Weight And Buildable

This powder is perfect for someone who likes a light weight make up that looks great and natural but doesn't feel heavy or cakey on the face. It's easy to build up for a full coverage and lasts all day.

I'm a Jane Iredale convert

I've always been a "mac addict" but I thought I'd give Jane Iredale a try as I was looking for a powder with SPF. It does what it says - gives skin luminous, natural coverage for a smooth and even complexion, blurs redness and uneven skin tone, covering seamlessly with a no-makeup feel. Warm Sienna is my colour and it's a perfect match for my skin tone. I love that it is recommended by the Skin Cancer Foundation too.

Shade different to pressed powder

I bought the pressed powder version in golden glow and it was perfect. So I bought the same shade in the loose powder but it turned out to be one or two shades darker and left me looking like I had a very bad focused tan. The shade mismatch was too distracting for me to objectively judge the formula. If you are happy with the pressed powder, I recommend sticking to that or getting this product in a lighter shade than the original.

Amazing

Amazing it feels so light on. Love it

Amazing indeed!

After humming and haahing over this for months, i went ahead and bought this in Ivory before chistmas - hooray! I am very fair and can just pull ivory off - unless you're a true pale this shade will be white and chalky on you. It has taken me a couple of weeks to really nail the application, but now i have i am super happy. I ended up buying a new brush just for this, because my others weren't doing the job quite right - i think because the powder is soooo fine, with the wrong brush half of it ends up in the air. I bought the new bare minerals 'beautiful finish' brush - which works brilliantly with this powder. Also i made the mistake of puncturing too many holes in the container - learn from my mistake and start with three, which is what i'll do next time (at the moment i have a mound of powder in the top half of the container which won't go back down...) Will definitely repurchase this, it doesn't irritate my sensitive skin unlike a lot of other 'natural' mineral powders. Also, i use a very nourishing moisturising balm under this so i don't get flaky patches.

Beautiful loose powder

I've used this powder now for over three years and I'm 21. I like to use the pressed powder on areas that I need coverage then I go over the rest of my face and on top of that powder with this one and it gives such a beautiful glow, the powder sinks into the skin and looks even better as the day goes on. I've tried to use other powders but always go back to this one I love it that much! Even after sweating and being rained on this powder stayed put and looked just as beautiful, it's honeslty perfect !

Awesome

Awesome foundation!! Light and great coverage. I get so many compliments on my skin when I use this.

Good

This is a great powder. Not cakey and feels great on my face. Lasts all day.

It may be pricier than most mineral powders but its worth every cent

I have fair to medium skin with areas of significant loss of pigmentation. Most foundations actually highlight the areas where the pigmentation is lost. However this mineral powder offers fantastic coverage even with light application when you don't want to look like you're wearing make up. Basically, I can put heavier layers on for a going out made up look look or a light dusting for the natural day look. So it's two make ups in one. The loss of pigmentation is quite noticeable with my skin, I had not seen some friends for a couple of years and the first thing they remarked on was how good my skin looked and its was down to this mineral powder. Double bonus it has a SPF 20 in it, with my skin I am prone to skin cancers and with the Australian sun you can not get enough protection from the sun. Best to put on a minute or two after applying moisturiser, when it has started to soak into your skin but is still slightly wet. A sprits of water in summer can freshen the look, but it tends to stay on all day. Usually lasts about 3 to 4 months using it everyday.

My GO TO powder

I've been using this powder for something like 6 - 7 years now, and I do love it so much.

It can be lightweight, but it is buildable, although I wouldn't recommend this for people that want FULL coverage.

I like being natural but I get pesky breakouts etc. so paired with a good liquid foundation and concealer I do find that this powder is amazing on my skin and doesn't look cakey or gross.

It is definitely suited for sensitive skin, I can attest to that and I does help if you are breakout prone like me as I find it doesn't irritate.

Overall, a beautiful product - I will keep buying.

Light weight but great coverage

I've been using this brand for a few years now and I love the great coverage it provides but with a light weight feel. I use it both in the summer and winter months, I have an oily, combination complexion and the powder is great at covering my flaws but has a dewy finish. Would recommend for anyone that likes a good coverage without the caking feeling or flaky look some powders can leave you with.

Light coverage

Good light coverage look with this. Its hard to build up as it doesn't look too good when you do.

Spf is a major bonus.

Nice

This is a nice and light mineral product. Feels very light when I use it. Lasts a long time.

Great coverage

This product is great over bb cream or a light coverage liquid foundation and provides a smooth finish that isn't too heavy and which doesn't clog the skin. It's equally good when used alone if you're after something lightweight

Still evaluating

Recommended by my dermatologist. Bought this in warm silk. However I feel there isnt enough coverage even after many layers and I find warm silk a little too grey. On the plus side, not cakey doesn't even look like I have makeup on and high spf!

A little bit goes a long way

I have used many loose powders over the years. Perhaps it's a generational thing and I like to "set" my makeup as once it's on I don't bother re-touching throughout the day.
This loose powder isn't drying on my skin, has good coverage but be warned you need to be careful not to apply too much! I would also recommend only piercing a few holes in the lid so you can control the powder. Less is more!
I find this product has good coverage and if I just want to apply a little dusting without foundation to give me colour it works fine for that too.
I have pale, sun damaged skin and am in my late 40's and this product doesn't sit in fine lines. When you get to my age that's a plus! A big plus!!!

good for normal/dry skin

very soft powder, good coverage, doesn't irritate sensitive skin, however my T zone becomes shiny and need to blot after a couple of hours on my combination/oily skin, this loose powder would suit someone with normal or dry skin.

I loveee this foundation

This is my go to foundation, I always wear it. It honestly makes your skin look so air brushed and just flawless. I have quite an oily t-zone, and even though it does have a dewy finish, it lasts me all day. It's sweat proof and water proof, which is so amazing especially if you live in an extremely humid hot place like myself. This powder does NOT add coverage, I have quite red skin and do break out, so I just use concealer before hand.. When I want a full coverage face base, I still use this on top of the liquid foundation I've put on first and it just leaves you looking flawless. Could not recommend this enough. Just take note though that the colours are different in the loose and pressed powders, I have Amber in the loose powder and ordered Amber in the pressed and it's such a different colour, the pressed powder is so much lighter in colour compared to the loose, so take that in mine if you already own the pressed but want to try the loose powder

Excellent product for a light, natural look.

I've been using this product for around 10 years and I still love it!
A couple of useful comparisons:

* This is a lightweight powder, you will not get coverage like liquid - they have a wonderful liquid foundation too, which I wear on nights out for a more made up look.

* If you paint yourself up like a beautiful doll every morning, this product is just not for you, it gives an incredibly light, natural look.

* Apply immediately after you moisturise (while still a bit dewy) for best coverage, if your skin is dry, the powder doesn't stick as well and requires layering to get coverage. I use a JI's Kabuki brush.

* Its an awesome concealer - use a small makeup brush to touch up any blemishes after you have applied to you whole face.

*Great value for money - its a bit expensive up front compared to other brands, but I get 4 - 6 months out of a pot of powder.

Good but never matches my skin tone

I am torn with this foundation. I like it because its great for sensitive skin (which I have) and has sun protection. It's also good post laser ( I used it after getting laser for enlarged pores/ acne scars) and it never irritated my skin. The downside is that I just cannot find a colour that matches my skin tone, I have tried from warm silk through to light beige and a few colours in between them; I was even colour matched at a salon for Warm Silk (the first time i tried Jane Iredale) and it was way too dark, as soon as it finished I tried a lighter shade which was also dark and too yellow based and so on; at the moment the lightest shade I was recommended was Light beige which is just too pink based for my skin tone. I am quiet fair but with yellow undertones because of my mixed background (father dark and mother very fair yet my skin came out very fair like my mums but with yellow undertones like my dads). I even tried the pure pressed range which seem to be lighter on the skin and although I was able to find a closer shade to my skintone (Amber, although still a bit yellow) in this one it just does not last like the loose minerals range and within a few hours it oxidised /gets a bit cakey and you can tell I'm wearing make which I do not like.
I'll finish the light beige loose minerals but I have decided to try out other natural mineral make up brands because I feel its too match to spend for a foundation that does not even match my skin tone and therefore does not look natural.

Fantastic if you have good skin to start with

I've used this product for years now, and never wanted to stray even though it's expensive. If you need alot of heavy coverage due to colouration or acne this alone will not suit you.
If like me you have overall very nice skin with a few blemishes and the odd spot along with light pigmentation you will find this excellent. I apply immediatley after moisturising with the Kabuki/Handi brush and then use a small brush to apply a little extra directly to things I need to conceal further.
I wear this as my day makeup and use over the top of the liquid JI foundation for a big night out.
so natural and harmless you can sleep in it with no effect to the skin (good news if you colapse into bed after a big night!)

product with power

it is amazing how a good product can make you feel soo good
there are foundations and powders by the hundreds to choose from but this product goes on in the morning stays put all day and comes off in the evening, looking good all day long. i have 2 colours one for summer and one for winter, the summer colour i use in winter as a highlighter
never any irritation lasts for ages makes me happy :)

I hadn't used mineral make up prior to this and was impressed by the sales pitch. Unfortunately, the product has proven to be highly overrated and doesn't live up to many of its claims. My skin is not particularly dry, but this powder feels so dry and uncomfortable on my skin that I can't stand wearing it. I've tried mixing it with my moisturiser to use as a wet foundation, but it still feels dry and uncomfortable. Coverage is very poor and I find the colour tends to grab in some areas and not blend well at all. I was colour-matched by a Jane Iredale 'expert' who recommended the Golden Glow shade which is quite dark and way too pink for my skin. It gives a very matte and pasty finish and accentuates wrinkles... definitely not the fresh dewy look I was promised. I like the idea of a natural make up that nourishes the skin, but unfortunately, this has put me off mineral make up all together. Not recommended and definitely won't buy Jane Iredale again.

LOVE LOVE LOVE!! Great and super easy mineral I have ever used. I found the application using the Jane Iredale Chisel Brush foolproof. Followed the pat and blend method and it came up beautifully. No more buffing like I had to do with other minerals. Stayed on my combination skin all day. Coverage was perfect for both light coverage days and I just add a bit more for more fuller coverage. Covered my spots perfectly. Just used the Camoflague brush! I tried this product without a Spritz at first and the spritz makes ALL THE DIFFERENCE, I felt my coverage was more flawless and 'set' with the spritz. My fair skin is hard to colour match and bisque is perfect for me. Im such a big Jane Iredale Fan now!! Love that its chemical free and has an SPF 20 as well. Bit on the expensive side compared to other minerals but definitely performs better than others I have tried ad worth the spend. I would definitely pay the $ again and again for this high quality product.

Lovely product, easy to apply, good sun protection. Pressed mineral powder wonderful for touch-ups. This product is very light on the skin but gives an excellent coverage with its ability to build. A little expensive, but I would purchase it again.

Now I haven't tried many powder mineral foundations so I really wanted to like this foundation, given the reputation this brand has, but it just didn't live up to my expectations. This product gave a really light coverage and although I don't wear heavy makeup I just didn't find this enough, even when building it up. It didn't even really cover my rosacea, when other mineral foundations have.

I'm a big fan of mineral powder foundation.I find it looks good and lasts well on my fairly oily skin,and I like the convenience of a multi-tasking product;a little bit of sunscreen+concealer+foundation,and of course good-for-skin ingredients.So I really expected something amazing from this powder,with all its impressive ingredients and brand name,and the word AMAZING in it's name.Unfortunately I was disappointed.It is just too sheer,the powder is milled so fine more ends up floating away than on the brush or your face.I found myself applying more and more layers to achieve a light coverage,very time consuming,and of course covered no skin flaws.It did feel lovely on,light and airy,but probably only good for setting a liquid or cream foundation as opposed to replacing one.And with it's hefty price tag,there are much better alternatives.