Inika Certified Organic Liquid Mineral Foundation 30ml
4 instalments of $16.25
Or 4 instalments of $16.25 with
LEARN MORE
4 instalments of $16.25
Or 4 instalments of $16.25 with
LEARN MORE
Official Stockist
Is this for you?
Blurs the line between foundation and moisturiser by hydrating and nourishing the skin, whilst at the same time providing a flawless and radiant finish that lasts all day.
Cruelty Free
Vegan
Australian Made
Artificial Fragrance Free
Certified Organic
Skin Type:
Dry

Normal to dry

Normal to oily
Frequently bought with
Please wait while we find a match
Questions & Answers
(2 Questions)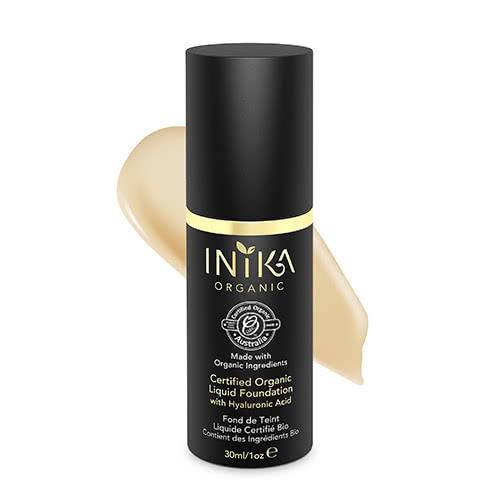 Inika Certified Organic Liquid Mineral Foundation
Get an expert to answer your question about this product!
Inika Certified Organic Liquid Mineral Foundation Reviews
87% recommend this product
Most Helpful Positive
LOVE
One of the best foundations. Great for sensitive skin. Medium coverage. Really easy to apply.
Most Helpful Criticism
average
Love this! I worked through a few shades but found cream to be the best for pale/pink skin tones. The lighter the better! Does go shiny if you use too much - the smallest amount works best. I wear it with the pressed poeder in Strength. Love!

Good for light coverage

I liked this foundation for day use when I wanted light coverage or a natural look. Good colour match for me and worked well with the mineral foundation on top.

LOVE

One of the best foundations. Great for sensitive skin. Medium coverage. Really easy to apply.

My favourite foundation

I ran out of this a while ago, and thought I would try some other brands. They just did not compare and I found myself going back to Inika and I'm here to stay. Feels amazing on my skin, keeps it hydrated all day, beautiful medium coverage and smells lovely. It's a bonus knowing it contains no nasties.

My favourite liquid foundation!

I have been using this liquid foundation for about 2 years now and it is my absolute favourite! I personally prefer light make-up coverage and so I always mix a small amount of this product with a small amount of my face moisturiser (now using Inika maca day cream). I apply with my fingers and get a fantastic even coverage that is very complimentary of my skin tone! I have received numerous compli...

Read More

Wish I had tried the BB cream instead

To be honest I was pretty disappointed with this product. Used maybe a dozen times and have chucked the bottle out. I found that it didn't last very long. The initial application was also hard work, I tried a foundation brush, hands, makeup sponge, but nothing seemed to help me get an even coverage. The product caked and just seem to sit on top of my skin. I tried a few different moisturisers, but...

Read More

Not as good as the mineral powder but still nice!

Can build for more coverage. Unfortunately the shade I picked is a little dark for me but I still don't mind wearing it underneath my mineral powder. The Inika Mineral powder is bomb! And as a brand have so much going for them!

Doesn't stay put

I was unfortunately disappointed in this product.
I have dry skin, yet I found that this foundation did not stay put and ran /got blotchy throughout the day.

Coverage, hydration and certified organic!

This is my favourite foundation. It gives me the perfect amount of coverage and the hyaluronic acid leaves my skin feeling so soft and supple. It is also certified organic!

average

Love this! I worked through a few shades but found cream to be the best for pale/pink skin tones. The lighter the better! Does go shiny if you use too much - the smallest amount works best. I wear it with the pressed poeder in Strength. Love!


Love it

Beautiful foundation, medium coverage, perfect for my skin. I find it very moisturising so if you have oily skin it might not suit you.

so far so good!

I have been using the inika powder foundation so thought I would try the liquid. I found it sets my skin really nicely and isn't greesy! So far so good!

Great

Great foundation for everyday wear. Personally I prefer the pouder but this liquid also offers great coverage and is quite light.

Light mineral foundation

I love this as an everyday foundation, it's light and natural as well.

Still trialling

I have switched from Mac' studio fix foundation to this. The colour match on this is better than studio fix; however I am still trying to find how to best use this product to flatter my complexion. Overall a great product with better tones than its more expensive counterpart; however not sure about the texture. Will persist in hopes of loving it!

Amazing!

This is the only foundation that doesn't make my skin break out mild coverage, but can be layered, non cakey foundation. Gives your skin healthy looking good. Love it.


Beautiful!

The only foundation that doesn't make my skin break out! Mild coverage, but can be layered, non cakey foundation. Gives your skin a healthy look.

Glowing, dewy foundation that lasts

I was drawn to Inika because of its incredible eco credentials around certified organic and cruelty free, and this product really delivers. It's buildable, so you can have light or full coverage, and I find it lasts all day on my normal to oily skin - I use an SPF (Ultra Violette) underneath and by 5pm it's still got a beautiful, dewy finish to it.

I have fair skin that tans in summe...

Read More

Great product but packaging sucks

I would have totally bought this product again, it was a perfect skin match, went on really easy and stayed well especially if I used a setting spray or a tinted moisturiser underneath. BUT the packaging sucks all of the black paint flakes off and my make up bag was covered in it. It might not sound like a deal breaker but I would just have to touch it and my hands would be covered in black flecks...

Read More

Big improvement from powder foundation

With advice from Adore Beauty I switched from a natural powder foundation to this Inika foundation and I absolutely love it. I can layer it for either a very natural look, or layer more on for a special night on. The colour is a perfect match and makes my skin look blemish free, while also hydrated. Highly recommended, especially if you prefer a lighter more natural look. I use the Inika brush t...

Read More

EliLove INIKA

Although the coverage of this foundation is lighter than I like. I've to say I love it. Since I started using it, I have received many compliments regards how bright and fresh my skin looks.


Holy grail foundation for a natural look!

Wow this is honestly up there with your toxic makeup brands and covers blemishes and evens out skin tone probably better than other makeup brands! It makes the perfect natural look while still being able to provide full coverage. Wanted to switch over to natural makeup to prevent breakouts and clogged pores and will never look back!

One of my favourites

I think this is really lovely and I use it constantly. I love it so much!

Just Okay

The foundation is OK. I much prefer the BB cream. I found the foundation went patchy sometime during my day at work. It didn't look too bad, but the BB cream is way more natural looking.

Favourite foundation

Feels amazing on my skin, doesn't feel heavy or thick like some foundations.
It looks natural and has amazing cover for all day use.
Highly recommend.

okay for organic

I feel like it doesnt do the rest of the inika brand justice

A great liquid foundation.

This is a beautiful lightweight foundation,while still providing good coverage. A primer is essential[as always] with it. It does tend to start "drying" if you dot it on the skin and don't start spreading it quickly enough, but it hasn't been a major issue for me. Once again Inika Organic takes the cake for the best foundation for me.

Light and lovely but...

I love the feel of this foundation, it colour matches beautifully, however I find that by half way through the day its starting to disappear and a reapply is needed.

Love it

Mild coverage, but can be layered, non cakey foundation. Gives your skin healthy looking good. Love it. Also, the only foundation that doesn't make my skin break out

Natural-looking, medium coverage and breathable foundation

I love this product. I have post-inflammatory hyper-pigmentation and am prone to the occasional breakout, and I find that on most days, this gives me good coverage (I do require the aid of a concealer for full coverage). I like to set this with the loose mineral foundation, which helps give a nice matte finish. Overall, if you're looking for a medium coverage, natural-looking foundation that allow...

Read More

Perfect

I have been struggling to find the perfect natural liquid foundation that isn't too heavy but has just enough cover for my problematic skin. This is pretty expensive but very much worth it. I would't say it's full coverage but it's not too thick and cakey and that is what I like about it. The consistency of this foundation is definitely thicker than bb cream and gives my skin a nice dewy finish. I...

Read More

Beautiful Natural Foundation

I have been using this liquid foundation for quite a number of years.
Previously I wouldn't have recommended it whilst I was experiencing acne and significant acne scaring ( made it look worse)

But after a few years and healing my skin I have minimal scaring and it covers really beautifully. Feels like the skin can still breathe and doesn't make my face breakout :)

Liquid gold

Luxurious and gorgeous. Applies beautifully and makes my makeup look expensive and glamorous!

Great coverage and natural vegan make up

I love all inika products they are natural and vegan not tested on animals. This foundation is great coverage and leaves you with a nice dewy glow. Long lasting if used with the Inika primer

The perfect mineral foundation

The perfect mineral foundation. I've tried so many and finally found the perfect one! It's nice and lightweight and has an extensive colour range. You get a lot in the bottle too, which is a big plus.

Amazing light weight foundation!

I absolutely love this product. For me it is perfect as I love a light weight foundation that is medium coverage. It applies really nice and leaves your skin looking heathy with out a caked up look. The only reason I didn't give it 5 star is because of the price. Definitely recommend!

Not amazing

It isn't a bit mineral option, but once again with inika I just find the coverage isn't enough for my skin type and I need to reapply and use a lot to get a good cover

absolutely in love!!

is exactly my shade, so good for my skin as it doesn't break me out and has an absolutely amazing finish. will be buying again 100%

Amazing

Beautiful foundation with a nice natural finish and doesn't make the skin break out! Really like this one

Light weight

Such a light weight foundation and natural looking coverage. Totally recommend

Great

Ahhhh i love this so much!! I have tried 3 different 100% pure foundations and theyve all let me down (broke me out in small pimples, enhanced try patches etc) but the inika foundation is just beautiful. I love the smell of it, the color is perfect with my ecotan (shade cream for when i dont use tan). And the coverage is buildable which i love!

Amazing

Amazing foundation for sensitive skin, great coverage and feels nice on the skin

winner!!!!!

Such a good foundation, perfect coverage and such a light weight feel

holy grail

I really like this foundation and the colour, but as others have said, it is very pricey. It does last me a while which is good otherwise I couldn't buy it often.

Really pretty and natural looking

Really lovely natural looking foundation. Definitely not a fill coverage as it is quite sheer. Colour is nicely pigmented and the consistency is nice and blends well. Perfect if you want a natural light foundation

Nice dewy foundation

This is a lovely foundation with Hyaluronic acid so it keeps your skin looking plump. It's great for anyone who loves natural beauty. I used this when I wanted heavier coverage but also used the BB cream for daily use

Great product

I am in my 40s with dry skin. I was after a foundation for everyday wear to work. The Inika Foundation has great coverage foundation without looking to heavy. The package dispenses a bit too much - just under one pump is the right amount. I will be buying it again.

Natural glowy foundation

I purchased a trial size of this foundation in beige. For reference I am Chinese with medium skin tone which tans easily. The beige is a really neutral shade and blends in quite nicely with my skin tone, a great match.

I found the product a bit hard to work into the skin - it dries quite quickly and the beauty blender wasn't able to blend it very well due to it drying. I couldn't rub...

Read More

Foundation I have been using for 2+ years

This is such a staple for myself. It gives a nice light coverage and covers any redness and evens out my skin tone. In the past I was not able to use Inika products due to my acne and to be honest it make it appear worse but for fairly clear skin I highly recommend.

Great everyday foundation

I have sensitive, oily combination skin that is prone to breakouts and reacts to a lot of foundations I've tried in the past, therefore ending up with very sore and large red bumps. I've been searching for a foundation that doesn't cause this, and I've finally found it! Inika foundation is lightweight, I'd say it has sheer to medium coverage, but if you'd like more coverage, you can always put som...

Read More

Good but coverage could be better

Having used other organic foundation in the past, I was pleasantly surprised by Inika. The shade was good for me, and it doesn't look bad by the end of the day (a bit greasy, but not terrible). I apply it with my fingers, working quickly. If you have blemishes to cover, it's probably not the best choice, as coverage is on the lighter side.

Smells nice, but not the right colour for me

Even though Inika says beige suits average white skin tones, I feel like it is on the darker side. However, it is perfect for my sister. She like me has incredibly sensitive skin too.

Amazing to Have an Organic Option

skin type: Fair/yellow base with freckles Dry sometimes sensitive

I really enjoy this product, I first of all bought a trial pack which was great value and I didn't even finish the samples before purchasing full size products!

The liquid foundation works well with a primer or really hydrated skin prior to application. It can at first feel a bit waxy or sticky but this su...

Read More

Thumbs up from me

Inika is my preferred cosmetic brand. The liquid foundation is easy to blend and lasts a long time (I like to use their setting powder over it to extend it's wear). It also doesn't break me out like standard 'supermarket' make up does which is a plus. Would definitely recommend this foundation.

As good as organic comes

My favourite foundation when it comes to organic beauty. Of course it wears off and is much more sheer than foundation with chemicals, but of all the natural and organic brands I've tried, this is definitely the best. I continue ordering this time and time again.

My favourite foundation

I love this foundation because it creates a beautiful and flawless look and natural looking coverage. This is a great everyday makeup because I feel the organic ingredients are healthier for the skin and also is non comegenic which means the makeup does not block the pores and cause acne.
I use a mix of shades to contour with and mix together to create my desired shade :)


Sets too quickly

I was excited to try this foundation after trying the loose mineral powder and being very happy with the powder.
When I first applied I noticed how cool it was on the skin and how lovely it felt on application.
This then quickly changed...... The foundation sets really quickly. Which can cause caking on the skin and a very uneven coverage. It literally will not budge once set.
...

Read More

The best foundation

I have oily/combination skin and struggle with congestion. This foundation not only is hydrating and organic but the coverage is amazing and it doesn't clog pores! Would absolutely recommend this product and I wouldn't use anything else on my face

Great foundation

I've used this foundation for years and I love it!
I love that is organic, vegan and leaves my skin looking flawless. I'm hispanic and the shade I use is honey.
One thing though it leaves my skin quite shiny, so I try other products to make my skin Matt. It looks even shinier in summer so now that I have J Iredale's compact I'll see how I go for this summer coming.


Good to add some colour to face

I bought this foundation as a night colour/tan. It works very good on oily skin, and I totally recommend.

Love it!

I love this moisturiser-Hybrid, as someone who has sensitive and easily dehydrated skin, this is a great product! Its brilliant for day to day and can easily be combined with a bit of powder and a dust of colour in the form of bronzer, blush, highlighter or contour for events.

Very sheer

I wanted to love this foundation but it's quite runny and applies very sheer.

Great ingrediants not great coverage

I do like this foundation but I still feel its more of a BB cream . Nice when you want a very natural look but doesn't stay on all day and what give you that done up look. Very light coverage. I feel this foundation would be good for women with skin sensitivities or really blessed with natural flawless skin.

Good Formula but Light Coverage

I find this mineral foundation to be comfortable and light weight, but coverage is quite sheer. It is buildable but it's not the best mineral foundation I've tried. I'm not a huge fan of the shade range either.

light weight yet good coverage

This lightweight foundation provides a good coverage and feels natural on the skin. Paired with the hydrating make up primer it lasts all day and gives you a dewy natural glow ..This is the best mineral foundation I have found

Nice finish but very hard to blend.Its sticky

This foundation is not blendable and very sticky..Need to spend 15min trying to make it look perfect but once I'm done it looks very nice and natural and I like that..I use Giorgio Armani Luminious Silk And I absolutely love that foundation.The best one I have ever had but my beauty therapist told me to buy organic/mineral makeup and I decided to get Inika Primer and Inika foundation. Maybe I shou...

Read More

Wearability

Easy to apply, good coverage and holds pretty well in the tropics.
I have fewer skin breakouts since using this.

Love that it's vegan and cruelty free

I was recommended this product by the Adore Beauty girls because it was a cruelty free product that was great for glowy skin. I love the texture of this product and agree it gives a lovely "glowing" effect to the skin.

Unfortunately, I don't think it's the best product for my winter skin right now as it clings to dry patches quite badly. I've also noticed a bit of oxidisation at the ...

Read More

Amazing! I've re-purchaded 8 times!

So good for your skin, doesnt break me out. Gives a duey glow without making you look oily. I love it and would 100% recommend. Plus it's cruelty free!

Not very good

I didn't like this foundation at all. It was very oily on my skin and did not sit well. Definitely wouldn't buy again.

Great Foundation that's good for your skin

I swapped from using the Body Shop's foundation to this after reading about chemical nasties in foundations, I was a bit worried it wouldn't work well or wouldn't feel nice but have been pleasantly surprised! I would recommend this foundation, good buildable coverage but doesn't feel like you are wearing makeup. I used the online foundation matcher and it worked well, matches my skin. Good product...

Read More

Can't go past this!

Perfect coverage, silky smooth.

My Skin Loves This Foundation!

I've been using this foundation for over a year for day use. I get so many compliments about how glowing and healthy my skin looks. It is very lightweight and allows freckles to come through while covering up any redness. Unlike many other foundations that I find clog my pores and cause breakouts, this one somehow leaves it looking and feeling clearer after it's washed off at the end of the day. I...

Read More

GREAT FOR SENSITIVE SKIN

I have been using this product since i got introduced to it by a friend who owns her own beauty salon. I have sensitive skin where i am allergic to aloe vera but this product does not react with my skin at all. I wont use anything else

definitely recommended

Beautiful consistency and coverage

I have been looking for a foundation with medium coverage that doesn't look cakey or dry on my skin and I finally found it! I am obsessed! I always get compliments when I wear this foundation.
This foundation is quite thick, moisturiser and primer is a must. I wear it with just the slightest dusting of powder over the top because I don't like too much coverage.

Foundation

I purchased 'Face in A Box' to try the variety of products that were in the box. I was wanting to by products that would not irritate my skin as I have Psoriasis. These products have certainly delivered. The foundation was part of the package. To be honest it has not irritated my skin, but I have found it to be cakey. I no longer use the foundation, but use the other Inika products.

<...

Read More

Best foundation I've ever had

This foundation feels really light but gives good coverage. I use the primer underneath and it blends really nicely. I think without the primer it might be a bit 'sticky'/ go on too thick. Overall this is the best foundation I've ever had though. My skin looks and feels so much healthier. It makes me realise how bad the chemicals in the other foundations I had been wearing probably were for my ski...

Read More

Great foundation

I have been loving and wearing this foundation for maybe 3 or 4 years. It's long wearing but not cakey at all. I apply it with a brush for nights out and with my hands rubbed in during the day. Sometime I mix it with oil or spf to make it like a tinted moisturiser. I changed to a NARS one for night time use within this time but came back to this as I prefer it. Great product

Great Coverage - Strong Smell

I really love the packaging, it feels and looks luxurious. The foundation is thick and I thought it would be hard to blend, but I used a damp stipple brush and it blended really easily. It gives a really good full coverage. I used my asap moisturizer with it and it gave me a dewy look. However, the smell is off putting. It smells similar to Benefit's boo boo balm, and (but not as strong as) Elizab...

Read More

Best!

I've been without a foundation for 18 months, using NARS tinted moisturiser instead. My skin has changed in the last couple of years and is dry and sensitive and prone to blackheads. Most foundations I tried broke me out even worse or my forehead ended up in a shiny mess when my skin is actually dry.
The Inika Certified Organic Liquid Mineral Foundation is PERFECT for my fair, sensitive late...

Read More

Great product

Very light weighted , my skin can breathe. Great for everyday use and the colour perfectly matches my skin tone.
Thanks AdoreBeauty for fast & safe delivery

Great every day foundation

I'd been looking for a foundation to replace the discontinued Becca Luminous Skin Colour. I found getting a light coverage with Becca's own replacement, Radiant Skin, too fiddly. Enter Inika - easy to get light coverage or medium coverage and feels great on my skin. I'm on my second bottle and still love it.

Great foundation!

Inika Liquid Mineral Foundation is a great foundation! Consistency is smooth and it glides on effortlessly! Plus the colour (Cream) matched my fair skin so well! However, it does dry a little quick for my liking so you really have to blend well, but that doesn't take away from what a quality organic foundation this is.

I love that it is free of all things toxic for your skin - no par...

Read More

very happy with the coverage and feel of the foundation

I wanted a natural product because i am breastfeeding and my little daughter touches my face and kisses/slobbers on me all day long. I felt funny about her eating my old chemical makeup off my face so Inika seemed perfect to try.
I purchased the beige colour and am so happy with it, the colour is neutral, not too orange and i feel good about wearing something that isn't made up of random che...

Read More

Impressed

So hear it is! The liquid foundation I have been searching for! The non heavy, naturally flawless dewy look with staying power that nourishes my skin with moisture and also has a non intrusive scent. It's great to have found a foundation that doesn't irritate and is chemical free.

Great light coverage liquid foundation

I have (usually ) blemish free skin with some red splotchiness around the cheeks and jaw line. My skin is generally normal-dry but drier in winter.

I have used many liquid foundations over the years and have found that those with
heavy scents usually irritate my skin. Although Inika's liquid foundation does have
quite a strong scent, it surprisingly didn't cause any probl...

Read More

Simply Fabulous

I'm not a heavy makeup wearer but I do prefer a little something most days and the Inika liquid foundation is great. The new formula has a lighter scent which I prefer and I like the light coverage. The biggest factor for me is the organic formula and that I feel at ease using a product everyday that is free from harsh chemicals. I have purchased from Adore several times now and my orders always a...

Read More

Fantastic natural look and ethical to boot!

I love the ethics behind this brand. It's 100% animal friendly and vegan and the quality is beautiful. It offers a medium and natural coverage and I do like it a lot!

Like a turbo boosted tinted moisturiser

I almost always wear a full coverage foundation, so when I dabbed a little on my hand I thought it just wouldn't cut it for me. I was wrong! It glided across my 40 year old, dry, fair skin, leaving it smooth and dewy. Despite being a lightweight foundation, I found that I only needed a touch of concealer as the coverage was better than I had expected.
I've used it nine times now and it wea...

Read More

Inika Mineral Foundation

I found the coverage excellent and it smelt wonderful (although I would imagine the scent would be overpowering for some). It is quite oily needs to be shaken well before use. My skin felt soft and dewy after using it. Probably more suited to someone with dry skin. Although I liked it and will finish the sample I received, I wouldn't buy it again as it is quite pricey.

Inika's a Winner

I've just trialed the Inika Liquid Mineral Foundation in Beige so here's my review.

Overall I found this to be a really good product. It's a light to medium coverage, similar to a tinted moisturiser so if you want a heavy coverage this is definitely NOT the product for you. It's great for wearing during the day and for heavier coverage in the evening I just went over it with powder....

Read More

Great foundation for dry skin!

I was provided a sample in the shade Tan. I used a foundation brush to apply and the product was easy to blend. It is creamy and felt hydrating on my dry skin. The foundation gave my skin a natural glow, without any added shimmer and the coverage is buildable. It has a strong, potpurri-type scent which I did not like at all. If the product was fragrance-free, I would have rated it a 5.

Inika Liquid Mineral Foundation Passes Girls Day Out Test

won a trial sample of Inika's Liquid Mineral Foundation (Honey) and was asked to review the product. I decided a great trial would be on a 12 hour girls day out.

The first thing that struck me was the slight perfumed scent. Just lovely.

When it comes to foundations I"m extremely fussy!!! So I wondered how this would fare on such a busy day. It fared brilliantly.
<...

Read More

Somewhere between a foundation & tinted moisturiser

The best way I could describe this product is somewhere between a foundation and a tinted moisturiser. The consistency is quite thick but the coverage is light to medium.
Given the consistency, I think it would be easier to apply with a brush, as when I did it with my fingers, it started drying and I ended up with uneven coverage. For anyone who has used the KORA tinted daywear- this is a ve...

Read More

Great foundation

I really like this foundation. When I wear it with a light dusting of powder on top, I ALWAYS get compliments on my skin. It's got quite a thick consistency so for me and my combination skin, it is great in the cooler months but might be a bit heavy in the height of summer. It feels nourishing on my skin and has good coverage. I'm very happy with it!

Well, I've been a long time user of mineral makeup 8+ years now. But recently my skin has changed to being drier (most likely winter) however the oiliness of my skin has calmed down. Hopefully my skin is maturing! So I thought I'd try a liquid foundation instead of powder to up the moisture in my skin. I've tried the Eles mineral foundation and that is brilliant but a bit dark for my skin tone. So...

Read More