Giorgio Armani Neo Nude A-Highlight 3.9ml
Is this for you?
Unlock your most naturally radiant skin with Giorgio Armani Neo Nude A-Highlight. This liquid highlighter gives skin a natural yet luminous glow, perfect for creating a no-makeup makeup look.
Frequently bought with
Please wait while we find a match
Questions & Answers
(2 Questions)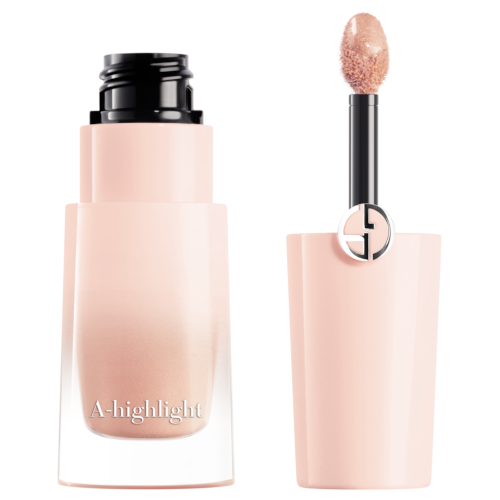 Giorgio Armani Neo Nude A-Highlight
Get an expert to answer your question about this product!
100% recommend this product
Most Helpful Positive
So natural
Natural coloured highlight that blends beautifully with my skin tone
So natural

Natural coloured highlight that blends beautifully with my skin tone

Nice colour

I really like the colour of the highlighter and application is easy with the doe foot applicator. I have knocked off a star as the bottle is rather small and I don't think it is going to last very long.

Good for everyday

Love this product. small for on the go and easy to apply.

Love

This highlighter gives you a fantastic natural glow. Effortless to use making it an easy part of your everyday beauty regime.

Beautiful

Easy application, perfect natural colour, blends seamlessly. Highly recommend!

WOW

THis highlighter leaves a stunning, natural yet pearly shimmer to my cheekbones and Cupid's bow. So so worth it. The texture is incredible

Natural perfection

Perfect highlighter! Beautiful colour that blends seamlessly and gives a subtle shimmery effect without being too heavy. Can't get enough of this brand!

Exceeded expectations

This highlight perfectly melts into a totally seamless glistening (not glittery) glow!! This is definitely my favourite and probably only highlight product I will purchase now. It sits within your skin like magic, not on top of it..no nasty streak of shiny paint look.
The only downfall if I had to choose one would be only a very small amount of product comes out on the applicator, not much of an issue as a tiny amount goes a long way (especially if you're a less-is-more kind of girl). You do have to re-dip for each point of your face though.

Mastered

I've just recently mastered highlighting and this product is a gem! So good to use and perfect my look

Luxury

This feels like such a luxury product that is effortless to use. Only need a tiny bit too

Perfect

This is a very good product and so effortless. It's absolutely perfect for me and Its very quick to apply.

I Want To Give This 10 Stars!

What can I say about the absolute most beautiful highlighter I have ever used?

It's subtle but glows. Shimmers but not too shiny. Sensual and soft! Like a tender caress of sunlight.

Nothing is obviously strobing with this Highlighter. Just enough for my husband to say "your skin looks so beautiful lately".

But this girls! I promise it's gorgeous ❣️

Beautiful subtle glow

Gorgeous light subtle glow. Great for more mature skin as it is a very fine shimmer and not strobe like at all. Lasts all day and stays put, while not enhancing any wrinkles. Very light and easy to blend. Just looks like yo are fresh and awake, not hit by a disco ball like some highlighters. Very natural. You only need the smallest amount and you can cover numerous areas of the face. Pricey but high quality.

Nice but not sure if it's worth it

I tested this at Sephora and it looked promising but I purchased one from adore and though I like the product it feels like the bottle is empty. I can't see inside as it's frosted, but I have to run the wand around the sides of the bottle to get it on the applicator. For so much money I expect a little more from a luxury product.

Perfect dewy look

I have been on the hunt for a dewy/glowy look and this is perfect for that. So pretty and subtle and natural looking that give you that glow from within feel.

Dewy Subtle look

I received a sample of this with my last order. It is pricey for a highlighter but it was really nice quality and had a beautiful subtle shimmer. It was a very sheer and natural looking highlighter. A little goes a long way too and I just applied with my fingers or powder brush. I even added a little onto my eyelid and it made a nice shimmery eye shadow.

Natural highlight

If you want a beaming highlight this isn't one for you, but it's not so subtle either that you can't tell if you're wearing highlighter. All I can say is that this gives you such a glow from within look that will definitely be noticeable but is completely natural looking.

Less is more

Great if you love natural makeup and want a dewy glow without a glittery highlight

beautiful, natural glow

A beautiful highlighter that makes skin dewy and looks natural. Perfection.

TIP: Dab 4 dots across each cheekbone and blend by patting. I also use it on my lips.


SO worth it!

You might cringe at the price tag of this highlighter, but in my expert opinion as a Beauty Editor, it's absolutely worth it. This highlighter is PERFECT for those like me who prefer light, natural coverage. I hate those highlighters that leave a frosty, chunky shimmer on the cheekbones, but this is the total opposite. It imparts the most beautiful lit-from-within glow and it's SO easy to carry around in your makeup bag or kit. It's definitely my new favourite product in my makeup routine.

This replaced my Becca Shimmering Skin Protector!

This is better than Becca!

If you are a fan of a liquid highlighter or loved Becca's Shimmering Skin Protector - you will love this!

It gives a more natural finish and is super easy to use.

I draw a line on my brow bone, down my nose, cupids bow and dot high cheekbones and then blend in with my fingers. Done

Perfect for the no makeup look and works well with the Neo nude contour and blush products.