If you're after Christmas gift ideas for new mothers, look no further than our selection of gorgeous new-mother gift sets and beauty must-haves to pamper both mum and baby during the festive period. It isn't a big secret that being a new mum is tiring. So if you want to gift a little me-time to a hardworking new mum, you've come to the right place!
Bath and body gift sets make the perfect Christmas gifts for mum and baby, especially ones gentle enough to be used on both delicate and sensitive baby skin and post-pregnancy mother's skin. Natural brands Weleda and Burt's Bees have new-mother and baby gifts to nurture newborn's and adult's skin with ultimate nourishment and moisture. Containing no nasty chemicals or harsh abrasives, these skincare packs use only the most soothing and calming ingredients to look after the skin and include creams, lotions, oils, and washes.
If you're looking for Christmas gift ideas for her, shop all her favourite beauty brands with an Adore Beauty Gift Voucher. Simply load up the gift card, and she can buy exactly what she wants to pamper herself, from haircare and skincare to makeup and bath-and-body gifts. Suitable for all budgets, a Gift Voucher is also the perfect choice for baby's first Christmas gift to mum, giving her the thank-you treat she truly deserves! Adore Beauty Gift Vouchers are available in a variety of different colours for all tastes and styles.
Mother & Baby Gifts, articles & community
Recent reviews on Mother & Baby Gifts products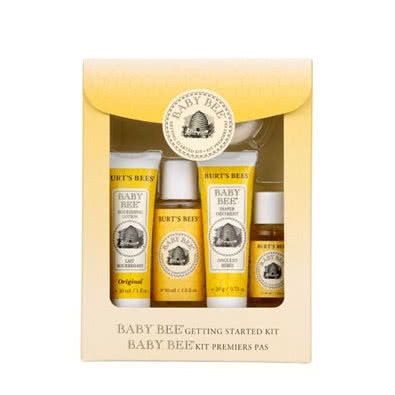 Burt's Bees
Burt's Bees Baby Bee Getting Started Kit
$24.95
Amazing
My little man's skin has reacted badly to EVERYTHING else I have tried other than this range! It smells absolutely amazing and a little bit goes a long way. Packaged beautifully with a little chocolate surprise!
I 100% recommend this product