ghd Curve 2.0 Creative Curl Wand
4 instalments of $62.50
Or 4 instalments of $62.50 with
LEARN MORE
4 instalments of $62.50
Or 4 instalments of $62.50 with
LEARN MORE
Official Stockist
Is this for you?
Effortlessly textured curls, and beachy waves. ghd curve 2.0 creative curl wand features total versatility in curl styling, with a revolutionary tapered barrel from round 28mm to oval 23mm tip. With a protective cool tip to give you a safe place to hold your hair while you curl, this ergonomically designed hair curler helps you make a wide range of curls and soft tousled waves.
Frequently bought with
Please wait while we find a match
Questions & Answers
(1 Question)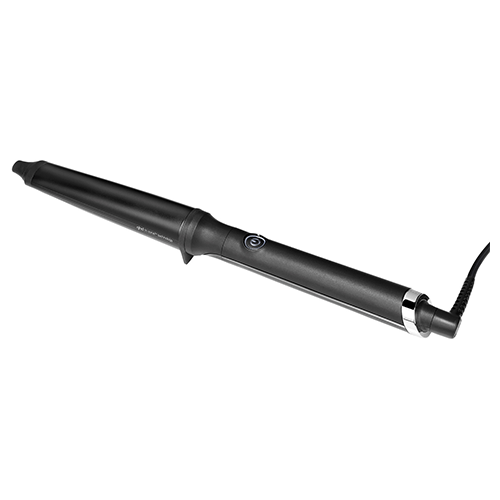 ghd Curve 2.0 Creative Curl Wand
Get an expert to answer your question about this product!
ghd Curve 2.0 Creative Curl Wand Reviews
100% recommend this product
Most Helpful Positive
Easy to use
I've had this for 2+ years and still going strong, so easy to use.
Easy to use

I've had this for 2+ years and still going strong, so easy to use.

makes the nicest curls

this makes such nice curls and it is really easy to use

Amazing long lasting curls

I have been using this for about a year now and it is still my go to curler every single time compared to clamp tong and hair iron. The curls when done correctly with heat protectant will literally last you 3 days and still look so pretty as they drop to the ends of your hair. I have a lot of long hair and I've managed to get my process of curling to just 15min if I am in a rush, but otherwise if ...

Read More

Love it

I haven't stopped curling my hair since I got this! Creates such nice curls and very easy to use. The curls last much longer using this wand than when I had a cheaper wand

Love this curl wand

Creates really nice curls and is easy to use. Perfect width for soft waves as well

Great curler

Easy to use and creates the most beautiful curls. Love the sleek design too!

my go to

the best quality curling iron. i can feel how heavy and good quality it is. I know it will last me a long time.

Love this

Love this curling iron. I have tried many different brands before but hands down this is so much easier to use .

Still going strong

Was given this as a gift 5 years ago and it's still as good as it was when I first got it. Easy to use, perfect curls, heats up really quickly and gets super hot. Perfect for doing a full curl style or even just adding a few to the top layer for a quick look!

great

amazing curls created. great gift idea. use it all the time. like magic

Best curler ever

This is seriously worth every cent! The unique shape gives you the perfect undone curls that last days

The Miracle Wand

I hesitated about buying this wand but have to say it is an absolute dream to use! I have never been all that good at curling my hair but I find that this wand makes it so much easier (and leaves me with no burns unlike other brands!)

The tapered shape is great for creating different sized, natural looking curls.

Curls Last for Dayssss!

Love love love this curling wand, yes, it's expensive but I promise you it's worth every cent! Very easy to use, are able to create curls/waves very easily and quickly.

Super easy to use!

This curling wand is a game changer for me - I used to always struggle with tongs but this makes it so easy for me. My hair is also naturally dead straight but the curls I get from using this wand last so much better than I've ever had - I love the next 1-2 days after with soft waves!

GHD curl wand

Fantastic product
Very happy with how easy it is to use and a glove is supplied with it ;)

Easy to use and curls hold for days

It took a bit of adjusting to get used to the tapered oval shape of the barrel but once I got past that this became so easy to use and I love the curls I can achieve.
The curls hold really well (I have fine, wavy hair) and you dont have to leave your hair wrapped around it for ages so you dont feel like you're frying your hair.
It heats up so quickly and I love that it turns off after ...

Read More

Foolproof

This is a great tool that anyone can use. It heats up to the perfect temperature in no-time, and is really easy to use as there's no annoying clamp to manoeuvre like on most curling irons.