ghd Ceramic Vented Radial Brush Size 3
Frequently bought with
Please wait while we find a match
Questions & Answers
(No Questions Yet)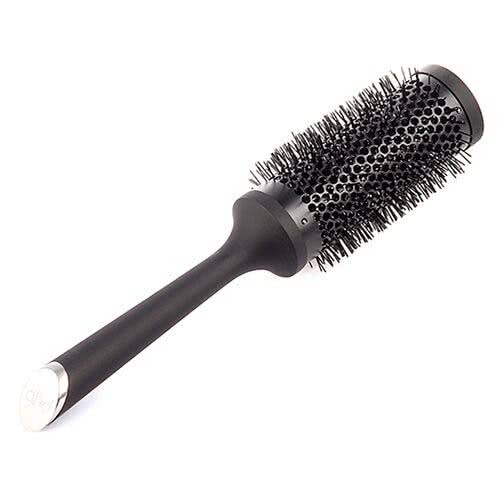 ghd Ceramic Vented Radial Brush Size 3
Get an expert to answer your question about this product!
Ask a Question
100% recommend this product
Most Helpful Positive
Great!
Works well nothing to fault
Great!

Works well nothing to fault

Works very well

I absolutely love this brush - it works really well. When used correctly it helps dry my hair really fast when I use it with my hairdryer and it adds so much extra volume - which will stay in my hair until the next wash. I use this all the time and don't regret this purchase one bit!

Great hairbrush

Does its job very well, i have thick long hair and this brush is good at untangling and straightening it. Great packaging as well.

Worth It

Bought & started using this brush a few months ago - I use it every day to add volume to my hair which is fairly fine & thin - it does the job! The case is nice too.

Perfect size and Feels luxurious

I have wavy puffy hair and this brush is perfect for giving it a blow dry effect. It looks luxurious and comes in a nice case (nice touch). I would prefer to have a slightly thicker and gripper handle on it, but that doesn't keep me from using it almost everyday.

amazing

I finally learnt how to use one of these for straightening and my god i couldn't imagine straightening my hair any other way now with a blow dryer, gives the most luscious head of hair.

Love ghd brushes

I purchased the size 2 in the ghd brushes and love it so easy to use and it smooths it so much as I have a curl in my hair. I was using another brand size 3 which was okay but decided to buy the ghd size 3 and so glad I did they are so easy to use and love the finishing. Recommend these brushed you will not regret it if you purchase.

Makes such a difference.

So glad I purchased a proper round brush to use with my hairdryer. Makes such a difference to achieving volume and shine.
It's relatively easy to use (I have long, fine hair and don't find it too clumsy but it can get a little tangly). I'm still not a pro at doing my own blow out but I'm getting there now!
I find this works better and dries faster than my natural bristle brush.

Super easy

Super easy to use and doesn't get stuck in hair (I have long platinum hair), great price for a ceramic brush; will look into getting other sizes. No breakage or tearing with this brush while blow drying.

Brilliant brush for volume

I recently chopped my hair into a pixie and have wanted a voluminous style. I purchased this brush when I blow-dry my hair. I love the feel of this brush because it's so light and balanced (a thing i never thought I needed in a brush until now) and it does a great job of gripping the hair without tangling it to make for an easier blow out.

I have straight, fine hair, but a lot of it!

Good quality, reasonable price

This brush is very good quality for a reasonable price. I use it to blow dry my medium, straight, shoulder length hair and it works well to provide volume. Glides through the hair.

GOOD

Worth the money, perfect for straightening

Easy to use

I'm by no means a pro at styling my hair, but this round brush helps me achieved that salon blow dry look even at home. I use it with my dyson hair dryer and I can skip using a straightener. It's easy to hold and lightweight which is a plus also.

Great for straightening

I use this when I straighten my fringe. It's great for making sure that my fringe has volume and it not blow dried / straightened flat.

Amazing!!

Super stoked with this brush - I only wish I'd purchased it sooner. Makes blow drying my hair (thick, curly, coloured) a breeze. Glides through damp hair easily without snagging or pulling. Definitely a great investment.

Holy grail of brushes

This brush is soooo amazing to use and because it is vented, it takes next to no time to dry my hair. 1000% would recommend to anyone wanting salon silky hair from home!

Perfect Radial Brush

This amazing brush is wonderful! The handle has an awesome grip, and although it heats up a fair bit when it comes to close proximity to my hair dryer, it's easy to twist and manoeuvre. I'm super happy with this purchase!

the result of using the new G.H.D

I:d like to put in a review on the well I call it the X- Factor of the year this New G.H.D straightner The buy of the year,I had the last model but it was so big and hard to handle, it was as though you needed an extra hand.Im so stoked with this one that Ive told my friends they"d be silly to buy the old one or one claiming to be as good as the G.H.D. It leaves your hair so soft and silky and is a gem to work with,doing it at home even looks as though you:ve been to the salon and the the great thing about the straightner is that its shaped so you can also do curls if you wish, which to me is like getting 2 products for the price of one, excellent decision A.B on selling this sleek design, it also comes in an elegant casing and is my pick of the bunch, love it, love it to death, actually I did my hair the other night and everyone thought that Id been to a salon to get the style I did, best buy Ive made for a long time thankyou for the opportunity to get my little hands on it and Its going nowhere without me in toe,couldnt be happier thankyou lynny

Perfect for thick hair

I have really thick, long hair and have always struggled finding brushes that don't get caught or tangle my hair. So I purchased this brush after much deliberation and reading a number of reviews. Am very happy, and gives a great, smooth finish to my hair!