Gerard Cosmetics Hydra-Matte Liquid Lipstick
Frequently bought with
Please wait while we find a match
Questions & Answers
(1 Question)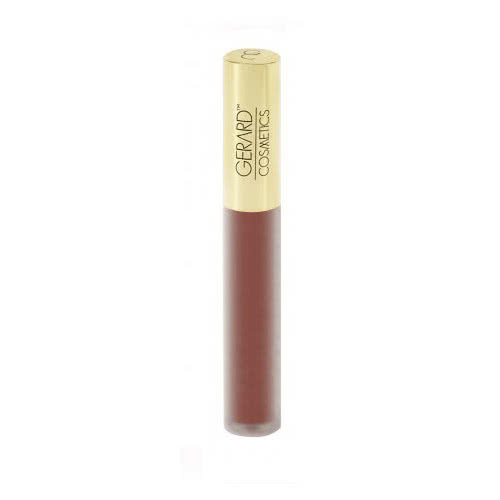 Gerard Cosmetics Hydra-Matte Liquid Lipstick
Get an expert to answer your question about this product!
Ask a Product Question
89% recommend this product
Most Helpful Positive
LOVE IT
love this so much the formula is amazing and doesn't dry out at all
Most Helpful Criticism
Unsure
I have a love hate relationship with this liquid lipstick. The packaging is nice and sleek, but the tube is small comparing to other brands. I have the color "cher" , "serenity" and wine down. The formula of the lipstick itself is nice, not too tacky but if you forget applying lipbalm beforehand then it is extremely drying and crumbling. The colour when you put it on is nice and exactly as expected but as it dries down, it becomes a very darker/deeper/dull version of the same colour. It does last a very long time. I have used these for a full year now and I wouldn't recommend it to a friend.
LOVE IT

love this so much the formula is amazing and doesn't dry out at all

Not bad

This isn't much different from any other liquid lipstick. Really dry but the colour is gorgeous. Not bad!

Nice formula

This feels comfortable being worn all day, having good staying power.

Love the Formula!

I love this formula - the consistency of the liquid lipstick is thin and it spreads easily, (not quite like water or like the Huda Liquid Lipsticks) just enough so it feels invisible on your lips. Yes, maybe they are a touch drying, but it is a matte lipstick at the end of the day... Love the colour too - I have the colour 1995 and it is pigmented and rich. the PERFECT shade if you are feeling nostalgic about the 90s :P

Universal flattering colour, nice packaging

I received this as a gift and it presented so nicely and the colour (Serenity) was a smart choice as it seems a universally flattering nude/pink. Dries very matte, is slightly drying on lips but formula smells great - like vanilla cake icing! - and lasts substantially long, i.e. through a greasy dinner meal and lasting during the work day.

'Mile High'

I really like the shade of this lipstick with my own Nude lip liner (it'sthen a sort of muted pink) though I am considering buying a Gerard Nude liner as I have fallen in love with these products... great value for money !

I find it sets better when used with the Rose Setting Spray and does stay on quite well if I'm not eating dinner... so for me a great day wear lippy when I'm only having a coffee..

love 1995

perfect matte colour for olive skin tones, last all days.

Perfect hydra matte liquid lipstick

Loved this lipstick, the color, application and long lasting wear. It's been 3 years since the first time i try this GC product and I really love it.

Bit too drying for me

I love matte lipsticks and the reviews for this one were so good that I had to get one. I purchased the shade 1995 which seemed to be a raved about shade. I have medium skin tone and when I first applied it I thought it would be too light but it dried down darker which i liked. Unfortunately, although I scrubbed and moisturised my lips prior to applying this, it was quite uncomfortable on the lips and very drying. It looked crusty within the hour and I had to remove it. The weird thing is that for the next couple of days my lips felt very dry. I would give this formula a pass although I love the packaging.

Beautiful matte finish

Perfect for a night-time look that really pops! The colour is super long-lasting. An all time fave.

Love it!

This is the only liquid lipstick that I wear, and I think it's amazing for the price and better than more expensive versions! It's the only lipstick that I would choose to wear out on a night on the town or to a dinner - and rely on it to make it through! Immortal is a beautiful classic red that would look good on anyone. I have fair skin, dark eyes and brown hair and it looks good on me !

Ballet slippers

Lovely colour that just glides on. Amazing gloss.

Long lasting

These liquid lipsticks are long lasting, the colour lasts all day and not drying

Lovely colour

I purchased the nude lipstick and the colour is amazing!! It would suit anyone, it's so unique.

However it didn't stay on very long for me, might just be me though.



Great lasting power

These matte lipsticks are amazing , they have great lasting power and although they are matte they are not drying on the lips like many other brands on the market.

Great colour

Love it get compliments when I wear it!

Lovely colours, perfect finish

Perfect for a night time look that really pops! The colour is super long-lasting and so smooth to apply. No smuding or creasing.

Stays on all day

I'm so glad this site has this brand, it use to be so hard to get from overseas but it is amazing! Stays on all day, hydrates and love the colours!

Great matte liquid lipstick

This is a great matte liquid lipstick. Good colour choice and formula. Definitely one to consider purchasing if looking for a liquid matte lipstick

Love it

1995 is my current favourite everyday lipstick. Will re-purchase for sure!

Like it a lot

This is my second purchase of the Cher shade. I just love this colour. I have olive skin and this colour is just nice if you want just a touch of colour on your lips.My fav work lippy.

I also bought to try, the Bare It All shade. Now this shade is just too light for my liking. Considering it is a matte lipstick, this colour just made me look washed out. Should've tried a darker colour.

One of the better matte lipsticks!

I am not a fan of matte lipsticks on a whole - but this is definitely one of the better ones! It won't suck the life and moisture out of your lips, and the colour Immortal is a beautiful, highly pigmented blue toned classic red that would look amazing on most!

Great colours

Great range of colours but if you have dry lips, I find this can loook slightly flakey. Best too moisturise before use

Beautiful Lipstick

I have used sooooo many different brands but this stunning Gerard Cosmetics lipstick in CHER is the best. It's soft, non drying and lasts. The colour is stunning.

Long lasting and non drying

Honestly this is probably my favourite brand of liquid lipstick that I've tried. It provides the best pigmentation for a tiny amount that you swipe on your lips!! The colour "everything nice" is my favourite shade it's just amazing and I would be surprised if I found another brand of liquid lipstick that could beat this one! I always get complimented on how long lasting it is and on the colour. Would recommend to any liquid lipstick lover

Longwear!

I definitely agree that this is one of the longest wearing lipsticks I have ever tried and it certainty does not dry out the lips (unlike MAC). I am a little disappointed with the colour though. I bought 1995 and loved it when I first applied however once it dries it went a lot dark. I would keep that in mind when buying other colours.

one of my fave formulae!

Re-purchased 1995 twice now as its my favourite everyday lipstick. Lasts all day and i get asked all the time what lipstick i wear as its so long-lasting. Doesnt budge when eating or drinking and hardly ever need to re-apply! Well worth the money.

Comfortable liquid lipstick

This formula is thicker than most I've tried before but somehow it's still lightweight and not drying! It has a very sweet smell which is always nice. I have this in many colours but I'd have to say my favourites on my skin tone (I'm fair) are Skinny Dip as it's the perfect dusty mauve, as well as Nude which is the perfect nude for me. However, I think these two shades would look great on most skin tones.

Lasts all day

This has to be one of the best matte lipsticks I have ever tried. So far I have 6 shades and love them all! Just like the name says, these lipsticks nice and hydrating making it the perfect wear all day product. I can where this lipstick to work all day and only have to apply it once in the morning before I leave for work. It withstands the multiple coffee, lunch and everything in between. What more could a girl want?!
P.s. My favourite shade has to be 1995

Unsure

I have a love hate relationship with this liquid lipstick. The packaging is nice and sleek, but the tube is small comparing to other brands. I have the color "cher" , "serenity" and wine down. The formula of the lipstick itself is nice, not too tacky but if you forget applying lipbalm beforehand then it is extremely drying and crumbling. The colour when you put it on is nice and exactly as expected but as it dries down, it becomes a very darker/deeper/dull version of the same colour. It does last a very long time. I have used these for a full year now and I wouldn't recommend it to a friend.

HG lip

My favourite lip product. I have it in Everything Nice, Serenity, Madison Avenue, Wine Down and most recently Nude. The staying power on this is insane. I used it on a night out with the lip liner, put it on at like 6.30pm. Touched up maybe once during the night. Forgot to take off my take off my make up and it was still there at 9am the next day. My friends always ask what lip I'm wearing when I wear them as well.

Long lasting and great pigment

I love these lipsticks. I have many shades of this formula and they apply like a dream, they are creamy, long lasting and MATTE...very matte...sometimes a little too drying if I have not applied a balm beforehand. The downside to this formula is it tends to be a little hard to touch up as it moves the first layer around and can look chunky. However I find that with most matte liquid lipsticks.

Beautiful finish

Gorgeous matte finish - luscious colours and wears well.

Not drying

Great colour selection. Very easy to apply. Last for hours and does not feel drying on my lips. If you love matte lips, I highly recommend this.

Love, Love, Love

I loveeeee this lipstick. I have it in 4 colours and will continue buying!!
Stays put all day and doesnt dry out my lips!! Highly recommend.

hydrating and lasts all day

i have the shade 1955 and nude they are both so opaque and stunning, lasts all day, isnt drying but is also matte. I need to buy the whole collection!!!! 10/10

Great colours

There's some great colours and the product is really light. It gives a natural lip, even in the darker shades, and works just as easily with an everyday look as it does with a more glam, dressy look.

My FAVOURITE lipstick

I LOVE this lipstick. The formula and consistency is perfect, the colour 1995 is gorgeous. I wear almost every day. Obsessed!!!

Really pigmented

Just received my Iced Mocha shade and I love the brownish, purple colour. It isn't too drying for a matte and it is long lasting

Hydrating liquid lip

I have this product in the shade Serenity- it's a bit more pink than I usually go for but is still on the more nude side. It's a beautiful colour and formula, and definitely speaks to the hydration component of it's name. It wears a long time and is really comfortable on the lips because of this- however I feel like it also doesn't dry down completely and can slip a little or come off a bit easier than less hydrating liquid lipsticks. Overall, being slightly more careful is worth the comfort and colour of it!

Long wearing matt liquid lipstick

The Gerard Cosmetics Hydra matte lipstick is fabulous. It lasts for hours, through coffee and lunch. It's easy to apply and unlike other long lasting Matt lipstick, it's not drying and does not flake off. I love the colour Serenity, a perfect nude with a touch of pink, perfect for my light to medium toned olive skin.

Nice formula but the colours don't suit darker skin tone

I bought 1995 and Cher, looking for a nude lip for work. The formula is quite nice for a matte lipstick, not sticky or heavy and surprisingly not overly drying. But the colours, which look great on the models, did not suit me at all. The undertone was pasty and greyish and it looked really washed out.

My go to lipsticks

I absolutely love these. They don't dry my lips out unlike other matte lipsticks and they last for hours without the need to reapply constantly!!!!

A staple in my purse

This is such a beautiful lip product. Goes on flawlessly. It is the only matte lip product I have which doesn't dry my lips out. I have Everything Nice, Serenity, Madison Avenue and Boss Lady. LOVE!

1995 - Wonderful product for working women!

As a receptionist that has to wear lipstick on a day-to-day basis, I find the shade 1995 complements my fair skin tone to make myself look polished, and it's very comfortable to wear throughout the day.

The only downside is that it does tend to fade even by drinking coffee, so re-applications are needed to keep it looking fresh. Otherwise, a very good quality product that I would recommend to those who don't like to wear heavy make-up, but need something for work. This shade is my go-to!

Great liquid lipstick formula

I bought this in Serenity, which is a beautiful, peachy nude colour. The packaging is very pretty, with a frosted tube and gold lid. The product has that vanilla cake batter smell. It applies nice and opaque, and dries to a very comfortable matte finish. It does darken as it dries. It lasts very well throughout the day. I can't compare it to many formulas, but I do find it has a good balance between lasting power and hydration. You usually sacrifice one for the other but in this case they get it right. I'll buy more colours for sure. I hope they bring out lots more.

Love these lipsticks

I am 49 and very fair skinned, I purchased the shade Cher first and loved it. I have gone onto to purchase the shade Bare It All. Most nude shades look washed out on me, but this one was perfect. It is now my everyday shade and a shade I use when making my eyes a feature. These lipsticks are not like other liquid lipsticks that dry and crack (bought too many to name that have done this!) and it cleans off easily when removing make up. I find it is not like paint like some of the brands yet still remains put most of the day. I would highly recommend them.

Better that most

I've never been a fan of liquid lipstick because the drying lip feeling drives me nuts. This is better than a lot I've tried but for mature lips it's still a little drying and not all that flattering on the lips . I put a gloss or balm over the top to help.

I want all the shades!

Bought the immortal shade. I have olive skin and this shade is absolutely amazing. So easy to apply. It doesn't dry up too quick upon application so you're able to correct and define. It dries a beautiful matte & doesn't feel heavy & dry on lips at all. Most of all, it lasts all day without reapplication. I just feel so beautiful all day wearing this.

Good coverage

Overall a good coverage matte lipstick, however shade didn't suit me. The swatches I've seen are different to how to came out on my lips. Would buy again in a lighter shade.

Favourite Lip Product!!

Just purchased my 3rd one of these, the colour is amazing (Mile High is my favourite) they go on like a normal lipstick and don't dry out and go flaky like a lot of matte lipsticks. Can't wait to try more colours!

Love love love this lipstick

This is th best lipstick/lip stain I have ever used.
It lasts all day, is not sticky at all and if you do need to touch it up, doesn't cake. I have a few of the colours now but Cher is my everyday go to

Immortal is my perfect red

If you are looking for a party red, you cannot look past the Gerard Cosmetics Hydra-Matte Liquid Lip in Immortal. It stays put all day and night through drinks and light snacking, and the colour is the perfect red year round - it's bright without being too orange or too blue based. I am obsessed with this lipstick with minimal face makeup for a pop of colour.

new fave matte liquid lipstick

I purchased the colors '1995' and 'Cher' and I absolutely love these colors.
I have previously struggled with matte lipsticks as they were too drying, made my lips feel very tight and would come off when I eat. However I found this product to not leave my lips as dry! It is very comfortable to wear and last quite a long time. The price is very reasonable compared to other products on the market. I would gladly stock up on more shades from this brand.

Beautiful colours & texture but priming your lips is a must!

When i first got this I didnt like it as it completely settled into my lip lines and was very drying. Thats when I used only lip balm under it. I tried it with Farsali rose gold elixir, and it went on perfectly. So now i just use it with Farsali every time. Not sure if its just this formula, as normally lip balm is enough for my other liquid lipsticks. 1995 is such a beautiful colour, especially for medium skin tones like mine. Absolutely love it. One of my faves. I will definately repurchase this.

slightly disappointing

I read the reviews before buying this product. I was looking for a nude long lasting lipstick for work and 1995 seemed the best bet. I've got a darker complexion and it gives me a sunken in look. I think 'nude' might not suit me. The colour though is long lasting and it's not as 'cakey' as some other longwear lipsticks. I might try a different colour next time like Cher

1995 is divine

These hydra-mattes are true to the name and nowhere near as drying as other matte liquid lipsticks. They layer well and are easily reapplied as necessary. There is minimal transfer when eating or drinking but the comfort and ease of reapplication makes it worth it. 1995 is also a beautiful shade

Nude matte LOVE

THe nude shade was a little peachier than I wanted, but I've fallen in love with it anyway.

Needs a super hydrated lip - if you're even slightly dry it pills.

Love the lipgloss

I thought it made my lips pretty dry at first. But given it is matte, you need to make sure you have enough hydration in your lips prior to application. I started using a lip scrub and it has helped. I have pretty dry lips so it wont be the case for everyone. I also love the texture and smell. it's so pretty!

WOW this is worth the hype

OK, I wasn't sure if these would live up to the hype. I've been a Kat Von D girl for years but didn't like that they wouldn't last through a meal. Gerard has proven to be a great quality and affordable alternative.
This lasted on my lips from 0700am until 5pm!!!

Velvet Matte Lips @ a Great Price

I brought this product as I had heard good things about the brand on YouTube. I have been really unhappy with the other brands I have tried as they were really drying on my lips and they didn't last as long as they claimed to. To my surprise this lipstick was creamy and applied very easily, it dried down matte quickly and lasted all day. My lips felt like velvet to touch, overall it felt like a luxury brand for a fraction of the price. I will be definitely adding more colours to my collection.

great colours

I purchased the matte lipsticks in shades 1995 and Cher. Both were beautiful unique colours that I wear often. Although the product was not hydrating at all it didn't dry my lips as other matte liquid lipsticks do. As my lips are quite sensitive and prone to drying I make sure not to wear the liquid lipstick for long amounts of time over consecutive days. I also make sure my lips are perfectly moisturised before applying. I found the lipstick lasts a decent amount of time and I don't find myself reapplying it often at all. definitely, a product to try if you are a fan of matte liquid lipsticks

Gorge

I bought the colour HONEYMOON in this lippy & i have to say, i really like the formula of this liquid lip.
It doesnt dry down like a completely matte formula (like the kylie lip kits for example) instead it stays slightly tacky feeling, but not sticky, which is how i think they stay so comfortable on the lips. it wasnt the LONGEST wearing formula because of this reason though (i believe) BUT tbh, im ok with that, i prefer that over something that is completly drying on my lips.
I have pretty dry lips as it is so something that feels a little moisturising on the lips is always a win for me, plus it doesnt look as dry either.
This colour is so pretty too, its a beautiful, slightly peachy pink & i feel like it complements me really nicely, i have pale skin & dark hair.

Amazing feel on lips - stays well

I purchased these after reading an article on Adore Beauty, and wow impressed! They feel so hydrating and smooth on your lips, the colour is very matt but with a soft almost natural look, so you know its matt but not drying in any way.

I have since purchased half the colour range and still plan to get more.........the are my number 1 that I reach for when ever I go out, in fact they feel so nice on I have taken to wearing them daily just as a matter of fact......lasts quite well, especially with a primer under them.

Raving Fan

Love love love this product! Glides on, then turns from glossy to matt in seconds, and lasts all day. Love that it's non-perfumed.

It's a winner

My first purchase from this range was in Skinny Dip which is a nudey, mauvey, cool tone. Really enjoy the formula which feels light and doesn't dry your lips out. I will be adding more colours to my collection.

Awesome colour and texture

Omg I am in love with this lipstick. It goes on ultra smooth and easy. The colour is incredible. I'll be ordering another colour from this range for sure.

Formula is amazing colors are not true to swatches

This formula is amazing and smooth. So easy to apply and opaque. Long lasting.
The only qualm I have is that the colors swatches on this website are not the true product colors. 1995 is more of a brown color and serenity is a peach/nude, not pink.

Feels very drying

I'm disappointed with the product's feel. It feels very dry and unnatural. The colour is good but would not recommend.

I want another shade!

Just love this product! So easy to put on. Pairs perfectly with its Immortal lip pencil. Doesn't dry too quick when applied and a nice matte texture all day without the heavy feel. Can't wait to purchase another shade!!!

Great product

Love love love this product. I have just ordered another colour! The smell and ease of application is great. And the colour is accurate to the pictures.

Very good but not amazing

I have the colour called serenity. It is much browner than the colour swatch online so am a little disappointed in that. On the up side the colour is highly pigmented, goes on easily and definitely stays put even through eating and drinking. I have found the formula to get drying as the day goes on and need a balm over the top to make it comfortable again.

Amazing lip colour!

This liquid lipstick is super long wearing and doesnt dry my lips. I have olive skin and immortal shows up beautifully. I have tried other liquid lipsticks including kat von d and this is a winner!

Colour is great and lasts ages before needing to reapply

I love this lippy. I always buy expensive Lippy but though i would give this a go and honestly it is my new favorite lipstick, love the colour (iced mocha), applys easily, sets well, doesnt smodge. Only thing is i would probably put a gloss on top so i could rub my lips together, over all i love it and i will be buying more.

The best liquid lipstick yet!

LOVE this product. I am prone to dry lips so I was very hesitant to buy a matte liquid lipstick. However, this formula is super hydrating and it glides on like a dream - the colour is rich and the consistency is velvety. If you're looking for a matte lippy, invest in this (the red is amazing!)

Great product

These lipsticks are seriously the best! I thought they would dry out my lips, but the formula is quite hydrating. Not to mention long lasting. They seem to hold up really well even after eating! The price is also great for the quality of the product.

Really comfortable!

I avoided the matte lipstick trend for the longest time, until I tried these. Other formulas are too liquidy and are a pain to apply precisely (especially on the go!), while others can be a bit thick and feel heavy.

Gerard Cosmetics Hydra-Matte Liquid Lipstick avoids these pitfalls, with a really nice lightweight formula that is a cinch to apply. I find that I don't need to retouch throughout the day except after eating, and that unlike other liquid matte formulas this doesn't ball up or go flakey. It also doesn't take too long to set (or worse, set too quickly!).

I have the colour Iced Mocha which is a gorgeous neutral with taupey mauve undertones. This shade is really beautiful - trendy without being obnoxiously so, and works really well on people with cool undertones that want to wear taupes without going full zombie hahaha!

For the price point these look really classy, and they aren't embarassing to pull out of your bag. I love it, planning to buy more!

Cult Classic <3

Very pigmented matt liquid lipstick it doesn't get flaky or make lips feel dry
It's consistency is creamy and very pigmented. It lasts long and hardly requires any touch-ups (that is the best part!) All the colours are so pretty. Goes well even on dark skin tones!!

BEST MATTE LIPSTICK

This is amazing, I have the colour serentiy, which is slightly darker than my natural lip colour. It is not drying or flaky like other mattes and doesn't need reapplying!! Yes, its a bit pricey, but will last ages so still highly recommend x