Fragrance - For Her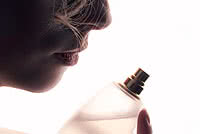 Luxe
Fragrance - For Her
A Luxe fragrance is something every woman deserves. There's nothing quite like a spritz of a high-end eau de parfum or eau de toilette: the distinct notes, the lovely packaging, and the long-lasting quality on the skin. A Luxe scent takes your image from 2D to 3D by providing a full sensory experience to you and anyone lucky enough to pass by. Whether you're looking for a perfume to save for special occasions or a new signature scent, we've got plenty of options to help you make exactly the statement you want to make in any situation. Smell is the strongest sense tied to memory, so be sure you make a truly lasting impression.
Read More
View All Luxe Brands
Professional
Fragrance - For Her
Read More
View All Professional Brands
Essentials
Fragrance - For Her
An everyday scent is a woman's signature. Scent is the strongest sense tied to memory. How do you want to be remembered? As a light, fruity, fun presence? A warm, soothing vanilla? Maybe a fresh cotton or cucumber? Whatever you choose to define you, we've got an Essentials fragrance to suit your needs. Choosing a daily-wear fragrance isn't just for the benefit of how others will remember you, either. Fragrance can instantly recall a memory. Your everyday fragrance defines the points of your life. Scent can be a better reminder of days past than a photo album. So what do you love? What do you want to bring to a room and to your life? Check out our Essentials fragrance collection. We're sure you'll find something you'll treasure long after the bottle runs out.
Read More
View All Essentials Brands