Eye Of Horus Goddess Mascara 8g
Frequently bought with
Please wait while we find a match
Questions & Answers
(2 Questions)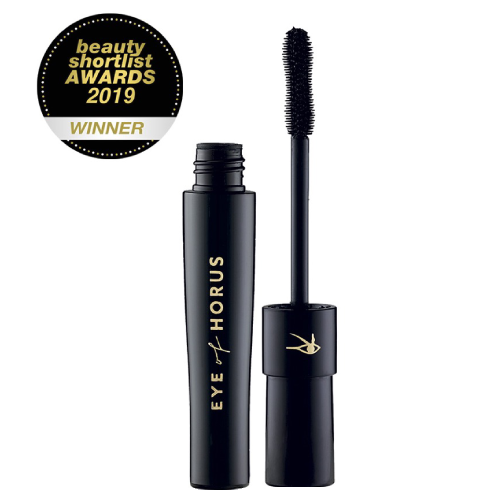 Eye Of Horus Goddess Mascara
Get an expert to answer your question about this product!
77% recommend this product
Most Helpful Positive
Fabulous
This is a really good mascara that creates volume and length without looking clumpy.
Most Helpful Criticism
Just ok
I received this as a sample size, so not sure if it was just the sample, but the mascara was slightly dry and was clumpy on my outer lashes. I probably wouldn't buy the full size.
Just ok

I received this as a sample size, so not sure if it was just the sample, but the mascara was slightly dry and was clumpy on my outer lashes. I probably wouldn't buy the full size.

A good natural alternative

I have been switching out my chemical filled beauty products over the last few years and mascara wa sone of my last switches, I tried a lot of not so great natural products and even experimented with making my own until I came across this. It is formulated without any nasty ingredients but still provides a good lift and darkens the lashes without that horrible caking effect. I will be sticking to this mascara for sure.

Fabulous

This is a really good mascara that creates volume and length without looking clumpy.

My everyday mascara

This is my go to mascara. Love it in the brown for a natural 'makeup free' look. Never clumps and layers very well! I have tried drugstore and high end mascaras and always come back to this one. I also love that it never stings my eyes and has no overpowering smell.

The best

I love this mascara! I have sensitive skin and this includes my eyes. I always had trouble with different mascaras making my eyes itchy or watery but eye of Horus is hands down amazing for this, I've had no trouble at all.

LOOK NO FURTHER

This is the best mascara ever made, look no further ladies and gents, you've found it, here it is the BEST mascara of all time. Long lashes, thick lashes, fine a subtle lashes, you can do anything with this mascara. LOVE IT. Would give it 10 stars if I could.

Best

I love this mascara so much. I have sensitive eyes. I never had red sore eyes with this mascara very lightweight and love the look it gives enough volume and curl. I also use this on my brows to tame.

Still hunting

I like the eye of Horus liners so gave this go. Had epic smudging. Still hunting for a mascara that does't Budge -so far the mirenesse have been the best for me- available here on adore).

Best Mascara on the market

I've been using this Mascara for over 10 years, before they were in shops and had just started out selling at local markets, so blessed to have found them. This mascara doesn't clump, is easy to apply, you can really extend the length and thickness of your lashes by building this product up. 100% best mascara I've ever used.

The perfect mascara!

I feel like I've tried every mascara under the sun! But this one is my favourite so far. It lengthens my eyelashes greatly, adds the perfect amount of thickness and doesn't flake or smudge!
I think I'll definitely be sticking to this one for a while!

A good quality mascara

This mascara works really well for a natural and easy mascara eye look! It's easy to use and isn't too chunky. I love it and highly recommend

Great for volume

My mum bought this for me and I loved it the first time I tried it. It reminds me a lot of the Too Faced Better Than Sex mascara. It creates a lot of length and volume if you like the dramatic look although it can become very clumpy pretty fast. Either way its one of my favourites

I love it

Wonderful and pulls my stumpy lashes out! I use this all the time and can always rely on it!

Isn't my favourite

I don't really like this mascara. I had really high hopes for it after all the good reviews I read, but unfortunately it wasn't really that good. Will stick to Bobbi Brown and Lancome

Best mascara I have ever owned!

I LOVE this mascara! I have never found one before that truly does not clump until I tried this. I also have extremely sensitive eyelashes and every other mascara I have used Mae my lashes itch and fall out - this one doesn't! I am so happy with it, it makes my lashes fan out and lengthen heaps. This is my new go to for sure.

Amazing

This is amazing I love Eye of Horus products, my lashes look huge.

Doesn't clump!

Applies beautifully, doesn't clump and dry out like a lot of other mascaras

LOVE

Received this Mascara as a sample and I absolutely love it !! its been a couple of months and I'm still using it (sample size) a little goes a long way with this one. Also main thing is it does NOT smudge after a long hard day :)

Awesome mascara

I'm so glad I found Eye of Horus Goddess mascara. I love it so much. I've been using it for the last 6 weeks. It has not dried out at all & it stays put. No more panda eyes or flaky bits everywhere.

Best mascara yet

I have long eyelashes and find most mascaras leave marks underneath my eyes. This mascara is perfect. It is the right thickness without being too heavy as well.

My dream mascara!

This mascara is everything I have been looking for. I have gone through countless brands and I am so happy to have found this one. I don't even know where to start. First of all application is amazing, spreads lashes with no clumps at all! You can go with a subtle look or you can build your lashes up. I have no fall out or smudge durning the day and when I wash my face at night it comes off easy with out too much effort. I highly recommend this product!

Excellent for a natural look

Love this mascara! It's full of natural ingredients so it's especially great for sensitive eyes! It gives a nice and natural look

Love this

Bet mascara I have used. Lashes don't look dry and cakey! Also does not runoff into the skin around my eyes

smooth, pretty, easy to take off

I really love this product. The consistency is very smooth, so it coats the lashes really nicely. One coat is very natural looking, but you can also can build the product
for a more dramatic look.

I have read on here that people found it smudges, but that hasn't been my experience at all.

It also comes off very easily with an oil make up remover.

Will buy again!

Goes clumpy

I like this mascara but you can only apply one layer before it starts going clumpy and making your eyelashes stick together. Not really ideal for me as I like long dramatic lashes

Not Worth the Pricetag

I have naturally quite long and thick eyelashes, and I'm not a fan of the "fake" look, so I tend to opt for a quite smooth coating regarding mascara that you can build up. My experience with the Eye of Horus Mascara wasn't up to my expectations; applying with the usual zig-zag motion, the shape of the wand caused my lashes to stick to each other, becoming inseparable. It doesn't build very well after the initial coat. The only reason I'm still using it is due to the money I spent.
The only positive thing I can say is it washes off with ease with water, without leaving panda eyes.

Amazing product!

I was hesitant to buy an expensive mascara, but I'm so glad I did, it's so smooth and makes my eye lashes look so much bigger. Really happy!!

Smudges. A lot.

Thought I'd try this because the reviews were so good but within an hour of wear, I have severe panda eyes! This mascara smudges so much it's hard to describe just how bad it is. Do not recommend at all. Even if you're not quite as prone to smudging your mascara this will still fun a bit towards the end of the day, so o really wouldn't recommend this to anyone ever. Only positive is the deep black color ...if only it would stay on the lashes instead under my eye!

Recommended BY a Friend!

Even though I've not Personally used this product my best friend had tried it previously but couldn't justify buying it at the time. She fell in love with it! She's not a fan of heavy volume mascara and loved how luscious and light this felt on her lashes. She also has difficulty finding a good quality brown mascara.

I purchased this for her as a birthday gift and she's rapt! No other mascara she's used has come close for ease of application, lightness and is great for her sensitive eyes.

Great mascara but can get clumpy

Ok, so - this mascara is gorgeous! It is super, super black and made my lashes look really lush! My only gripe with the product is that it can get a bit clumpy when you're building it up. If you resist the urge to apply a metric tonne of it then it's really fab xx

Beware of panda eyes

After having used Eye of Horus eyeliners for quite some time I was excited to try the mascara. It goes on beautifully, no clumping even after the 3rd layer & my long(ish) eyelashes looked amazing!! But that's where the positives end. Each day by mid afternoon I'd have the most embarrassing panda eyes. There was no avoiding it & unfortunately I cannot wear this mascara as much as I want to due to the fact.

Lengthen

Doesn't transfer under my eyes and helps to lengthen and curl my lashes upwards. Love this mascara

Great mascara

Love this mascara! It doesn't flake, doesn't end up under my eyes throughout the day and stays put. I also find it holds a curl better than others I've tried.

Love it!

This is my go to mascara, I won't be buying anything else. Lasts for ages, doesn't get clumpy or flaky. Excellent quality.

Not the best

I didn't find this mascara worked very well for me. It didn't really wow me for this price it performed the same as a $8 drugstore brand

Eye of horus

This mascara creates long, luscious lashes. I received as a free gift with purchase and will definitely be buying when finished. It's one of the only mascaras that does not irritate my eyes. Only down side is that it does transfer under the eyes a little.

Big lashes

This product is very flattering for big events. It works what it is designed to do . However a little too heavy for everyday makeup. Great product anyhow.

Disappointed

Doesn't give enough volume or length for me. A bit disappointed :(

Awesome.

Volumises the lashes without them clumping. I have really short lashes too. I recommend

Stunning effect

I love this product so much! It makes my lashes so long and curly it is honestly amazing!!!

Nice

I really like this product, it is nice to use, looks great one, super easy to wash off with water. The only downside is that I find I have transfer issues of it being both under my brows and lower lashes. I do live in a humid environment, so this may be a contributing factor?

Amazing

This mascara has good consistency. The colour suits me as well. Definitely recommend.

Gentle Mascara

Nice mascara that doesn't dry lashes and removes easily. Only downfall is it has quite a wet formula so extra care required on application.

Doesn't smudge

Separates lashes, adds volume and doesn't crumble or smudge! It's maybe not as heavy hitting with volume like my favourite Dior Diorshow mascara, but it's nice if also natural beauty is your thing :)

Irritated

This is the only mascara that I've ever used that's irritated my eyes.

Easy to apply , completely covers each lash , is easy o remove & leaves no mess or black smudge marks .

Coats each lash evenly & is easy to apply with the large brush. Absolutely no mess to remove & actually still looks like you have mascara on when you don't & no black smudge marks left under your eyes

Love it when it's dry

I think the mascara is too wet when it's new and tends to smudge and doesn't build up as nicely, but when it dries up a fair amount, it's great! It doesn't smudge or transfer on to the skin during the day, it also builds up really nicely and allows for super voluminous lashes.

Love it!

Doesn't smudge, it's easy to get off and it separates my lashes perfectly. The formula is a bit wet so you have to be careful when you apply it, but other than that it's perfect!

Great coverage mascara

Great mascara, very black. Onto my second purchase. Doesn't go clumpy, stayed a great consistency. My lashes improved with use also.

Wasn't wowed

I recieved a sample of this and wasn't really wowed by this product.. didn't think it did anything that great. Pretty average compared to some other mascaras on the market at the same price. I wouldn't purchase

AMAZING

love this so much!!! makes my lashes so long and curled, don't even need to use a eyelash curler! so nice and light on my lashes and gives them a full volume effect!

No the best

I recieved a sample of this. I'm glad I didn't pay full price. It doesn't really do anything a normal $5 mascara can't. It didn't add length or volume. It just looked cheap and spars on my eye lashes

Natural vibes with amazing applicator!

Legit love this mascara! I've used quite a few brown mascaras in the past, but this is the most natural one I've used to date. The applicator is perfect for my lashes - goes on so smoothly, not at all clumpy which is hard for me to achieve because I have these crazy eyelashes that grow in weird criss-crossed directions in the corners (why me).

Also as someone who has really suffered with allergies and itchy eyes especially with the change of seasons, I've had no reaction to this product, so it definitely lives up to it's "good for sensitive eyes" claim.

Excellent

Very good quality mascara. I have used mascara for 2+yrs now. Started using it after read reviews about it being good for sensitive eyes. I love it! No.allergies from this mascara. I use brown for every day use and black for night times/special occasions. Easy to build up for a full look.

Different

A mascara that doesn't smudge

Lovely Natural Look

This mascara is exactly what I wanted. I wear minimal makeup as I prefer a natural look and Eye of Horus Goddess mascara makes my lashes look longer and a little fuller without looking clunky. I love that it doesn't smudge or flake like other mascaras I have tried. I find that applying two coats is perfect for me. I would recommend for anyone who prefers a natural look.

Received with adore beauty bag gift

This mascara is replacing my Too Faced Better Than Sex mascara which is a big call. It doesn't smudge or flake all other the place and gives volume without getting clumpy. In love

Best ever

I love a very black mascara and this one dose not dissapoint.. great brush shape for my long lashs

Happy with product

I received this mascara as a gift with purchase, having tried a large variety of brands I can say easily this is a top 5 favourite. Non clumpy formula, bold pigment, non flakey and excels in achieving length. Can be built up for a more dramatic look without making the lashes clump together - would recommend!

Better than expected

For the price, this beauty is a steal! I hate clumpy smudgy and fake looking lashes and this baby delivers all that I want. I would say that this mascara is subtle yet it adds a little extra to my lashes. Perfect! Will definitely reorder.

10/10!!

This is exactly what I'm looking for in a mascara!! It is perfect!! I will be a customer for life, I will never waste money on other brands again. As a natural blonde with fair complexion, its hard to find mascaras that can define my lashes and look natural without applying on too thick and heavy. I purchased the Brown and can control and build the depth perfectly for that no-makeup look or for a bolder evening-wear style. No clumps or smudges. Perfect applicator and formula.

Pretty good

This mascara is pretty good. It does everything you want a mascara to do. It lengthens and makes your lashes fuller! I did find that it was a bit smudgey after a couple of hours

Smudges

I received this as gift with purchase. The main reason I don't like it is because it smudges within a few hours making it look like I have super dark eye bags. Nothing else matters if it smudges, but this mascara doesn't do anything great either tbh.

Cruelty free and awesome quality

I have the most sensitive eyes and I have always struggled finding a mascara that's gentle. This has not disappointed and I have used this daily with no problems! I also love the values of this brand and it's such high quality!

My everyday mascara!

If you're like me and want a mascara that is going to give you great coverage, natural featheriness, and not get smudgy then this is it. I am into the whole "no-makeup" look and this nails it. It is enough to give me the perfect rich brown lashes I desire without going overboard or being clumpy and thick.

However, for a night out or something where I wanted a bit more of a done up look, I would definitely be using something else - it doesn't quite give me the boldness I want for fancy occasions.

best one yet

its brush is amazing and in matter of few strokes my lashes look so thick and long and people ask me if i am wearing false lashes. totally worth the hype

My fave EVER

This is my favourite ever mascara. Glides on so beautifully and makes my lashes long and defined. Really buildable. I use it everyday so it doesn't last more than a couple of months, but I continue to buy tube after tube. It is just too good. Also it washes off easily without smudging or damaging my lashes.

Vegan and cruelty free!

I love this mascara for lengthening. However it doesn't do much for volume on my tiny lashes. Vegan and cruelty free is the way of the future and I'm happy to find products like this doing so well on the market!

The best mascara

I have sensitive skin. I prefer natural beauty products for health and environmental reasons. I am in love with the brown mascara. I won't buy anything else. Worth every penny. Doesn't smudge or flake like other natural mascara.

Pretty great mascara!

I quite like this. Opens eyes, lengthens lashes and washes off easily. Great everyday mascara

Excellent for Sensitive Eyes

I have a lot of trouble with mascara in that if there is the tiniest flake my eyes just go crazy - red, tears run constantly, swelling, and just general itichiness and irriation. I also need a waterproof mascara because my eyes are naturally a bit teary on and off, espeically in cold weather. The Goddess Mascara fits the bill. I have had my current mascara for 12mths and I am only just now going to replace it as it's getting a bit old and a bit dry. Normally I'm switching out mascaras at least every 3 months. It doesn't irritate my eyes, and I've never experienced any flakes. Used in conjuction with the Eye of Horus Goddess eyeliner (eyeliner is another product I have trouble with, but the Horus is fantastic!) and I'm all set.

new fav

Love this mascara separates the lashes and really lengthens.

Disappointed

This is really an everyday mascara and doesn't do anything spectacular for your lashes. The only positive is it doesn't seem to transfer onto your eye area when wearing all day and when removing it comes off in chunks and doesn't leave you with panda eyes

Disappointed

I bought this mascara in the hopes it would outrank my current maybelline mascara as I liked the idea of it being vegan & cruelty free. This mascara has not lived up to the hype. Let me be clear the mascara gives you a very natural look, like looks like you have no mascara on at all even after 5 coats. However if you want a barely there, very natural look, then it's great. I like to be able to build my mascara to a more evening look. I put about 10 coats of this one on & it still did not match my one coat of maybelline. Pretty disappointed. Had high hopes.

My new Fav!

This Mascara is amazing! I love how easily it is applied and leaves your lashes looking full and upright withought havig to apply too many layers, very happy!

The best mascara ever!

Never thought I'd find anything better than what I was using in the past but this is lengthening and literally smudge proof! I'm converted.

Amazing results

Love this mascara! It makes my lashes looks thick and long. A bonus is when you wash it off at the end of the day, it comes off so cleanly instead giving you panda eyes as you are trying to take it off. Highly recommended!

No smudges!

I brought this for my mum as it had great reviews for sensitive skin / eyes and not smudging.
She absolutely loves it , every few months I get her request to order a new one :) after years of hunting for a great mascara she's found one ! I think it's about time I get one for myself too.

A.M.A.Z.I.N.G!!

By far the most amazing mascara on the market! I have naturally long eyelashes however this also made them super thick and people thought I had lash extensions!

Really nice on the eye easily removed with a makeup wipe. Some mascaras sting my eyes however this didn't at all.

Best mascara with zero smudging

I love the way this mascara stays on my lashes and when I wash my face it comes off with no smudges or nasty black circles. It's a big call, but it's the best mascara I've used!

Regular mascara

I got this mascara in mini size as a gift and absolutely loved it, so once it finished I re purchased the full size and for some reason not loving it anymore as much as the sample.
I do like brush, doesn't make the lashes clogged, but pretty regular mascara

The Best Mascara!

This is such a good mascara, it makes your eyelashes absolutely POP, doesn't smudge and is long lasting. Plus there are no nasties. I really like that it washes off so easy. I find with other products I have to use eye makeup remover and really rub under my eyes to remove the black but with this product, I just use my regular cleanser. I have been using this mascara for a few years now and it is worth the price.

What a mascara !!!

Love this mascara and "adore" the Eye of Horus brand.
Goes on great and makes my blue eyes stand out even more.I get a lot of compliments for my eyes wearing this now. Just wish was more affordable price range.

Best mascara

I bought this based on an Adore Beauty review and never looked back. I have tried a few mascaras over time but I love this and will stick with it. It lengthens, lifts, volumises - does it all without looking too dense or thick.

Awful

Waste of a lot of money. Clumps on, then flakes off, I've bought most cheaper that are better than this. Absolutely terrible.

Very Impressed with this mascara

I received the eye of Horus Goddess mascara in a deluxe sample size from Adore Beauty as a gift with purchase. I was seriously impressed with its lengthening and curling power. It stayed on all day and did not clump at all. I would definitely purchase another one.

Smudges above and below eyes

When I saw all the good reviews of this mascara I went straight out and got it. I have fair lashes and need a good mascara to make it look like I have any at all. When I first put it on I thought it was excellent. It goes on without clumping, even after multiple coats and it just looked nice! That is where the good part ended. After about an hour of having this on I looked in the mirror and had huge smudges above my lashes on my brow bone and some smudging underneath my eyes. I pushed through and kept trying it for a few weeks but the same thing happened every time. I thought maybe it was my eyes and skin so I tried a different mascara and have not had the same problem. Disappointing, especially at that price.

Not worth the hype

Love the deep black colour but be warned it smudges - badly!! Def not smudge proof and def wouldn't recommend to anyone. Panda eyes suit no one!

Great non clumpy mascara for sensitive eyes

I recently discovered this brand & love it. My eyes are sensitive to eye liners & mascaras with chemicals - which means most brands. This one does not irritate my eyes, goes on easy without clumping & has beautiful stylish packaging. Love the company ethos - their products are natural (better for you & your skin & body) & ethically produced. Wish it was a bit cheaper though!

The perfect mascara (in some ways)

Visually, this mascara is perfect. It doesn't look clumpy and feels super liquidy when you apply it. The major issue that I had with it was how dark the smudges were when I went to take it off at the end of the night. Definitely worth a try though. Wouldn't recommend for everyday use.

Lives up to the hype

I was nervous to try this after seeing so many good reviews, not everything lives up to the hype but this product does! Beautiful lashes with no flaking or smudging all day yet it comes off easily! Love it.

My new fave mascara

I have really sensitive eyes (often red, inflamed when I wear eye make up) and I have minimal issues with this one. Lengthens and thickens lashes beautifully too.

Not worth the hype

Nice enough effect but really flakes and drops down during the day causing panda eyes. Not irritating and easy to remove

LOVE

I love all of the eye of horus products but their mascaras and eyeliners are by far the best! worth purchasing always

The best !

Love this, I've been using for two years now.
Everyone comments on my lashes once I apply this. it gives a natural look, I'm always looking for a mascara that separates each hair and not look clogged

Long lasting non clumping formula

At first I was a bit disappointed with this mascara as it didn't give my lashes the Dramatic volume or length that I like more of a natural look however after a week of using I was able to achieve more volume and length after getting used to it but still this is more of a natural look. The formula is amazing does not clump and it's very long lasting. I work up to 12 hour shifts and no panda eyes. Does not irritate sensitive eyes and is very easy to remove it's more of a fibre formula so requires little rubbing. I give it 5 stars for non clumping and long lasting and 4 stars for volume and length.

Good

I have sensitive eyes and this mascara didn't irritate them, but I didn't find it to give my lashes a whole lot of volume or length

Love everything about it except it does transfer

I really do love this mascara - when I first put it on it makes my eyelashes lovely full and long - I like the drier formula and that it's easy to apply BUT I've noticed that it does transfer during the day - which means on hot days I get black panda marks... which I don't love.

Best Mascara EVER

This is honestly the best mascara I have ever used. It doesn't clump your lashes together or have nasty fallout leading to panda eyes. The colour is super black and I never have smudging. It holds curl too.

Had Better

It did not clump or flake. Applied smoothly but just did not give impact :(

Best suited for a minimal look,which can be achieved at a much lower price point from other brands on the market.
If you like a voluminous,full thick lash look, this is not the correct product to create this