evo water killer dry shampoo 200ml 200ml/122g
4 instalments of $9.51
Or 4 instalments of $9.51 with
LEARN MORE
4 instalments of $9.51
Or 4 instalments of $9.51 with
LEARN MORE
Official Stockist
FLAMMABLE

This item is flammable therefore postage is restricted to Standard Post within Australia
Is this for you?
a new 2-in-1 dry shampoo and styling powder from evo.
Cruelty Free
Sulphate Free
Vegan
Hair Concern:
Fine or limp hair

Oily hair

Oily roots, dry ends
Hair Curl Type:
Curly

Straight

Very curly/African/Caribbean

Wavy
Frequently bought with
Please wait while we find a match
Questions & Answers
(4 Questions)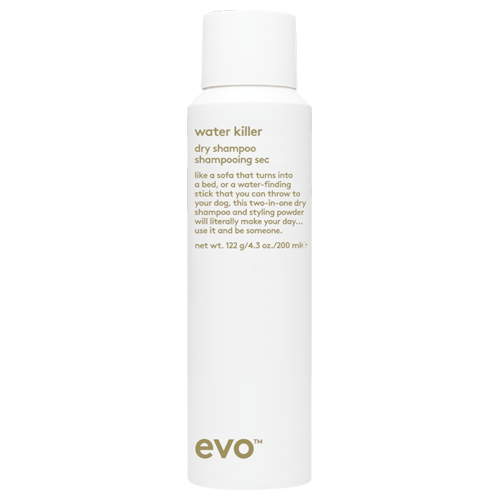 evo water killer dry shampoo 200ml
Get an expert to answer your question about this product!
evo water killer dry shampoo 200ml Reviews
79% recommend this product
Most Helpful Positive
Good
Good dry shampoo - does feel lighter than regular supermarket brands however is very expensive!
Most Helpful Criticism
average
average, no different to others I have tried for a much cheaper price.
Good

Good dry shampoo - does feel lighter than regular supermarket brands however is very expensive!

didn't feel like the product didn't anything

I was so hopeful of this product because of the reviews but found it didn't really help with oil with my air at all. I ended up returning this for a refund

great

this is really good, does such a good job and making my hair look and feel fresh

Love it but pricey

Can't recommend this enough. It smells amazing, instantly refreshes and doesn't break the bank

Love love love this dry shampoo!!!

Cannot Reccomend this product highly enough!!! I brought the half size to test it out now I'm going to buy the full size. It smells amazing and it doesn't leave any residue like some dry shampoos.

Two in one (dry shampoo and styling product)

I love this dry shampoo. While it is on the pricey side, it does two jobs in one. A great dry shampoo (that doesn't leave a lot of residue) while also being an amazing styling product (provides great body for thin hair!). I always come back to it as the best in the market. It can make my scalp a little itchy if I don't wash my hair within a day of using it (it would get 5 stars from me otherwise).

I wanted to love you, but you made it so hard!

I was so excited to receive this dry shampoo after reading the reviews and loving all of the previous EVO products that I had used before. Unfortunately for this one, I just couldn't see amazing results and felt it was quite expensive compared to other dry shampoo's I had used. I aim to wash my hair about 3x per week, and felt that this dry shampoo really didnt take away the greasy look in between...

Read More

White residue

I have dark brown hair and unfortunately this dry shampoo left a lot of white residue on my head that I really struggled to rub in. This would be better suited to blondes. But I do think there are better products around at this price that smell better too.

Favourite dry shampoo

This is my favourite dry shampoo. Works well, smells nice and looks chic.

Everyday fix

Love this for eliminating oily roots and giving my locks a much needed volume boost. My new favourite

Perfect

An amazing dry shampoo for days when you just want a quick refresh. This makes my hair feel clean without feeling weighed down. It also has a very pleasant scent that isn't too overpowering. Also great for adding a little volume. Very impressed. Although it is a little pricey I would recommend

average

average, no different to others I have tried for a much cheaper price.

expensive but really good

this is expensive for how much you get and compared to others on the market. However, it really works to get rid of the oily feel to my hair and leaves it super soft.

a great dry shampoo option

this is really good, smells great, soaks up oil and doesn't leave powder in my hair. Only bad thing is that it is a bit more expensive than others on the market.

Does what it says

does what it says, absorbs oil and makes my hair feeling less greasy. It also has an nice smell to it and leaves my hair smelling nice

Outstanding dry shampoo

I use this every day before work.
Hair so much healthier than blow drying.
Like all EVO products it is outstanding quality.
Smells divine and doesn't leave that powdery residue.
Highly recommend.
Best dry shampoo to date.

Amazing

I adore this dry shampoo! great for days when you can't have a shampoo. Does the job well

Love this product but expensive

A fabulous dry shampoo. Works miracles. One of my favs but it is expensive and have found cheaper brands which I am happy with also.

Great dry shampoo

Amazing dry shampoo. The smell is great, absorbs oil without looking chalky. Definitely a must purchase!

Good product, bad packaging

I liked this dry shampoo but it wasn't as good as I expected for the price. The packaging needs to be changed which might improve the product by dispersing it better,

Great product that is let down by its packaging

This dry shampoo is amazing! I have fine hair and it doesn't weigh my hair down and absorbs any oil to make sure my hair still has volume on the days I don't wash it. Unfortunately, the nozzle clogs easily and then I end up with dry shampoo everywhere (all over me and the bathroom). I hope Evo improves the container because then I would give it 5 stars.

The best dry shampoo ever

This product works SO well. Great oil absorption, volumising and has a much better smell than most dry shampoos on the market.

Helped my hair health a lot

This has helped my hair be much healthier as I haven't been needing to wash it nearly as much! Really loving this!

Game changer

This stuff is amazing. Exceeded my expectations, I've gone from being an every day hair washer down to every 2 or 3 day without worrying. it makes my hair look nice and clean, but also gives really great texture to so I can play with the style a bit more and really get some body happening in my hair. Only loses a star for the price, it's not the cheapest dry shampoo.

best!

this is the best dry shampoo. doesn't leave a white powder like most do and does not dry out hair like i have found others do, this is 100% my go to!

WORKS WELL

I try to leave my hair without washing for as long as I can given that it is coloured.
This works so well on the days where my hair is looking a little on the oily side.
It absorbs the oil quickly and does not leave any colour or weird residue in my dark hair like some others.

THIS = THE BEST

The Evo Water Killer Dry Shampoo is the perfect solution for my hair on those days when I do not have the time to wash, dry and straighten before I go to work or out and about.


Great product but nozzle broke!

I really loved this product but the nozzle broke soon after I started using it. There is so much product left in the canister I've been replacing the nozzle with one from another hairspray which gets the product out but also wastes heaps and is messy.

Worth the money

I have thick, long, fine, blonde hair that often gets oily by the middle of the 2nd day. I have tried Batisse and Klorane which are cheaper, however, I received a sample of this product via AB and went ahead and bought the full bottle. It is well worth the additional cost. I tended to find with the other brands that they don't actually remove any oil and my hair immediately looked greasy, dark and...

Read More

Decent

Provides great volume for the hair and absorbs oil well. Not my favourite dry shampoo but does the job however quite pricey!

Great product, canister not so much

I do really love the Evo dry shampoo and find it to be one of the better ones on the market, however twice now the product has become stuck in the nozzle within a few weeks of opening, clogging the spray and making it unable to use the rest of the product.

Adore Beauty was great in helping me return the first bottle and resending me a complimentary second version however when it happ...

Read More

Dry shampoo

This dry shampoo is amazing. Its a must have for me.

Good dry shampoo

Produced a fine, even mist, that brushes out easily from my hair. Sucked up oil and left my hair looking nice and clean. But no better than $10 Bastisse.

Not the best

I didn't find this to be very oil obsorbing. I had to use quite a bit and then my hair felt weird.

Terrible smell

The Good: While the product comes out lightly and doesn't leave a white powder/residue, it still manages to soak up greasy roots.

The Bad: Despite what others have said, I hate the smell. It's very flowery and smells like old lady perfume. Based on the packaging, expected a more modern smell (like the Kevin Murphy products). It also doesn't have a cooling effect on the scalp (which I ...

Read More

Perfect texture builder and oil soaker in one

I have long, thick and dry'ish hair. I can go a good few days between washes because of the texture of my hair. This product is brilliant when I'm trying to go one more day without washing my hair. It just revives my hair and gives it the right amount of texture and shape. It smells great and is easy to use. My bottle has lasted ages and ages too so it's been excellent value.

I refuse to ever use another dry shampoo ever again!

This is my holy grail dry shampoo, I recommend it to everyone and anyone I know. I have super oily hair, I'm a morning showered and by the next morning my hair would usually be a disgusting mop of oil; however since my hairdresser/friend recommended this product my hair has never been the same. I apply this at night before bed and when I wake up ,my hair is clean and shiny without any oil, as thou...

Read More

Disappointed

I purchased this after reading the positive reviews and unfortunately it hasn't lived up to expectations
I definitely don't find it has any styling power and within a few hours my hair is limp and greasy again unlike other cheaper dry shampoo which admittedly are more cakey and powdery but actually allow my thin blonde hair to get though the second and third day without washing

YASSSS

I would highly recommend this product. I find some dry shampoos can dry out your hair or make it feel crunchy. I have never had this problem with this product. I just recently switched over to a different product due to the price and am completely regretting it, but the price will now not stop me as this is a ten out of ten product I would recommend to anyone that wants to get that fresh look inst...

Read More

The Perfect Solution

The Evo Water Killer Dry Shampoo is the perfect solution for my hair on those days when I do not have the time to wash, dry and straighten before I go to work or out and about.

Definitely an A lister

you will definitely notice the difference if you have been using supermarket grade dry shampoo. doesn't feel powdery like most. it smells pleasant, but quite a strong smell, so if you don't enjoy strong smells around your face (like strong scented foundations etc) maybe hold off.

Good for dark hair

One of my favourite products ever! I have really struggled in the past to find a good dry shampoo and I tried this one and I'm in love. It's also a texturing spray so a great 2 in 1.

Miracle worker.

I've had tried ALL of the dry shampoos and this is hands down the best one out there. It actually soothes my scalp and makes it way too easy to avoid washing my hair. The bottle lasts for ages and the product itself is super effective so you don't need to use much at a time. Everyone needs one of these in their lives!

Didn't read the description properly

I was looking for a new dry shampoo and decided to go with evo as their products are vegan and cruelty free. Unfortunately I didn't realise this was also a texturing spray. I'd usually spray dry shampoo before bed but I can't with this as my hair ends up sticking to my head by the morning.

Great for dark hair

I have thin (but a lot of it) dark hair and found this great - it does spray in white, but when brushed through you can't see it any longer. You're meant to leave in for a couple of minutes before brushing, when you brush be sure to brush through a few times to make sure the product is thoroughly distributed and doesn't leave any patches.

I had previously been using the Kevin Murphy ...

Read More

AMAZING

One of my favourite products ever! I have really struggled in the past to find a good dry shampoo and I tried this one and I'm on love! It works really well, has a nice smell and also gives volume to my hair. I would absolutely buy again!

Very good

I've used a few dry shampoos in the past and my favourite used to be Batiste XXL, but they don't make it anymore :( Batiste would make my hair look amazing and give it so much volume, but it made my hair feel pretty gross.
Evo Water Killer Dry Shampoo is a great product. Doesn't feel like you have product in your hair at all and it definitely absorbs all the oil from my scalp. It makes my...

Read More

Best dry shampoo

I've used many brands of dry shampoo with mixed results, this one though is a lovely product. Great also for styling.

Love Love Love

This has to be my go-to for dry shampoo!!!! been using it for a a few years now. Gives my fine hair heaps of bounce and volume to extend between washes. great for oily fine hair!!!

works well and smells great!

Works well however when used too much hair goes very white and stiff. A little goes a long way with this product. not to over use. The smell is amazing! Smells like mens cologne

INCREDIBLE product!

Absolutely obsessed with this. The only dry shampoo that actually works!

It really does 'soak' up the excess oil and gives volume. Must give it a try. One of a kind.

Amazing. A dry shampoo that's actually worth buying!

Oh Evo, you treasure-trove of haircare boffins. Bless you for this dry shampoo that actually keeps oily scalp at bay, while adding wicked volume and actually smells NICE.

The other bonus is that the spray nozzle doesn't break down upon first use, spraying out the compression air while the product loiters, unattainable, inside. I had this issue with a previous high-end brand, and was r...

Read More

Blank

Really works with a pleasant smell and residue brushes out easily even on my brunette hair. Adds volume for easy styling and extends you hair colour.

AMAZIING -great to keep your straight blowdry goin

This product is brilliant. It allows you to freshen your straight blowdry and also provides volume. Sex kitten hair in a bottle without residue or build up. Its is brilliant!!!