evo ritual salvation repairing shampoo 300ml 300ml
4 instalments of $8.50
Or 4 instalments of $8.50 with
LEARN MORE
4 instalments of $8.50
Or 4 instalments of $8.50 with
LEARN MORE
Official Stockist
Is this for you?
If your hair has been through the ringer, if it's feeling more than a little worse for wear, there's evo Ritual Salvation Repairing Shampoo. Made especially for dry, damaged hair, this little beauty is gentle, restorative and generally kind to hair.
Paraben Free
Cruelty Free
Sulphate Free
Hair Concern:
Breakage and split ends

Dull, lacking shine

Frizzy hair

Product buildup
Hair Curl Type:
Curly

Straight

Very curly/African/Caribbean

Wavy
Frequently bought with
Please wait while we find a match
Questions & Answers
(2 Questions)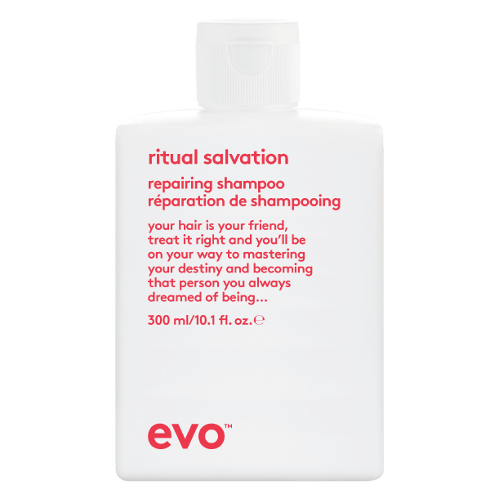 evo ritual salvation repairing shampoo 300ml
Get an expert to answer your question about this product!
evo ritual salvation repairing shampoo 300ml Reviews
82% recommend this product
Most Helpful Positive
Great for damaged hair
So good for brittle bleached hair
Most Helpful Criticism
Not great for coarse hair
I got this as a gift, but didn't notice any difference , maybe is for another type of hair
My damaged hair is repaired

Leaves my hair feeling soft and doesn't get too frizzy when I blow dry it. I have dry and frizzy hair and this shampoo has helped me so much. I have tried a lot of products to help, and this is the best so far.


Not great for coarse hair

I got this as a gift, but didn't notice any difference , maybe is for another type of hair

Still undecided

I got both the shampoo and conditioner as part of the "love is in the hair" duo. I seriously love the conditioner and the little free protein treatment that came with it is incredible - but I think the shampoo is too heavy for my oily-prone hair. I find my hair gets oily quite fast when using the shampoo. I'm hoping it will be perfect for winter though! QLD humidity doesn't help!

Great for damaged hair

So good for brittle bleached hair

super hydrating

i have dry curly hair and i find this super hydrating. Love the smell and it makes my hair feel so nice

Quality product

My hair feels very soft and nice. Cleans my scalp and hair well, although it does not lather that much. I have very long, thick curly hair and do recommend if you love soft, luxurious hair! Smells wonderful and helped revive my dead hair.

a great shampo

this smells so nice, is super gentle and left my hair feeling clean and soft

Great for dry hair

I've been using Evo Ritual Salvation shampoo & conditioner for about a year now. I have fine, frizzy hair & quite often shampoo leaves my hair feeling like straw after washing. This shampoo leaves it soft but doesn't leave it too heavy like some other moisturising shampoos.
I also have extremely sensitive skin (atopic ecezema) and this doesn't bother it at all.

Love love love

This is the best shampoo I've ever had, and I've had a lot of expensive brands too.
Makes hair super clean with only a small amount of product and also leaves it feeling hydrated. Will be definitely buying again as well as the matching conditioner

Nice but a little heavy

This shampoo is lovely and hydrating, smells great and does the job but unfortunately is a little too heavy for my fine to medium hair.

Yay hydration!

Perfect weight shampoo for my hair. I have fine hair but LOTS of it, and it can get extremely frizzy in extreme heat or cold. It's helped to calm the frizz, my hair is definitely more hydrated and it's not harsh on my coloured hair. Hair doesn't feel weighed down after, so I have kept using my Evo The Therapist conditioner and I'm super pleased with that combo. I've noticed my hair stays straighte...

Read More

Really repairs hair

I have dry and frizzy hair and this shampoo helps a lot. I have tried a lot of products to help, and this is the best so far. Leaves my hair feeling soft and doesn't get too frizzy when I blow dry it.

Not for oily scalp types at all but...

I only used this shampoo on my super over bleached hair ends.. and it's awesome because it's so conditioning. I also use it in conjuction with purple shampoos as a mini tone treatment.

Average

I can't say I have seen an overwhelming change in my hair since I started using this range. It does the job well enough, and leaves my hair feeling clean however my hair still feels quite dry after.

Disappointed

This shampoo smells great but that's about all it did for my dry hair. I didn't notice it making even the slightest difference to the strength or softness of my hair.

Great product

I'm usually a snob for b3 shampoo and conditioner, but hands down this product is amazing! I will have no hesitation in purchasing again :)

The best

This is the only shampoo that I have used that makes me feel like I have already used conditioner when washed out. Makes my hair feel clean and hydrated at the same time with the benefit of the repairing factor.

New Holy Grail!

In short: The ONLY shampoo and conditioner I will EVER use on my hair dry, damaged, heat styled, color damaged, curly, dehydrated, split ended hair!!!!

Smells amazing

I have always loved the smell of this shampoo. I keep the ritual salvation buddies in my shower and switch between this and a clarifying shampoo depending on the weekly hair wash 'cycle'.

Great Repairing shampoo

I have long, thick dark hair with dry ends this shampoo has been amazing for it. I find it hard to find repairing shampoo and conditioner that doesn't leave a greasy residue in my hair which this doesn't. Purchased this after I bought the Evo love shine hair spritz and I can confirm that the shampoo smells just as good. Love the Evo products!

Great for when your hair needs a pick-me-up

I have fine hair that gets oily very quickly, but the ritual salvation range does a great job at reviving my hair without weighing it down. For people with oily hair like me, I perhaps would not recommend this as an everyday shampoo only because it may be *too* moisturing. I switch it out with other evo shampoos and end up using it every second or third wash and it keeps my hair soft and supple.

Ok - but hard packaging to use

It's a reasonably product, but just super hard to get out of the packaging, it's really annoying.

Love this shampoo

I have dry/fine hair and this shampoo doesn't weigh it down. My hair always feels healthy, shiny and easier to manage after using.


Nice Product

I usually use the hydrating shampoo from the Evo range but thought I'd try this as it may help with my oily roots.
This shampoo smells divine but I have found if I don't rinse it off immediately and more thoroughly than other shampoos I do get sections of hair which hold onto the product making it slightly greasy and limp. I have a lot of hair but it is very fine...

It's ok

I bought this shampoo as I adore the Evo Great Hydrator Mask. It's alright, I guess I was expecting to love it but I like it instead. A bit underwhelmed though.

Great for damaged hair

This Evo shampoo is great for dry and damaged hair. It cleanses the hair really well and helps to repair it.

Great all-rounder for (particularly) dry hair

Been using this conditioner since I had very-damaged/bleached frizzy/curly hair. Worked well to recover my locks after an intense DIY bleaching, but hasn't been as noticeably effective now the bleach has grown out.

Some other users here have mentioned that it can be quite heavy on oily hair, but I've found it to be the exact opposite! I straighten my hair regularly, and still find I n...

Read More

Love this shampoo

Firstly, it smells amazing!

My hair is blonde colour treated and it keeps it looking soft and light. I'm able to go a few days in between washing (in addition to dry shampoo) using this and my hair dresser has commented on how healthy my hair looks between appointments.

Love the smell of this shampoo!

Smells great, keeps my hair soft and clean. What more can you ask for in a shampoo? My hair is colour treated blonde and it's kept clean for a few days after using (with dry shampoo of course).

Not Great

I was recommended this by my hairdresser to help with my oily roots/dry ends. Initially I found that my hair felt cleaner and the product smelled delicious, but I found that it didn't rinse well and often my hair would feel limp and unclean and I would require clarifying shampoo more than normal. Not for me unfortunately.

Such a great shampoo!

This stuff is amazing for my dyed blonde hair. Since it's been bleached my hair gets dry a lot easier but this shampoo ensures my hair doesn't get dry. It's a life saver!

Great for damaged hair

Significantly repaired damaged hair after bleaching. Would purchase again

Great value and a good product

I have dry/fine hair and this shampoo doesn't weigh it down. My hair always feels healthy, shiny and easier to manage after using.

Best for dry hair

I was suggested this shampoo by my hairdresser for my damaged hair however it was too oily for my scalp and I found after a 1-2 days my hair looked dirty and oily on my scalp and I would have to wash it again causing more damage. It does smell nice and made my ends hydrated. Would be good for hair that is dry all over

Moisture plus

I purchased this product after bleaching my long thick hair for the first time. It does exactly as advertised. After the very first wash i noticed less hair fall in and out of the Shower, extremely hydrated hair and less frizz. After every use my hair just gets better and better. Dedinitely recommend this product to anyone trying to repair their hair.

Worth the investment!

My favorite salon uses Evo products so I decided to splash out and invest - I tell you, I've never looked back. My thick, coarse hair is so smooth and shiny after using this conditioner! I pair it with the Evo Easy Tiger straightening balm and my mane couldn't be happier. I have A LOT of hair (it takes me 20 minutes to wash it) and this bottle lasts about 4 - 6 months.

Wouldn't repurchase

My hair felt clean but it also looked dry and dull while using this shampoo. Much better ones in the range. I have lightened, dry hair

First time purchaser

I purchased this for the first time after reading reviews on Adore and I am OBSESSED. I rave about this product to my hairdresser and after I used for the first time, I noticed results instantly. I have highlights through my hair so avoiding breakage is a priority and this product has helped me to repair my hair so well. I will definitely be repurchasing this product as well as more from the Evo r...

Read More

Great product

I love this product, it moisturises and nourishes my hair leaving it looking fresh and clean, have purchases many times!

Fine damaged hair

I have very fine hair and not much of it due to breakage after years of colouring. I use this shampoo because it's super gentle and my hair hydrated afterwards. Would recommend!

Miracle

Purchased and will continue to purchase, although I used more than directed as others had said quite a bit was needed. I felt that I should have only used a small amount, lathered up well, and could immediately feel the difference in my hair and don't get me started on the smell!! It was Devine!! Also only washed once and used the conditioner and again felt the difference immediately only needed a...

Read More

Brilliant Shampoo

My hair gets a bashing whenever i get my balayage redone, so this shampoo has helped me keep my hair nice and healthy!

Lovely and very effective product.

Evo shampoo was recommended to me by a hairdresser and I'm so glad I decided to give it a try. I have fine, slightly oily hair but after using this shampoo my hair feels and looks super clean and light.

Not bad - But not great either

I found this shampoo to be too heavy for my hair. I have oily roots and dry ends and found it made my hair look dirtier quicker. I'd only recommend for very dry hair or over treated hair types.

Good for thin highlited hair

Really liked the shampoo. I use it with the conditioner and could see the difference in my hair. It's smoother and helped to reduce a little the frizz.

Not bad, but not great either

This is a great everyday shampoo. It cleanses well, but I didn't feel like it helped to repair my damaged hair. Smell is slightly weird, but that might just be me.

decent for my needs

this shampoo did not wow me. it did lather really nicely, and the scent is nice and clean. l am a double-shampooer, and this leaves my hair clean after shampooing twice, but l don't know how clean it would leave my hair after shampooing only once. it doesn't weigh down my fine hair, but my hair gets oily pretty quickly and this didn't get me any extra days between washes (I still have to use dry s...

Read More

mad I didn't start using this sooner!

after months of my hairdresser telling me I needed to give up supermarket products and actually commit to salon shampoos and conditioners, I bit the bullet and bought the matching ritual salvation pair. oh mama, do I get some volume when I use this. I love the smell (I step out of the shower feeling like I've just come from the salon) and my hair feels softer and cleaner for longer!

Go to shampoo

Been using this shampoo for around 3 years now. Smells so good and lathers up well and leaves hair clean. Only thing is if my hair is super oily, i need to shampoo 3 times instead of 2. It's great for my colour treated fine hair

hair resurrected!

I had evo products used on me at a hairdressers and after one wash I noticed a difference so I made the switch. best decision I've made for my hair! my hair is so much stronger and responds to heat a lot better, i've also noticed it has grown faster - i think because the quality has improved so there is much less snapping

New favourite!!!

I recently received a sample of this shampoo with my adore beauty order and I was very impressed! I got about five washes from the sample and each time I used it I loved the results. I have long, colour treated hair that tends to be dry and frizzy. I love using moisture shampoos, however, I find they sometimes leave my scalp oily. This shampoo left my hair soft and manageable but no oily scalp! It...

Read More

Lovely Shampoo

I have tried most of the evo shampoos and this one smells the best by far. You don't need to use too much and it does have a nice consistency. I always condition after so can't comment on if it is drying or not. Would purchase again.

Great for oily hair

Since having a baby my hair has been really dry and prone to breaking, but since using this shampoo my hair has been less frizzy and more healthy feeling. I don't wash my hair more than a couple of times a week and I think that's due to the shampoo. It smells lovely and is just a great product.

Liked it, didn't love it

Smells great, was gentle on my (sensitive) scalp and lathered really well

However, I never felt like I could get a second day our of my hair. I have super long, thick hair which I can usually only get two days out of anyway so not a huge deal but never felt 110% clean.

Amazing for fine, oil prone hair

I have always been prone to oily, limp hair and I have never been able to go more than a couple of days without washing. I have been using this shampoo for over a year and the oiliness has completely stopped - I now wash once or twice a week. It also gives my hair some volume and as a bonus my boyfriend loves the smell of it. 100% would recommend to anyone.

A decent shampoo

If you're a bleached blondie like myself you need to find a perfect balance between protein and moisture - this shampoo was a great go to when I needed a smidge of protein (but not an excessive amount) - it did the job and left my hair feeling great. In future I will stick to the moisture range of evo, but thats just my hairs preference. It's still a lovely shampoo!

Lovely smell

This shampoo smells amazing (very similar to Ralph by Ralph Lauren) and does a good job cleaning my hair.

Great everyday shampoo

This is a great every day shampoo. It's moistursing and helps to reduce frizz. I will rebuy this product.

Love this product!

I have long, fine, coloured blonde hair. My hair feels repaired and soft. Best part is my it isn't weighed down and oily as can occur with other treatment products.

Have used this for years

I've been using this shampoo and conditioner for about 5 years now- and have never felt the need to change. I have dark hair that I colour lighter. This duo keeps my hair healthy and my colour looking good. My all time favourite- and last for ages as a little goes a long way.

Love this Shampoo

I have been using EVO products for a while now and decided to try Ritual Salvation as a change. This is now my new favorite out of the EVO range.
My hair is quite dry and prone to frizz, this shampoo is so moisturizing, reduces frizz and gives my hair a lovely shine.
Best of all it smells amazing! Overall a great product.

Saved my hair

I got this product as a sample and ended up purchasing the full size! My colour and heat treated hair has been split, lack lustre and damaged looking of late so I've been updating my hair care routine. This is delightful addition free from harmful chemicals traditionally found in shampoo. Works up a nice lather and smells heavenly!

Fantastic product

I have now re-ordred this shampoo and will be sticking with it. Lathers nicely, doesn't make my hair oily or flat. Smells a treat.

LOVE LOVE LOVE

I have been using Kerastase, but due to the price I was looking for an alternative and have tried a few other salon brands. Whilst I was not unhappy with the other salon brands, I never really was totally satisfied
Well this has all changed, I JUST love this shampoo. It has left my hair so soft and manageable. I have fine blonde coloured hair that I straighten almost every day. My hair tends...

Read More

Loved it!

I discovered this brand from my salon because i just couldnt get over the smell! Its one of the best smelling shampoos I have used in my life and the smell actually stays. This shampoo makes washing my hair once a day worth while :D Hair feels light, clean and is nice smelling after washing. I use this together with the ritual salvation conditioner. Its pretty liquids so it flows out of the bottle...

Read More

Amazing

Such a wonderful shampoo. After washing, I can almost go without conditioning, that's how great this product is. Would absolutely recommend and will buy again.

Great products

I purchased the Ritual salvation shampoo and conditioner. My hair is quite coarse and curly, This range works really well as I need rich conditioning and a good shampoo as my roots tend to get oily. Very happy with the products, I wish they were a bit cheaper though!

Amazing

Love! My hair never felt better

.

This is a rich creamy shampoo that lathers up quite well, almost unheard of in a SLS free shampoo. Cleanses deeply and rinses well without overstripping the hair. Smells good, that traditional shampoo smell.

I am so glad I got to try a generous sized sample of this product as I haven't used this brand before. I love that this is a low lathering shampoo, but leaves your hair feeling well washed without being stripped. My hair actually felt nicely moisturised afterwards, and it smells awesome!!! I will definitely be looking to purchase this after I am done with my current shampoos.

The first thing you will notice about this product is the simply gorgeous scent; it is very fresh, fruity and sweet but not sickly-in fact it reminds me of Ralph by RL. The formula is quite thin so spreads really well and it is easy to work through the scalp. It rinses clean, without loads of lather too so I give it points for ease. The result is well-conditoned and balanced, but not overly mositu...

Read More