evo ritual salvation repairing conditioner 300ml 300ml
4 instalments of $8.50
Or 4 instalments of $8.50 with
LEARN MORE
4 instalments of $8.50
Or 4 instalments of $8.50 with
LEARN MORE
Official Stockist
Is this for you?
a rich conditioner for coloured, chemically afflicted, dry and/or damaged hair.
Hair Concern:
Breakage and split ends

Dull, lacking shine

Colour protection

Frizzy hair
Hair Curl Type:
Curly

Straight

Very curly/African/Caribbean

Wavy
Frequently bought with
Please wait while we find a match
Questions & Answers
(1 Question)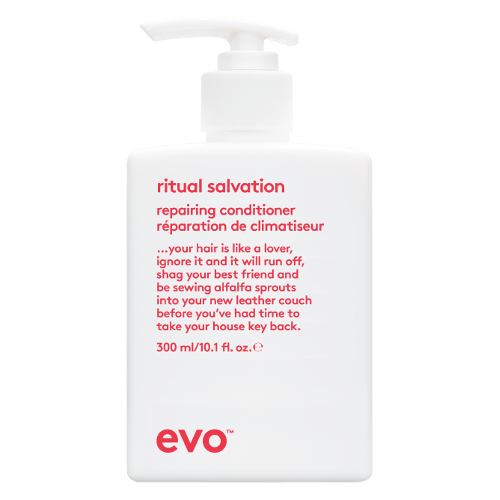 evo ritual salvation repairing conditioner 300ml
Get an expert to answer your question about this product!
evo ritual salvation repairing conditioner 300ml Reviews
78% recommend this product
Most Helpful Positive
Smells Amazing!
This is a fantastic conditioner. My hair feels so soft and hydrated and it smells amazing!
Most Helpful Criticism
OK but not great
I've been using this along with the shampoo for a little while. They do the job but i don't feel they are better than cheaper supermarket brands. With the conditioner, i felt i had to use quite a lot and still didn't get the smooth, nourished feeling i get from other products.
evo ritual salvation repairing conditioner 300ml

I bought this a week and a half ago and I've used it 2 or 3 times so far. I've found my curls to be more formed and tighter, rather than the wavy weirdness that it can sometime turn into. My hair also just feels softer.

Smells Amazing!

This is a fantastic conditioner. My hair feels so soft and hydrated and it smells amazing!

My favourite

Evo hair products have saved my hair! It's gone from being a dry frizzy mess to actually manageable and now when I style it it actually looks healthy! It feels so soft too!

love it

This conditioner works in a hurry and gives my hair a shine. Strong recommend trying it.

Worth the investment

Evo products have been my go to for maintaining dyed hair for a long time, and I cannot recommend this conditioner enough. Along with the protein shampoo it makes a great strengthening regime for damaged hair. Also lasts for ages as a little goes a long way.

Lightweight

I use this along with the matching shampoo and it is great. super nourishing but very lightweight and i don't feel like there is any residue left in my hair. You only need a small amount because the shampoo is so hydrating so it will last ages.

Good conditioner

Good conditioner, smells great. However not as thick or as nourishing as other salon conditioners - but reflected in the price.

Adore it!

Such a good product for the price! I have damaged, dry and brittle hair and it's extremely hard to control the frizz and crazy curls even when straightened. Since I've been using this shampoo + conditioner my hair is softer and so much easier to handle. I have a lot less breakage and a lot more shine! And I'm definitely seeing the results I've been looking for

In my weekly routine

This conditioner, paired with the shampoo is a great combo to use as part of your weekly routine. It keeps hair soft, without dragging it down or feeling heavy.

Smells so good

I have used this shampoo + conditioner duo for years after I made the switch from supermarket brands and wow did I notice a difference. The overall health of my hair improved so much. My hair looked more smooth and 'well-behaved' naturally, as opposed to the awkward limp frizz I was used too.

Honestly, my favourite smelling shampoo/conditioner - yum! On a side note, my high-end hairdr...

Read More

Softens without adding weight!

Such a nice product! Nourishing but not to heavy and easy to wash out. Perfect amount of richness for my coloured but super fine hair.

Amazing

Honestly this conditioner is amazing! I have dry ends and it actually makes your hair smelling so nice. I found after a few uses it keeps your hair shiny and really soft

Amazing

So good for broken brittle hair

Great feel and smell.

My hair feels very soft and nice. I have long, thick curly hair and recommend if you love soft, luxurious hair! Leaves it smelling and feeling great too.

Great Product

I love the Evo Range, I have fine, frizzy hair & quite often feel the need to double condition. When I use this one I don't feel the need to double condition, I just follow it up with a little morrocanoil or leave in before drying!
I also have extremely sensitive skin (atopic ecezema) and this doesn't bother it at all.

OK but not great

I've been using this along with the shampoo for a little while. They do the job but i don't feel they are better than cheaper supermarket brands. With the conditioner, i felt i had to use quite a lot and still didn't get the smooth, nourished feeling i get from other products.

Absolutely love it

I have been using this conditioner since last year and it has been the best product i have ever used so far. My hair feels so smooth and healthy after each use.
I have dry hair and coloured it last year after which it became really dry with lots of split ends.
Using this product on a regular basis has helped me restore my hair to its original condition or even better. I would highly re...

Read More

Probably the most conditioning conditioner ever but..

Use sparingly, especially if you're more of an oily hair type. Works great for me as a deep conditioning mask. Can see how great it would be for someone with really dry or extremely processed hair.

Good product - frustrating packaging

I do like this shampoo and conditioner, but the pump bottle makes it incredibly frustrating to use. Only a tiny amount comes out with each pump and you need to use two hands which is awkward in the shower. If you don't think this will bother you then give it a go! It is a great product in poorly designed package.

Didn't work for me

My hair felt exactly the same before and after using this conditioner. I used up the entire thing hoping to see and feel a notable difference but for whatever reason this just didn't work for me. I would leave it on in the shower too just to make sure it had time to work but still nothing. For reference my hair is long but fine, and it typically needs a wash every 2-3 days. Such a shame as it seem...

Read More

Beautiful

This conditioner combines with the shampoo make my hair feel silky soft and healthy. Couldn't recommend enough.

New Holy Grail!

In short: The ONLY shampoo and conditioner I will EVER use on my hair dry, damaged, heat styled, color damaged, curly, dehydrated, split ended hair!!!!

So Hydrating!

I love this product! My hair is too - it's looking so healthy. It smells amazing too, but the repair features are incredible!


Evo

I was excited to try this after using their hydrating mask but was left a little disappointed. Apart from the awesome quotes on their bottles it's just like any other store bought conditioner to me! Will stick to their hydrating mask - best product I've ever found!

Keeps hair looking healthy

Firstly, it smells amazing! Just like the shampoo from the same line.

My hair is blonde colour treated and this conditioner used with the shampoo keeps it looking soft and light. My hair dresser has commented on how healthy my hair looks between appointments. My hair has changed quite a bit due to pregnancy and post-partum but this has helped deal with all the changes.

Good

I was using this alongside the Ritual Salvation shampoo and while I wasn't super fond of the shampoo, I did really like the conditioner. It left my hair nice and soft, the only downside is that I found it a little heavy on my fine hair and it loses a star because of that. It smells beautiful, and was not irritating on my sensitive skin at all.

So moisturising

Amazing for damaged bleached hair!!

So good

I have dry and fine hair. This conditioner makes my ends nourished and roots healthy. Not too heavy, smells lovely and lasts for ages!

Silky smooth moisture

I purchased this product after bleaching my long thick hair for the first time. It does exactly as advertised. After the very first wash i noticed less hair fall in and out of the Shower, extremely hydrated hair and less frizz. Feels so silky and smooth. After every use my hair just gets better and better. Dedinitely recommend this product to anyone trying to repair their hair.

Made my hair feel dry

This made my hair feel dry and look dull so I'm not sure I would recommend. I have lightened, dry hair

Good product but a little too heavy.

This product does a great job at conditioning my hair but is a little too heavy for my fine hair. So it left my hair a bit weighed down. Would definitely recommend for other hair types. Evo is a great brand.

Not bad - But not great either

I found this conditioner to be too heavy for my hair. I have oily roots and dry ends and found it made my hair look dirtier quicker even if I only but this product just on the ends. I'd only recommend for very dry hair or over treated hair types.

the pump is a bummer

this product is lovely, but its too thick to be in a pump - it definitely needs to be in a squeeze tube. aside from that, this is a nice conditioner for those of us with bleached hair. it provides enough hydration to smooth the mid-lengths and ends, but not too much that it looks too slinky and weighed down. just a shame about the pump.

product, yes!! packaging, no..

evo has my heart when it comes to hair products. I love the ritual salvation pair, particularly how my hair feels much softer and stays cleaner for longer. also, the smell makes you feel like you've just walked out of the salon. but like everyone else says, the packaging is terrible. my pump never worked despite arriving tightly wrapped, so I have to resort to just squeezing the bottle to get prod...

Read More

Love the product, hate the packaging

This is a brilliant conditioner. It is so hydrating and my hair is always very soft after using it. My hair is thick and course and was damaged from bleaching, so I was impressed by how smooth and soft it makes it. The product smells amazing. Unfortunately the packaging is awful. The conditioner is very thick and I find it so hard to squeeze out of the bottle when you are half way through. It is n...

Read More

Good product, not so great packaging

I liked the conditioner, smelled great and my hair felt nourished afterwards but the pump on bottle drove me insane. I have quite a lot of hair so may need a little more than the average individual – but the pump is so slow and only dispenses the smallest amount. Was a little infuriating. Liked the conditioner though!

Not moisturising enough for Blonde's

This conditioner falls short in terms of the hydration is delivers. My hair is blonde so chemically lightened and needs all the hydration it can get.
I won't re-buy this product.
It would be suitable for someone without blonde or colour processed hair.

Love this product

I have long, fine, coloured blonde hair. My hair feels repaired and soft. Best part is my it isn't weighed down and oily as can occur with other treatment products.

Literally the worst conditioner I have ever used

This conditioner was absolutely terrible to my hair! My hair is very long and thick, though I have very fine indivisible strands so it gets tangled easily whilst shampooing. Most conditioners easily detangle this, however this conditioner made it a hundred times worse. It also made my hair incredibly dry. I wanted to believe the good reviews so I used it quite a few times but had bad experiences e...

Read More

Fantastic

This conditioner is fantastic!! It is thick and makes detangling my thick hair a dream, yet doesn't weigh my hair down.

Great product

This is a fabulous conditioner--it is well worth its price. I have been using it with another shampoo (not an evo one) for a scalp problem, and that shampoo normally leaves my hair pretty limp and sad, but this conditioner has completely solved that problem. It now feels so silky and nourished.

My only complaint about this product is that I have a chronic condition that sometimes lea...

Read More

Loved it!

It works so so well with the ritual salvation shampoo. smells amazing and leaves hair smooth light soft and nice smelling :D the only downside of this product is the packaging. With the conditioner being semi liquid, it is so hard to get it out of the bottle as compared to the shampoo, which just flows because its liquid. maybe an easier to squeeze bottle next time? i would love a pump bottle (wit...

Read More

AMAZING

I have been using this product with the conditioner and Mane Prescription Treatment for two years now and have not been disappointed!

My hair is highlighted and super straight and this makes my hair feel and look so healthy! I have used so many different hair products (being a hairdresser myself!) and only ever recommend this product and Kevin Murphy - Angel Wash. EVER!

Love, love, love this conditioner; it smells devine and leaves my hair feeling nicely hydrated without weighing it down. I usually have to wash my hair every two days as it gets so oily, but after using this conditioner and it's partner shampoo I could actually leave it for three days! Yay!!! On my wish list for my next Adore purchase, it's such a good price, how can I resist!!!!