Embryolisse Lait-Crème Concentré Moisturiser 75ml 75 mL
4 instalments of $9.50
Or 4 instalments of $9.50 with
LEARN MORE
4 instalments of $9.50
Or 4 instalments of $9.50 with
LEARN MORE
Official Stockist
Is this for you?
The cult French skincare product that is known as the 24hr Miracle Cream! Favoured by dermatologists and makeup artists for decades, Embryolisse Lait-Crème Concentrè is finally available in Australia! Beauty insiders' secret weapon, this creamy milk moisturiser triples as a masque, cleanser and primer.


Skin Concern:
Dull, dry or dehydrated skin
Frequently bought with
Please wait while we find a match
Questions & Answers
(2 Questions)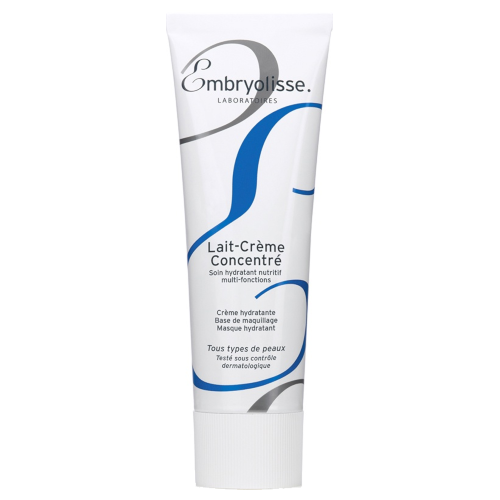 Embryolisse Lait-Crème Concentré Moisturiser 75ml
Get an expert to answer your question about this product!
Embryolisse Lait-Crème Concentré Moisturiser 75ml Reviews
89% recommend this product
Most Helpful Positive
good
This is nourishing and absorbs into your skin
Most Helpful Criticism
Fragranced Product
I have always wanted to try this product, but forgot all about it until I was reminded when watching someones skincare routine on youtube. It was an impulse purchase, where I learnt afterwards that its best to avoid fragrance in my skincare products.

Fragrance wise - initially the scent is quite pleasant, however after repeated use, I'm over the smell, and find that I gravitate towards my fragrance free moisturisers for my face instead. I now use this as a hand cream.

I wouldn't repurchase, I think a good and affordable Australian alternative is the QV cream.
Embryolisse Lait-Crème Concentré Moisturiser 75ml

My skin loves this and is the perfect moisturiser for every day and night. Very soothing for dry skin after being outside all day. My skin drinks it up!

good

This is nourishing and absorbs into your skin

cheap and good

Exceed expectations!
This cheap pre-makeup milk is good at moisturizing, making subsequent makeup more comfortable.

Hydrating and Nourishing

First used this product after a long overseas flight. My skin was left super sensitive and dry after landing, but this product delivered some much needed soothing and hydration. Been using this for a week and a half, and I think this is going to be my new holy grail moisturiser!

Fragranced Product

I have always wanted to try this product, but forgot all about it until I was reminded when watching someones skincare routine on youtube. It was an impulse purchase, where I learnt afterwards that its best to avoid fragrance in my skincare products.

Fragrance wise - initially the scent is quite pleasant, however after repeated use, I'm over the smell, and find that I gravitate towar...

Read More

Good primer

Lovely moisturizer that is a very good primer under makeup. The smell is a bit too old lady for me though.

Holy Grail

Its an all purpose moisturiser, a must have in your make up kit.

Not for me

After being recommended this product, I thought is would give it a try as it is quite affordable. However, the fragrance in this product is overwhelming and make my skin irritated.

Overall, it is quite moisturising, but not for someone whose skin can't tolerate fragrance.

Good product, but too floral for my tastes.

Really hydrating product - I used it as a moisturiser. Quite thick but absorbs into the skin well. The floral scent is quite strong which is not my thing at all, but overall a good moisturiser for the price.

Under Makeup moisturiser

Really enjoy using this under makeup and makes my skin look super dewy

I don't know what the fuss is about

I purchased this product after reading the many positive reviews. I don't find it overly hydrating and the heavy floral scent is off putting. I also would consider it a distant 2nd to my regular primer. It's ok, and not greasy, or irritating, but i'll be switching back to my other product.

LOVE

I have been pleasantly suprised with this moisturiser. I love that once it has absorbed into the skin, you can really feel the difference.

French pharmacy must have

It gently moisturises skin, smells divine, and it sits under make so incredibly lovely if you want to opt for this over a primer or a different kind of moisturiser.

Lovely product for both day and night.

Amazing

So perfect, my skin drinks it right up. I love it, I use it every night and I see great results.

The best times infinity!

Honestly have tried so many moisturisers, and its no question as to why make up artists are using this before they start MU application. I love it. The price is great, the ML is excellent, it feels beautiful and the smell is my fave. Will rebuy to the end of time.


Skin perfecting cream

I am definitely a convert to this cream for night time use - it is an affordable miracle worker! Overnight it clears up any dry patches, smoothes my skin, refines pores and my skin definitely looks fresh, hydrated and Zoom ready by the next day! I haven't always been diligent with my skin care regime, despite a very full bathroom cupboard, but this product makes me want to take care of my skin as ...

Read More

Gentle and hydrating

I've been using this moisturiser for going on 8 years with no signs of stopping. Nothing is more gently or nourishing on my sensitive skin. Other moisturisers often aggravate or anger my skin, but this one simple hydrates and provides a wonderful base for make up. Will continue to purchase again and again.

Moisturising God

This is an amazing moisturiser. At first it felt quite thick on my skin given that I had grown acustomed to using a gel for a few years but when I got used to it, it really cured all the dry patches on my skin. Would really recommend it for the night to let it really sink into the skin and absorb overnight

Excellent hydrating cream

I love this cream!!! It is just rating and smooth without being too heavy. It goes on well under makeup and keeps skin feeling soft all day! One of my favourites.

works for sensitive skin

great night cream and wear great underneath makeup.

Simple but effective

First discovered this product while travelling in Paris. It's pretty simple, really effective and nice on the skin. It sits really well under foundation and is the perfect thickness for me. Really soothing for easily irritated skin as well. But, if you're looking for a product that will make you feel like you're in a spa, maybe this isn't for you.

amazing

love using this as a base under my makeup

Great

This is very moisturising and works great for my sensitive skin

amazing

amazing product for under makeup goes on easily

Super Hydrating

Great moisturiser especially under makeup. Helps my foundation stay on longer and generally look better.

Super Hydrating

Great moisturiser especially under makeup. Helps my foundation stay on longer and generally look better.

Great holiday product

I love to travel with this product as I slather it on everything when on the road, it's a lightweight product that's good after a shower, on the face, crusty, elbows or to smooth down eyebrows.

Intense moisture and fragrance

While the scent wasn't my favourite and will ultimately contribute to me not repurchasing, this really is a powerhouse of moisture. The thick cream can be used sparingly before makeup, at the end of a skincare routine or as an effective hand or body moisturiser during particularly dry weather.

Amazing Product!

Due to my oily, acne prone skin, I have a hard time trying to find a good primer that will help my makeup stay all day, while also hydrating and keeping my skin looking fresh, without any oil seeping through. However, after hearing amazing things about this moisturiser, I decided to pick it up, and let me tell you, this is AMAZING!! Although my skin is oily, it is very dehydrated, so using this pr...

Read More

Perfect under makeup!

I find this product very moisturising whilst still being lightweight enough to work well under makeup. My only complaint is that its quite a small amount of product considering the price and I went through it rather quick. But in saying that you do only need to use a small amount because it is fairly dense.

Great!

hydrating without being oily. a great value all-rounder moisturiser. highly recommended!

Lovely but better for dry skin types

This is a cult skincare product which gets rave reviews. It is certainly a lovely cream which has a nice scent, but it is definitely more for dry skin types in need of extra hydration. I have oily/combo skin and need something lighter. Still a lovely product which is great as a hand or body cream.

Must have item in your skincare/make up kit

All I can say is amazing! This really is an amazing all round moisturizer, I have sensitive skin and my skin felt hydrated and plump after using this, and it didn't irritate my skin which is a big plus . This tube also lasts a long time and can definitely say this is a must buy. I can see why this moisturizer is loved by so many!

Fantastic

This is really hydrating and gentle. It has helped to nourish my dry skin and heal eczema on the face and body. A must-try.

Love it

This cream has become one of my all time favourites. My skin is mature (over 45) and is normal with an oily t-zone and this cream is excellent summer, winter and everything in-between. I find it hydrating without being to oily, it is an excellent primer/moisturiser for under make-up and I have even used it to take off my eye make-up. I love the generous tube size of 75ml and I feel this product...

Read More

Love !

used as a primer under makeup ! made makeup last longer and helped with overall hydration

Great under makeup!

Love this moisturiser under my makeup. Sooo hydrating and works as a primer

Unfortunately caused break outs for me

I loved the texture of this cream and it was really moisturising, but unfortunately it caused my skin to break out each time I used it which doesn't often happen for me. I'll use the rest of this one as a body moisturiser from now.

Great moisturiser

I've been using this for about a year now and I love it. It's seen me through different seasons and is very moisturising without giving me breakouts. My go to!

Thick & moisturising!

I was recommended this product by a make up artist to use as a primer, which works superbly for my dehydrated skin, but often use it as a moisturiser before I head out! It's so thick yet easy to spread, without leaving your skin feeling oily or too 'wet' or shiny. It's perfect!

My Skins Best Friend

Best moisturiser and makeup primer I've ever used, I switched to tacha water cream and that doesn't even come close to this product. Needless to say I had to repurchase this moisturiser without it my skin goes dry and flaky, it's my holy grail product

multipurpose product

I was recommended this when the RCMA lotion was discontinued. This cream is such a gorgeous texture. Some complain of the smell but I actually love it. It can be a generous nighttime moisturiser, a cream makeup remover or a primer. I think it was a bit comedogenic for my skin because it was so rich and I noticed I was developing clogged pores/pimples in places I never have before. Otherwise I woul...

Read More

Skincare staple

I have gone through about 3 tubes of this and I can't go without it. I use it as morning moisturiser and primer. My skin is sensitive and I find using a separate moisturiser and primer makes my skin flare up. This product is light and has not broken my skin out. It can also be used as a mask. I have sensitive skin and it's hydrating.

So good

I love this moisturizer! It costs half the price of what I was previously using and is so easily absorbed into your skin.

Nice product

I thought I'd try this less expensive brand and I'm fairly happy with. Not too heavy but quite moisturising. Would probably be too oily for some but I just use it on my driest part, my cheeks and it's doing a serviceable job.

Good basic moisturiser

A nice moisturiser that sits well under makeup & on-top of oils.

Best Moisturiser

I adore this moisturiser, it works perfectly on my skin and absorbs really well. I have combination skin and it hydrates my skin while not making me oily. It sits really well under makeup too.

Good, but had higher expectations

This is a cult classic moisturiser/primer, and I heard about it because of all the celebrity makeup artists that rave about how incredible it is. It's definitely not bad, but I didn't feel that it deeply moisturised my skin, nor did it make my makeup sit better. I would go with other products on the market.

New fave

Read lots of rave reviews, wasn't expecting anything too groundbreaking, but I've quickly replaced Clarins beauty flash balm and The Ordinary Natural Moisturising Factors for this product. Great price. I really did fall in love with the scent as well, not only the results of a great moisturiser. I am a big big big fan of a good old fashioned metal tube, but I found that the plastic cap just keeps ...

Read More

Great staple

Love this moisturiser that contains Shea butter but isn't too thick, it works on all skin types. Remains a classic staple.

Beautifully gentle and hydrating

I received a sample of this product and my skin fell in love with how gentle and hydrating it is. My skin is sensitive, reactive, and prone to breakouts so Im very careful with what I use on my face. This absorbed into the skin and left it feeling healthy and nourished, leaving no irritation or congestion (woo!) Would definitely recommend :)

Perfect under makeup

I debated over getting this product for way to long and I have no idea why! It is great under makeup and feels very hydrating on the skin. I also find that it helps to prevent products from settling in my smile lines. Another plus is a little goes a long way, so even though it is a very reasonably priced product, you get a long time out of the tube.

moisture injection

This is a cult product for a reason. It is a luxurious feeling hydrating moisturising cream. Great as a base/primer for makeup or to use as part of a normal skin care routine. I love this product as its very moisturising without being heavy. baby smooth skin for the win.

Great everyday moisturiser

I have been using this embryolisse moisturiser for many years, there is a reason many makeup artists also recommend it. Great for everyday however if you have very dry skin you may want a more intense night cream. Use alone, as a primer before makeup or mix with a drop or two of rosehip oil :)

Soooo milky

This moisturizer sinks deep into my skin and leaves it looking plump, soft, and glowy. An MUA friend recommended it to me as a good makeup base but I find that I need to wait for a little for the product to sink in to my skin before starting my make-up routine but it does look fantastic.

My makeup companion!

I'm a MUA and I've been using this on my clients' skin. This product absorbs well and provide good hydration for the skin. I sometimes use this as a primer too!

Average but pleasant moisturiser

I really wanted to like it! It has lovely smell and texture and feels luxurious on applying, but alas it leaves my skin greasy and I tend to break out when using it. Not great under makeup. I understand why a lot of people like it though, it feels lovely, and maybe if you have a different skin type (more on the dry side I guess), it might be just right.

Great moisturiser Love it!!

Great moisturiser or a makeup primer it is so nourishing and sinks into the skin it leaves my skin super soft and hydrated. Love It

A nice moisturiser

I have only used this for about a week. It is a lively moisturiser. I was expecting it to be more richer but is more medium to light weight and it does feel hydrating.
I give 4 stars because I dont think I live this product but it does the job. I have normal to dry skin and always try to give my skin lots of hydration and moisture

Ok moisturiser

I received a sample it was quite hydrating but I prefer something with more anti-aging ingredients.

Ok moisturiser

I received a sample it was quite hydrating but I prefer something with more anti-aging ingredients.

Love!

I received a sample of this which I was happy about as I've always wanted to try this product! I absolutely loved it, it's feels really nice on my sensitive skin and it's nourishing. I love the price and I think it's a nice moisturiser for everyday. Will be purchasing!

Silky

Works really well under makeup and has a nice feel to it, very smooth. A very good non-irritating basic moisturiser. I also like the packaging, makes it easy to squeeze every last bit out.

Didn't live up to the hype

I bought this after reading a bunch of reviews from makeup artists saying this was the best moisturiser to use on clients. It's nice moisturiser but I don't think it's the best. I felt like it wasn't moisturising enough on dry skin so maybe thats something to keep in mind.. Only plus point is the consistency is nice and not too thick under makeup.

Ultimate favourite

This is my ultimate favourite. It's always good to have a tube of this in your cupboard. It's suitable when your skin is dry or sensitive. I love the smooth milky texture, mild scent and sits beautifully under foundation. It's a makeup artists must have!

Foundation primer

This is the best for under makeup. I use it every day as a 'primer'. It doesn't irritate my sensitive skin but it is to be noted that it's not like super hydrating or anything. If you have dry skin you'd probably need something more but for me it is light, absorbs well and I will continue to repurchase.

great!

moisturising and it does not irritate my skin.

Good for sensitive skin

I received this as a sample and have used it a few times. It is quite a thick cream, fragrance free, feels very hydrating and gentle on my skin. It feels a little tacky on my skin after application so I probably won't purchase full size, however I think this would be excellent for people with very sensitive skin.

Amazing cream

I use this cream day and night. It is so hydrating and is the perfect primer for under make up.

Perfect moisturiser

This is the perfect no bs moisturiser. I worked as a makeup artist for years and this was always in my kit! It works great on all skin types, and sits amazingly under makeup! Super moisturising and emollient without feeling oily or heavy. Highly recommend!

Smooth hydrating primer

I have quite oily skin, I use this after a cleanse, serums and oils to act as a primer for my liquid foundation. I find it quite hydrating and not thick, easily absorbs. A little goes a long way with this product!

hydrates

The texture. It smooths on beautifully and absorbs nicely into the skin. I have quite dry skin so this is perfect for me. Doesn't leave my skin greasy at all.

So glad I finally purchased this!

I have seen makeup artists using this for so long, finally purchased and I love it! The perfect moisturising makeup base (I add before primer)!

Only rated 4 stars because the smell is quite strong, I wouldn't use it at night time because of it but it disappears quickly.

Perfect!

This is incredibly moisturising and it does not irritate my skin

Great Product

I have used this as an alternative to some other more expensive products and it sinks in really well, fantastic price too! I use it under makeup, and have noticed my makeup is staying on a little bit better.

Nice enough

Received as a promotion
Nice cream

Amazing texture very moisturising

Love this product because I have an extremely busy lifestyle. It's lightweight non greasy fluid applies and glides onto the skin SO easily. Saves a lot of time while being very moisturising. While designed to be used under makeup, I use it both day and night. Some nights I just don't have time to fuss around with other moisturisers that seem to take forever to apply due to the texture. Only compla...

Read More

Perfect for my sensitive skin

Love this as a last step in my morning and night time routine. The perfect primer too. Super nourishing and locks everything in. I have dry and dehydrated skin so not sure how this would go if you had oily skin.

For a variety of uses

I received this as a sample and used it as a base for my foundation. It didn't hold my makeup and wouldn't use as a primer or moisturiser. It had a nice smell and you only need a small amount. Might be more suitable for the other variety of uses this product has.

Great for the price

I have been wanting to try this product for ages after seeing so many MUA's rave about it online. I finally purchased it and can now say that it is a really nice moisturiser. It does have a soft scent which I like, it spreads easily and is absorbed quickly. It does leave a nice glow and is perfect before applying makeup. I wouldn't say this product is amazing but for the price you can't go wrong.

Smooth and soft

This cream is moisturizing and leaves my skin feeling smooth and soft. I like to use it as a primer before I apply make-up as it provides the perfect base.

Average Moisturizer

Good for sensitive skin, but did not hydrate my very dry skin. Probably more suited to normal skin types.

Great for dry skin

This sits so nicely under makeup. I find it's great for my dry areas although it makes me more oily if I use it in my oily t-zone.

Feels and smells nice

I really wanted to like this product. I'm oily skinned but starting to think about wrinkles and pigmentation concerns.
Thought for nighttime I'd use something abit heavier. This smells nice and I don't need a lot, just a pea size. Doesn't feel too oily on my skin once it's absorbed which I liked. But I did notice a few very tiny comedones when I woke up. Would of liked this product more if ...

Read More

I like

I received a sample of this moisturiser. Watched a few tutorials on the product. And decided I would use it under my makeup as a primer. I noticed a difference in the dryness of my skin. My flakiness was little to none and my foundation sat on top quite nicely.
There is nothing particularly wrong with the product, it just did not wow me or make enough of a difference for me to want to go ou...

Read More

Great facial moisturiser

I read about this cream somewhere online and wanted to try it. It's really good for dry skin like mine, I found it really hydrating. I tend to use it in the morning on days when I'm not going out, but it goes seem to be ok under my makeup. A little goes a long way and I found the tube lasted a long time! I would recommend it to people with dry, sensitive skin.

lovely

so good perfect for winter I liked using mine after a shower made the skin feel so smooth!

Its a fine basic moisturiser.

Has a powdery smell which worried me but doesnt cause any irritation in my sensitive/ reactive skin. Does give a little 'glow'. Good basic moisturiser for morning after a serum. Metal tube travels well also.

Nice moisturiser

Even it's a moisturiser, I like to use it as a thick facial mask, really saved my skin on extreme weather, great for sensitive skin

Nice

So far really nice. I use it under nars tinted moisturiser and sits well all day

Lovely smooth moisturiser

I have normal skin, and this light and lovely moisturiser is great for when I need a break from my actives-heavy creams, yet need a hefty dose of hydration. It's easy to apply and smells lovely.

Amazing

This was used on me on my wedding day and I remembered liking it but now using it every day, I LOVE IT. Will re purchase for sure.

Good for the price!

I used this moisturiser for quite a while... it's lovely and rich without being oily. Fantastic value for money. Didn't help calm my acne prone skin though, turns out I needed deeper hydration and turned to Ella Bache products; I'd recommend giving this a go though, it's a great all rounder and works well as a base for foundation.

Best moisturizer I've ever used!!

Definitely hands down the best moisturizer I've ever used
Makes my foundation slide on and last!
Not oily also

Great

I feel like I can only use this in winter, in summer it's a little too heavy for my skin.
Feels so nice as it goes on. And doesn't make my skin feel oily or anything.

Great

I feel like I can only use this in winter, in summer it's a little too heavy for my skin.
Feels so nice as it goes on. And doesn't make my skin feel oily or anything.

best primer

love it, love it, love it. i use it in winter, it is soooo nice . you need it . i am dry skin, and it works a lot for my skin.

amazing

I love this product! Embryolisse has been in my kit for over 5 years now. it mositurised my skin from the morning till night.

Love the scent love the results

Super hydrating and great texture! My skin drinks this up and it does a wonderful job at keeping dry spots away.

Love it

Glad I received this as a sample as I used my up, fantastic all rounder amazing under makeup, melts into your skin