Embryolisse Lait-Crème Concentré Moisturiser 75ml 75 mL
Skin Concern:
Dull, dry or dehydrated skin
Questions & Answers
(1 Question)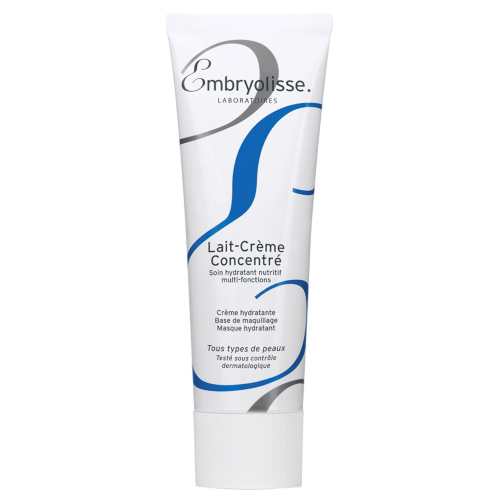 Embryolisse Lait-Crème Concentré Moisturiser 75ml
Get an expert to answer your question about this product!
Ask a Question
88% recommend this product
Most Helpful Positive
Magic Potion!
Fantastic product! Particularly like using it overnight, skin feels incredibly nourished in the morning.
Most Helpful Criticism
Thick but dry
This is a cult favorite so was very excited to try and can see why, but for my very dry skin it isn't the greatest as a moisturizer. It goes on really thick but drys down to almost a matte dry feeling. I use it mainly as a primer - ie after moisturizer for the tackiness or if my skin isn't feeling to dry or I'm using a thick sunscreen. Note the smell is super strong perfume - like most French cosmetics - it's not unpleasant just really strong
Magic Potion!

Fantastic product! Particularly like using it overnight, skin feels incredibly nourished in the morning.

Amazing

Very hydrating, I use it every night and I definitely see an improvement in my skin. More younger and youthful looking

Favourite moisturiser

I have been using this product now for 15 plus years! Makes the skin plump and beautiful for priming makeup. 5 stars

Embryolisse Lait-Crème Concentré Moisturiser 75ml

I absolutely love this moisturiser, I've been using it for 2 years and will continue using it for a long time! My skin can be quite sensitive to some products but it has no issues with this. I use it everyday and I don't need a primer either. I've recommended to many of my friends and have got them hooked, so if you haven't already tried this you definitely should soon!

One of the best

This moisturiser is very thick and moisturising. Perfect makeup base!

Thick but dry

This is a cult favorite so was very excited to try and can see why, but for my very dry skin it isn't the greatest as a moisturizer. It goes on really thick but drys down to almost a matte dry feeling. I use it mainly as a primer - ie after moisturizer for the tackiness or if my skin isn't feeling to dry or I'm using a thick sunscreen. Note the smell is super strong perfume - like most French cosmetics - it's not unpleasant just really strong

Marvelous multipurpose moisturiser

I used this as a night cream when my skin is tight and dry, as a hydrating mask, a lipbalm, a hand cream and as a makeup primer. Never has my skin recovered quicker from the summer to winter transition nor had my makeup looked as dewy and natural.

Hydrating

I love that this product can be used as a moisturiser, primer and mask. I've noticed a change in my skin as I approach 40, specifically with dry patches. I've used this for a few days as a mask and daily moisturiser and the dry patches are gone. My make up looks better and my skin looks and feels hydrated.

It is the perfect daily moisturiser.

I discovered this cream after a trip to France after reading a review from Goop!
I couldn't believe how great it was for my skin at such an affordable price. I dispaired that I would never find it in Australia. (Thank you Adore!)

I am in my early 50's and like a rich cream that doesn't feel like it evaporates on the skin. However this is also not heavy or oily. It is readily absorbed and keeps the skin feeling nourished. All 3 of my children use it too, from teen to 20's, male and female, and they all love it.

I couldn't recommend it more! For me, it's perfect.

Good basic moisturiser

I didn't find this moisturiser to do anything amazing for my skin, but it was very hydrating and nourishing for my dry skin. I have used creams that have left my skin feeling super soft, but this is a good basic to have with high quality formula and ingredients if you haven't found your holy grail moisturiser yet.

gorgeous and thick perfect make up primer

i had seen so many people using this as a primer so i figured i will give it a go

i am 40 with dry skin
this is a beautiful thick cream i use it morning if i am wearing foundation and in the evening at the end of my night routine

i am happy with the product i have been using it for 7 weeks so far my only negative is the smell, i guess im used to fragrance free products so this was hard for me to use in the first week its not a bad smell just a strong floral one, not offending just floral



strongly fragranced

nice texture and feel but I really wish this didn't have parfum added to it :(

so soft

I used to just wash my face and put oil on it, that was it. Than I came across adorebeauty and discovered that skin care is actually important so I did a little research. And found this cream and it is so amazing. My skin is so soft en makeup sticks good to the face.

best moisturiser

I absolutely love the smell of this moisturiser and the soft dewy glow it leaves on your face. soo hydrating it feels amazing, perfect for winter.

brought based from reviews

i purchased this because one of my favorite makeup artists always raves about this product, being good for multiple things i thought id give it a go, personally i use this a moisturizer and then apply my primer as i am a big advocate that primer matched to your skin can make a huge difference to your makeup application!but this is s great moisturizer and i would 100% buy again

Very hydrating

I finally got this and it is amazing. My face feels very moisturized after using this. A must have

My favourite moisturiser!

I have extremely dry, sensitive skin and have tried so many different products to get some moisture into my skin without success. I noticed quite a few make up artists use this as a primer and thought I should give it a go. It's been so amazing for my face; it feels hydrated and my makeup goes on evenly without anymore dry patches. Would definitely recommend!

Great Primer!

After hearing so many professional make up artists discuss how good this product works as a primer I decided to give it a go!

I found it to be super heavy and very hydrating! Make up sits so beautifully on top of it and lasts all day! Great product!

I personally would not recommend for those with oily skin.


Skin so dewy and soft <3

I have very dry sensitive skin. Its very hard for me to find a good moisturizer. Usually moisturizers either don't penetrate through my skin, causing dry spots or I have a reaction to it. I was very skeptical trying this product but from what I read in the reviews with all the positives about it being suitable for sensitive skin and leaving a glow on your face, I could not resist and all I can say is WOW! So happy I found this product. Not only does it penetrate through my skin leaving it soft and fresh looking but it leaves my face glowing. Definitely will be stocking up on this!

Love this moisturiser and its scent!

I use this moisturiser as a make-up primer and it keeps my makeup in place all day even for my dry combination skin which becomes oily throughout the day. I love the subtle perfume of this product and do not find it overpowering at all! Definitely recommend!

Great prep for foundation and red aggravated skin

I use this to prepare for thicker foundations and to plump up the skin. Its soft and calming on the skin. I also used it as a mask and my skin felt lovely and hydrated thr next day. I also used it on my husbands skin as his gets quite red and sensitive and the next day it was even!

Cult product for a reason

There's a reason why this is a cult product... It's excellent. Love it and keep re buying

Holy Grail

I understand why this Moisturiser is a cult product with the French! I use this as a day cream currently, but I'm waiting for my night cream to run out so I can use this all day round. This cream nourishes the skin, leaves my skin feeling incredible and when applied before make up application, make up applies smoothly.

Highly recommend! Has fast become a must have, holy grail product of mine!

very concentrated

it is very concentrated cream moisturiser as the bottle says

i usually use this in winter as my primer before my foundation

or anytime my skin feels too dry or dehydrated

but not everyday feels too heavy daily use still a great product




Better than primer

I actually use this under my makeup each day instead of primer! It's not too heavy and just the perfect amount of hydration for sensitive combo skin

Beautiful rich face cream

Love this! A staple in my kit.. i'm yet to find a skin type that it doesn't work for

Great moisturiser

This is a great everyday moisturiser! Especially for under makeup as it absorbs well and is nourishing but very light weight

Love

A staple in my kit. Great for dry skin and works really well under makeup. The formula is moisturising without being too heavy and oily

My New Obsession

Wow! This multi-use moisturiser is incredible. I am officially obsessed. The scent is to die for and the beautiful glow it gives my skin is just gorgeous. It plumps, hydrates and lifts my skin so that my makeup sits perfectly with or without a primer and makes my skin so smooth to the touch. I have dehydrated skin with fine lines but no more after discovering this moisturiser. The size is super generous and the pricing is so reasonable for this quality product. I'm in love!

Amazing for my dry skin

This is such a great moisturiser! I never look oily and my skin looks very supple. I use it a lot before I apply makeup and it acts as a great primer also. Highly recommend

French skincare at its best

Love this creme. I bought the micellar lotion and creme in a duo pack during my travels in France. French pharmacy brands are so brilliant, I don't know why I didn't stock up on 2 or 10 more packs to take home in my suitcase!

AMAZING!

This is super moisturising. Great to wear every day and before applying make up, so hydrating and make up applies so much better after apply this moistures. Recommend this product to everyone.

A must-have all rounder

I love this cream! I use it as a moisturiser on clients and it gives such a beautiful fresh hydrated look, regardless of if they are dry, oily or normal. It feels super nourishing and is a little thicker than my regular moisturiser - so I use it on damp skin if I'm using it for skincare, and on dry skin if I'm using it on a client or as a makeup base!

Rich

Amazing to rehydrate the skin fast, however, I wouldn't recommended using as an everyday moisturiser because it blocks up pores easily. I found I broke out if I used it too often in winter.

Great for makeup kit!

Purchased this for my makeup kit. Great for those with mature and very dry skin, hydrates deeply and helps the application and look of makeup.

Nice moisturiser

Nice hydrating moisturiser that works well under makeup and doesn't make me break out :)

THE BEST

This is the best moisturiser I've ever used. It's a bit expensive, but worth the price. I use it during long haul flights as it gets very drying on the plane. During summer, I only use the smallest amount as it is very moisturising.

There's just something about this moisturiser that makes your skin glow.

Fantastic

This is my favorite moisturizer so far. I have tried so many different brands from expensive one ($280) to the cheap one ($25) but this product truly amazed me. My skin got bumped and hydrated immediately after applied. I dont feel sticky or oily at all. Highly recommend to use in autumn or winter.

Will be with me forever

This is now a staple in my life. I use twice a day and love it! I don't like using products with fragrance in it but this fragrance is nice and not overpowering. This is a beautiful product I'm on my third lot.

In love

This moisturiser is perfect for every time of day! Not oily and leaves skin feeling moisturised and smooth

Feeling soft

This is good for dry skin making it feel super moistured

Just Awesome

I love this. If your just looking for a moisturiser that just moisturises this is it. Beautiful texture. Perfect under makeup. Gives your skin a nice glow, but not oily. I used to spend quite a lot of money on moisturiser but now I just use this with products from The Orindary. Super impressed.

Felt nice but strong scent and caused breakout

This felt quite rich and nourishing but it does leave a bit of an oil slick. Great if you are struggling with very dry skin, however, the rose scent was way too strong for me and caused a breakout which never happens with my skin.

Holy grail moisturiser

This product is a staple in my beauty routine. It works amazingly well as a primer and as an everyday moisturiser on my combination/oily skin.

If my skin is feeling dull or dry I apply a thick layer overnight and my skin looks noticeably more radiant the next day.

It does have a floral scent but it is not unpleasant, I didn't notice it until I read reviews mentioning it. This is the one product I recommend to everyone.

Too much for acne prone skin

I am prone to breakouts and this moisturizer did nothing for my skin apart from cause me to break out. I can see if would be great for someone with no acne and feels super hydrating.

Excellent Moisturiser for dry skin

It definitely lived up to what it claims. It's great under makeup and leaves a nice dewy finish and removes makeup very well. This will also be my go to product when I need a bit more hydration especially during the winter months. I'm very happy with this product. Definitely recommend this product.

Staple Moisturiser

Really staple moisturiser won't dramatically change your skin but provides a great base under makeup.

Beautiful product

After the hype of this moisturiser, I decided to purchase for my kit. I tested it myself and it's just beautiful. My skin has been tricky to predict at the moment but this moisturiser is so lovely, no matter what my skin is doing. Under makeup it's a total winner!

It's ok

The moisturiser is ok, I don't feel like it did much for me.

Great Moisturiser!

Bought this moisturiser on a whim after hearing how well it applies underneath makeup and I have to agree.

It provides a perfect base to apply foundation on - not too greasy, soaks into the skin quite well and produces a well moisturised base for foundation to sit nicely on.

Most days that I use my Double Wear foundation I'll squeeze a tiny pea-sized amount of this moisturiser in the foundation to produce a more luminous and thinner consistency that doesn't compromise coverage at all.

My biggest criticism of this moisturiser is the old lady perfume scent. The scent is extremely overpowering and even lingers for half an hour to an hour after application.

I would recommend to all skin types, I have combination skin which gets very oily in the t-zone. This moisturiser does not make me greasier throughout the day but still manages to effectively moisturise all other non-oily areas of my face.

Versatile moisturiser!

This moisturiser is a holy grail of mine! I have purchased many tubes and I'll continue to buy many tubes. I have incredibly dry skin in the winter and this is my daily saviour. Perfect in the morning, perfect in the evening, works amazingly under makeup.

My go to

Love love this moisturiser it's affordable, it's fantastic under makeup and smooths my fine lines

Great moisturiser for dry / sensitive skin

This moisturiser smells wonderful and has a great consistency - sinks into the skin without feeling tacky. My skin is getting slightly dryer as I age and it plumps it up nicely. Possibly too thick for younger/oily skin types. Great in winter when skin really needs added moisture.

Fantastic value for your money

Purchased this product when i was in Paris as i read that it was the holy grail of many French women, and now i understand why! It has so many uses and even with my oily skin it never leaves me feeling greasy. I use it especially when i am wearing make -up and it gives me the loveliest base to work on, erasing all my dry spots. It is also a great product to take travelling as it is so versatile, I can take it away on a weekend and use it as my moisturiser, primer, hydrating mask and even a make up cleanser as its so thick it really helps to break down make up before i wash it off.

Supple and radiant by tomorrow - No joke!

The French know how it is done - four products in one! *mic drop* think i've said it all. Simple, effective & super nourishing. makeup primer, face moisturiser, treatment mask and makeup remover - and all for $35 - hello why are you still here!? Get yourself one now!


Keeps my skin plump!

I've been using this product for about a year now and I'm onto my second tube. I find this product to be extremely hydrating! If I apply it under my makeup as a primer, at the end of the day my skin is super plump and glowy. It is also an excellent night cream. I have oily skin and I have found that if I use a small amount and just pat it onto my skin, it does not exacerbate oiliness.

Amazing rich yet light moisturizer

I have combination skin prone to break outs of dermatitis around my eyes and lips. This is the perfect moisturizer! Absorbs really well into your skin and doesn't leave you feeling greasy. Make up does on really well after applying as well. When I'm feeling a bit dry I just use a bit more.
It's got a gentle scent which is lovely. This is such a good product and lasts for ages. Highly reccomend!

Great for my dry skin in winter

A make up artist friend recommended this product. A fairly heavy moisturiser but absorbs into the skin well. I find it a little heavy in summer but perfect for my skin in the cooler months!

Probably good for very dry skin

I have fairly normal skin that can be a bit dry sometimes. This moisturiser felt a bit thick for my skin. It was definitely moisturising, so if you have very dry skin, I think this would be really good. I still sometimes use it if my skin is feeling especially dry and tight but won't use it everyday.

very moisturizing

Love this product, it smells so good and i love that i don't need to apply a primer on top.
I found that in the summer months it was way too thick for my skin so will continue using it in winter and switch to a lighter moisturizer in the hotter months.

Multifunction

I saw this as a cream that makeup artists swear by. So I was curious and bought one. I don't wear a lot of make up but I can see how useful this cream is. It is light however moisturisers and smooths naturally. You can feel it as opposed to cheaper creams that sit on the skin. It is great even by itself as it gives you a nice canvas. Put makeup on top and it is a great primer. It is a multifunctional cream. No scent great for sensitive skin and leather it on and leave at night for mask effect. Not sure of its use over time so have given it a four for now.

Holy grail

I absolutely LOVE this moisturiser! I have sensitive skin and have had no reaction whatsoever. Its so hydrating and my skin feels incredible ever since I first used it. 100% recommended!

Great product

I have dry skin and this product made my skin feel soft and hydrated for the whole day. Feels so nice on. Affordable and would highly recommend

Light and lovely and does the job!

Nice and light moisturiser that helped my skin survive the dry Canberra winter and spring. Kept my skin hydrated and soft. Effective removing tinted moisturiser. Not super keen on the scent though but you eventually get used to it. Would buy again!

Amazing product

I've been through a few tubes of this and even after trying other products, I always come back to this one. I love everything about this product, it's so hydrating but not greasy at all, feels great on the skin and works really well under makeup. Even on lazy days when I can't be bothered applying primer, this cream works just as well. I find I only need to use a small amount so the tube lasts for ages making it very cost efficient. I will definitely be purchasing more.

Good for dry skin

My tube finally arrived today and I am in love. For those wondering, the cream's texture is quite light but it provides a heavy hit of hydration. I was expecting it to be thick and balmy, but it is similar to the Sukin moisturisers. It has no scent and almost instantly plumps up your skin

Best moisturiser!

I purchased this product a year ago after looking for a cheap but effective moisturiser.
I have to say, this is the only moisturiser that I have purchased again. I've tried so many different ones and this is by far the best moisturiser I've used. I have dry/oily skin, using this makes my skin feel so smooth and soft. It lasted me about 8 months, I use it day and night, you don't need that much. It also works well with makeup, I normally moisturise my face then use a primer, then make up. Definitely well worth the buy!

Very good humectant!

I have been looking for a moisturiser that is affordable and thick in consistency. All the other moisturisers I have tried are usually too watery and doesn't do much hydration with my dry patches (I have combo skin).

I like this product for its consistency and properties. It contains mild fragrance which I don't mind, plus, a little product goes a longgggggg way!

I will definitely repurchase this again.

Best moisturizer

Love this moisturizer, skin always feels hydrated after it, never gets dry or oily after using it. I have combination skin and it services different skin zones perfectly. Doubles as a primer too. Can't go back to any other moisturizer after using this!

Good

It's really nice and lightweight. Totally recommend.

Great primer!

Make up artists secret. The best primer. Can mix with anything

Have been using for years

This is my go-to moisturiser - it is the best value out there. I have used this product for 4 years and have not looked back, it is always in my skincare cupboard.

I have dry skin and this keeps my face from flaking and drying out throughout the year. The scent is not overpowering and just feels fresh.

Would recommend 100%

So rich and creamy yasssss

This is my second tube and you don't need much for daily use. I love love love the texture, it feels amazing in the skin and is really hydrating.

New fave

This stuff is incredible! My skin is so lovely and soft.

New fave

This stuff is incredible! My skin is hydrated and so amazingly soft.

Locks in moisture

Great base for makeup, it's nourishing and also primes

Highly recommend

A beautiful moisturiser - lovely scent, offering enough moisture for a night time cream or for day time over my vitamin C serum, sits beautifully on the skin and preps the skin perfectly for make up (even avoiding the need for a primer it's that good!)

Good daily moisturiser

This is a great moisturiser helps hydrate my skin and is well to put under makeup

So hydrating!

This moisturiser works so well, the hydration it gives to my face is unbelievable- I apply it before bed and wake up to super soft and moisturised skin. I agree that the smell is quite strong but it's not an issue to me as I like the fragrance.

Beautiful Product

I use this as a night cream and it has been providing great hydration over night. it is also lightly scented which my husband loves too.
Gentle on the skin - have been using it on my 6 month old sons skin as well.

Great for dry skin

This works really well for dry skin, excellent under makeup as well.

Good for dry patches

I have found this product is good at moisturizing areas of sensitivity and irritation on my body. However, I agree that it is heavily scented, so best to test if you have sensitive skin or a respiratory system.

Lovely

I'd seen so many recommendations for this cream, and having some dry patches and generally odd winter skin I bought it. I use it as a primer under my matte foundations and it helps with hydration and alleviates much of the makeup clinging to dry patches. I also use it on my lips throughout the day. It has a rich texture, so a little goes a long way. I have combo skin (aside from this recent dry, patchy development!) so if I use too much on especially oil prone areas I can start feeling greasy. It's nice under the eyes too, if you need a bit of hydration under concealer.

Face Saver!

Can't believe I went so long without trying this. With half my friends being make-up artists I knew this was a popular item with them all, but I'd never given it a go. I have skin that the can tend to be on the dry side and can also be troublesome with foundation. This is such a face saver, I use it before my primer or even as a primer sometimes, I use it mixed with a foundation sometimes for a fresh light/no make-up look and I even use it on a wet beauty blender to pat over the top of my foundation when I have one if those days where it's just not sitting right on my skin and it blends it in beautifully. Definitely has become a must have for my beauty kit.

Love this - holy grail moisturiser

I have been repurchasing this for years! Have tried other brands but keep coming back. Super hydrating for my sensitive dry/combination skin but not oily.

I love this product

I absolutely love this product. I have re-purchased it 3 times now. I have quite dry and sensitive skin and I find this creme very soothing and hydrating. It works perfectly as a primer under make up as well so it is perfect for everyday wear.

Not right for my skin

I know makeup artists swear by this cream but it didn't fit with my skin type which is very dry and sensitive/acne prone. It just wasn't moisturising enough for me and it didn't seem to sit well under my makeup and I even felt a bit of skin irritation from it.That being said, I do love the more moisturising line of this brand so I feel it is just this particular product I can't rave about sadly.

Absolute favourite moisturiser

This moisturiser is amazing, I use it under makeup or before bed and your skin feel so hydrate and smooth. I have highly sensitive skin and this seems to be one of the only products that doesn't irritate it!

A really nice basic

This moisturizer is just a really nice, simple and calming product. It won't wow you, but if you're after something basic or have quite sensitive skin it's a nice option.

Dreamy moisturiser

Super thick and rich texture, might not be for everyone but I love it as a night cream.
Good value too - a tube lasts me a few months.

Most amazing moisturiser ever!

I have dehydrated skin due to work/having to over cleanse to clean my skin properly, and after chatting to one of the Adore Beauty consultants on the Chat board, decided to buy this after her recommendation. OMG IT IS THE BEST! I use it morning and night after cleaning my skin and using serums, I wait ten minutes then put some of this moisturiser on and gradually massage it in. It is so good and I've used it once as a make up base and it was perfect. Especially after being in the sun all day or waking up with dry skin, you can feel your skin is softer than ever.

Favourite

Bought this for the first time in Paris, and had to go back for seconds before I left! Incredibly absorbent, the cream sinks into your skin without leaving any tackiness or residue. It also goes a long way, so the tube lasts for ages.
I have oily combination skin, and it's a bit too moisturising for my everyday, but great as a primer, for winter, or when I've been out in the sun.
A great thing to have on hand, would definitely recommend.

Obsessed

This is by far the best moisturizer Ive ever used, its super hydrating without being too thick. My skin has literally never looked better. I love everything about this product including the price!

Great combo - Moisturiser, primer, mask

I always forget how good this product, and how much I actually enjoy using it. I love the thickness and texture of the moisturiser, and find that my makeup really sits nicely under it. I have an oily t-zone so I still need to use a primer for that area, but if you have combo/dry skin I feel like you could get away without using a primer with it.

Love it

Love this product - Saw it everywhere in chemists when I went to France recently.
It is an old school French beauty product.
You can kind of use it as a mask - It is super hydrating - Just put it all over neck and face (Did this during breakfast once) - before you start your day and it goes great under makeup - I use a Smashbox tinted printer over the top - Makeup I use over the top that works well is a Koh Gen Do 143 with G60 Cover FX - A good alternative to Aesop moisturisers - a must have.

HEAVEN IN A TUBE!

I've been searching for the perfect moisturiser for every day wear and after a lot of trial and error, I've finally found the perfect product! This product is the perfect consistency, providing an all day moisture to the skin, leaving the skin feeling, fresh and hydrated!

The perfect dewy moisturiser

There's a reason this is in every makeup artist's kit - it's perfection. Unlike many other moisturisers that can leave the skin a tacky, Embryolisse leaves you silky smooth with a dewy finish that's perfect under makeup. This is my daily moisturiser and I also use it to sheer out foundation. I also love it as a mask - apply it thickly and let it sit on your skin for a few hours or overnight for the most amazing skin. It's an oldie but a goodie - I've strayed away and found other products that are good, but I keep coming back to this one.

Holy grail

I use this as a moisturiser a primer and if my skin is feeling really dry I apply a thick layer before bed I can not be without this

good but...

I do really like this product, it's hydrating and works really well under makeup but I've read so many things about how mineral oil/paraffins are bad for health and don't actually benefit the skin so I prefer to choose products with more natural ingredients but sometimes when my skin is especially dry I still reach for this product and repurchase because I do like the way it sits on the skin.

Good moisturiser but leaves you shiny

This moisturiser has done a great job at hydrating my usual dry and flakey skin. I started off using it mornings and nights, however I found that it took a while to absorb into my skin and left me shiny, so I now just put it on before bed.