Is this for you?
Soft, gentle, perfect for removing cleansers, masks, make-up or exfoliants.
Skin Type:
Dry

Normal to dry

Normal to oily

Oily
Frequently bought with
Please wait while we find a match
Questions & Answers
(1 Question)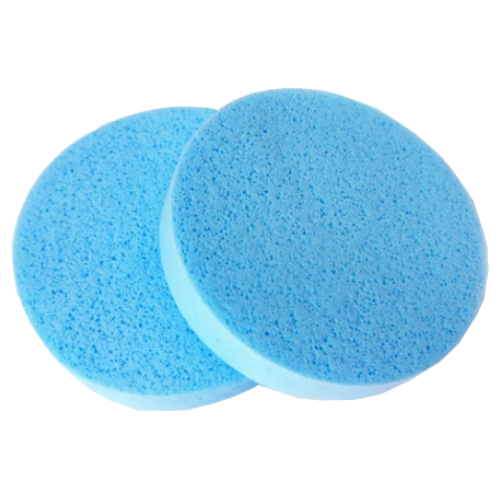 Ella Baché Facial Sponge
Get an expert to answer your question about this product!
100% recommend this product
Most Helpful Positive
Awesome
i find it really handy to gentle take off my face masks or to use for applying my cleanser
Good at first...

Good at first but after about 2 uses, sponge starts to get holes and starts tearing.

Awesome

i find it really handy to gentle take off my face masks or to use for applying my cleanser

Spa at home

These sponges are so good for in the shower removing excess make up or a mask.
They rinse well and dry hard again. So smooth on the face - will keep buying these

Amazing

This is great, gentle and sensitive and works well

Soft and great

Great for removing product. These sponges are so great for removing makeup or any product from face. Love it for removing clay masks especially which can be hard to get off. Also very soft on my sensitive skin

These are my make up removing saviour

Highly recommend these sponges for removing make up. Couldn't live without them

Must have

I had never used to facial sponge and personally thought it was a money making scheme and an unnecessary purchase until I brought my first Ella Baché cleanser and it was suggested I buy these along side the cleanser.
I reluctantly purchased it and have never looked back since, it assists in cleansing your face and depending on what face wash you have some leave a residue so this is fantastic...

Read More

Life and enviro savers

Best replacement for cotton pads for micellar water, make up remover and cleansing of masques and exfoliaters. Super easy to clean and re use. Would def buy again

Perfect for an at home facial

I like to give myself an at home facial once a week. These sponges are just perfect for removing cleansers, exfoliants and masks. They are very gentle and make you feel like you're in a salon.

Great sponges

Great for taking off cleanser and masks, will definitely repurchase

Great sponges

These are great sponges! Perfect for removing a face mask or for using with your cleanser. Love that it comes with two so you always have a spare on hand. Would definitely recommend

Great for cleansing

Have purchased several times now and will continue to. Can't imagine cleaning my face without them, makes my skin feel so much cleaner. Each sponge gets a lot of use out of it too so it's very affordable.

Skin care essential

I bought these to bring an order up to an amount that would qualify me for a free gift. It turned out to be the best purchase because I adore these sponges. They're great for removing makeup or masks / exfoliants and are so gentle. They also last for ages so it's very good value.

Nice soft sponges..

I love these sponges, they are great for cleansing as they are softer than a towel and I use them all the time to do DIY facials at home. They are easy to clean and have lasted really well. I purchased them on a whim and and would definitely repurchase.

Really nice

These are really soft and nice sponges. Very good price considering the quality!

Fabulous!

Love these. They are fantastic for both taking off all makeup (use with your cleanser) or just cleaning your face. They're gentle and hygenic and makeup just washes out of them instead of staining your facecloths. I'm 57 and use nothing harsh on my face so these have been perfect. Highly recommend.

Spongebob's Clever Cousin

I'm a huge fan of trying out new things to clean pizza grease off my face after a weekend of binging Netflix and eating my body weight in snacks. I always thought sponges were better suited for makeup application, as opposed to removing it, but I am a total convert. Move over muslin cloths, Spongebob's clever cousin is now a staple in my cleansing routine.
It's a fantastic price point, and m...

Read More