elf Aqua Beauty - Aqua-Infused Blush & Bronzer
4 instalments of $4.01
Or 4 instalments of $4.01 with
LEARN MORE
4 instalments of $4.01
Or 4 instalments of $4.01 with
LEARN MORE
Official Stockist
Is this for you?
This hydrating blush-and-bronzer duo gives skin a radiant looking glow, thanks to cushiony color that's infused with Purified Water and Vitamin E.
Skin Concern:
Dull, dry or dehydrated skin
Skin Type:
Dry

Normal to dry

Normal to oily

Oily
Frequently bought with
Please wait while we find a match
Questions & Answers
(1 Question)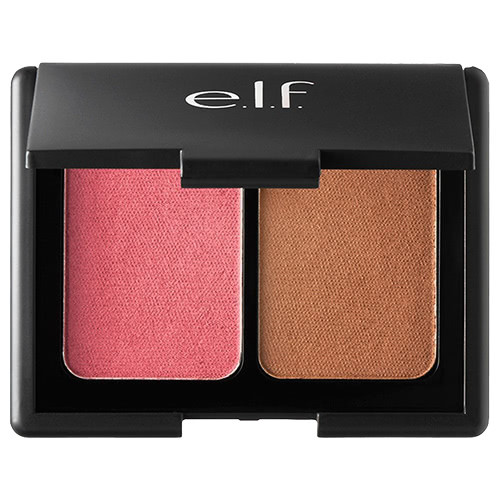 elf Aqua Beauty - Aqua-Infused Blush & Bronzer
Get an expert to answer your question about this product!
88% recommend this product
Most Helpful Positive
Great dupe
Great dupe for Nars.
Perfect for a newbie to makeup
Most Helpful Criticism
Ok
This product is convenient to bring out with me when I'm on the go and need to touch up my blush.
Great dupe

Great dupe for Nars.
Perfect for a newbie to makeup

You only need a little

To use this effectively I recommend a stippling brush and just tap your brush in a little as it's very pigmented. It blends out nicely and doesn't move the foundation. If you use too much though it can look overpowering. The colours are nice but I do think they are slightly too rich for every day effortless makeup.

Texture is really creamy and unique. Not sticky at all.

Perfect

Perfect colours- they work well together. Easy to use and blend. So cheap too.

Beautiful product!

This product is AMAZING for the price! Looks incredible on my skin and never emphasizes texture. It leaves a beautiful finish and the shades are lovely.

Loving this

Quite an incredible set, I'm really loving how it looks on my skin. And the price is so so low!

Great duo

great blush and bronzer it gives that natural bronzer and blush look and great for the price

Great blush

Absolutely love the colour of this blush!! I've read that it is a dupe for Nars orgasm. You don't need a lot on the brush which is great.

Average bronzer but AMAZING blush

Forget about the bronzer, the blush is absolutely perfect for a 'blushed' look and I can't get over the texture of this product. It's spongey but dries down to a powder which is so cool. I actually use a contour brush to put this on as it's creamy and allows me to blend it seamlessly. A little goes a long way so be light handed with this!

Beautiful

This product is very unique as it is creamy rather than a regular powder so it blends right into the skin and is very pigmented so best to use a light hand. Perfect a glowy look

A great product in its own right

I know this gets compared a lot to another high-end blush/bronzer combo, but having tried both, this is a great product in its own right, not just as a dupe or bargain. I use a kabuki brush to apply and have no problems, but I apply this using the three method (temples, cheekbones, chin) and don't need the precision for those who may be using it to contour. It's a must-have for me.

Great for natural daily makeup

I have been recently loving a natural glowy, un powdered look, and this product is great for this!
The powders are creamy so I recommend apply them with a duo fiber brush to effectively blend out and then use a beauty sponge over the top to make it look more natural!

great formula

great formula that lasts all day. would prefer the blush to be darker and more nude as its not the most flattering on dark skin

You get what you pay for

Not a very good duo. Colours aren't very flattering, no sheen just glitter chunks. Horrible formula, not at all smooth or creamy. You definitely get what you pay for with this

Bronzed peach

Love this blush and bronzer duo! The formula is a putty/ creamy formula that dries down to the powder - super unique to try out for this price. The shades in bronzed peach are so warm and summery, perfect for a medium-tan skin tone.

Very glittery

Colours are quite nice but ruined by the amount of glitter and the formula. It's quite harsh and almost scratchy in a way, blends ok but just doesn't feel very nice on the skin

Excellent!

I have textured skin and this product is fantastic!! It doesnt emphasize my texture and just melts into my skin looking so pretty and natural. Highly recommend this product. I have the bronzed pink beige. Love it!

Great colour, but this is NOT a powder blush

I have normal / dry skin. I purchased this after running out of my Nars laguna and blush duo (which I love) and read the reviews that this was a good (and cheaper) alternative.

Although I love the blush colour, be warned, the texture of this duo is creamy rather then powdery, which is completely different to NARS. This means you cannot use a blush brush to apply it.

I hav...

Read More

Good

It's like a putty texture, I don't have anything quite like that in my collection. I apply it right after my foundation, before translucide powder and I just love it. It looks natural on the skin. And the packaging is quality.

Love

Extremely affordable and very great quality for the price.

Ok

This product is convenient to bring out with me when I'm on the go and need to touch up my blush.

So good

I have combination and dry skin. I purchased this after running out of my Nars laguna and blush duo. I was after something cheaper but still of the same quality and this is it! Gives incredible pigment and leaves me looking so radiant and glowy. I think this suits most skin tones, so would definitely recommend it.

Worth the Money

Cheaper alternative for Nars Laguna/Orgasm.

the blush is beautiful but i don't love the bronzer half as it does have a bit of shimmer but for the price point, you cannot go wrong.



NARS dupe

Pigmented, cheap and looks good on everyone!

Nice

Super pigmented powders, a good dupe for the NARS duo

Great product.

A little goes a long way and I think that it is easy to apply too much of this product. That said, both colours are really pleasant and it does blend nicely if you use the right amount.

Great dupe for Laugna/Orgasm

Love this duo - personally I like the blush better than the bronzer. Elf blushes have great pigment and every one I've tried is a winner! Goes on evenly- not patchy, and lasts all day.

Pretty good

Pretty good value for the price. Love the colour of both the blush and the bronzer. Although I use the bronzer more than the blush as its amazing for contouring. The pigmentation on both is amazing. Blends beautifully.