ELEVEN Sea Salt Texture Spray 200ml
4 instalments of $6.24
Or 4 instalments of $6.24 with
LEARN MORE
4 instalments of $6.24
Or 4 instalments of $6.24 with
LEARN MORE
Official Stockist
FLAMMABLE

This item is flammable therefore postage is restricted to Standard Post within Australia
Is this for you?
A lightweight spray that adds texture and volume to give hair a beach look and feel.
Cruelty Free
Vegan
Australian Made
Hair Concern:
Fine or limp hair

Oily roots, dry ends

Thinning hair
Frequently bought with
Please wait while we find a match
Questions & Answers
(1 Question)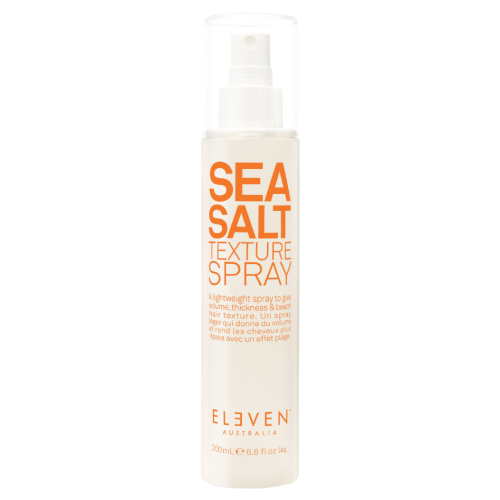 ELEVEN Sea Salt Texture Spray
Get an expert to answer your question about this product!
ELEVEN Sea Salt Texture Spray Reviews
85% recommend this product
Most Helpful Positive
love
love this product adds volume and beachy texture
Most Helpful Criticism
Unsure
I've used this a couple of times and i'm still on the fence about it. It says to use it on your roots, so I did, but it made my hair feel really stiff, almost greasy and dirty like. I washed my hair and then put it in, and had to re wash my hair again that night. As for the mid lengths to ends, it worked well. Gave a nice, beachy texture, like you've been swimming in salt water and gave a little bit more thickness. It might be different for someone else, but i'd stick to mid and end use only.
Love using this!

Gives great hold without leaving my hair crunchy and helps to keep the volume! A lovely smell as well and non-sticky

not sure

loved the smell but leaved my hair with a funny feel

love

love this product adds volume and beachy texture

Best so far

This is the best sea salt spray I've used so far, not because it performs particularly well (it's about the same as every other spray I've used) but because it doesn't have the same musky fake-tan coconut 'beach' smell that other sea salt sprays generally have. This smells gorgeous and as a by product doesn't leave hair feeling as dirty as other sea salt sprays do. In terms of performance, it's no...

Read More

Love it!

I got this as a deluxe sample and will be purchasing a full size ASAP. It smells amazing and really helped define my curls when used with a lightweight curl cream. It didn't make my hair go crunchy at all but I do put in my curl products when it's basically soaking wet to avoid this. It's a fantastic price point too! I bought a few other samples of salt sprays to find the best one and this is my f...

Read More

Great product

I love using this in my hair after I've used my mermaid hair waver to add more texture and look really beachy and natural!

Little goes a long way

I have dead straight hair, ive used a salt texture spray before to get those #beachywaves and it did nothing. This i just used for some volume boost at my roots - 3 sprays and that was perfect. Easy to style with fingers, i had silky smooth freshly-washed ends and a more lived in top minus the oil that comes with that look naturally. I haven't used this to accomplish other styles yet but i have fu...

Read More

The best sea salt spray out there

I use this spray when curling my hair ! Helps hold curls and give it that natural beachy look

Spray and go

I use this the morning after I've curled my hair with wand or used mermaid mini hair waver, makes life so easy... get up spray, work through and it keeps my style and gives it better body so quick and I don't need to use any heat for the rest of the week

Creates the perfect beach wave

I have thick frizzy wavy hair and struggle to create that beach wave look without becoming a frizz ball within a few hours
This is light weight and makes my naturally wavy hair turn into the perfect beach wave look

Smells fresh!

I got this as a sample and I really love the smell! works very well for curled hair.
I would def buy this after I finish the sample!

Amazing product for beachy waves!

I love this sea salt spray! Super easy to use, when hair is wet or dry just give it a few sprays and scrunch your hair to push the product in. It turns my normally frizzy hair into nice beachy waves, and I always get compliments when I use it!

Unsure

I've used this a couple of times and i'm still on the fence about it. It says to use it on your roots, so I did, but it made my hair feel really stiff, almost greasy and dirty like. I washed my hair and then put it in, and had to re wash my hair again that night. As for the mid lengths to ends, it worked well. Gave a nice, beachy texture, like you've been swimming in salt water and gave a little b...

Read More

Left hair feeling crunchy

Left hair feeling crunchy

Wow!

I had never really heard about eleven before shopping in Adore, this is a beautiful spray and such great value for money. A new fave brand! I notice now when I curl my hair and don't have this product in, also love the smell!

Would not purchase again

I received this as a free sample and it just does not work for me. I don't like the feel that it leaves in my hair. I find it to be greasy. I like other Eleven products but unfortunately this was a miss for me

AMAZING!

Love a quick spray for that little bit of volume I need on those average hair days. Only need to use a little bit.

Gives my day 2 hair new life

I received this texture spray in the ELEVEN Volume Trio Pack. I use the other Eleven products regularly and have tried heaps of different texture sprays - this one is by far my favourite. I have fine, limp hair - so on my no washing day I spritz some of this on the roots and it gives my hair body enough to wear it out again or whip it up into a messy bun. Would recommend

Summertime hair

Instantly creates that beachy look. Nice scent too.

sea salt spray

smells really good and does give my hair that body from the roots. the spritzer hasn't clogged which is great!

Non Crunchy Sea Salt Spray!

Received a sample of this product in a goodie bag to try, and I must say I really like it! Previously sea salt sprays have been too crunchy and 'producty' for my liking, but this one feels really weightless. My go to isolation hair routine lately has been to spray this through my hair after washing, then braid and sleep overnight and I wake up with soft textured braid waves!

Volume + texture + hold

My go to when ever I feel like my hair needs a bit more oomph and volume and even hold without the stickiness sometimes associated with hairspray. Does make your hair fell a little more dry tho so maybe not great for brittle hair. Smells delicious.

Great addition to my hair styling!

This is a great sea salt spray! It has a lovely scent and the packaging is nice.
You only need a little bit and you can achieve great texture. If you use too much your hair will get a greasy look.

Amazing!!

This product is great to help define curls.

Average Texture

Maybe I'm not using enough of this when I apply it but I just don't feel like this product gives me much texture at all. I've only used it on wet hair and I just find it far too smoothing, like I can't feel it in my hair after I've dried it. I'm loving the packaging so far as the spritzer has not yet clogged - and I'm hoping it won't with continued use - as some other salt sprays have done before,...

Read More

salty vibes

Love this stuff, has worked well with my curly hair and smells delicious

great on my curly hair

i like to use this when my hair is wet to help my curl define better

Its good!

I really like this product. I don't LOVE it but its still pretty good. It does what its meant to do. Only thing is that when I got sent this product, it looked like a bit of the product had spilled out onto the clear lid and out the sides. Not sure if there is a fault with this product or if it was just a one off.

Good for volume

This is a volume enchancing product without crunch but it does leave hair knotty and dry

Nicely Scented Salt Spray

This is a really nice spray - I have dry hair so less is more. Definitely add enough texture and hold if you are wanting to style /curl your hair.

volumous, textured hair

This product is an amazing product, its great for curly hair to set the curls, its also an amazing product to layer up to get grit and texture before your blowaving your hair,It comes in a good sized container that will last for a while.

Great for my pixie

This is the only hair product I use to style my pixie. I dry my hair completely and then put this in after. Lets me mess it up a bit without feeling heavy.

Perfect for hair

Years ago I was turned off sea salt sprays after trying a few brands back then my hair would always go crunchy and stiff. Tried this and wow makes my hair soft but with the messy curl, beach look, love it!

Sticky

I really like Eleven products so expected this would be great but I found it left my hair quite sticky, even after it had completely dried. Wouldn't purchase again,

Beachy

Easiest way to get beach babe waves

Kinda like it

Received a generous size sample, it did what a sea salt spray should do and the price is cheap!!!Will try more products of this brand

Really effective

Leave an amazing scent and is great at enhancing/creating beautiful beach curls without making the hair crunchy

Better on wet hair

Product says can be used on wet or dry hair but I found on damp hair works better. You don't need to use a lot, adds volume and gives a beachy look.

Got as a trial, now I want more!

I got this as a freebie, and am nicely surprised! I've never been one to fuss, or spend too much time primping and styling, so a product that is quick and easy, and gives gorgeous results is always appreciated. I got lots of great comments after styling with this spray. I'm definitely going to try more styling products from this brand.

Beachy curls

Spray this in my hair once it has been washed and also dry, results in beach curls.
Smells amazing and isn't sticky.

Beautiful spray

Got a sample of this. Really nice product. Gonna buy it.

Not bad

A nice sea salt spray, doesn't make your hair crunchy unlike other sprays do

Easy to use

I received a generous sample.I t seems to work well it gives volume and texture to the hair.Price is good

Beach hair so easy!!!

Such a easy to use spray and makes you look like you've had a refreshing day at the Beach.

Boyfriend says he loves it!

I got this for my boyfriend as his old sea salt spray was very 'crispy' in his fine hair. He really likes this one, it gives just enough grit to help his other hair products hold, but doesn't leave any gross residue on his hair.

Looks like I've just been to the beach!

This spray is so amazing! It gives the hair amazing texture but doesn't leave it stiff or crunchy. It leaves the hair looking like you've just been to the beach and it makes it look absolutely stunning! Definitely recommend

Texture without the crunch!

The smell of this is SO good. But most importantly it gives my hair that beachy look without being overly drying.


Good product

This is a decent salt spray - gives good volume and texture without being too sticky. It's quite good value and very easy to use. Good for the second day after washing hair to give it a bit of a lift.

Good beach spray

Good beachy spray for texture. It has a pleasant fragrance too.

Works

This I will say gives texture for sure, but I find it a little drying so I tend to use it only on occasion.

Really good!

This product is great for my fine flat hair. I find it does give me a bit more body and texture when I use it. I just spray a small amount in my hair when wet. It doesn't make a massive difference, which I think is my fault as I do go very easy, maybe too easy, when spraying it in as I'm worried it would weigh my hair down, but I definitely do notice a bit more body when just using the small amoun...

Read More

Absolute heaven

The smell of this is heavenly! I can't get enough of it! Gives beautiful beach texture to the hair without leaving any tackiness or crunching. Leaves hair with a nice amount of volume too which is a plus!

Great wavy beach hair

I actually love this product as it doesnt leave my hair crunchy like most of the texture products I have tried. I have fine hair and am loving the volume it gives when applied to root. This is now my go to product for beachy wavy hair.

reminds me of summer beaches!

this is my current fav hair product! Love it so much and use it before I blow dry my haiir! It really adds some texture and volume to my usual dull straight thick hair!

Love love love

Firstly - this smells heavenly fresh. But most importantly it gives my hair that beachy look without the dry "crunchiness" of some sea salt sprays. I would definitely buy this again.

Perfect for fine hair

I have fine, straight hair and it can look so boring without any product. This sea salt spray adds the perfect amount of texture and 'movement' without being crunchy. I also like the fragrance, I hate the fake coconut smell of so many sea salt sprays but this one just smells fruity and delicious.

Average

I received this as a free sample so didn't really know what to expect. Definitely underwhelming, didn't add any volume and made my hair oilier. I have short, fine hair. It does smell good but that's the only good thing.

beach babe hair

this salt spray is everything to make you look like you just got off the beach. gives it some crispness but it's excellent when your hair is feeling flat and needs some volume and bounce. smells good too!

Very average

This was a free sample and it didn't do much to boost volume to my fine hair.

Meh

I received this as a free gift so I didn't really know what to expect from this spray. However I'm quite underwelmed with it and wouldn't buy it. It did nothing for my hair style wise as it promised. Also I didn't like spraying it on my dry hair as it goes on wet

Good the day you use it

I think it does a good job of beachy hair on the day you use it but i find the next day i have to wash my hair because it feels really knotty and a bit yuck. I have fine long hair.

Ok

Gives some texture to my hair and a bit of bounce but didn't work as well as other products I didn't notice a much difference

Give it a try

I put it on wet hair and it gives me that beachy look, nice waves and beautiful volume and texture. I also spray it over my hair after blow dry to get even more volume and hold. Absolutely fantastic! This product would be ideal for those who don't want to spend too much time on styling their hair.

Wary

I've used this spray in the past & experienced mixed results but I'm not too sure if I'll purchase & use it again - the nozzle didn't work properly so I had to return it.

Amazing

Changes the feel and appearance of my long straight hair and gives it an awesome beachy vibe which is just what I'm looking for.

Great

After a few sprays it works great!

Refreshing

Doesn't hold as well as I thought, it is nice throughout the day just to refresh and cool the hair. Lovely smell and not a bad price.

Farily good and very reasonably priced

I received this as a sample and it's alright but I probably wouldn't buy it. I have relatively thick hair (it's more a lot of fine-ish hair) and I found that when I used it on dry hair, it gave it a lot of volume. However, it didn't give me much texture and the texture certainly didn't hold/last. When I used it on wet hair, it wasn't beneficial (despite saying that it could be used on wet or dry h...

Read More

It does what it describes

It makes you hair like you have been at the beach in and out of that water, makes my hair quite wavy but did go a little crunchy too..exactly like it does at the beach..but maybe i used too much..definitely adds volume to my fine hair

Not the greatest for fine hair

I was tempted to try this product based on the great reviews for fine hair, but I'm not sold!
I feel like the spray just clumps in one area and leaves a sort of dry patch. I've tried spraying in a few areas and massaging it around, but it still seems to clump and weigh down my hair. I have fine hair and was hoping this would be my go to product, but don't think I'll be trying it again! ;( I...

Read More

Very good for the price

Eleven Sea Salt Texture Spray delivers well for the price! :)
My hair has a natural wave to it and this sea salt spray emphasises it without drying out my hair-big plus!


Great scent and awesome price point

I love the scent of this product, and the packaging is really cute. My boyfriend now uses it daily as I found it to be too heavy for my super fine hair (this is typical of most hair volumizing products unfortunately) but it works awesomely for him. Holds well and gives great texture especially when applying pomade afterwards.

Hold

After a few sprays gave my hair nice hold and texture. Doesnt feeling drying on the hair either.

Yummy Smell

I am really getting into eleven at the moment and added this to my hair care collection. It has a really nice scent and feels light whilst giving a nice wave and hold.

Texture

Gives volume and texture to hair, holds well throughout the day,

Body and Beachy Waves Made Simple

This product is brilliant! It's the perfect way for someone short on time to create volume and beachy waves while you sleep! I find it best applied to dry hair before bed, then I pop my hair in two buns and in the morning my hair is full of body and waves that stay all day! I have super straight/ limp hair naturally which I have always hated. This spray is also amazing applied to damp hair prior t...

Read More

Life changing for fine hair.

I absolutely love it. It has made my hair fluffy and it adds volume. It's a miracle product for me!

Perfect

I have wavy thin hair and never wear my hair out BUT after using this product, I can finally wear it out as it gives my hair my body and great texture. Would reccommend

Must try!

I have very fine thin hair and have tried loads of products to lift and give any body. Ive tried in wet hair and in dry, both ways doesn't make hair crunchy. Gives extra body without feeling heavy or the need to keep tousling to get oomph.

Great

I purchased this from my hairdressers, having short but a lot of it that I feel I need volume and texture to keep my hair from being too heavy and going flat. This product is amazing, it is affordable and you get a lot of product in the bottle. I love the fresh cucumber scent and the matte texture it gives makes it easier to control my hair.

AMAZING

Best sea salt spray I have tried. Doesn't make hair overly stiff and gross feeling, and unlike others doesn't have a gross texture to it

Summer Staple

This has been an excellent product for my dry and damaged hair during the hot months. This spray has given me loose, beachy waves making my hair look effortlessly summery! Highly recommend Eleven as a brand, and this product is no exception!

Doesn't work for very curly hair

I think this product would be good if you have curly hair but you are looking for some volume.

I tried it wanted a more definition of curls and some volume but because my hair is so curly it hasn't done what I needed I think

EXCELLENT smelling product. I would buy for the smell alone

Best Sea Salt Spray on the market!

Best sea salt spray I have tried. Doesn't make hair overly stiff and gross feeling, and unlike others doesn't have a sticky texture to it. I use it to give some texture to my hair and run it through curls for a beach wave look

Hello Volume!

Goodbye flat, limp, lifeless hair and HELLO VOLUME!

Ladies with thick, heavy, limp hair - this is the one for you.
I pop it in before styling in a few loose curls and it provides my hair with texture and grit, without every feeling sticky or salty.
Added bonus: it smells AMAZING!

One of the best out there

Quality product, hair doesn't feel sticky or crunchy after & great price. I keep re-buying this spray and don't plan on looking elsewhere anytime soon!

A great sea salt spray!

This one is one of the best, up there with Evo in my experience. Great texture that is not crunchy or greasy. I don't use it too regularly but impressed when I do.

Great sea salt spray

Lovely sea salt spray at an affordable price. Really love it and would recommend

Amazing

ELEVEN is a great product and this is one of their best!! love the way it leaves my hair

Handy

I got this product in a haircare pack with a blonde shampoo and conditioner.

This Eleven Sea Salt texture spray is a very handy product. I like it for days where I'm feeling a bit lazy and don't want to brush my hair.

I will spray my hair with this product and toussle it a little bit give my hair a beach waves look. I like to use it to change up my look sometimes as well.

effective

i've been using this spray for about 2 weeks now and it's one of the best sea salt sprays i've ever used. would recommend.

Great product

Does exactly what it was designed to do

Works well

Best sea salt spray I have tried. Doesn't make hair overly stiff and gross feeling. I use it to give some texture to my hair when wearing it back so it isn't so flat. Or I just spray little in hair to give it a beach look

Works great.

I have fine hair and I love using this to give it volume. It doesn't leave my hair feeling stiff or dirty and the volume it gives lasts all day.

Off the charts texture

LOVE this product. I have a lot of hair, but it's super duper fine, so it's forever flat and soft. The first time I used this product, I used it the same way I've always used all my other sea salt sprays (I'm a sea salt spray enthusiast) and when I woke up in the morning, my hair was so textured, voluminous, thick and grippy, that I struggled to get a brush through it. V effective product! (And I ...

Read More

Love it

Love the texture

I have really thin hair and this gives heaps of volume - just love it and how makes my thin hair thick and easy to style.